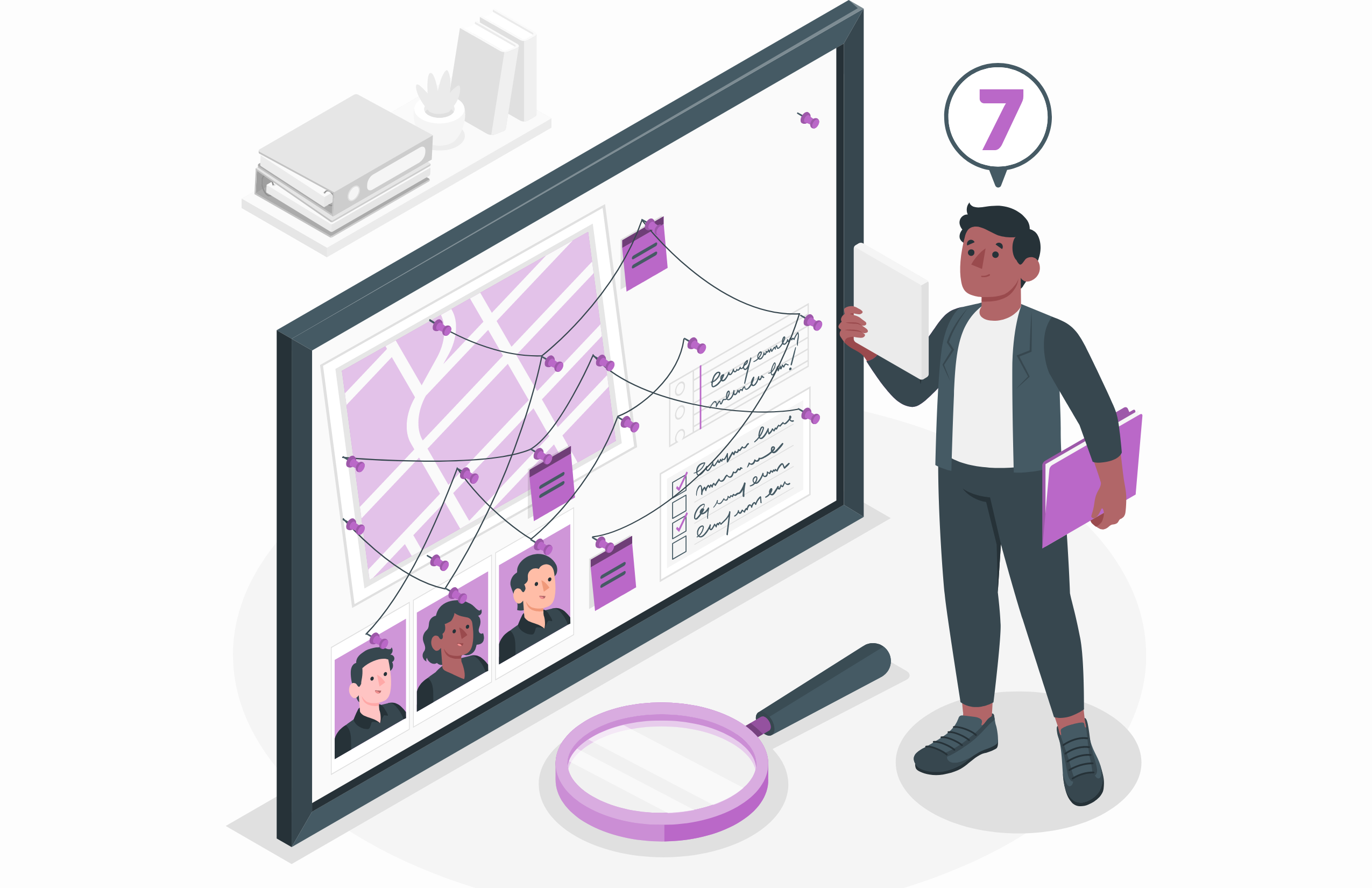 7 Best Sales Mapping Software For Your Business
Every successful business invests effort in defining market segments, sales territories, and the finest prospective sales possibilities. The process of partitioning the sales region into smaller segments and allocating specialized salespersons to each territory is known as sales territory mapping. Organizations may increase the productivity and efficacy of their sales staff by optimizing the allocation of sales activities.
Outside salespeople need more than simply a map with location boundaries to be truly successful. Reps ought to be equipped with demographics, effective sales routes, present customer data, and prospecting abilities when out in the field. Consider sales mapping software: the perfect tool for planning when and where they'll make their next sale and staying at the forefront of the sales objectives.
What Is Sales Mapping Software?
A business product that blends sales information with geolocation is sales mapping software. It is primarily utilized to establish territory by sales managers and field salespeople. It also enables them to map prospects, customers, and zones. It even assists sales staff in managing their time in the field by providing more efficient routes and better timetables. Sales managers can access the following information using sales mapping software:
The locations of customers and leads
The distribution of customers across target territories
The distribution of territories among individuals in a sales team
Assigning distinct territory to salespeople promotes an evenly distributed workload and allows sales teams to concentrate on nurturing connections and creating revenue within their defined boundaries. The software also includes powerful report generation and analysis tools. It enables companies to monitor important metrics, analyze sales information, and provide meaningful reports for every location.
Top 7 Best Sales Mapping Software For Your Business
Lystloc
Sales managers can assign location-based jobs and meeting schedules to their field salespeople with greater ease and simplicity by using the sales territory mapping function in the task module. It is simple for field employees to manage their daily location-specific responsibilities due to its complete task-assigning function with location restriction competency. When using sales territory mapping, salespeople can only see their duties when they are inside the task territory boundaries that their sales territory managers have designated.
Based on the sales territories that have been allotted to them, sales personnel can organize and manage their field duties and activities. Managers typically receive immediate updates on the travels of their field staff to their designated sales areas thanks to the most effective location hierarchy notification feature. With the help of this feature, sales managers will receive prompt notifications when their staff leave and return to their designated work locations. You can easily track and manage them, know if they have finished their work before leaving, reach the assigned work locations on time, etc.
Badger Maps
Badger Maps is an independent sales mapping software that designs sales areas using superior GIS technologies. Badger Maps is a cloud-based mapping service with a basic drag-and-drop interface and reasonably straightforward routing. Its data visualization tools, like live maps and domain reports, enable salespeople to better efficiently analyze information. Salespeople may also use customized fields, forms, and categories to personalize maps, travel routes, and other components, as well as configure unique alerts and prompts and develop tailored reports and navigation methods.
Integration with major CRM platforms such as Salesforce, Pipedrive, and Zoho CRM provides an in-depth overview of sales information, while timetable synchronization with Google Calendar, Outlook, and iCal allows for effective time management and route scheduling. Salespeople can view customer information, change status, and locate destinations when they're on the move with both Android and iOS mobile applications.
eSpatial
eSpatial's sales mapping software works nicely alongside different field sales solutions. Comprehensive customization, high data amounts, sales territory organizing, and Google Maps integration are just some of the features that you strive for in the sales mapping software which eSpatial provides. You may immediately integrate multiple data sources, including CRM and files, with eSpatial for immediate insight into business revenue data.
can utilize eSpatial to change their icons as well as the size and color of the data points displayed on the geographical map. Employees can customize data points to a specific map spot in this way. The sales territory customization capability is also available in this sales mapping software.
Mapline
Mapline sales mapping software provides you with the solutions you need to effectively manage your sales territory. You can establish, organize, and modify locations to meet specific needs. The software's user-friendly interface enables smooth area administration, allowing you to optimize sales activities and properly allocate resources. Furthermore, Mapline provides powerful route optimization options to ensure that salespeople can organize their trips as effectively as possible.
After you've set up your map on Mapline, you can store the information there to use for later route planning. Reports can be embedded and shared, and information can be assigned to map points. However, if you want to analyze the maps based on customer location, nearness, operation, or other aspects, you have to export either all or some of the data back into Microsoft Excel.
Xactly AlignStar
Xactly AlignStar is a sales mapping software for sales activities and sales organizations. On the front end of operations, the solution assists in the optimization of sales territory shortcomings. It also supports you in communicating adjustments to a sales territory in a manner that displays balance and accuracy, as well as how sales territories most effectively promote business goals.
Sales managers utilize Xactly AlignStar to acquire critical insight into the sales teams' productivity. When you utilize this sales mapping tool to correlate productivity with targets, you'll be able to establish goals that are both ambitious and feasible in the future. The finest sales managers incorporate sales information into forecasts for the future, which Xactly AlignStar, as a sales mapping tool, assists you with.
Portatour
The Portatour sales mapping software integrates with your CRM to create territory mapping and travel routes. It gathers current clients, calls, and meetings to provide the quickest and most efficient routes for the sales team. You can also manage your schedule shifts so that the maps redirect your teams depending on the most up-to-date information. Customized reports offer managers up-to-date info on sales targets and accounting activity.
The emphasis on scheduling is Portatour's specialty. Plan the routes for a maximum of 28 days ahead of time, and they will automatically adapt to missed or postponed calls as well as scheduling changes. Portatour offers its software for salespeople with more than 100 customers in a given region; it can plan for vast territories and also for extended breaks in the course of travel.
Yellowfin
Besides the typical sales mapping software options easily accessible to businesses, Yellowfin offers more. This robust analytical and business intelligence solution provides a wide range of capabilities that lets you better understand your customers, organize routes more effectively, optimize sales regions, and monitor sales employee efficiency in real-time.
The wide-ranging marketplace on Yellowfin is one of its key advantages. You may access a wide range of services and tools through it, including geocodes, Salesforce, MailChimp, Zendesk, and a lot more. You will find it simpler to create unique maps by integrating information from different sources as a result. Employees may monitor client locations on live maps and calculate the kilometers between customers with its action-based interfaces to swiftly manage their travels while simultaneously optimizing sales territory for optimal productivity.
Wrapping Up
Sales professionals are increasingly adopting the best practice of merging geolocation, mapping, and sales information. Sales teams may optimize their sales travel routes, split up territory, and gather data on their customers and potential clients through this method, referred to as sales mapping.
However, sales teams would benefit more by using software that accomplishes this task for them rather than completing sales mapping manually. The raw, location-based information collected by sales mapping software is then displayed on a map. Then, based on the capabilities provided by the software, you may carry out a range of analyses. You can manage prospects, clients, and territory successfully due to it. This, in the end, enables you to concentrate on high-potential prospects.