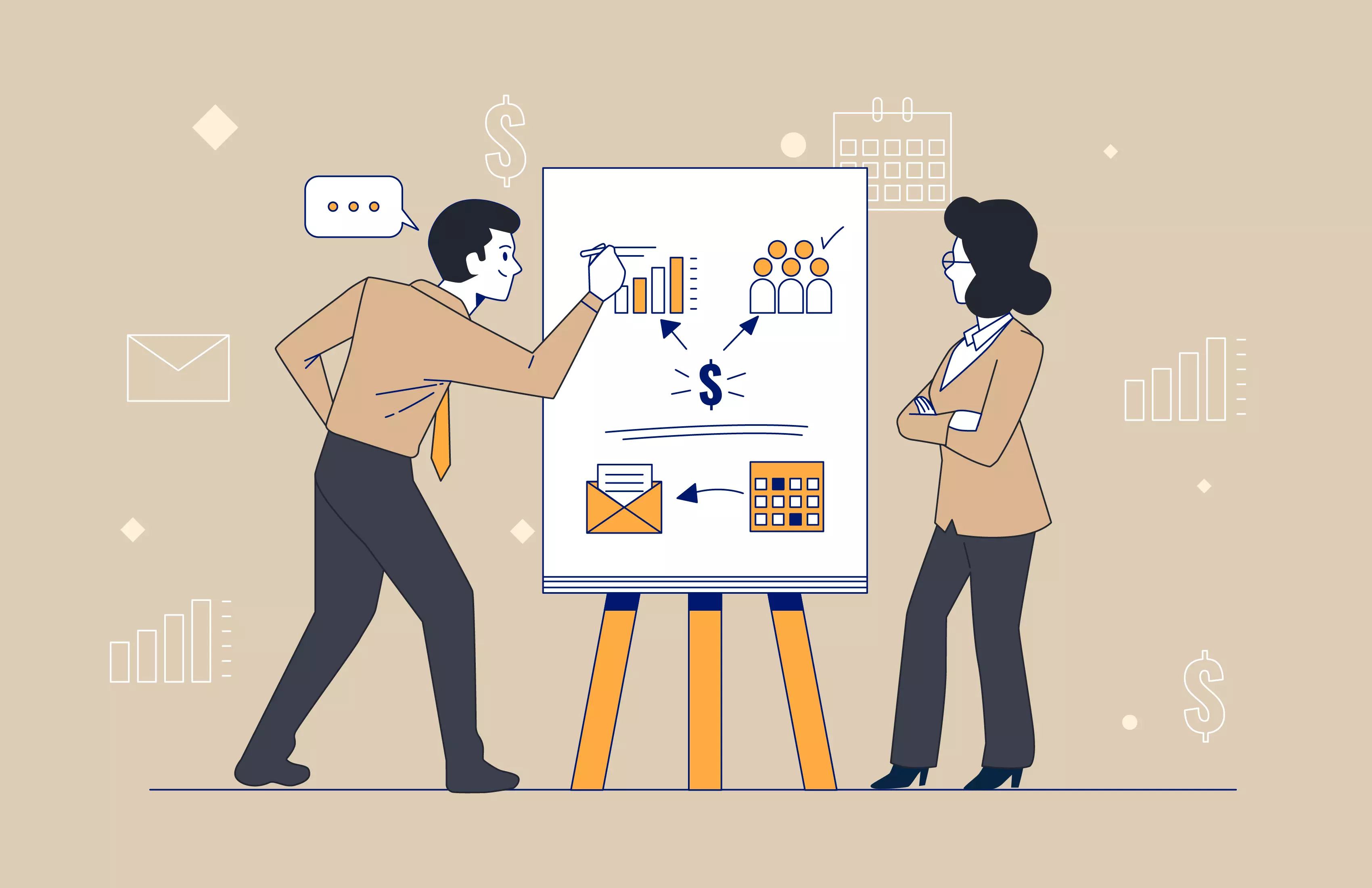 How To Set Sales Targets For Your Team: 6 Sales Target Tips To Follow
Regardless of how small your company may be, success depends on your ability to set sales targets. Setting sales targets helps to maintain everyone's agenda on track and provides your sales team with the framework they need to create successful sales tactics when there are tangible benchmarks to reach. You'll have a better chance of achieving your desired concrete metrics if you set up well-rounded sales target plans.
Establishing quantifiable, doable targets for your sales gives a clear direction for achieving your production and expansion sales targets. It involves figuring out your break-even level, pinpointing your ideal competitiveness, and establishing sales targets. Your sales objectives should also include target revenue, and you should let your team know about them. Discover these 6 sales target tips on how to establish sales targets for your team without underestimating or overestimating your salespeople.
6 Tips On How To Set Sales Targets For Your Team
Develop Monthly Sales Targets
Modifying your sales targets will help it better serve the unique requirements of your business. Your yearly sales should be taken into account when establishing individual or team sales targets. You can establish sales target plans for the month or even the week. However, avoid choosing goals that are overly generic and lack clarity because they lead to time waste. Even when you're creating long-term objectives, be sure they are specific.
Shorter sales targets are crucial for keeping your team motivated, but long-term goals are equally essential. Regular small successes increase employee morale. You require monthly targets for this reason. Reverse the process from your yearly sales income target to determine your monthly sales targets. You can use it to calculate how much the sales team and single sales professionals would have to sell in order to reach your yearly sales target plans.
Identify Your Target Audience And What They Expect
You will eventually waste time attempting to sell to that same wrong crowd if you still don't recognize who your audience is. Additionally, you'll find it difficult to choose the right sales target that will help you connect with the appropriate audience. Knowing your target audience in detail is the second sales target tip. Understanding who they are can help you determine what to do in order to reach them.
Examine the customer data you have on hand. Additionally, you can conduct surveys. You can use these subsequently on in your promotions to gain a great deal of insight into your clients from the surveys. Lastly, don't be afraid to get input from both your current and potential customers. Feedback reveals which ideas or promotions resonate most with your audience and what you can change or add to your sales technique to make it even more effective. The simpler it is for you to pitch, the more you will understand your audience and create the sales target plans for your team.
Set SMART Goals In Sales
Specific
The targeted outcome should be specified in detail in a well-drafted sales target. When salespeople read the target, they should have a clear understanding of what they will be working on.
Measurable
Managers and sales staff must be capable of measuring and monitoring performance toward sales targets.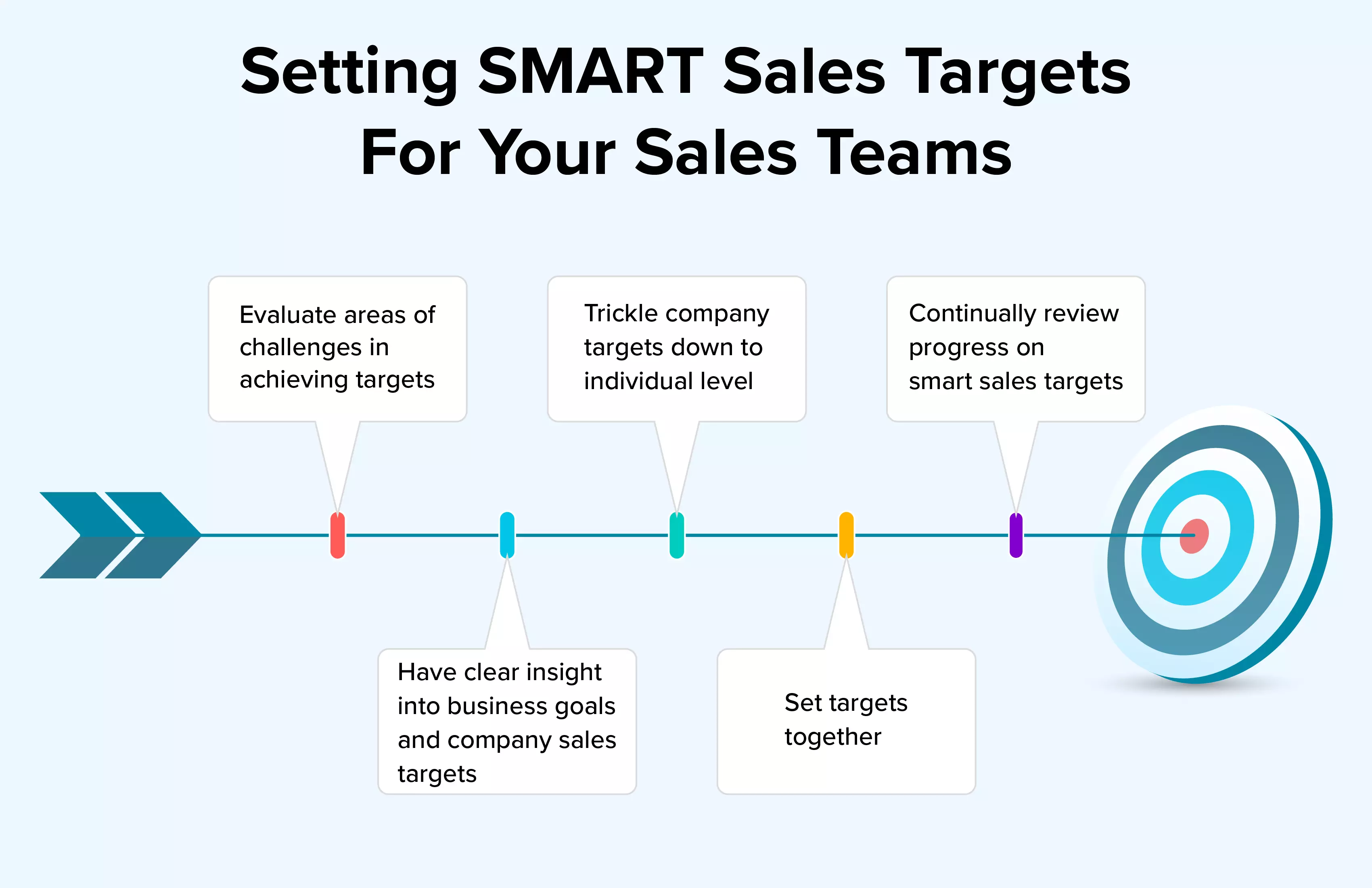 Attainable
Each sales team aspires to constantly surpass sales quota, but long-term performance won't be improved by establishing unattainable sales targets. With some planning and diligence, the sales team should believe they have a good chance of achieving their targets.
Relevant
Always correlate larger company goals with specific sales targets. Particular goals don't have to be the same as those of the team or the firm, however, they ought to at least be related to them.
Time-Bound
The fact that a sales target has a deadline is one of the things that distinguishes it from a wish or a dream. A timeframe must be considered while creating a target. Sales teams who may be operating at a demanding pace will develop a touch of intensity and inspiration as a result.
Provide Incentivized Sales Targets To Your Team
Salaries and incentives are essentially rewards for achieving a monthly sales target. Smaller salespeople's targets, however, may be overlooked because there is little reward for achieving them. When creating a monthly sales target plan, break the overall aim down into smaller segments and include a little incentive for each. These incentives can indeed be cash or non-cash, and they can be given to a single salesperson or to your entire sales team.
You can award a salesman or the sales team after they reach their sales target. This not only improves team morale and productivity but also retains your employees longer. Maintain the team's overall positive culture in addition to one-time rewards. Find a tried-and-true strategy to engage your staff, and you'll see greater commitment and loyalty to their regular work. By gradually increasing their performance, you accelerate the expansion of the business as a whole.
Study Business Situation And Industry Factors
Since every business is unique, it's crucial to start by thinking about the variables that affect your sales targets on a quarterly basis. Is your company a seasonal one? Have you got a reliable source of recurrent income? Is your company reliant on contracts? Does your company have high-profit margins or high cogs? Take into account all of these variables, as well as the lifespan of the product and service range, to develop a sales target that is more precise and suited to your company.
What is occurring in your industry and the broader economy that might affect sales targets? Do you trade on choppy markets? Do you work in a world of global competition? When analyzing the factors that could impact your income or the productivity of your salespeople, be as precise as you can. They can occasionally provide information that the figures cannot, such as markets where your product's value proposition is ineffective or industries that might be exceedingly difficult to enter. The segmentation of the sales plan and targets can be changed into something more feasible and realistic with this kind of essential field data.
Evaluate The Outcomes Of Sales Targets
Analyzing your outcomes is the last sales target tip to creating more sensible sales targets. Did you succeed in achieving your goals? If the response is affirmative, congrats! You've undoubtedly given your team the ideal sales targets. But it's possible that you'll need to modify your initial sales targets.
Your team will lose motivation if they are unable to meet the sales targets you have specified for them. They might not be driven to make the additional effort necessary to increase sales if the sales targets are too easily achieved. Finding that perfect balance and maintaining track of it as it fluctuates are your responsibilities as a sales leader. Therefore, take a look at the outcomes your sales team is accomplishing and modify your sales targets as necessary. The ideal objectives are those that your staff can consistently achieve, however only if they put in the necessary effort and willingness to grow.
Wrapping Up
It goes without saying that you will work extremely hard to achieve your goal when you have one in front of you. Setting sales targets is essential for business expansion because it gives sales managers and salespeople a clear plan of action and demands responsibility. Your salespeople should be encouraged to perform to the best of their abilities by your sales targets. Make absolutely sure the targets are reasonable and well conveyed so that team members perceive them as an exhilarating challenge rather than a crushing weight. Achieving goals requires constant monitoring, which includes acknowledgment, incentives, and revisions.