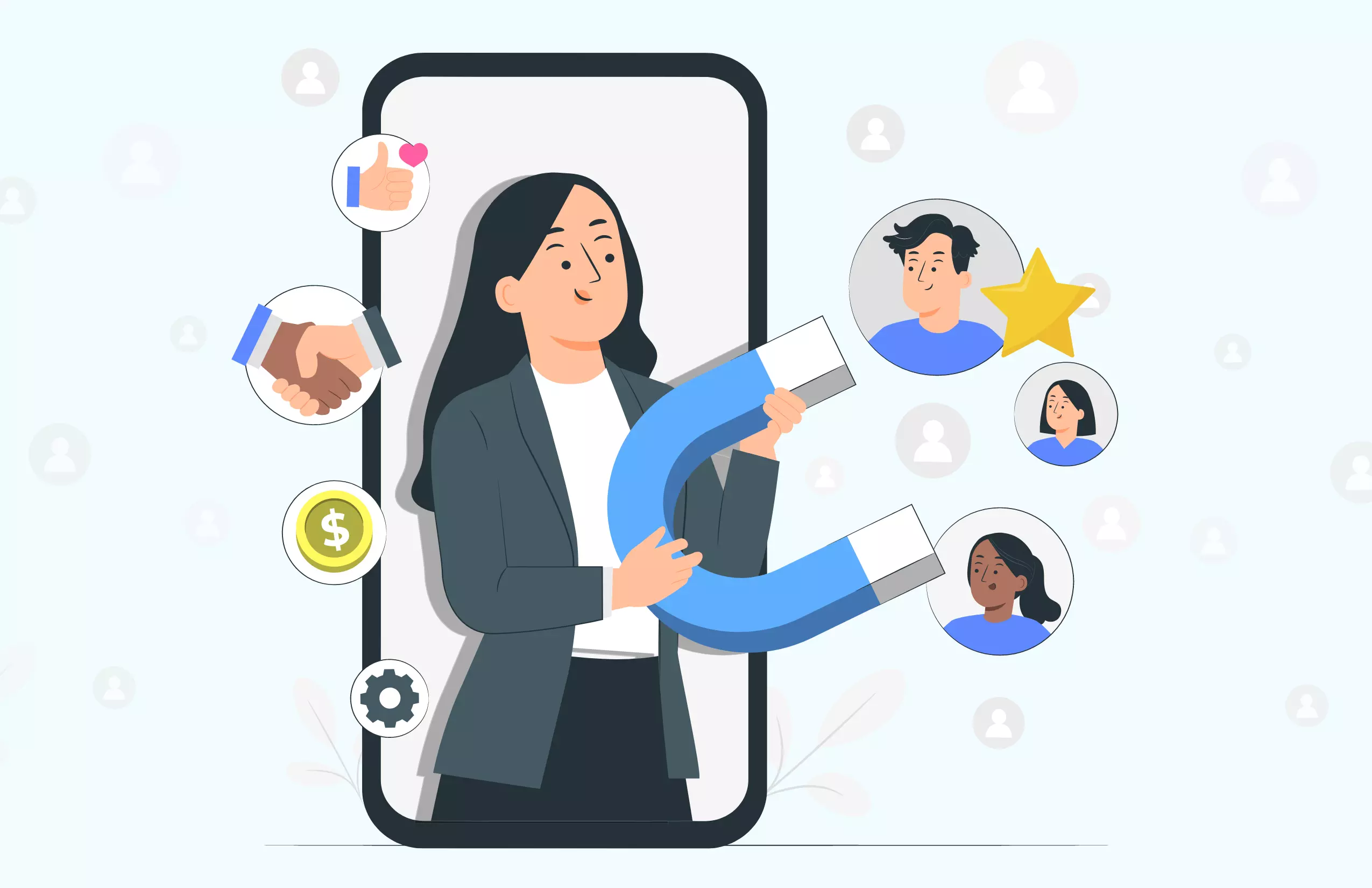 What is a lead?
A customer or consumer who shows interest in buying a company's product can be called a lead. They are keen on knowing about the product/service which is required for them. They would be providing basic customer details for buying the desired product through digital platforms.
In today's technology, people are more aware of selecting a brand's product or service. They verify through websites, social media, blogs, and ads, to show their interest. They are defined as leads which will be then converted into potential leads or target customers.
How are leads collected?
Leads are mostly tracked through different platforms. The primary goal of a marketing team is to source leads both organically and inorganically.
Organic methods used to gather leads are content marketing, social media, email campaigns, blogs, newsletters, and SEO. Some inorganic ways of collecting leads are paid content posts, paid social media campaigns, etc.
Classifying and Acquiring Leads
Every business needs lead generation for sustained growth and increased productivity. Their motive is to generate leads and effectively acquire them. The process starts with a lead source to attract, promote, and satisfy potential customers to buy your brand's product. The real customers are the ones whom you must focus on until they make a purchase.
The process involved in lead generation
As discussed above, customers turn into target buyers after visiting business pages through websites or social media posts. How they are converted as lead generation is
They visit your website landing page
The sign-up page is filled out by a customer
They click specific CTA buttons on your page,
They comment or repost your social media posts.
By analyzing the above process, the company gets new leads by counting the number of visitors and customer filled details. To make lead generation, there are surprising strategies used in digital marketing.
Content marketing
It is one of the valuable strategies to generate leads in the means of providing consistent information about a brand's product/service. For example, content marketing involves blog posts, use case studies, social media posts, content videos, email campaigns, newsletters, story emails, etc.
Other methods
SEO is another strategy to promote your brand which in turn yields more leads. A few methods include giveaways, contests, paid ads, referral domains, etc.
Marketers of 70% invest in content marketing for their brand promotion and acquire new leads.
How are marketing leads classified?
The lead who is at the beginning stage of buying the desirable product is known to be information qualified lead. They require basic company information and require the marketing or sales team to solve their initial stage queries about the product by filling out their data such as name, place, mobile number, email address, etc. These customers are also referred to as cold leads.
The leads who cross their initial stage and move to the middle stage of the sales funnel are called marketing-qualified leads. They wish to buy the required product by continuous approach with the company. They also seek the company's way of handling the problem if any crisis arises in the process. They are known to be a warm lead.
The lead who is ready to purchase a product is called to be a sales qualified lead who moves to the final stage of sales. They are also called hot leads.
What is a lead Tool?
Even though many digital methods come into practice, lead-generating tools are one of the easiest methods to automate the lead-capturing process. It is software designed to aid with the lead-capturing process irrespective of manual insertion of data lead.
B2B businesses can focus more on campaign ideas as lead tools will automate the lead generation process.
Types of lead tools are:
Inbound lead gen: It generates leads to your website.
Outbound lead gen: It helps in finding and messaging the generated leads through email, social media, calls, etc.
On-page lead gen: Generates leads from your website with customer-filled details.
Marketing management: Tracks performance of campaigns conducted to target valid leads.
CRO: It identifies leads that are then converted into sales-qualified leads.
Email marketing: Engages customers with email campaigns to move to the next sales funnel stage.
Search marketing: Increases your website traffic and promotes on-site leads.
Top lead generation tools
Leadpages
This tool helps you to create custom landing pages for targeted leads. So that it is easy to connect with the leads which are merged with your website's CRM.
OptinMonster
This tool builds different types of opt-in forms. It is specifically designed for lightbox popups, floating bars, slide-ins, entire screen capturing, and so on. It makes the leads much easier for buying your company's product.
Hubspot
This tool helps you to create and schedule blog posts when required, and automate social-media profiles. It essentially improves SEO campaigns which organically drives traffic for more customers. It is a great solution for inbound marketing.
Outreach.io
It is a sales process management tool that helps to manage the entire sales process. This valuable platform comes with a sales dialer, real-time sales enablement, email series, sales engagement, task managing, tracking, and AI-driven reports.
Bottomline
Generating customers to target leads is quite difficult for every business. The way of approaching customers with more digital methods can help you qualify the leads and make them sustained customers. A lead who shows more interest in your product must be tracked well to buy your product.
Execute optimal marketing strategies and sales funnel methodologies according to your business for an effective sales pipeline and achieve your target leads.