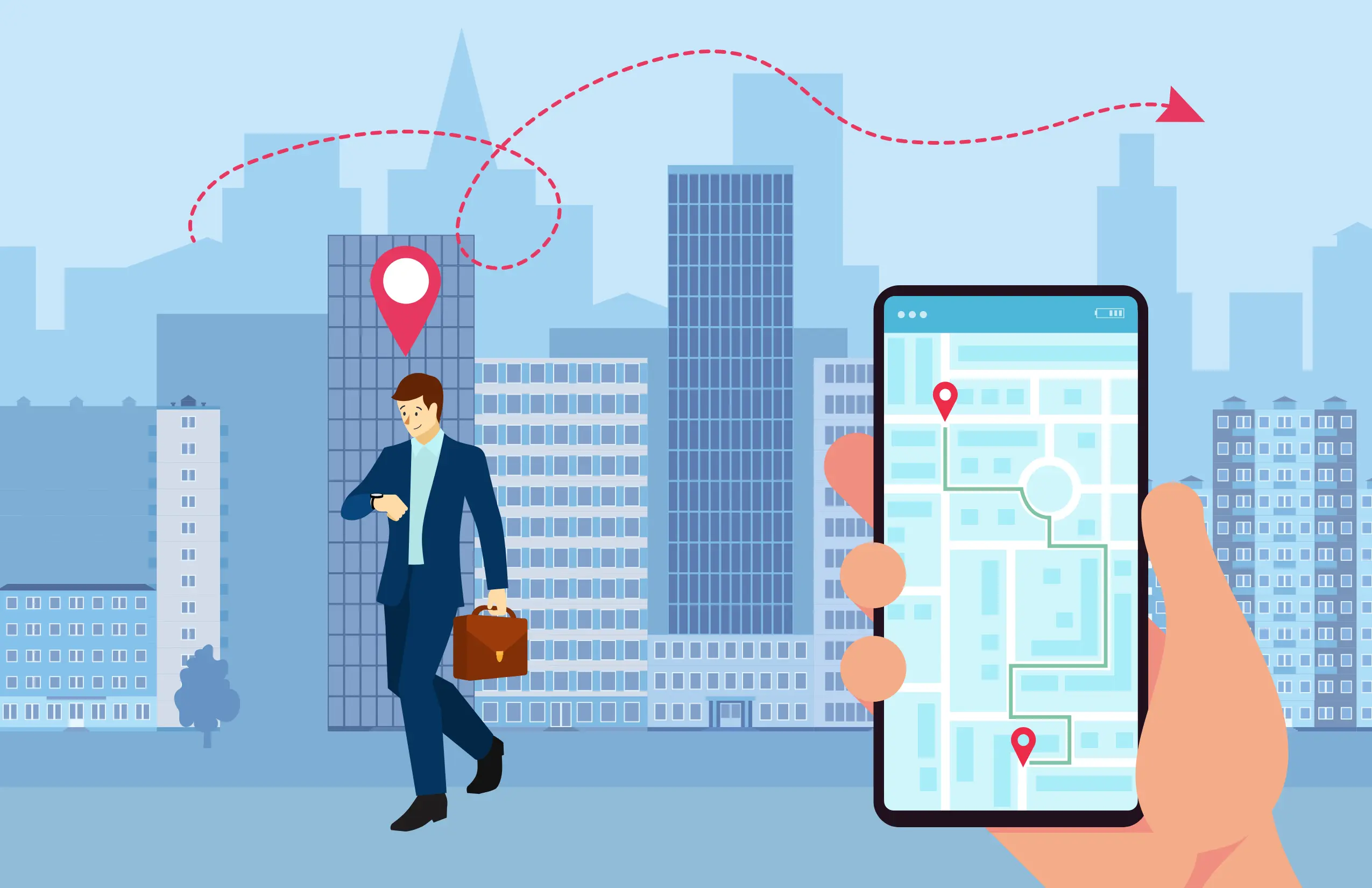 How To Track Sales Person Of Your Organization
Every business desires the best possible performance from its salesperson. For ideal performance and improved sales delivery, you gather and analyze all data on salespeople's work, particularly when it comes to working timing. While it is simple to keep an eye on a sales employee's hours and actions while they are at the office, things become more challenging for those who are working outside the office. To make this challenging task simple and easy the best decision would be to use a field sales employee tracking app.
Companies all throughout the world have made real-time sales team tracking a necessity for development. Regardless of the size of your sales staff, a location-based sales employee tracking app that works well is a requirement for any business.
Lystloc is a field employee tracking software that helps companies in location tracking, monitoring, and managing their on-field sales workforce and their daily activities. This software helps companies in making the right field-related business decisions and coming up with better strategies and planning based on real-time location intelligence data rather than doubtful assumptions.
How To Track Sales Person Daily Attendance?
Apps that check employee attendance are becoming a crucial component of every organization. Even when employees are working remotely or on-field, you need to be aware of when they enter and exit the work. An ideal employee attendance tracking app will organize your salespersons' attendance records, facilitate task scheduling, leave requests, and permissions, and track over time in comparison to straightforward manual approaches.
How To Track Sales Person Daily Attendance With Lystloc App?
Lystloc is a field force management app with a real-time location-based remote or field employee attendance monitoring feature. Instead of travelling to the office location, sales persons can record their attendance using a one-touch authentication when they're in the field during business hours.
Additionally, the salesperson can record attendance using the Lystloc app's Geofence feature only when they are within the predefined virtual perimeters that you have created using the latitude, longitude, and radius of a large region. The app provides you with the data you need for a variety of attendance-related reports, providing insights into hours worked, shift timings, and other information in an effort to continuously increase staff productivity.
How To Track Sales Person Work Location?
The software used for acquiring pertinent information about your salesperson's whereabouts and travel routes is known as a field employee location tracking app. You must have had trouble figuring out where your salesperson must have gone during working hours, and they may not have been in contact at all. You won't be able to locate them or give them new tasks or meetings as a result. It is important that we keep track of your salespersons' at regular intervals for their safety too.
How To Track Sales Person Work Location With Lystloc App?
Lystloc app serves as a field employee location tracking software, allowing you to track and monitor the location of your salesperson. With the Lystloc app, you can easily and accurately track your salespersons' live location, meeting location, travel mapping, distance travelled, and so on.
By knowing the traveling distances of the sales team, fuel expenses can be calculated accurately and reimbursement can be generated automatically.
On the whole, it allows you to pinpoint the exact location of salespeople and assess their productivity. You can locate and assign the nearest salesperson to the client's location in order to avoid heavy traffic on their work if a client has an urgent request. This increases customer satisfaction and trust. As a result, satisfied customers are critical to the success of a business and a key factor for the outgrowth of a company.
How To Track Sales Person Reimbursement On Sales Expenses?
Effective management of salespeople from the time they join the company until they leave depends on handling their expense reimbursements. Employees rely on a successful reimbursement program to ensure that they are paid correctly, quickly, and effectively.
However, managing reimbursements is still sometimes a difficult and laborious task. However, if the approach is made simple and swift, it can actually save time and improve resource efficiency for both employees and management as a whole.
How To Track Sales Person Reimbursement With Lystloc App?
Lystloc has digitally simplified the reimbursement process to make the salesperson expense reimbursement straightforward and hassle-free. As it became the most successful way used by companies to manage sales team travel reimbursements, which was formerly the most challenging manual process for them.
Salespeople can use this incredible travel reimbursement option to submit their travel reimbursement claims to their employer before or after their trip. Through this feature of the Lystloc app, they can instantly submit their travel expense documents and seek reimbursement for their sales-related expenses.
We have also included a fuel reimbursement calculator in Lystloc software. The pre-set rates per kilometer that are linked with the reimbursement feature as a default option can be used to automatically compute the fuel expenses of salespeople. For simple enabling and reimbursement requests, separate forms are often used for each expense.
How To Track Sales Person Daily Activity Log And Works Hours?
Time management and the measurement of salespeople's work hours are becoming increasingly reliable factors for any business. It enables the organizations to ensure that every salesperson devotes their working hours to the tasks for which they are employed.
The employee activity monitoring app allows businesses to monitor and supervise their field staff's daily activities, evaluate employee productivity, and record attendance from the field, ensuring that employees are working according to their assigned plans around the clock.
How To Track Sales Person Daily Activity Log And Works Hours With Lystloc App?

Lystloc app assists you in keeping a close eye on all salesperson's daily working hours, client visit timing, attendance marking time, and all everyday activities and hours invested in each of them. By precisely tracking and recording the sales force's time allotments, Lystloc aids in maintaining transparency and trust. You can list the work routine that salespeople do in a day within the app dashboard itself.
Additionally, you can know about the task location and time with the sales employee's check-in/out marking from the current task location. Possibility of tracking the tasks that salespeople have started, are working on, and have finished.
Lystloc allows you to easily analyze employee performance and sales productivity because they have exact data on how many hours each employee spends at work and how many clients visits they make in a day or month.
How To Track Sales Person Performance And Productivity Data Insight?
The organization and the salesperson can use the sales team performance analysis as a springboard to identify and explore potential areas for improving sales performance. It can also be a crucial chance for you and your salespeople to clarify their viewpoints and reinforce the business aims. As a result of what we have learned, it is necessary to assess the efficiency and agility of the field sales employees.
How To Track Sales Person Performance And Productivity With Lystloc App?
The big query, though, is: How do we go about doing that? It would take a lot of time if we were to manually gather all of the information from the salesperson and create the reports.
But, worry no more! We at Lystloc provide you with sales team performance reports along with information about the sales employee's visit, such as the location, time, and so on, to make it less time-consuming and complicated.
In Lystloc, we create customized reports based on your needs using information gathered on the Lystloc app from the login details of sales employees. sales team performance reports include several different types, such as customer reports, check-in/out reports, live tracking data, and attendance reports.
Sales team performance reports are used by our clients to assess the performance, agility, and other qualities of their sales staff. We generate reports based on the daily activities of the on-field sales employees, and their customer meetings to make it easy for the organization to evaluate the performance of their sales teams on a timely basis.
This performance report provides insights into the employees' overall productivity, monthly customer meetings, total product sold, and the value of the orders to make sure they complete their monthly targets and analyze productivity.
Summing Up
Maintaining track of salespeople is critical for the growth of your business. You must know where your persons are, schedule the appropriate team members for meetings, and complete the work. Sales employee tracking would also allow you to understand their challenges, slowdowns, businesses, and sales streams in real-time. That is why you require apps that can assist the organization and its salespeople.
Separate apps, on the other hand, will make the work much more hectic. What you need now is a one-stop solution for both you and salespeople to track and manage their activities. Having got a sales employee tracking app has become a must-have aspect for any business be it large or small. It provides the salesperson with the tools they need to improve their sales performance.
Nonetheless, the best field sales employee tracking app is determined by your basic requirements. Try our Lystloc app to see what tends to make our product a perfect option for your sales business.