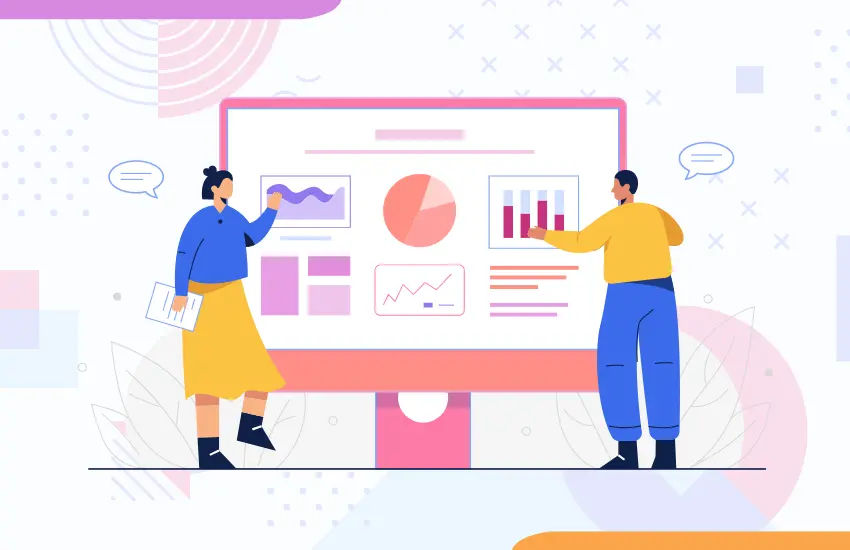 Lystloc Field Sales Team Performance Report Overview
Having a monthly performance report of your sales team is one of the most powerful actions you can take to increase your sales team's performance and generate sturdy sales results.
A sales performance report enables sales manager to ensure whether their sales team is on track to meet key goals by estimating the total and expected value of your business.
Nevertheless, Using daily and/or weekly sales reports with your team can be one of the most efficient ways to improve team performance rapidly.
Why is Sales Team Performance Analysis Important in an Organization?
Sales team performance analysis furnishes a launching board for the organization and sales employees to figure out and discuss where the sales performance can be enhanced.
It can also be a vital opportunity for employees and the organization to clarify their perspectives and strengthen the business priorities.
So, as we have concluded that, there is a need to evaluate the on-field employees' agility and efficiency.
However, the big question is: How do we do that? If we do it manually by collecting each and every piece of information from employees and turning it into reports, it would be a time-consuming task.
But, No More Worries! To make it less laborious and less complicated, we at Lystloc provide our clients with sales team performance reports along with the sales employee's visit details like location, time, and so on.
Sales Team Performance Report – An Evaluation Tool
Sales team performance report inscribes the final result of a sales or work of an employee.
It is a regulated record using which the sales team managers analyze a field employee's daily tasks and meetings, offer feedback and assist with setting the targets.
The frequency and depth of the review process may vary by the organization based on its size and goals of the evaluation.
Now, with powerful features like tables, charts, graphs, and much more, reports have become more sophisticated as they contain large volumes of information in a relatively short space.
Difficulties Faced by Sales Managers in Generating Sales Team Performance Report Manually
Sales team performance report helps sales employees and managers to stay on top of their team's sales performance and to develop new strategies to increase the effectiveness of their entire sales organization.
However, there are certain flaws in generating manual sales team performance reporting too.
If you don't pick the right data or miss some info, your sales performance reports can be a total time waste – or worse, they can lead to poor decision-making and negatively impact many aspects of your sales.
Some of the difficulties that are usually faced by sales managers in generating sales performance reports on their own /manually are:
Takes up quite a lot of space in your desk or memory space on the computer.
Liable to damage, loss, or being misplaced. Lack of security.
Difficulty in collecting accurate and proper data. Missing out on certain information may lead to inappropriate reports.
Inconsistency in data entry, room for errors, miskeying information.
Very time-consuming. Not only to organize and store the manual sales team performance reports, searching the information when it is needed can take time.
When compared to automatic e-performance reporting, manual reporting can inspire higher costs based on usage.
Lystloc's Sales Team Performance Reports – A General Look Through
In Lystloc, we customize the reports based on our clients' requirements from the data collected on the Lystloc app from their logins.
Some of the reports are attendance reports, check-in/out reports, live tracking reports, customer reports, and much more.
Among these reports, one such is Sales Team Performance Reports which is used by our clients for evaluating their sales employees' performance, agility, and many more.
We generate reports based on the daily activities of the on-field sales employees, their customer meetings to make it easy for the organization to evaluate the performance of their sales teams on a timely basis.
This performance report provides insights into the employees' daily attendance, customer meetings, a total product sold, and the value of the orders to make sure they complete their monthly targets and analyze productivity.
Let's get to know what each subreport in the performance report is provided with:
Distributor Report
This report completely yields full-on information about the distributors that the employees meet in a month.
Details such as distributor name, contact number, contact person, email id, name of the product order taken, the total value of the order, outcome of the meeting, cod remarks.
Customer Report
It contains details like company name, contact person, contact number, email id, name of the product booked, its amount, dealer name, lastly sales remarks while collecting payment.
Product Report
The product report provides complete information about the product order that the sales employees have taken or sold in a month.
Details such as total customer visits in which you have customer and distributor visits separately, total order value in customer and distributor basis, name of the product ordered its quantity, total price/value, dealer name, cod remarks. This is implemented the same for distributor orders too.
Monthly Performance Report
In this, there are cumulative details like employee id, name, monthly attendance, total working hours, total visits done, customer calls made, and their average, distributor calls made, and their average, orders taken and their average, deliveries made, etc.
The reports are sent to the respective client mails on successful report subscriptions.
Significance of Lystloc's Sales Team Performance Reports
Can Do Self-Assessment
Allowing sales employees to evaluate their own performance is also a beneficial assessment procedure.
However, it also provides a hint to sales managers as to sales areas where employees can improve and expand, and also makes it easier for employees to accept constructive feedback from managers.
Setting Realistic Organization Goals
Generating a sales team performance report provides you a clear picture of the length your sales team can go, helping draw a more realistic goal that can be achieved with a little extra pull and push.
360 Degree Performance Evaluation
Using these sales team performance reports organizations can review and analyze from everyone's perspectives such as managers, peers, employees, and sometimes even customers.
By looking from everyone's perspective, we can get to know the overall projection of sales activities more clearly. As management, these reviews are often done anonymously.
Increasing Productivity Among Employees
By deriving a sales team performance report, you will be able to know which sales employee has made the maximum sales in a month and if they have reached their targets on time or not.
The performance report will go a long way to help you quickly in deriving better sales plans, making it simple for the organization to fix a lag before it becomes a long-lasting burden.
In addition, displaying the sales performance report of the sales employees can help to turn up their confidence and performance.
Lastly, in order to avail of this amazing full-packed monthly sales team performance report contact sales@lystloc.com immediately for further details and pricing.