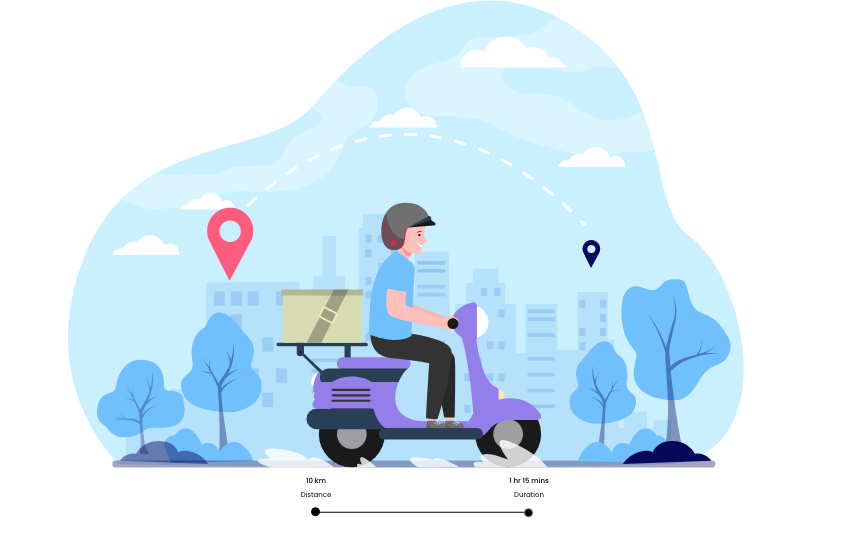 Salesperson Fuel Reimbursement Made Easy with Lystloc
Being an HR of an organization with an enormous amount of employees, it is quite tedious to provide an employee-friendly environment in the workplace. Especially in a company with a large amount of sales employees, HR should be the person of authority in satisfying their necessities.
Taking a toll on sales employees' productivity creates a massive downfall in the organization's overall productivity as they remain to be the selling face of the organization. And it is equally important that the manager should take the responsibility to make their team bigger and better.
Working as a salesperson, it's a powerful role that they possess in selling their service out of the office premises with the intent to drive their business towards the revenue path. So, it's their responsibility to travel to a customer's place to make sure that the product meets customers' expectations.
Since they travel a lot, it is important to keep a track of their fuel expenses to reimburse their share back to them.
As per the first-ever Employee Benefits study in India, 72% of employees prefer to opt for fuel allowances. This clearly shows the importance of reimbursing the employees' fuel allowances and the relevance of offering it to them.
How to maintain the record of fuel expenses?
Keeping a good record of fuel expenses helps both the organization and employees to save a huge amount of money. Because we all know that the fuel prices are transitory and taking a lethargic action on it results in an unhealthy movement in revenue graphs.
Manual methods of maintaining fuel records include retaining credit or debit card receipts and keeping a log of fuel receipts or the management also reimburses their employees based on the distance traveled by them in a fixed fuel tariff per km.
It's quite exhausting to make sure that all the records are being maintained and this results in a huge loss of productivity since it's time-consuming.
The only effective solution to overcome this challenge is to digitalize the entire process by maintaining a track record of the employees' movement of their fieldwork. That's where Lystloc shows its intelligence by providing the most effective and efficient solution in the form of real-time location tracking to tackle and digitalize this process.

Related: 9 Sales Tips to Reach Your Sales Goals in 2021
How to Digitize and Calculate Fuel allowances?
As we all know, we are filled with an endless amount of solutions for a particular problem. But it's a wise man's decision to choose the best out of them. One such solution that can show its brilliance in this context could be Location-Intelligence.
It is a process of data collection from location services (GPS) to display on a map-centric interface for better understanding.
Location Intelligence stands to eliminate all the manual proceeding of location-related challenges to provide a profound approach in getting rid of the guess games. With companies and their field workforce growing bigger, the process of maintaining manual logs and records becomes a herculean task. That's the point where Location Intelligence comes into the picture and so as Lystloc.
Lystloc's Modus Operandi
As Lystloc stands to be the pioneer in providing solutions for all location-related challenges, calculating fuel allowances is nothing but a matter of a few clicks in Lystloc's admin dashboard.
When an employee submits their reports manually, it's quite hard to ensure their travel history with real-time facts and the employer also should not be naive enough to believe that their employee can be honest about their travel reports. With Lystloc, the entire day's travel history will be made clear for HR's knowledge within a few clicks.
Lystloc fetches the location points of the field employees over a regular interval of time in between their attendance in and out period. With the help of their mobile location services (GPS), Lystloc draws a real-time route that the employee traveled by making the process more user-friendly. Based on this location data, HR can get a clear overview of the travel history of the employee.
Related: 50 Motivational Quotes To Inspire Your Sales Team
The route taken and the distance traveled by the employees is included in the dashboard in order to verify their travel history. The employee can also attach the picture of their speedometer to ensure the same with our meeting notes. It is possible to maintain overall work transparency by inculcating this process of digitalization and the manager also can be confident in spending the organization's money on fuel allowances.
Lystloc ensures to provide an accurate report of travel history consisting of routes taken and the distance traveled on the map with its Artificial Intelligence which aims to remove the scribblings on the map by enabling curate options.
So, when the employee logs out from their work, the Artificial Intelligence filters the inaccurate locations that the employee didn't visit during their work when the feature is enabled by the admin. With the help of these highly accurate reports, fuel allowances can be calculated along with the payroll with great precision.
Final Thoughts,
As an organization, it is important to look forward to identifying and fixing the bottlenecks that they have to be the best in their arena. And especially for an organization that has a huge amount of field employees, it's highly important to stay updated on every expense that your field employee makes including fuel expenses.
Since Location intelligence is gaining power in the market, there can be huge potential to exploit it in a profitable way to make sure that your organization does its part well in the graphs. One of our clients save up to Rs.540K on their fuel expenses annually on an average of 30 employees. Clients have proven that their field workers were over-reporting fuel reimbursement costs daily before Lystloc's solution was implemented.
No more manual methods of maintaining logs for receipts and statements. Equip your field workforce with relevant and proper location-intelligent applications like Lystloc and make sure to reimburse the actual expenses with real-time reports.