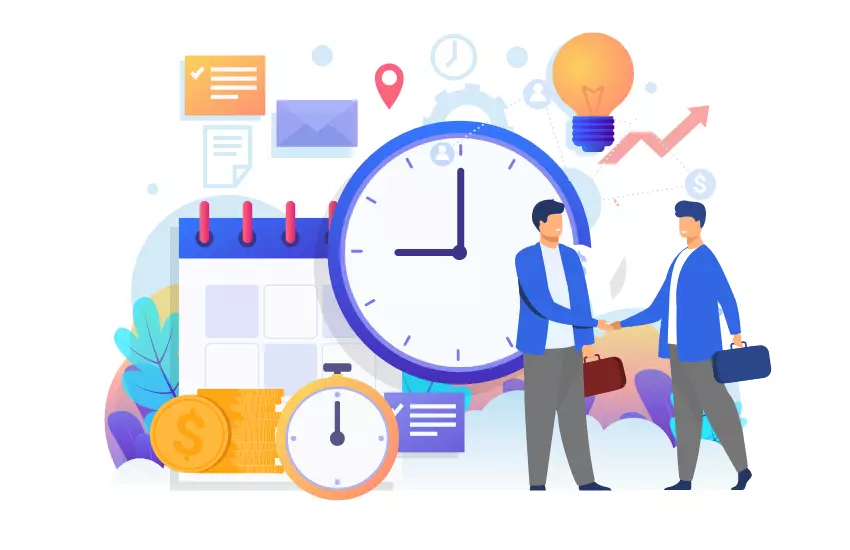 13 Daily Habits of Successful Salespeople
It is always a constant battle for salespeople to be the best in their business. They always try to come up with creative things to get their own position in closing a deal that has huge business potential. But if we can look for a deeper detail, very few salespeople can easily close a massive deal without stepping out of the comfort zone in a flamboyant way.
Isn't it unfair for a hardworking salesperson to continue hearing the same usual stuff like 'We'll let you know' whenever they propose their sales pitch?
What makes them stay away from the spotlight whereas some great salesperson enjoys the red carpet reception for their sales pitch?
There are only a few elements that create a massive distance in differentiating a good and a great salesperson. It is often a strictly followed routine that makes a lukewarm salesperson be the best in his/her field.
In this blog, we tried to narrow down the daily habits of a successful salesperson to understand what makes them unique among the masses. Let's jump straight into it without any other discussions.
1. A – Z Clarity about the product.
2. Picks potential prospect.
3. Throws specific questions towards the prospect.
4. Two ears and one mouth.
5. Uses good conversation to add value.
6. Nurtures their prospect.
7. Focus on the best quality leads.
8. Personalized priority pipeline.
9. Eliminates scripted follow-ups.
10. Strengthens existing business relationships.
11. Knows when to walk away.
12. Open for feedback.
13. Always asks for referrals.
1. A-Z Clarity About the Product
Well, you may think what's the big deal about it, but with access to the wide range of information out there on the internet, it is much easier for the prospect to know the product that you're trying to sell without any guidance from the salesperson.
Whereas what distinguishes a good and a great salesperson is the profound knowledge that the salesperson possesses about their product.
A great salesperson equips themselves to answer all the questions that are being put on him from the prospects' side in order to convince them to close the deal.
In addition, they make sure that they are showing active participation in every other department of their company to stay updated with their business moves.
2. Picks Potential Prospect
Finding prospects and collecting leads may seem to be an easy process but finding the potential prospect to close a groundbreaking business deal is not as easy as it looks.
A great salesperson often spends time finding a potential business opportunity rather than investing countless hours in convincing individuals to finish the deal.
So, it is essential to move forward in picking the potential prospect by analyzing the prospect with various means and mediums.
3. Throws Specific Questions Towards Prospects
It's always a successful salespeople game to throw product specific queries to the prospect.
As discussed already, it is not a hard nut to crack for a prospect to know the relevant information from the internet. But, the salesperson should be capable enough to interrogate the prospect to know how serious the prospect considers the deal.
This is also a part of the procedure that a great salesperson follows while finding a potential prospect.
4.Two Ears and One Mouth
Everybody has two ears and one mouth but when it comes to sales, the salesperson should consider it as the first rule to be a great salesperson.
Even though the work of a salesperson involves presenting the product in a flamboyant way, he/she should know when to listen to the prospect in order to judge the pulse and build a good rapport with the prospect.
A great salesperson considers listening as his most important task to come up with an active judgment about the prospect's needs and requirements to finish the deal.
5. Uses Good Conversation to Add Value
Adding values to the prospects' time with good conversation is the first and foremost trait that can be seen in an efficient salesperson. They try to educate the prospects to make the meeting remarkable and memorable.
Irrespective of the clients' decision on the deal, sales personnel should equip themself with proper information and data to present their product to the client based on their field specification.
When a salesperson provides such information in every of his/her conversation, he/she will develop a credible image, and the clients will look up to them as a trusted advisor.
6. Nurtures their Prospects
It is a compulsory task to educate the prospect regarding the product and the market trends to stay in constant touch with them. Great salespeople will always check if their prospects are staying fit with their product by regular follow-ups and interactions.
And they also take the responsibility to convert and nurture the leads with the relevant details even if they are not interested in the deal. By doing so, he/she can easily convert the lead into a successful business deal.
7. Focus on the Best Quality Lead
Even though salespeople are good at maintaining leads flowing towards their side, they should exhibit the utmost importance in focusing on the best quality lead.
By saying this it should not be misunderstood that one should not focus on the general inbound/outbound leads. A great salesperson always pulls his strings favorable to the sides of the best quality leads to extract a higher revenue.
8. Personalized Priority Pipeline
Top performing salespeople often do not often stick to a regular pipeline to finish a deal. They tend to be more productive by prioritizing their leads with a keen understanding of their needs and necessities.
They try to balance the revenue potential with the time and other resources towards the best quality lead in order to surge in the charts and will also try to deprioritize leads that account in a lesser revenue.
9. Eliminates Scripted Follow-ups
High-Performing salespeople try to build a personal relationship with the customer by not sticking to the scripted templates for follow-ups.
They often tailor their message to cater to the prospect in a field and business-specific way with a proper understanding of their pain points and challenges. They also consider tailoring their emails as an opportunity to answer prospects' problems and a medium to sell their product.
10. Strengthens Existing Business Relationship
The calendar of a salesperson should always be reserved for checking the existing customers' queries and feedbacks that they have on their product. It is quite important to show equal attention to the existing customers to build a lifetime business relationship with them.
Irrespective of their renewal date, a great salesperson constantly finds an opportunity to provide additional support, resources, and values to increase the scope and business engagement.
11. Knows When to Walk Away
Knowing when to drop the discussion is one of the most important traits that we can see in a high-performing salesperson. They try to invest their time and energy in interacting with their customers regarding their products and services for a particular span of time.
When the prospect exceeds the average selling period of the salesperson, he/she proactively tends to reduce the attention that the salesperson shows on the prospect in order to look for a bigger prospect.
12. Open for Feedback
Top-performing salespeople always keep themselves open to feedback from their existing customers in order to find a potential opportunity to be better in the market.
They often try to conduct a survey to understand the needs of the customer apart from the provided resources. And they also further consider the feedback as an input to develop their business by equipping themselves by fixing their loose ends.
13. Always Ask for Referrals
It is a continuous routine of great salespeople to seek a new introduction from their existing customers. They try to extend the business network in the form of goodwill they invested with existing customers and ask for a referral to replicate the same by pitching their product to the new lead.