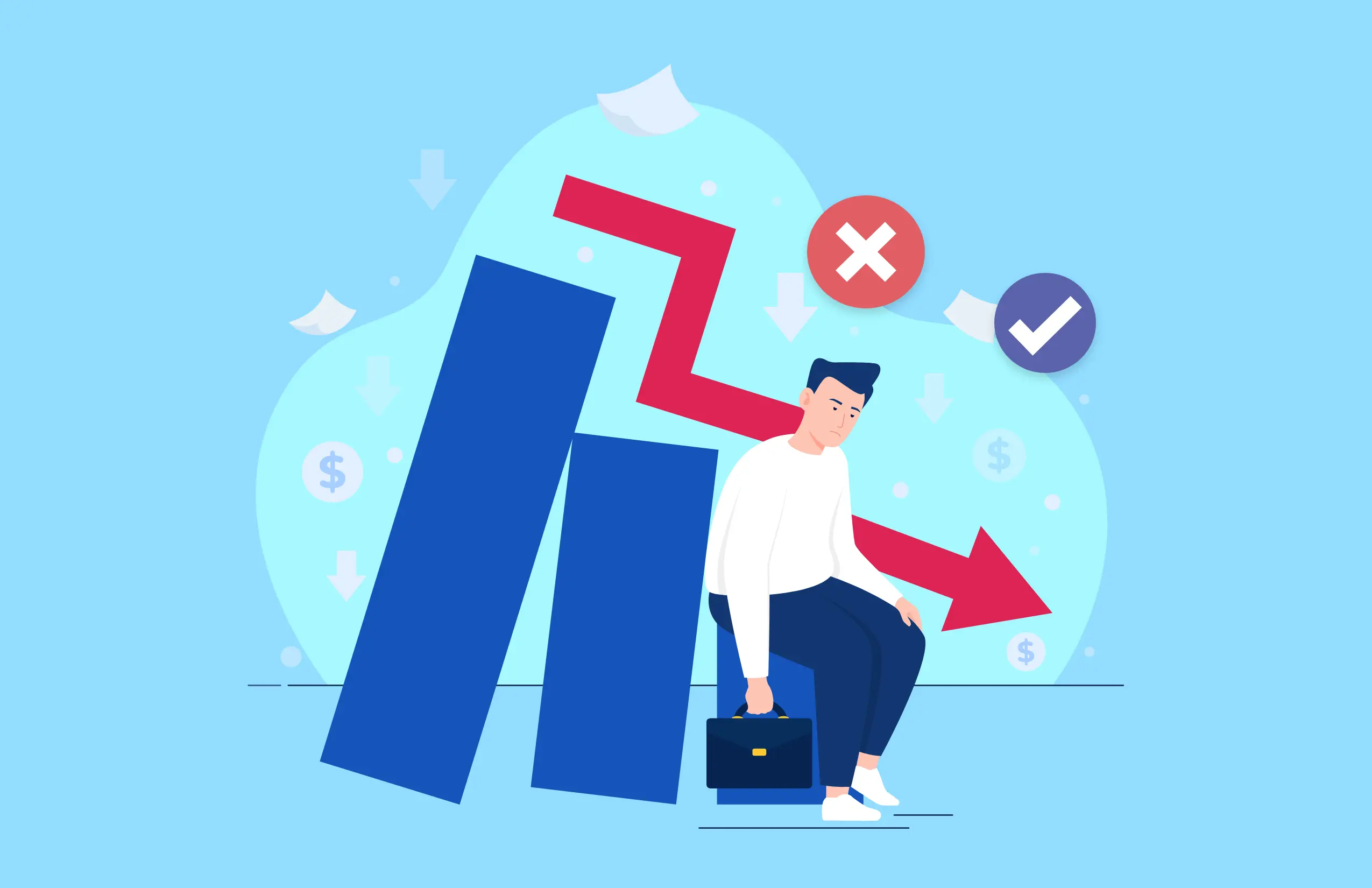 Dos And Don'ts For Sales People During The Recession Period
As a salesperson, you may be intimidated by recessions. Businesses are far more budget-constrained in B2B sales, which makes it considerably more difficult to close deals. Although selling during a recession is challenging, success isn't unattainable. This blog will discuss what a period of recession truly is as well as what B2B salespeople have to do to keep closing sales even if the economy is in a downturn.
Dedication and consistency are necessary while planning for a recession. You can proceed ahead with confidence and be prepared for anything with good planning. Here are some excellent tips on the things you should do now and what you shouldn't in order to sell amid a recession or economic downturn.
What Is The Recession Period?
A recession refers to a significant slowing or decline of the economy. A recession often results from a substantial decrease in spending. Such a downturn in business activity may continue for several periods, entirely impeding an economy's progress. People tend to make purchases less during recessions because their financial system is weaker. You must come up with innovative techniques to boost sales during a recession if you want to remain successful.
Since economic conditions may fluctuate at any moment and you ought to always be ready, planning and practicing for a recession is essential. If you fail to have a strategy, a recession may have an impact on your company's sales.
The idea that companies will experience sales declines amid a recession is widely believed. The market really is still as competitive as it was previously. During an economic downturn, sales might increase. However, if you are unable to maintain pace with other companies, you risk shutting down your doors to competing businesses.
5 Tips On How To Have Successful Sales In Recession Time
Alter Your Sales Strategy
Sales teams will have to modify their approach to increase their target demographic or diversify their offers as there are fewer prospects in the sales pipeline and extended purchase cycles. Using a through-cycle method, your business should move sales towards more recession-resistant locations.
Concentrating on less volatile sectors aids in achieving long-term income throughout and following a recession. Tactical sales improvements can set your company up for both immediate and future success, however, they need precise figures to be carried out well. Use data insight to help make decisions and sell more successfully.
Develop A Culture Of Consultative Selling
As said, throughout a recession, you cannot rely solely on the reliability of a product. The competitors will likewise refine their products and make certain that they possess characteristics that the client base desires. These features are easily copied; nevertheless, a consultative selling style is more difficult to imitate. When customers make a purchase choice amid an economic downturn, they want to collaborate with those who they can trust. You can achieve this by taking a consultative strategy for selling.
Anticipate The Sales Approach To Entail More Touchpoints
Sales during a recession, however, frequently involve more points of contact, more challenges, and more deliberate decision-making on the part of customers. You take some time to comprehend the problems that your potential customers are facing, including any fresh ones that have arisen as a result of the current economic situation. Then, you tweak your sales pitch as necessary.
Rather than pursuing every lead, focus your attention on a limited number of highly qualified prospects and make more regular contact with them. You can prioritize your time and increase the likelihood of closing a deal by centering your attempts on the prospects who are most inclined to make a purchase.
Appreciate Customer Loyalty
With the question "How can I convince my customer to choose to carry out business with me?" as your driving principle, consider about how to create a protective barrier around your customers. Finding what they want and fulfilling their needs is the best method for acknowledging loyal customers.
To demonstrate to your committed customers that you value them and care about their opinions, send surveys through email. To keep the customers coming back, develop a loyalty program that is in line with your business plan and is intended to enable customers to save money. Then you can change to an experience-centric strategy after the recession is over.
Minimize Customer Turnover
Regardless of how much focus is placed on customer satisfaction, certain customer turnover is unavoidable in any business. Nevertheless, considering the recession, it is critical for businesses to take efforts to prevent turnover, since customers grow increasingly and trust in brands may suffer during downturns.
Enlightening customers regarding the product is the "only appropriate move" during an economic slump since it assures retention, decreases turnover, and promotes fresh client acquisition. Another approach to reducing customer turnover is to get constant feedback from buyers regarding your product.
5 Crucial Mistakes To Be Avoided By Salespeople During Recession Period
Don't Make Hasty Decisions
If a recession occurs, it may be enticing to take fast, stern steps such as reducing targets or redesigning sales methods. However, extreme behavior isn't always the wisest course of action. Indeed, rediscovering what makes your business outstanding in the initial instance is frequently the best solution for an unexpected issue.
The most significant thing a sales organization can do is reconsider its primary goals and bases, such as establishing the ideal client profile, target personas, areas, sectors, and so on. Retraining the art of sales calls and consultative marketing, as well as reverting to old yet successful sales tactics, can be useful techniques for ensuring you sell confidently and effectively, despite market fluctuations.
Don't Overlook Your Existing Client Base
In days of economic instability, obtaining fresh clients is critical, but not at the cost of your current existing client base. Never assume that this community is "secure" particularly when the connections are outdated. After all, it is your trustworthy customers who are going to get you through a slump.
It's usual for the rep-customer connection to become consistent, therefore make an effort to establish conversations, resolve any difficulties, and expand these connections. You may even discover possibilities for cross-selling or up-selling as a result of these conversations. At the very least, a brief word of gratitude for their support could go a long way.
Don't Try Hard To Sell To Customers
The buying capacity of customers has dropped. This tendency will impact your sales until you offer the product necessary or pursue a market that is not prone to economic recessions. As a result, it seems reasonable that you ought to concentrate little on sales. Rather, now is a good, if not the greatest, moment to invest in marketing. Better positioning of your brand for the business will help it rebound and thrive in the long run. Rethink your call-to-action Modify the type of content you convey via social media networks. Make your pitch around your brand rather than about products or services.
Don't Overcomplex Your Sales Strategy
The sales plan could appear too hard to even adopt if you make it so complex. Concentrate on streamlining processes for your sales and clients. There is sufficient tension around the world, particularly during challenging circumstances like a recession.
Try sending out surveys to find out what the customer's requirements and desires are. You might discover it simpler than you anticipate to satisfy those demands. Then, check with the team about how you can streamline your plan and introduce some fresh ideas. Don't get confined doing stuff the same way over and over again. Become unique and innovative.
Don't Lower Pricing
Usually, lowering product prices is the first choice made when revenue and sales are anticipated to decline. Changes in customer buying habits are one result of the recession, and in some instances, these changes have an impact on the overall price of your products. While price reductions during recessions may seem alluring, they are not necessarily essential.
You might have to organize marketing initiatives. You could additionally offer your products with fewer packages or provide discounts on subscription programs. With this strategy, businesses can expand and endure since it enables customers to recognize their worth even in difficult situations.
Bottom Line
Sales might suffer greatly during a recession since customers tend to be more frugal with their purchasing habits during these times. Although they won't immediately stop making expenditures during a recession, they could become more picky regarding how and where they invest it. It may actually make an impact in this scenario to have the appropriate sales strategies for business growth.
You might be able to withstand the waves of an economic downturn better than others who don't have a comparable proposition if your business can provide products or services that are deemed necessary or that offer excellent value for the money being spent.