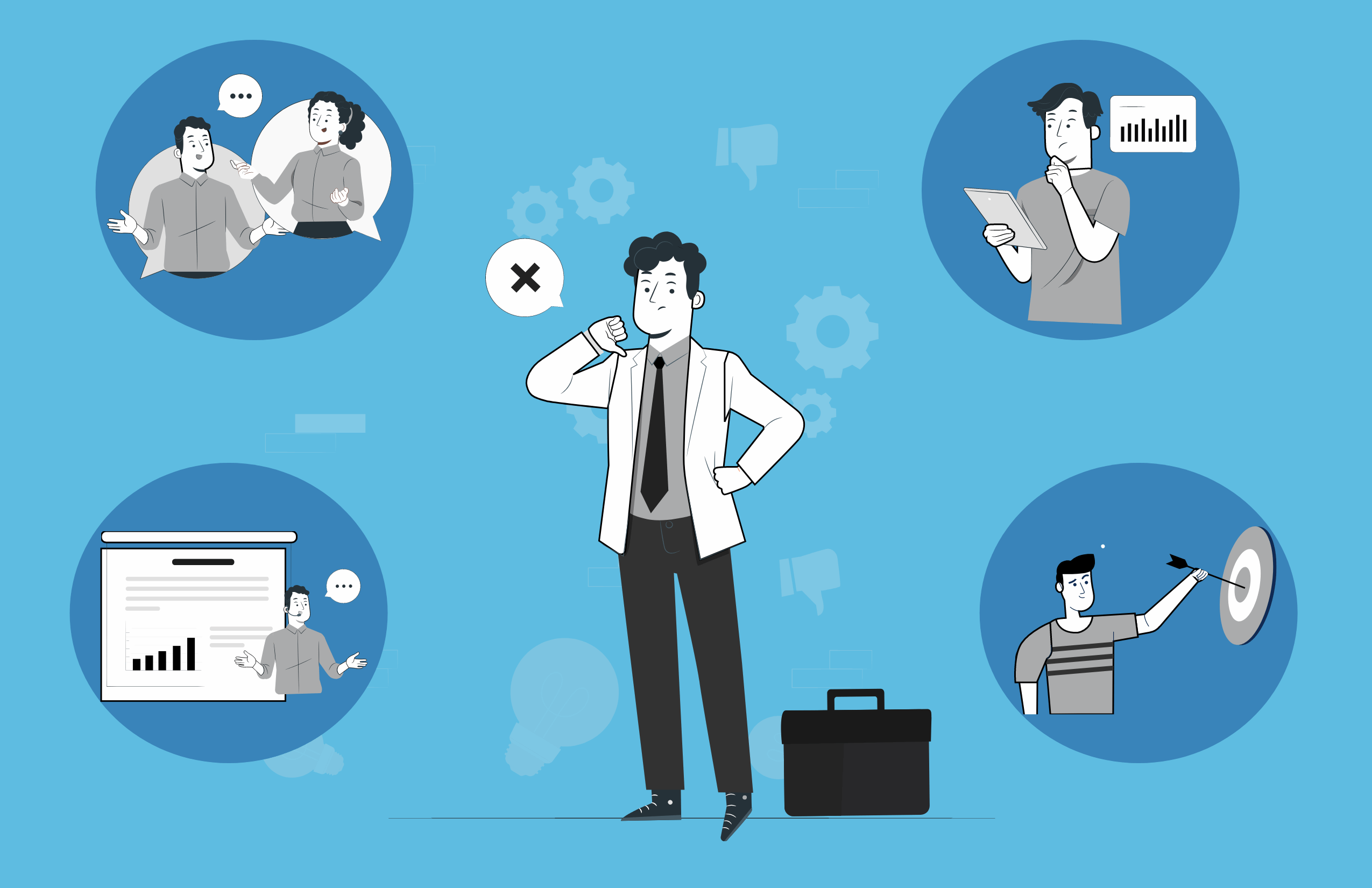 5 Common Mistakes That Every Sales Manager Make And How To Avoid Them
Getting elevated to a sales manager position is one of the most gratifying career transitions a salesperson can go through. Being promoted to sales manager is indeed a significant change that may come with additional roles and responsibilities as well as a chance to advance one's career. Making mistakes as a rookie sales manager can result in poor repute, disgruntled employees, excessive employee turnover, and the slow but certain decline of the company.
Management places you as the sole responsibility of your team and demands greater accountability for a significant opportunity. Mistakes in management frequently occur without conscious awareness or intent. Therefore, a new sales manager's first objective should be to identify and completely avoid the common sales manager mistakes that have ever been made.
However, moving from sales to management is not simple. We've put up a list of the common mistakes sales managers make to help you avoid typical pitfalls.
List Of Common Sales Management Mistakes That Every Manager Do
Prioritizing Competition Over Cohesiveness
The world's highest competitive activity is selling. And each salesperson needs to be able to succeed in that hostile environment. Continuous and sustained motivation is necessary for this. As sales managers, we frequently assume that addressing the high performers as rock stars will inspire everyone to perform at their best. It is a risky assumption that often results in the sales side turning into the holy ground for those few exceptional salesmen. The competition raised walls of concealment and mistrust, which led to eventual displeasure.
Such contests may succeed in the short run but can erode confidence and lead to long-term discord. The following conflict gets increasingly personal and corrosive as it becomes less focused on achieving sales quotas. It is preferable to emphasize to the team that they win and lose as a whole. Work on creating an atmosphere that recognizes both individual and team achievement. Regardless of its place, competition shouldn't be the team's performance strategy.
Not Setting Proper Goals And Improper In Delegating Works
One of the biggest new manager mistakes is not delegating responsibilities. Although it's normal for new managers to believe that nobody else is capable of doing critical tasks correctly, this mindset impedes organizational and team progress and extends entire project completion timeframes. True leaders have faith in their team members' talents and are aware that no person is indispensable. Keep in mind that it is your responsibility as a sales manager to create a fantastic, high-performance, and productive workforce that is aware of exactly what to do when to perform it, and how to accomplish it.
When employees understand how their task fits into the wider vision, they operate more effectively. It gives them the impression that their work matters to the business as a whole. The very first step in making sure that staff understands what is anticipated of them is to establish clear objectives. If you're a newbie manager, don't just offer your staff members chores; give them something more to work toward.
Focusing Too Much On Sales
A sales manager must not focus excessively on selling. You are your sales team's overall strong catalyst as the manager. One of the common sales management errors is to continually close deals rather than concentrating on the numerous other approaches you can create to coach and develop your team. Generally speaking, after two quarters as a sales manager, you must cease managing sales accounts.
Utilize the lead-up period to educate a new hire on the details of the important clients you deal with. In this manner, they can cultivate rapport before taking responsibility. You establish the pace for the entire business as the sales manager. It's imperative to strike a balance between the tactical day-to-day work of "managing" and motivational "leading." Similar to how analytics can lead your operations, only continuous guidance and coaching can help your employees benefit from what the analytics shows about them.
Organizing The Sales Meeting As An Investigation
Instead of being an investigation, a sales meeting must be a proactive mentoring session. Inspections aren't very useful in reaching these objectives because the point of a sales meeting is to give value and educate the salesperson. In terms of their outcomes and growth, the salesperson has the most at stake. Although they want to get better, this isn't a teacher-student relationship. Instead of giving orders, sales managers should try to communicate and solve problems.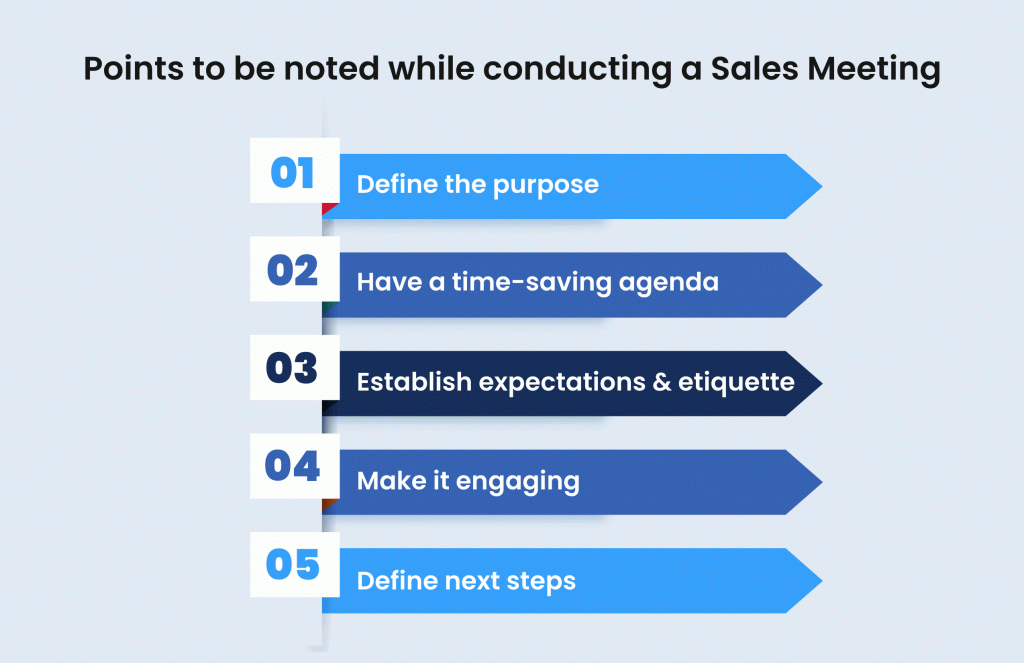 You're there to offer assistance and direction based on your knowledge, but ultimately it's up to them to carry out a strategy they take responsibility for and engage in. You'll be prepared to include more wholesome routines in your meetings once you start removing these behaviors from one-on-one conversations. Abandon the outdated, sales manager who knows the best evaluation style of sales development and adopt a cooperative, devoted relationship instead.
Being Too Nice And Friendly Gestures
The most frequent error we observe new sales managers making is being overly friendly, especially when they've been upgraded and are currently handling their former colleagues. They definitely need to step up to the plate and lead the sales team. Establish that gap by acting a little distant and haughty. They must conduct themselves like a leader because they are no longer a peer. Perhaps they should refrain from going to that coffee break or refrain from attending a sports event except if the event is part of a company engagement.
The majority of sales managers want to come across as friendly and nice to those on their team. Employees are pleased working for a sales manager they are comfortable with, after all. Nevertheless, you as a sales manager may occasionally need to make difficult choices about the members of your team, and if you're very friendly with them, some might enjoy the benefits of the friendliness. This does not restrict you from interacting with your tribe. You do, however, need to strike the correct balance between being the manager and being a buddy.
Not Addressing Sales Team's Performance Problems At The Earliest
New sales managers battle their own instinct to avoid conflicts and differences. They were great at selling products and getting through customer obstacles as salespersons. In this sense, new sales managers hail from a professional base where averting customer conflict was valued. Therefore, it feels rather natural for that exceptional salesperson to keep ignoring conflict with those around when they are made a new sales manager. However, when a manager doesn't address issues with salespeople, such issues remain unresolved. The sales team's current incompetence is being overlooked by the new sales manager. S sales managers need to be careful not to convey to their team that inadequate performance is tolerable.
Faster resolution of sales team performance issues will have a greater impact on a salesperson's achievement or failure, especially for rookie sales managers. Dealing with a sales rep's poor attitude, performance, or outcomes should indeed be done as soon as possible, not later, if you can assist them in solving the problem. The sales manager must get in touch with their HR team and set up a de-hire process if they see that the sales team's issues can't be resolved or if the salesperson is unwilling to spend the time and energy to progress.
Wrapping Up
Everybody makes mistakes, however, leaders and sales managers are especially susceptible to doing so. Although the preceding list isn't really extensive, these are fairly typical mistakes that must be avoided when undertaking the role of sales manager. It is undeniable that committing a mistake might provide an opportunity for learning. However, investing the effort to understand how to identify and avoid frequent errors will help you become successful and efficient while also earning the admiration of your team.