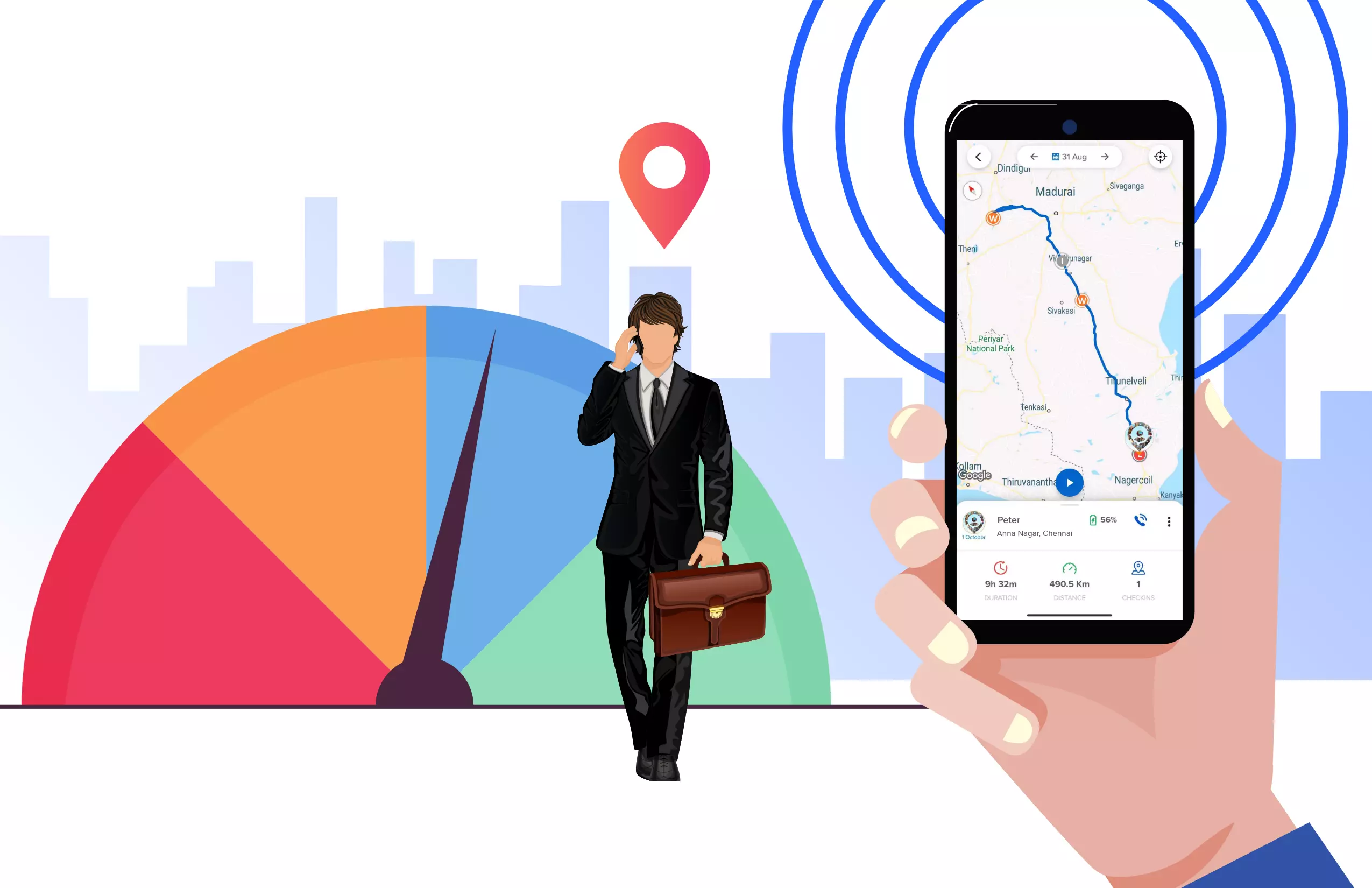 How Does The Tracking App Lystloc Help In Measuring And Improving Field Employee Productivity?
Field employee tracking software is transforming the way how companies evaluate productivity, monitor employees, manage time, and keep track of field force in between scheduled check-ins. Employee productivity is often used in businesses to determine how efficiently capital and labor resources are employed inside the business economy to generate a certain quantity of output. As with most organizations, the greater the rate of production, the larger the revenue. As a result, improving field employee productivity is a primary goal. Monitoring field employee productivity and time can assist businesses in a variety of ways.
In this blog, we're going to look out at how the tracking app Lystloc helps in measuring and improving field employee productivity. Lystloc is a field employee tracking app for monitoring and managing field employees' locations and day-to-day activities. The app allows you to monitor real-time employee activity, enabling you to check on field employees' overall productivity and improvement measures without interrupting them.
5 Ways Lystloc Tracking App Helps In Measuring And Improving Field Employee Productivity
Lystloc Helps In Field Employee Time Tracking
Time tracking has a significant impact on field employee productivity. That's because, with the appropriate time tracking tool like Lystloc, you can see exactly where your employee stands. It makes it possible to see who is working extra, who finished their work on time, and also who requires to spend a bit extra hours on a task. Monitoring field employee work hours and time management are becoming increasingly important considerations for any business. It enables businesses to ensure that each employee devotes their office hours to the work for which they are paid.
Lystloc helps the companies to keep a close eye on the whole field employees' daily working hours, client meeting timing, attendance marking time, and all of the daily activities and time spent on each of them; it helps in maintaining transparency and trust by accurately tracking and recording the workforce's time allotments. With Lystloc you can easily analyze employee performance and work productivity as they have the exact data on hours spent by each field employee at work and client meetings they made in a day or month.
Lystloc Helps In Field Employee Work Management
The significance of field employee work management cannot be emphasized. Task management is one factor that determines the performance and productivity of field or remote employees at work. An employee with effective job management skills is more productive and, on occasion, generates more revenue. These qualities will allow them to complete work rapidly while maintaining performance.
The field employees can opt to mark their daily tasks and meetings with their customers through Check-in/out with the Lystloc app. Once, the employee has reached the task/meeting location they can Check-in so that it is possible for the managers to know their accurate task/meeting location and timings. And after the task/meeting is over, they can Check-out with task/meeting notes filled with the end results and task status of the particular task/meeting and other main details.
The Lystloc app makes it simple to schedule client meetings and allocate work to field employees. Using a tracking app like Lystloc software, managers may see the time availability and location of each field/remote employee. Managers can list the daily tasks that employees are supposed to complete in a day within the application dashboard itself. Possibility of tracking the tasks that employees start, complete, and finish using their status updates and meeting notes.
Lystloc Helps In Field Employee Sales Territory Management
Today's more sophisticated sales territory management system makes it simple to create territories based on the location of clients or their demands, enabling field employees to work in the same location but focusing on different customers according to their needs. Sales territory managers can increase productivity and promote efficiencies in field sales by allocating various sales territories to individual field sales employees. To make it simpler and easier for our customers to assign location-based assignments and client meeting plans to their field sales employees, Lystloc has added the sales territory mapping option to the task module.
A comprehensive task-assigning feature with location restriction proficiency makes it easy for field employees in managing their daily location-specific tasks. With sales territory mapping, field sales employees can view their tasks only when they are within the specified task area perimeter assigned by their sales territory managers.
With the latest location hierarchy notification feature, you tend to get instant updates on your field employees' movements to their assigned sales territories. This feature alerts you with quick notifications to know when your employees are leaving and returning back to their assigned work locations. You can easily track and manage them, know if they have finished their work before leaving, reach the assigned work locations on time, etc.
Lystloc Helps In Field Employee Daily Attendance Tracking
The management of attendance might be difficult when there are many employees operating on the field. The field employee tracking app can make it simple to monitor employees' attendance and let them clock in and leave from any location without interfering with their job. Manual attendance management may be prone to human error, but the automated remote or field employee tracking app leaves no possibility for fraud or error. Consequently, automated attendance management software provides precise time records and accurate data for the actual operation of the payroll system and to measure employee productivity by knowing their presence to the work.
Lystloc is a field employee tracking app with a real-time location-based remote or field employee attendance monitoring feature. Field employees can mark their attendance through a single touch authentication from anywhere during their office hours directly from their fieldwork location rather than traveling to the office location. There is also an option for Geofence attendance in the Lystloc app; employees can mark attendance only when they are within the specified virtual perimeters built using the latitude, longitude, and radius of a vast location by their managers. The app gives you the information needed for various attendance-related reports, offering insights into hours worked, shift timings, and so on with a view to constantly improving workforce productivity.
Lystloc Helps In Field Employee Overall Performance Tracking
One of the most effective things you can do to improve the performance of your remote team and produce reliable revenue outcomes is to have a monthly performance report of your remote employees. An overall employee performance report enables organizations to ensure whether their remote workers are on track to meet key goals by estimating the total and expected value of your business. We at Lystloc provide our clients with employee performance reports along with the employee's daily activities, timesheet, attendance, client meeting details, and so on. We generate reports based on the daily activities of the field sales employees, and their customer meetings to make it easy for the organization to evaluate the performance of their teams on a timely basis.
A team performance report will allow you to see which field employees generated the most sales in a given month and whether or not they met their goals on schedule. Lystloc's performance report can help you immensely in quickly developing a stronger sales strategy, making it easy for the business to address a lag before it becomes a significant problem. Displaying the employees' field sales performance reports can also boost their self-assurance and effectiveness. Because of its use in gathering hidden insights, conducting remote sales assessments, and enhancing business requirements, it is crucial to the improvement of the company.
Wrapping Up
Companies that utilize the Lystloc app can greatly boost their field productivity while saving them a significant amount of time and effort spent on field employee management. Lystloc automates monotonous, manual operations, allowing businesses and their field workforce teams to focus on making sales and producing revenue. All businesses that wish to increase their employee productivity, efficiency, and strength should invest in Lystloc. The app not only helps organizations measure employee performance, but it also gives several benefits to field staff. So, if you want to be successful in business, start utilizing Lystloc right away.