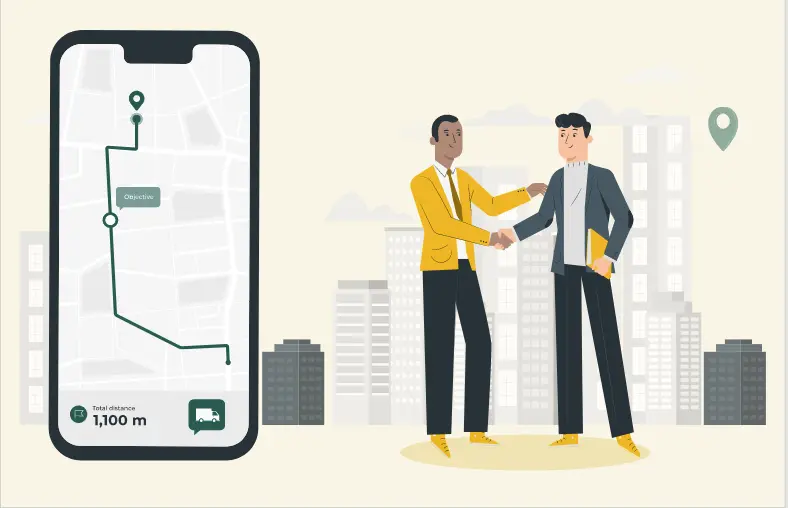 How To Keep Track Of Your Field Employees And Their Field Works
Every business owner wishes to have a hardworking and creative field workforce. However, organizing a fully competent team is extremely difficult. There will be one or more team members who fail to follow the organization's rules and do not work according to the given instructions. Field employees do not always make mistakes on purpose; they are also human, and they can make mistakes without knowing it.
Employees who misunderstood managers' instructions to complete a task are a very common occurrence. However, whether errors are committed intentionally or unintentionally, the consequences of errors can be severe in a business organization.
Managers can obtain real-time notifications about field employee behavior, correct errors, and determine how engaged employees are by tracking them in the field. The benefits of monitoring field employees include sending them reminders, checking their work on a regular basis, and ensuring that they are always on the right track. The process of correcting errors in the early stages became much easier with a well-structured field employee tracking system.
Why Is It Important To Track Your Field Employees?
Keeping track of your field employees is critical for your company's growth. You must know where your people are, dispatch the appropriate team members, and complete the work. Field employee tracking is a process of gathering relevant information about the performance of field employees. The goal of tracking your field employees is to monitor their work activities to ensure that they are providing high-quality services that will propel your company forward. Tracking field employees will also assist you in the real-time understanding of challenges, bottlenecks, markets, and revenue streams.
Many times, you must have faced difficulties in knowing where your field employee must have disappeared during the work hours and also might not be in contact in any manner. Due to this, you won't be able to track their location and assign them new tasks and meetings. It is important that we keep track of our field employees at regular intervals for their safety too.
Benefits Of Tracking Your Field Employees
Efficiently handling of client meeting plans
Analyzing the project management and sales performance lags
Optimizing the time for better results
Ability to know who is performing well and who is lagging
Keeping work schedule in perfect order
What Can Be The Best Option To Track Your Field Employees?
When you look at a typical day in the life of a field employee, you will notice that they are responsible for a number of complex tasks. They typically need to attend client meetings, approach new leads for sales, deliver the products, do service at their doors, and much more. Using spreadsheets or manual notes to manage all of these tasks can be time-consuming and there is a possibility of errors.
Managers, on the other hand, must be aware of their team members' performance. Knowing this will improve transparency in incentives, appraisals, promotions, and task allocations. Managers cannot continue to sift through spreadsheets to assess individual performance. Also, tracking field employees can be a challenging and backbreaking task for each and every manager of an organization.
However, to increase workforce productivity and grow in business, organizations need to regularly track their field employees' daily workflows and adapt their focus on the employee's work performance and target achievements.
That is why you require apps that can assist managers and field employees. Separate apps, on the other hand, will make work more chaotic. What you need is a one-stop solution for both managers and field employees to track their employees and manage their tasks. Field employees can easily carry a mobile app to the field and update their activities on the run, while managers can gain real-time access to employees' field activities and automated performance reports.
Let's get to know what is that one-stop solution and its benefits in tracking field employees in detail.
What is Field Employee Tracking App/Field Force Automation App?
As moving towards the mobile era, you can see that digital and mobile evolution is bringing many comforts to businesses in terms of providing you with field employee tracking and field force automation apps.
All field-related activities can be tracked using a field employee tracking app. You can also call it a field sales tracking app if the use case is for sales employees. It acts similarly to a torchlight that aids in locating the routes that employees take. The field workforce tracking app allows a business to track field workforce location, and activities and monitor worker engagement with respect to outside field works.
The business using the field employee tracking app can monitor, regulate, access productivity and record attendance of their employees from on the field and ensure that employees are working as per the given schedules around the clock.
When it comes to field force work, there is no greater or finer way to accelerate your work than taking the aid of a field force automation app and finding the importance of field force automation in businesses. The field staff tracking app and field force automation app is more or less similar to one another.
Field force automation eliminates the time-consuming tasks associated with selling and eases sales teams' jobs from the mind-numbing, repetitive behind-the-scene chores, enabling them to do what they do best. At present, technologies such as field force automation are now playing a crucial role in many industries since it aids companies to automate their field sales processes in various aspects. They can systemize their field sales activities, generate sales forecasts, and optimize field sales reports that minimize the work of the managers.
Some Advantages Of These Tracking Apps In Managing Field Employees
Easy Attendance Tracking
The primary aim of designing a field employee tracking app is to create an accurate attendance record for field employees. There are numerous factors that influence an employee's attendance, including off-time schedule, start time schedule, client meeting time, leaves, break times, and so on. Aside from that, hourly work attendance is critical for evaluating an employee's performance. The field workforce tracking app, on the other hand, makes it simple. With this app, the field workforce can mark their daily attendance directly from their work location, instead of travelling to the office.
Location Tracking To Know Employee's Whereabouts During Work Hours
The app also helps in keeping track of your field employees' current location and their travel journey in a day. One of the most useful features is the ability to track an employee's daily workload based on their location. It leads to increased accuracy and transparency in the organization. With the installation of the field staff tracking app, however, you can easily and accurately track your field workforce's work location, meeting location, travel mapping, distance traveled, and so on. Managers can guide their employees in the correct location to reduce time waste.
Quick Daily Sales Reporting
There are field sales tracking apps that can provide real-time data on daily sales, deliveries, or services provided by each field employee. You can analyze the daily output of each employee using the field employee tracking apps that include this reporting feature. Furthermore, the output is detailed; you can ensure that employees meet daily targets and that work is paced out. There is no pushover because of this feature of a sales employee tracking app, and employees are not stressed out on the last day of the month to reflect on achieved targets in their work.
Develops Collaboration Within Field Sales Team
The field force automation app will help you with enhancing better communication within every sales team of an organization. It will be able to allocate daily tasks and monthly targets based on the reports from the sales team. This will in turn improve the efficiency of the sales force working in the field. They will have access to all customer data and sales analysis required for their sale with the click of a button. Field force automation software will become a one-stop solution for all the requirements needed for a field employee with respect to customers and products. The app also permits you to associate with your sales team, maintaining complete transparency and reliability.
Lystloc- Best Field Employee Tracking App For You
Lystloc is a field workforce tracking app that allows you to track the location of your on-field sales employees comfortably from your workspace at any time. It enables you to collect complete information about field employees' attendance and current precise location and allows you to assign meetings based on the availability of nearby clients. The check-in/check-out time of on-field sales employees from the client meeting location can be easily tracked. In addition, Lystdata is used to generate daily and monthly reports for managers to use in making strategic and tactical demand decisions. This app is a one-stop solution for all of the issues associated with tracking and managing field employees.

Summing Up
Field employee tracking is regarded as one of the most effectual methods of increasing the efficiency and productivity of a business organization. After understanding the benefits of employee tracking systems, many businesses started investing in field employee tracking software. The advantages of the field employee tracking app are numerous and extend far beyond the benefit of just tracking and recording employee location. If you try it once, you will know it yourself
Getting a field employee tracking app is now a must-have for any business, be it large or small. How else will businesses manage a large workforce when everyone is on the field? It provides field employees with the tools they need to improve their sales performance and productivity.