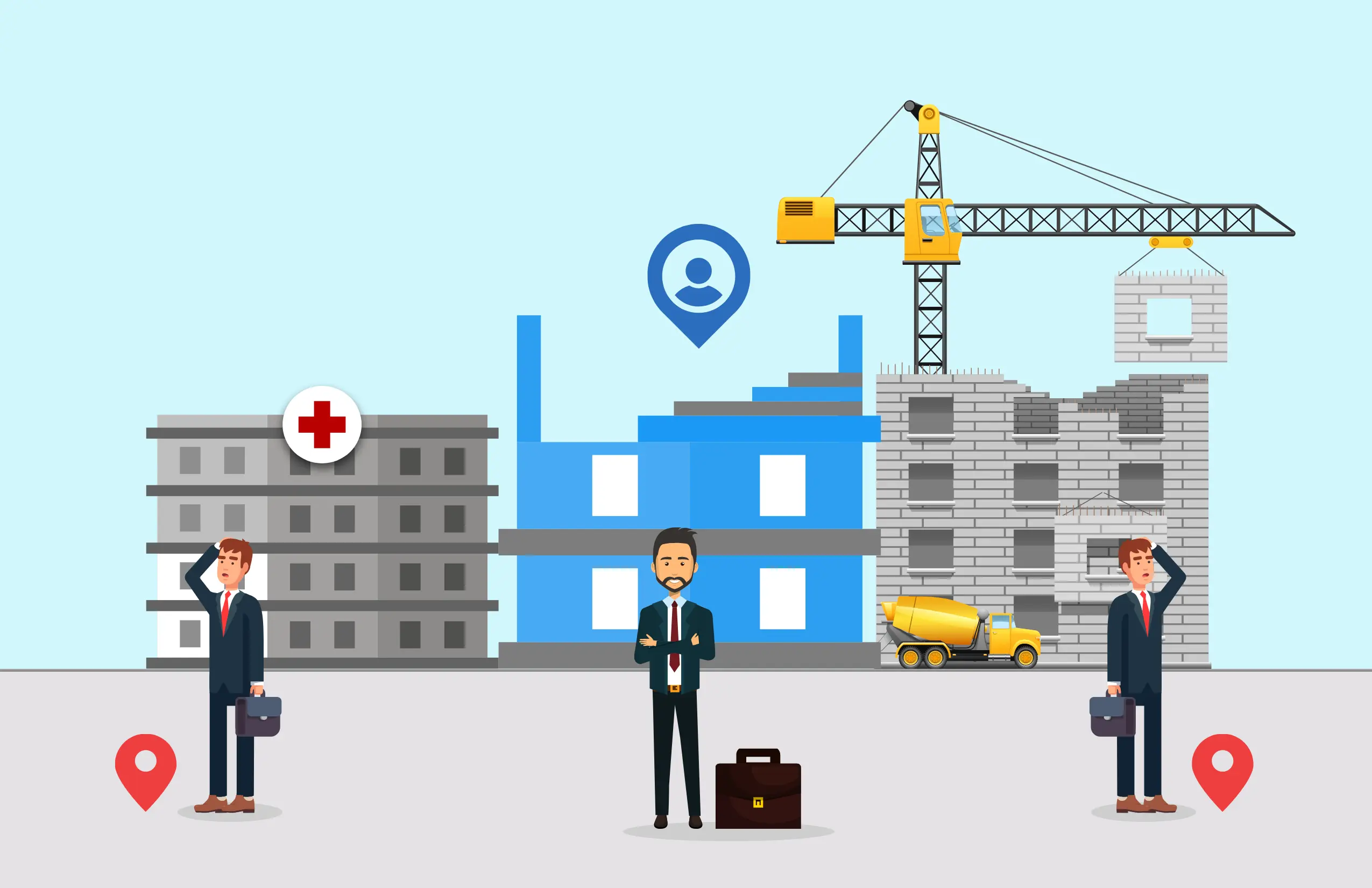 How Lystloc Helps Pharmaceutical And Construction Field Force Management
When it comes to business and its growth nowadays, every industry has numerous challenges and competitions in its sales and business. To overcome hurdles and outnumber competitors, the industry requires technological assistance. Any pharmaceutical or construction company's growth is heavily influenced by its energetic and efficient field workforce. To be more specific, no pharmaceutical or construction company can thrive in the absence of a field force.
At the same time, it is difficult to track and manage them all because their job requires them to walk from door to door to meet clients and run from site to site. While managers may encounter issues such as determining the route field employees are taking, whether they are on the correct path, whether they are in a meeting or elsewhere, and so on.
To stay ahead of the competition, all of the biggest pharmaceutical and construction companies are implementing new technology that can enrich their field force management.
Lystloc is a field force management software that helps companies in location tracking, monitoring, and managing their on-field workforce and their daily activities. This software helps companies in making the right field-related business decisions and come up with better strategies and planning based on real-time location intelligence data rather than doubtful assumptions.
How Does Lystloc Benefits Pharmaceutical Field Force Management Tracking?
Efficient Tracking Of Medical Reps Operations
Lystloc helps in the better tracking and management of pharmaceutical employees in the field. The software bridges the gap between field workforce management and effective product sales in the pharma industry.
For example, if a field medical representative is making a client visit to a potential customer, the sales manager has access to all of the information about the deal and prospects without physically being present there.
This saves a lot of time on having endless sales visits/ client meetings. Sales managers can keep track of their field force's location, current work progress, and sales quotas. This, in turn, will open the door for greater team management.
Automates All Field Sales Tasks And Sales Process
Lystloc streamlines field sales tasks and allows medical reps to conduct more customer visits each day, boosting the likelihood of lead conversion. However, with additional sales chances, your salespeople can improve the effectiveness of their salesmanship, build stronger customer connections, promote new products, and drive sales growth.
Field forces will indeed be able to finish their tasks more quickly with Lystloc's field force management software, resulting in company development. The major increase in medical sales is reliant on how swiftly their sales staff can complete their tasks. With real-time fieldwork information, managers can manage and monitor each worker's actions throughout the day, allowing them to make better decisions and design sales practices at a faster speed.
Real-Time Route and Location Tracking Of Medical Reps
Lystloc app serves as a field employee location tracking software, allowing you to track and monitor the location of your salesperson. Pharma field service managers can simply keep track of all their field sales employees' predetermined sales routes and sites in real time with Lystloc software.

This allows them to keep a record of all the medical reps' work locations and attendance marking geo-location. On the other hand, this field employee location tracking app lets field salespeople follow the appropriate routes and continue their journey with the use of advanced GPS technology. Furthermore, because the Lystloc software is cloud-based, users can check their route plans at any time and receive real-time alerts regarding any updates.
Expense Management and Reimbursement Claims
Medical field salespeople can use Lystloc's field sales software to submit all of their expenses so that their sales managers can instantly analyze and approve them. Both the employee and manager can monitor expenses while on the run and save a significant amount of time, as well as have 24/7 access to all transaction receipts captured in the software. The same is applicable to reimbursement requests.
Field salespeople can claim their reimbursements with a few simple clicks, and the field employees can do so while they are on the field through the mobile device they carry. We have also included a fuel reimbursement calculator in Lystloc software. The pre-set rates per kilometer that are linked with the reimbursement feature as a default option can be used to automatically compute the fuel expenses of salespeople.
Enhancing Communication and Collaboration Within Team
There will be no more lost communications as a result of connecting across many platforms because all medical sales professionals within an organization can interact directly with Lystloc's field force management software.
Better communication and collaboration lead to increased efficiency and production, especially when managers can monitor all client encounters and encourage better collaboration as needed. Not only this, the employee will have access to all customer data and sales analysis required for their sale with the click of a button. Lystloc app will become a one-stop-shop for all the requirements needed for a field employee with respect to customers and products. The software also permits you to associate with your sales team, maintaining complete transparency and reliability.
How Does Lystloc Benefits Construction Field Force Management Tracking?
Managing Construction Workers In Real-Time
The goal of today's construction field force management technology is to close the gap between expectations and execution. Businesses can use Lystloc's field force management software to check project status and build real-time communication with field employees on the job about major changes to the project scope or minor changes that must be incorporated into the present scope.
Construction managers, site supervisors, and funders do not have to deal with mountains of data since centralizing data sources across departments guarantees that every person has access to the necessary information. Sign up for a personalized demo of Lystloc's field force management software now if you're a construction manager looking to enhance on-site to back-end communication in real time, work accuracy on-field, and overall efficiency.
Tracking Their Working Hours On Site
Lystloc app assists you in keeping a close eye on all construction workforce's daily working hours, site visit timing, attendance marking time, and everyday activities and hours invested in each of them. By precisely tracking and recording the employee's time allotments, Lystloc aids in maintaining transparency and trust.
Additionally, you can know about the work location and time with the field employee's check-in/out marking from the current site location. Lystloc allows you to easily analyze employee performance and productivity because they have exact data on how many hours each employee spends at work and how many site visits they make in a day or month.
Simplifies The Task Of Construction Project Management
Businesses recognize the importance of a sophisticated workforce management system as projects become larger and more complicated. Previously, companies used a variety of tools to manage their workforce, but this approach was deemed inefficient.
In the style of field workforce management software, Lystloc integrated the functionalities and features of diverse programs under a single dashboard. Contractors can now see all on-site employees' tasks in real-time, which improves operational transparency. The use of Lystloc enables construction organizations to more efficiently track workforce needs, required skills, payroll, as well as other labor management factors.
Summing Up
Lystloc assists managers and field employees in better organizing and managing their business processes. All of these benefits of utilizing it are more than enough to assist pharma and construction companies to comprehend its potential, so if you manage a pharma or construction business, you should surely use this software to enhance your bottom line.
Lystloc is changing the way global corporations handle their field service and sales teams. Our comprehensive and user-friendly field force management software enables organizations to utilize the power of cloud, workplace mobility, IoT, business intelligence, and data analysis to improve field operations performance. Numerous enterprises over the globe have tried, tested, and trusted Lystloc's user-friendly field force management application.