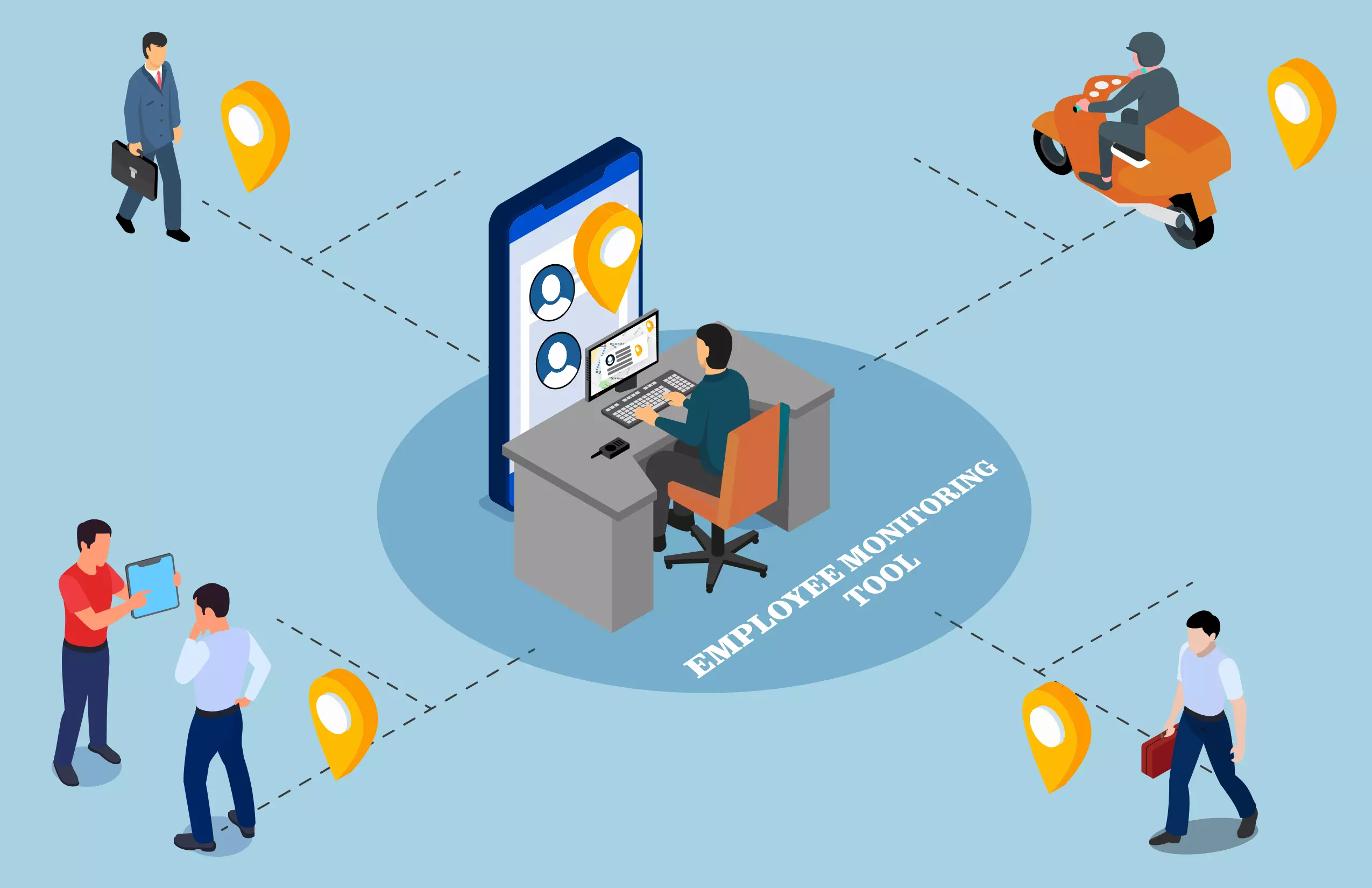 11 Ways Employee Monitoring Tools Improve Employee Productivity and Efficiency
A harmonious work environment requires complete transparency between employers and employees. Managers have taken steps to track their employees' whereabouts, especially during working hours, to ensure that team members are working effectively at all times.
The majority of techniques used to sour relations between the parties ultimately hindered productivity, but companies can now easily keep tabs on employees thanks to the employee monitoring system.
What Does an Employee Monitoring Platform Do?
Employee monitoring software is an application installed on a company computer that monitors common behaviors or actions performed on that device. This software can only track the computers and behaviors it is programmed to monitor.
This program will keep tabs on communications, attendance, time spent on a task or project, time allotted working on websites or applications, data movement, and potential insider threat activity.
According to Spherical Insights research, in 2021, the market for employee monitoring software was valued at USD 1.12 billion. By 2030, it is anticipated to have grown to USD 2.10 billion, with a CAGR of 7.2% from 2021 to 2030.
Many different tracking programs are available, so the functionalities can vary greatly. However, most remote employee monitoring software can track file movements, mouse clicks, keyboard depressions, and application selections. It might also live-stream the on-screen action or record the user through a web camera. Additionally, admin users typically have access to user histories for business audits.
Types of Employee Monitoring Software
Here is an overview of employee monitoring that will assist you in keeping a complete record of your employees working in your company.
Surveillance Suite
If you are experiencing ongoing asset and resource losses, security breaches, and serious employee productivity issues, this tool is ideal. Employee monitoring software of this type can be set up to manage file access rights, monitor documents, track emails, prevent access to storage, monitor printing, and worker inactivity.
Productivity Tool
Companies can quickly identify which employees are maximizing their working hours, find ways to fix problem areas, assist those falling behind on their assigned tasks, and much more with the help of sophisticated analytical and reporting capabilities.
Project Supervision and Management
Several employee monitoring software provides tools for allocating tasks to team members worldwide and tracking their time usage. The effectiveness of established methods and processes could be quickly evaluated using reporting and analytics tools.
How Does Employee Monitoring Software Help Boost Employee Productivity?
According to a Top10VPN study, there was a 54% rise in employee surveillance software demand since the start of the Coronavirus pandemic. Companies have used employee monitoring software to keep tabs on their staff as working from home has become more common.
Identifies Mistakes
Employee monitoring tools not only focus on inactivity but also reveal how long it takes an employee to accomplish a specific task. This makes it easier for the employer to identify areas where the staff is struggling and offer assistance, saving time.
The software allows employees to identify mistakes in time management, meeting deadlines, task prioritization, etc. Once they've identified the factors affecting employee productivity, they can work harder to overcome those obstacles and improve their performance in the future.
Furthermore, they can be proactive in seeking assistance from their supervisors and brainstorming ideas to resolve productivity challenges that will benefit them and their teams.
Tracks Attendance Effectively
It is challenging for a business to know if its personnel are on the worksite or producing at an acceptable standard if there is no way to monitor employee productivity.
One of the most common schemes in business is time fraud, which can be as simple as an employee failing to show up to work while declaring hours on their timesheet.
Employee tracking software can create a report on employee productivity that includes information on the websites and programs used during working hours. With this setup, managers can monitor how much time workers spend using computers and identify personnel who are misusing their time. Computer misuse in the workplace frequently occurs concerning social media, shopping online, and video streaming.
Modern time clocks use various cutting-edge technologies to precisely and securely track how much time staff spends at work. These advanced systems include GPS technology, multi-factor authentication, and facial recognition.
Improves Safety and Security
Visibility into how personnel handles sensitive data is critical for safeguarding confidential information from insider threats, particularly in a virtual space.
The software warns the management team if any employee attempts to access private or restricted spaces. It also captures screenshots while surfing to alert authorities to employees who should be distrusted.
Blocks Unauthorized Access
Another way employee monitoring tools can help improve security is by keeping a record of who has access to what. Whether done maliciously or accidentally, the employee monitoring software will notify employers when users access data that they are not authorized to access.
Helps in Managing Project Timelines Effectively
Before distributing tasks, managers will outline the project's schedule. With employee monitoring software in place, managers can monitor how much time and what kinds of activities employees are devoting to a project and determine whether these activities are in line with the timeline that has been proposed.
Managers may create a new timeline or provide employees with the necessary coaching from the insights obtained from this data to ensure they are working effectively.
Managers can determine which business processes are effective and which require improvement by monitoring the activities of remote workers. Additionally, it enables supervisors to manage remote employees' productivity by giving pertinent feedback, whether positive or negative, to staff members. Employee engagement and business growth can be improved in organizations that use employee monitoring.
Enables Prompt Response to Requests
Responding to employee requests as soon as possible is crucial to keeping a satisfying workplace. If an employee has a family emergency and must leave the office immediately, they would appreciate a prompt response to their request. Employers can see the requests as soon as they are submitted and act on them using an employee monitoring tracking tool.
Blocks Distraction and Improves Employee Focus
Distractions at work are common to a certain extent, but frequently exhibiting them could be better for professional and personal development. The information from monitoring software will show what kind of distraction is interfering with the employee's work.
Generates Accurate and Real-Time Feedback
According to Harvard Business Review, recognizing team members' performance is the simplest way to boost their morale. Constructive feedback is critical to employees' productivity and development. Feedback clarifies expectations, helps in learning from mistakes, and inspires confidence.
Supervisors can provide real, tangible, and accurate performance analysis to employees using the employee tracking system. The feedback will be more valuable and precise when equipped with real-time statistics about the employee's attendance and project status.
Some of the feedback, especially unfavorable, will need to be supported by data you can get from the employee monitoring software. With such information, the feedback is also objective, and the employee won't be able to use such defenses as being singled out or mistreated.
If you are looking for a solution to help you manage your sales team performance and monitor critical metrics, browse through Hubspot alternatives and know which tool meets your business requirements.
Helps Manage Payroll
Some of the best employee monitoring software includes a payroll management platform that assists you in streamlining your payroll process. All you have to do is connect it to a third-party service, and you can clear payments with the click of a button. You can also use employee monitoring software to generate and share invoices to make payments.
Streamlines Communication Channel
Every business needs smooth communication with the team members. You must consult the team to resolve problems that arise as projects or other work progress. With the help of employee productivity tracking software, you can share files and manage emails, text messages, and video conferences from a single platform. This effective channel for communication is integrated with apps that monitor employee productivity.
Check a list of best business process management platforms if you need a solution that ensures seamless coordination and communication among your stakeholders. A business process management platform is a high-level software solution that automates repetitive tasks, manages basic processing, and handles process logic. Companies can use business process management tools to prevent, identify, and address operational issues like poor processes, significant process disruptions, and organizational inefficiencies.

Provides Employee Recognition
In most cases, workers believe they are being watched to catch errors. The productivity tracking software, however, also offers a chance for employee appreciation.
Employees' real-time performance is recorded as proof of their performance for appraisal, and it also allows managers to recognize and reward good performance on the spot. This software enables workers to feel pleased and at ease in their workplaces.
Conclusion
The best remote employee monitoring software helps employees be more productive, efficient, and accountable for their tasks. Managers can use employee monitoring tools to determine what happens during work hours and whether employees disregard their responsibilities.
If an employee needs help staying driven or neglecting tasks, engagement analytics can help managers identify the source of the problem and offer assistance. The information provided will assist you in making informed decisions and will also provide employees who excel with more significant opportunities within the organization.