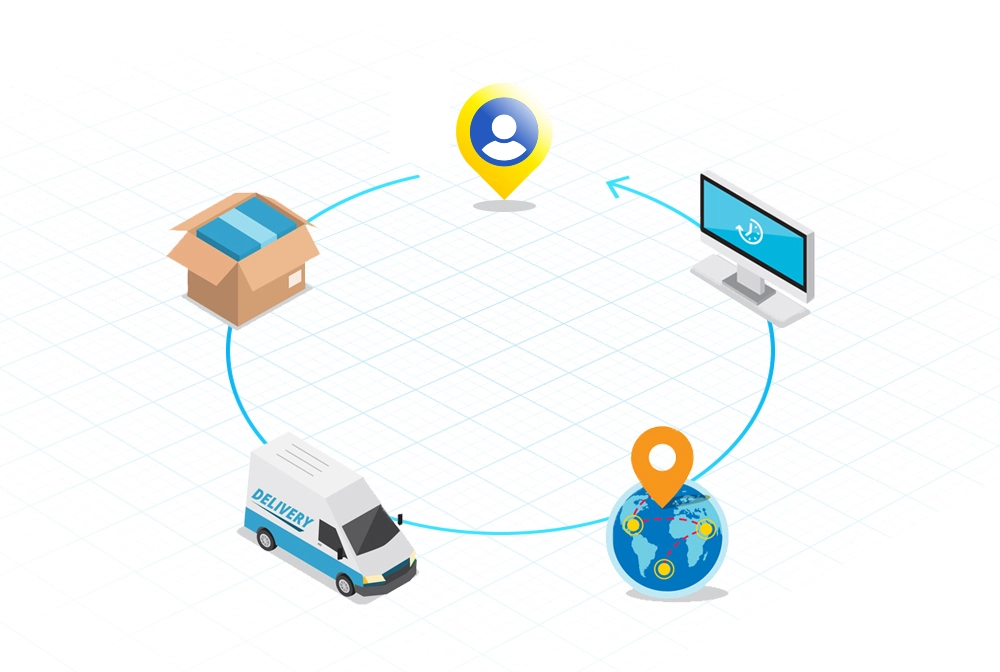 Logistics business – Reduce operations cost using Location intelligence
Logistics & Travel sector is one of the most happening sectors in India today. The ever-growing transportation needs are fueled by India's burgeoning online shoppers.
This is a great time to be in the Logistics business!

According to CRISIL, the logistics industry of India stood at Rs 6.4 trillion in FY17. It has been projected to grow at a CAGR of 13 percent over three years. By FY20 it is expected to be at Rs 9.2 trillion by FY20.

The government of India is working on the Draft National Logistics Policy.

Among other things, it will concentrate on lowering the Logistics cost.

In particular, it aims at driving logistics cost as a % of GDP down from estimated current levels of 13-14% to 10%. More details of about Draft National Logistics Policy can be found in http://commerce.gov.in.

Operations Cost
Furthermore, let us specifically look at the cost drivers of the Transportation sector. The operations costs could be classified as below:
Main Parameter
Sub-Parameter
Type of Cost
Number of vehicles &
its associated costs

Vehicles Depreciation Cost
Fixed
Compliance Cost (Licensing,
Insurance, taxes etc)
Fixed
Drivers Salary Cost
Fixed
Total Kilometers
Fuel Costs
Variable
Toll Surcharge
Variable
Maintenance Costs
Variable
Total Days
Per Diem costs for the Day
Variable
Overnight allowance
Variable
Monitoring Costs
The fixed costs can be determined easily. Each of the items listed can be broken down as follows:
This can be called as the Salvage value of your vehicle. It can be calculated with two main parameters – "age of the vehicle" & a "Depreciation percentage".

For example, let us assume that you bought a truck for Rs 20,00,000. Let us also assume that the truck has 10 years of "operational usability".

The first year would have a 20% depreciation rate. The second year's depreciation rate would stand at 15%. There would be a 10% depreciation every year thereafter each year.

Otherwise, the odometer's reading has a say when there is a resale happening though.
By the way, there is not much that you can do about saving on this "fixed cost".
https://parivahan.gov.in can give the exact costs associated with government regulations. To summarise, there is the licensing cost, registration cost and permits cost.
For example, the registration cost of a medium goods vehicle is around Rs 1000.
A trade certificate could cost about Rs 1000 too.
Vehicle test cost for fitness certificate could about between Rs 600 to Rs 1000.

This fixed cost also does not have any scope for cost reduction.
The driver's experience, the routes that he is expected ply etc would be a factor in fixing the salary. It could range anywhere between 15,000 to 25,000 or more

Negotiation of salary is initially possible to keep the cost to a minimum. However, the market rates would prevail and we doubt if you would have enough room there to cut costs.

Traditionally, the only way the fuel costs have been calculated is by using the actual expenditure on fuel. The fuel bills produced by the drivers from the filling station would be the basis for this calculation. Generally, however, there is the common malpractice of producing phony bills.

Certainly with Lystloc mobile app, now you have a great opportunity to save costs here. The app shows you the exact kilometers traveled. You will also be able to view the exact fuel station that your vehicle had stopped. So, you will be in a better position to audit fuel bills henceforth.

We have seen fleet owners save in thousands by introducing this simple audit process of vehicle tracking.

Know more about location intelligence & Lystloc here!
A considerable amount would be paid in toll plazas if any of your fleets ply on a National Highways. Using Lystloc's location intelligence, now you will be able to keep a tab on the tolls crossed by your vehicle. Especially, real-time location tracking is an awesome feature from Lystloc.

FASTag is also another option where a prepayment can help you keep better control.
This is one of the serious problems that plague unexpectedly.

Even if you follow a systematic preventive maintenance schedule, I am sure there would have been break downs on road. The breakdowns cost can create havoc on your financial projections.

Get rid of your nagging doubts about any break downs. Know exactly where your vehicle is right now.

Use Lystloc's LIVE tracking feature to track your vehicle in real time. Know for sure if it is stuck in the middle of the highway.

What is monitored is likely to go wrong!

In brief, here is a super easy way to reduce costs with Lystloc's location intelligence app.

Be able to:

Track your fleet in real time
Know the exact kilometers your vehicle is traveling
Know the exact route taken by your vehicle.
So then with this important information in hand, you will be able to significantly reduce variable costs.