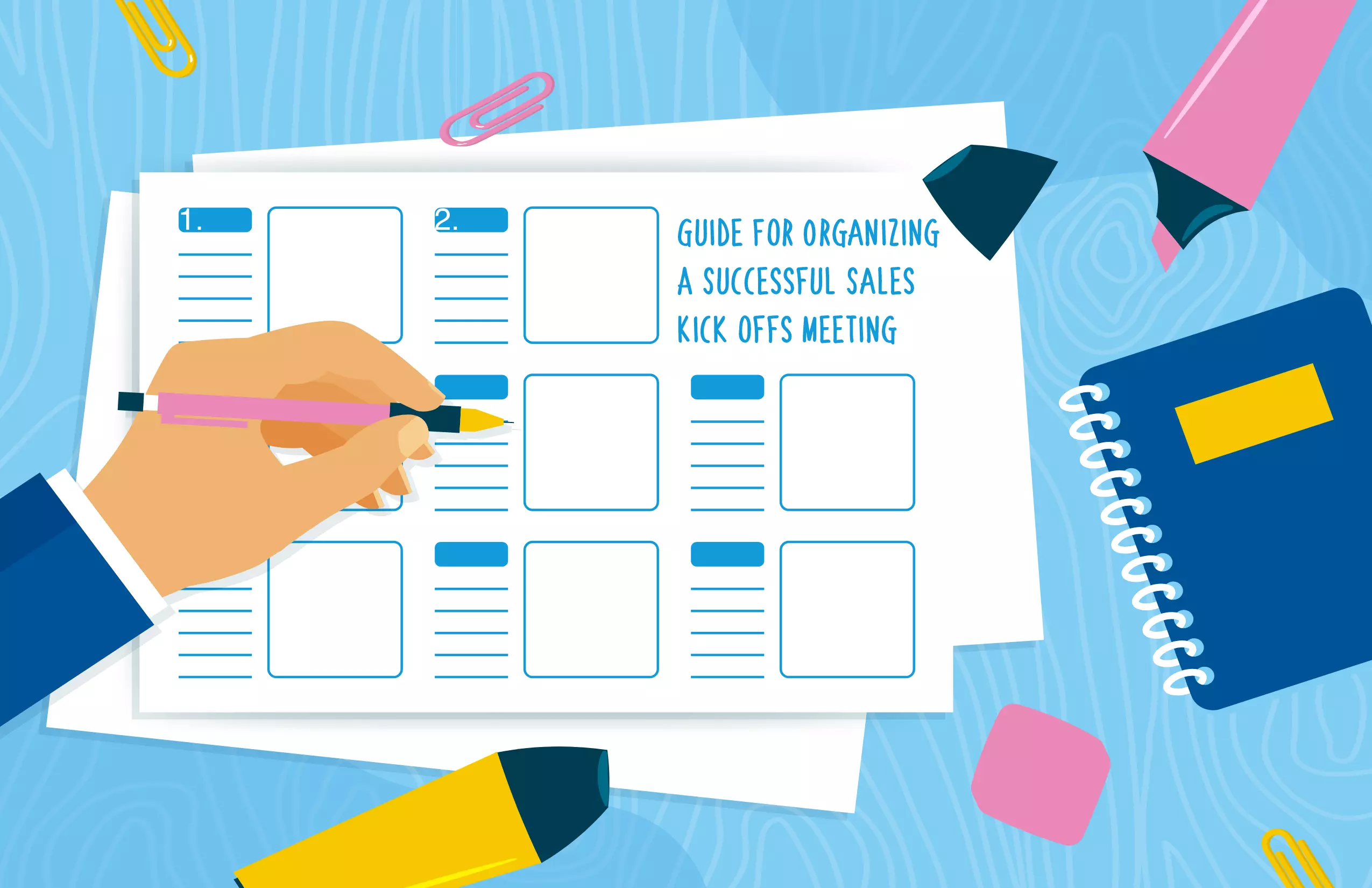 A Complete Guide For Organizing A Successful Sales Kick-offs Meeting
The sales kick-off meeting is critical for every business. It is that time of the year when we connect with the team to establish objectives, targets, and plans for the coming year. The meeting results in fresh ideas, a revitalized dedication to outstanding performance, and a belief that everything is achievable. Creating the perfect sales kick-off may go quite a way toward encouraging your employees to take on novel tasks to close fresh deals.
Businesses of any kind, including freshly launched startups to widely recognized companies, organize sales kick-off meetings at the outset of their financial year in order to inspire salespeople and assure everybody appears to be on the exact same path. It's no wonder that employees get enthusiastic over sales kick-off meetings given that you provide the team with all they require to achieve their targets for the following twelve months.
What Is A Sales Kick-offs Meeting?
A sales kick-off meeting is a yearly gathering held by the company at the beginning of the financial year. It's meant to gather all of the salespeople together to honor past accomplishments, reveal an entirely novel sales plan, and instruct the salespeople on what's coming up.
A sales kick-off meeting involves gathering everyone's thoughts and planning for the major things, not just transferring data. Kick-off meetings need to bring in effective sales experts to discuss their sales procedure using case studies. It is an exceptional chance to share this information, allowing people to benefit from the firsthand knowledge of others. It is also vital to bring in professionals from various departments to express their ideas and motivate them.
5 Effective Tips To Host A Successful Sales Kick-offs Meeting
Decide What Objectives And Goals You Want To Achieve
A sales kick-off is a yearly event for sales teams from across the globe that is often conducted at the start of the financial year or month in order to get the sales wheel moving. Nevertheless, before you begin organizing the meeting, consider what a successful outcome means for both you and your sales team. Are the meeting's objectives team-building, or do you intend to talk about approaches and sales target-setting? Whatever your goals are, be certain that they're sensible and achievable.
Setting goals can help you organize your sales kick-off strategy, including who must attend each meeting as well as how long each meeting must last. Your sales-kickoff meeting goals may include things like:
Launching a new service or product
Introducing new techniques or methods
Celebrating successes of the past year
Plan In Advance
Everything doesn't always go exactly how you think. Planning ahead will help you avoid most problems, such as technical issues, missing dates, and locating a suitable spot. Try for improved preparation within your organization as well.
One important component is to solicit input from the sales staff on past sales kick-offs in order to create this meeting the largest and most exquisite yet. Organizing with the right people while paying attention to your sales team's requirements can help you produce a meeting that excites and engages them. Begin as soon as possible for the optimum outcomes. If some people have worries about being truthful, keep the process private and ask for:
What they enjoyed the most about last year
What helped them to be successful
What they might change
Celebrate And Engage With Teams
When was the last occasion when all of your sales team had been in the same space? The incidence is most likely unusual. That's why it's critical to utilize your sales kick-off meeting to commemorate the past year's achievements, recognize the hard work of the team's high achievers, and foster bonding through collaboration exercises and other events.
Provide chances for team engagement and socialization, whether in person or online, rather than being crushed by the usual presentation encounter. Make sure your sales kick-off is not an academic class, and allow people to move from their chairs to do more than simply listen. Push to engage in games and work in groups. Games and role-playing activities will provide your representatives with more meaningful knowledge than sitting for hours simply listening to a single person speak.
Get New Employees Off To An Excellent Beginning
If you're planning to recruit new salespeople, attempt to get them joined in time for the sales kick-off meetings. There's no simpler way to instill your team's culture in them than connecting them with others on the team and sharing stories.
One of the most beneficial aspects of a sales kick-off meeting is the socializing that the teams can engage in, particularly if you work with a worldwide workforce. Meeting the best salespeople from every area can improve your fresh recruits' initial onboarding. You may repurpose part of the content that you used for your initial orientation training for individuals who arrive after the sales kick-offs.
Making Use of Technology and Collaborative Exercises
Technology is a wonderful instrument that has given vitality to sales kick-off meetings and events. The majority of presentations will consist entirely of an individual speaking without any sort of visual or engaging stuff. You can use technology to your advantage by showing important data on an LCD screen.
The content will be followed by the team seeing it and listening to it from the person who speaks. This can improve the meeting's efficacy. You must use technology to integrate collaborative exercises. If the team is aware of the engaging activities, they are going to have an extended focus. This will enable the team to raise pertinent questions and give crucial details about how they communicate with customers.
5 Best Sales Kick-off Meeting Themes and Ideas To Engage Teams
To guarantee that your sales kick-off meeting is exciting, whether in person, in hybrid form, or online and to make your sales team look excited about it rather than dread it, theme it according to the objectives you have for the following calendar year. Your sales kick-off theme should reflect your goals and make all of your team members enthusiastic about the forthcoming events.
Game Changers
Everybody understands who the game changers are, but we're going to clarify just in case. The game changers are the people who move forward and make stuff happen instead of expecting anything to occur to them. Generate this sort of incentive for your sales teams by telling them the fact that everybody has the ability to alter the game, however, it's entirely up to them to take advantage of the opportunities.
Virtual Selling
The sales team must modify their pitches to reflect this novel virtual world. It's not only about having a good studio setting or utilizing the option to chat to encourage engagement. Your presentation's goal is to provide an idea that your clients will remember—and eventually react to—after the meeting. Empower your sales professionals with science-backed digital sales abilities in order to construct the appropriate pitch, deliver the pitch correctly, and drive your customers to make a decision.
Empower
This sales kick-off theme invites the sales team to tap into their own hidden power and strength while emphasizing the significance of one's own development and growth in achieving greater achievement. It highlights that all individuals have the ability and that when approached with the right mindset and perspective, they can use it to achieve greater things. The topic can include initiatives like group exercises, setting goals activities, or inspiring tales.
Inspire By Leadership
One of the simplest themes you can incorporate in your sales kick-off meeting is leadership, since it's global, simple to connect to, and presents your business positively. Discuss the business's history, including where it initially originated from, how it was founded, and how it got to where it is now. Determine the most significant factors and leadership traits underlying that achievement, and emphasize the major business culture ideals to which you would like the sales staff to strive and follow.
Passion And Mission
According to studies, we desire for mission; it is what drives us. This sales kick-off meeting theme capitalizes on this by reminding individuals of the reason they value what they do. You can't cut corners on this one; if you want to convey to them what passion looks like, you've got to put it all in. Follow the saying, "How you carry out anything determines how you do everything."
Raise Your Sales
If the primary goal of your meeting is to announce an innovative sales approach, product, service, or incentive scheme, this is definitely one of the greatest sales kick-off themes. The most important aspect of this subject is to inspire teammates by excitedly discussing the latest developments in sales for the upcoming year, illustrating how this will help the salespeople, and exhibiting effective methods to implement the unique technique, product, or idea.
Conclusion
Always keep in mind the aim of a great sales kick-off meeting is for your team to leave inspired, engaged, and ready to step up their performance to the next stage. Sales kick-offs are a once-in-a-lifetime chance to transmit expertise and create an environment that excels. They are undoubtedly the most significant event of the year since they establish the atmosphere for the whole team's function.
Companies can aim to capitalize on this opportunity by strengthening their employees and training them on deal-winning methods and processes. Proper planning allows you to get the result you want. When done correctly, the sales kick-off meeting enables organizations to position themselves to make an impact in the next business years.