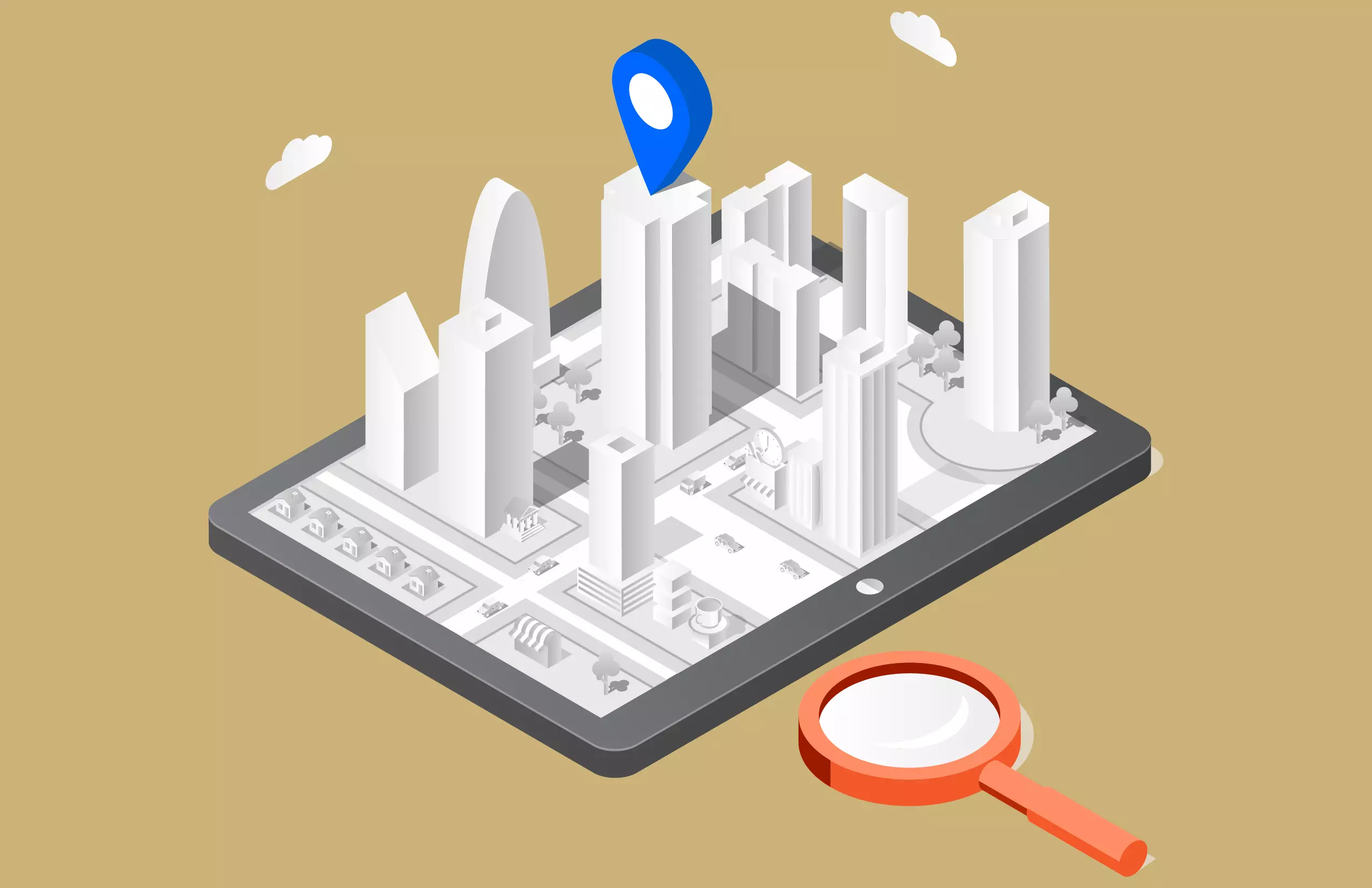 Why Is Lystloc The Best Alternative For Google Maps Timeline To Track Employees?
Google Maps is a wonderful mapping tool that is so prevalent that you will probably use it first. You can use it to check out the area around your potential workplace complex or to include driving instructions on your online presence. All smartphones with Android have it pre-installed, and because of the app's well-known identity, even iOS users frequently pick it. Google Maps Timeline, nevertheless, is not without flaws. As a result, you may want to consider thinking about utilizing a different software application that offers you greater capability or takes an entirely different approach, based on what you want and require.
Are you looking for a better alternative to Google Maps Timeline?
Then you have to try Lystloc, which is a better alternative to Google Map Timeline in numerous ways and one of the most significant real-time location intelligence software initiatives.
But, before going into comparison and all that stuff, let's get into a quick glance on what are Google Maps Timeline, its main features, and accuracy levels if you're not aware of it.
What Is Google Maps Timeline?
Google Timeline is a brand-new tool that Google Maps recently added that compiles your prior location information into neat mini transit routes on the map. According to your Google Location History, Google Maps Timeline estimates the locations you may have visited and the routes you might have travelled. Whenever you decide, you can change your Google Map Timeline and remove your Google Location History from it. Because it is private, just you can access your Google Timeline.
You can look for your history using the Timeline function depending on a specific day and the places you checked into on that specific day. Not iOS, although the Google location tracking desktop app and Android do support this feature.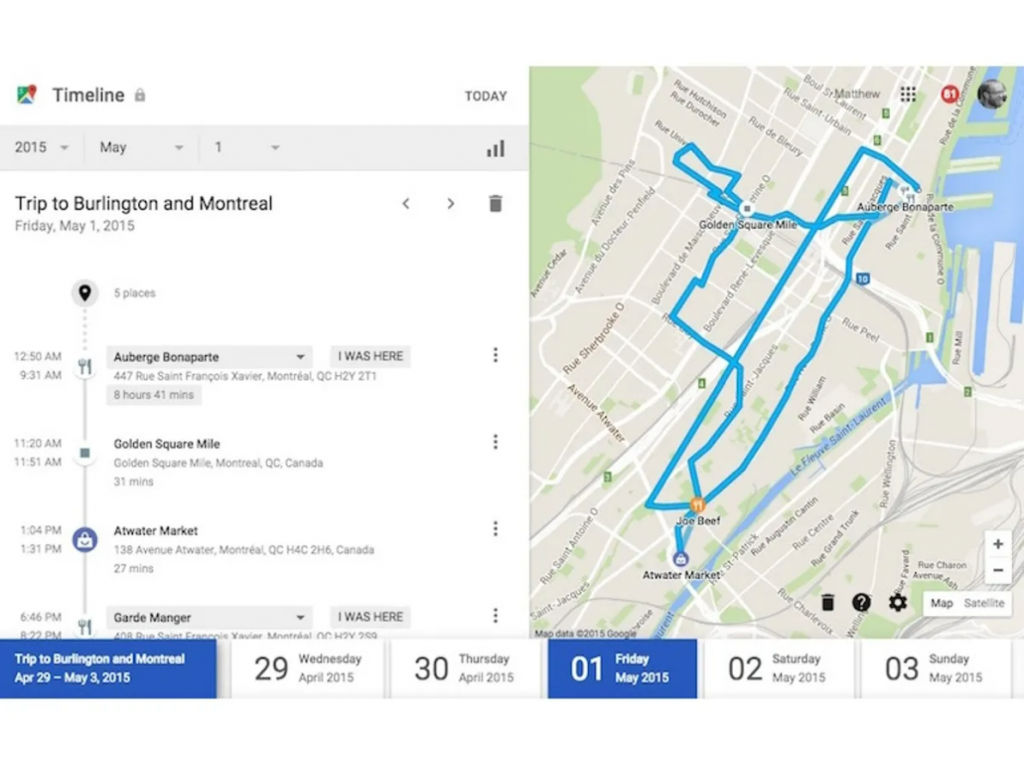 How Does Google Maps Timeline Work?
You must make certain that GPS data is enabled for the Google location tracking app or any other apps from Google if you want to make use of the Google Map Timeline function. In order for you to genuinely gain some insight into your trip, this will enable Google Maps to produce a far more precise track of your movements.
You can now access the timeline by clicking the 'Your timeline' option whether using the Google Maps app or the traditional desktop version of the Google Maps site. You will soon encounter a timeline that displays your travels, the routes that you took, and estimates of your mode of transportation, like walking, by bus, or car, if your Google Location History is enabled to permit recording. To truly understand the amount of the world you have witnessed, you can also decide to focus on particular time frames.
Does Google Location Tracking App Have A Dedicated Mileage Tracker?
Google Maps app does not provide a built-in mileage tracker as of 2023. Given this, Google Maps is unquestionably the most widely utilized mapping program in the country. Google Maps Timeline is a possible method for Android users to track their kilometers travelled with the app. According to your Google Location History, Google Maps Timeline estimates the locations you might have visited and the routes you might have travelled.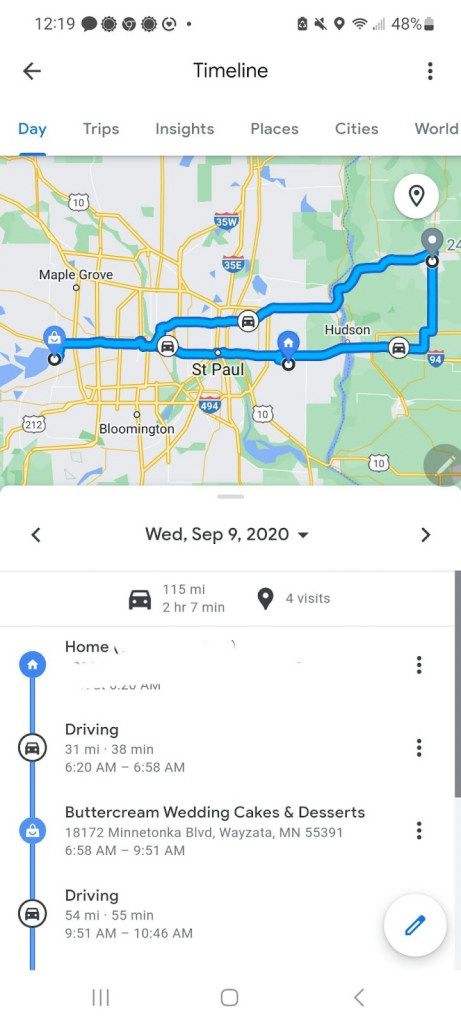 Follow the following steps to view your distance data on the Google Maps Timeline:
On your PC or mobile device (iOS or Android), open the Google Maps application.
The upper left corner of the screen's three horizontal lines should be clicked.
Choose "Your Timeline" from the drop-down option.
To display a certain day or range of dates, scroll down.
The whole location history for that particular date or range of dates will be displayed on a geographical map. Tap on the "Total distance" option located directly below the map to view the distance you travelled.
According to your preferences, Google Timeline shows the distance you've travelled in miles or kilometers. Click on each of the places on the location map to view the travel distance between them.
Google Maps Timeline: How Accurate And Effective Is It?
The Google Maps Timeline is broadly defined as being somewhat accurate, and the rationale for this is not implausible. The truth is that using a GPS receiver may consume a lot of battery consumption. Since Google Maps is pre-installed and can't be immediately removed, it must be simple to navigate around for everyone, including those who have little or no expertise on how to handle the longevity of the battery.
In addition, Google Maps typically fails to wake up frequently to update its location while it is running in background mode. As a result, the Google Timeline still has some gaps. In addition, the initial correction that GPS receives frequently contains significant mistakes since the location is inaccurate.
Is It Possible To Use Google Maps Timeline For Field Employee Tracking?
The purpose of Google Timeline is to make it easier for users to maintain records of their Google Location History. Google Map Timeline can be used by certain businesses for field employee tracking, including better monitoring of employee outcomes, improved scheduling and distribution of the field workforce, and increased safety for lone employees. But since it can result in serious breaches of privacy, it is not a regular or advised practice. Companies have to evaluate the benefits and potential risks before employing any tracking program or operating system since employee tracking poses serious privacy and moral issues.
Thankfully, some of the top employee location-tracking software options are made specifically for tracking employees while maintaining their privacy and facilitating business conformity.
For instance, Lystloc exclusively tracks field employees' whereabouts during business hours, so your staff won't have to be concerned about their personal privacy being breached. Absolutely no information is recorded when they are not working.
Additionally, there are several additional excellent benefits that businesses can make use of. For instance, the app dashboard provides you with all the details you require regarding the places of work, working schedules, and tasks of your employees who are available. Everything is accessible in just one window. Furthermore, the location-based navigation data that Lystloc gathers is precise, comprehensive, and includes useful data like date and time stamps and kilometers travelled.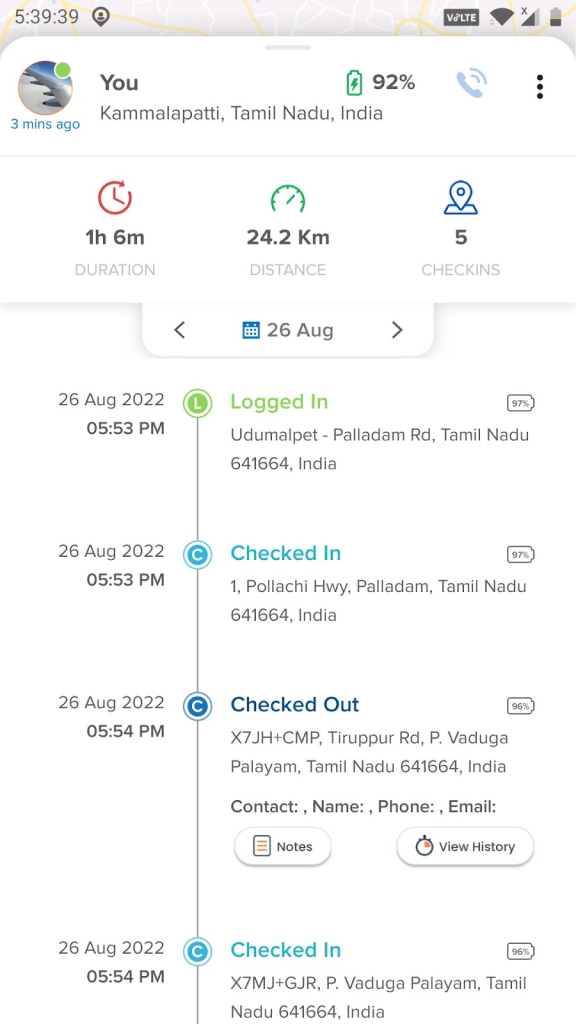 Why Lystloc Is A Better Alternative To Google Maps Timeline?
Lystloc is a mobile-based application platform for field-based workforce productivity and can be used in field employees' day-to-day activities. It is a location intelligence and data analytics SaaS app used as a permanent solution for managing those employees who are working on-field. This product is completely used for tracking location-based information, on-location attendance, work management, analyzing data, etc. Lystloc is completely developed based on cutting-edge technologies in order to incorporate features like speed, scalability, security, and cost-friendly.
Lystloc has greater benefits than Google Timeline in terms of employee tracking than only real-time and past data on the employees' locations. Additionally, Lystloc offers a live tracking feature through which you can periodically receive details about the employee's current accurate position, task/meeting check-ins and check-outs, daily mileage, and much more.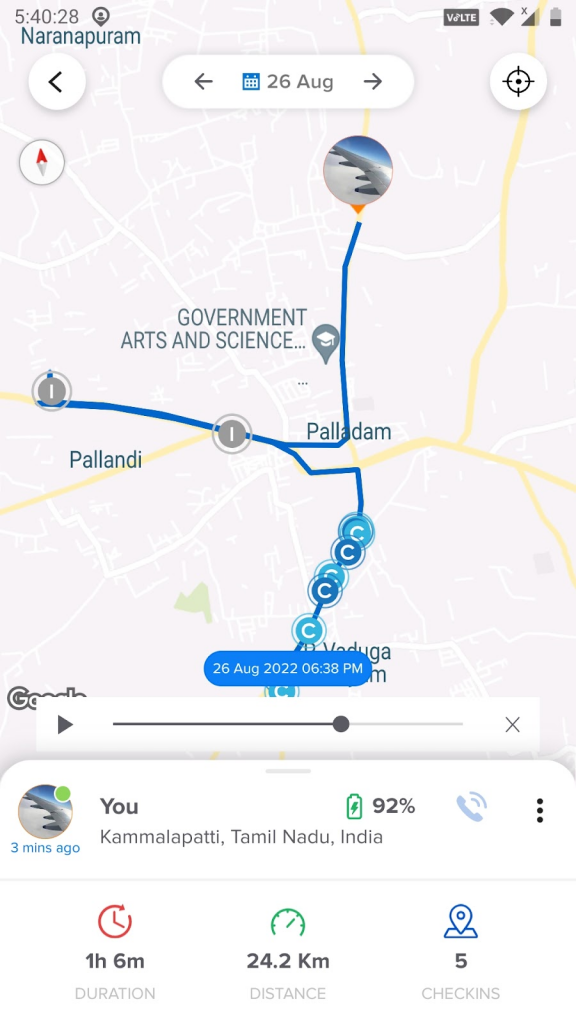 The nicest aspect is that you receive a detailed map with the employee's exact spot on it. To see specifics, like when the employee was in that particular area, you can check the day's timeline. You can utilize the travel route play/pause option, which Google Map Timeline does not have, to get more information about the employee's travel. With the help of this function, which integrates breadcrumbing technology, you can retrace an employee's movements and obtain a general idea of where they travelled all day long as well as how long they stayed at every place.
Accurate Travel Mileage Tracker
Since Lystloc is the market expert in offering solutions to all location-related problems, calculating petrol allowances takes just a few mouse clicks in the admin dashboard. During the field employees' attendance log-in and out intervals, Lystloc periodically retrieves their exact location coordinates. Lystloc streamlines the process by drawing a real-time path that the field employee took using their smartphone's location-based intelligence (GPS).
With its location intelligence, Lystloc makes certain to deliver a comprehensive report of journey history, including routes travelled and the kilometers travelled on the geographical map, and it completely eliminated the delays on the map by providing route curation alternatives. Petrol allowances and pay can be computed with remarkable accuracy using these extremely accurate reports.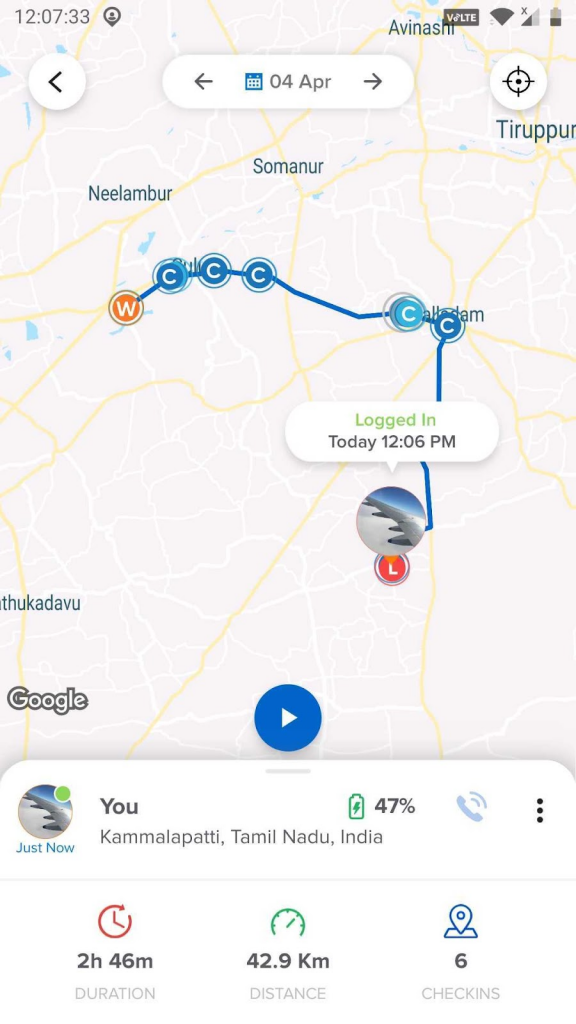 In Lystloc, using various Data Analytics techniques we provide our users with a completely analyzed data report on a daily, weekly, and monthly basis. This new normal feature is used for deriving real-time reports for company management purposes such as payroll processing, evaluating employee performance, agility, and many more.
Conclusion
If you're looking for a better and more promising application to monitor and manage your field workforce at all levels, then this comprehension is definitely for you. You can give it a trusted trial on Lystloc- one of the best real-time location intelligence applications and a greater replacement to Google Maps Timeline at many points.
‍