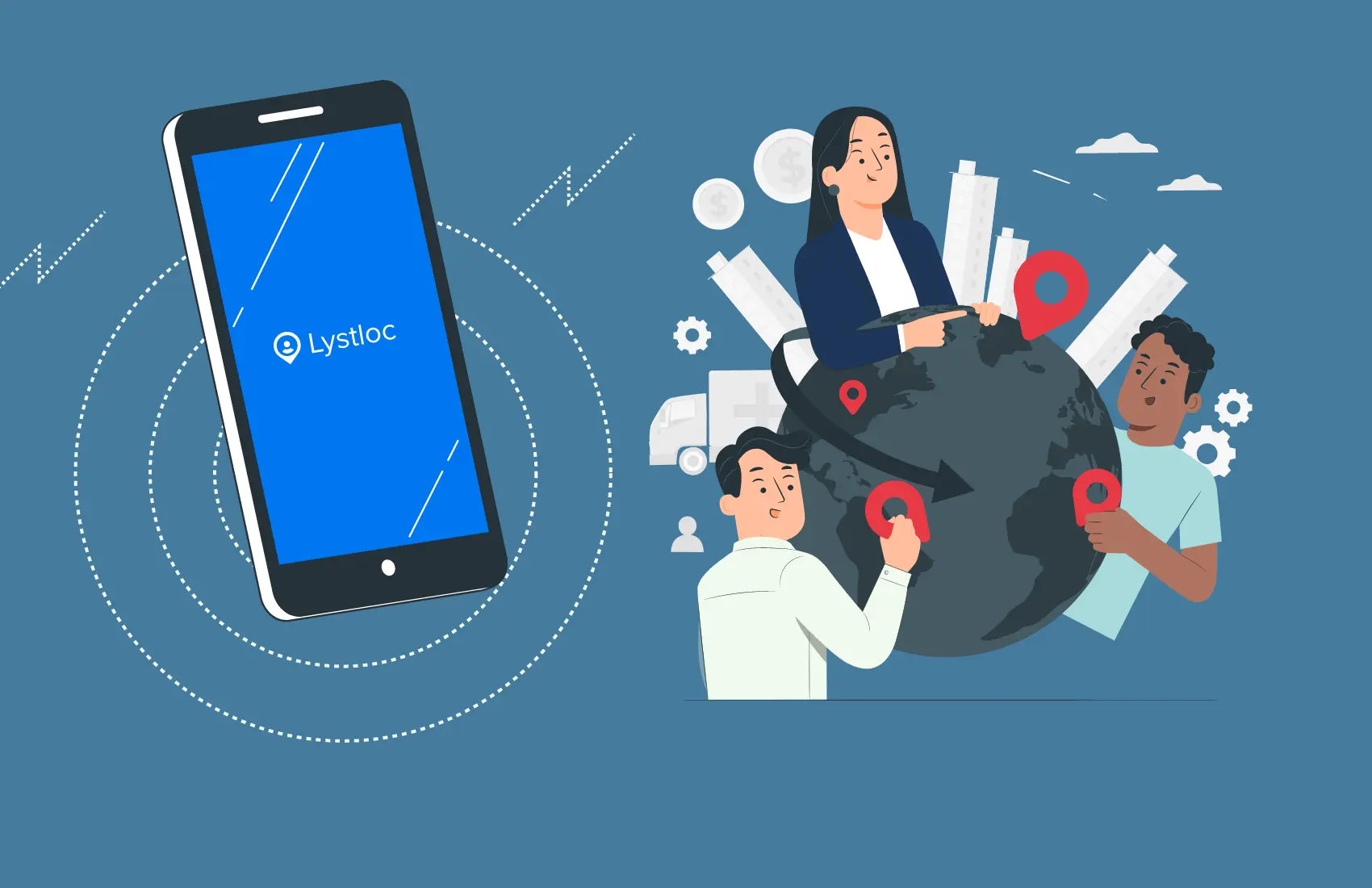 Why Is Lystloc A "Must Have" Product In Any Business Organization?
Nowadays, technology has advanced significantly. This advancement in technology has greatly improved and benefited businesses to a great extent. You can get detailed information about your field employee's working time and duration by using the field employee tracking app. You also get to know your employee's actual location, no more coming to the office to mark their attendance, and a lot more.
When we talk about field employees be it a field service technician, sales reps, or anyone who works outside the organization the first thing that comes to our mind is a lot of questions with regard to their whereabouts and what they are doing. Some of the most frequent questions are:
Where they are now?
If they reached the client meetings, and task locations on time or not?
If they have safely reached their target locations or had any tough time while travelling?
Are they following their work schedules perfectly?
What about their meeting/task updates? And so on.
Isn't it too exhausting to get the answers to all these questions in just one long phone call or through any time-consuming manual methods? But, what if we can get the answers in just a few clicks that too through a simple mobile app in no time comfortably from your workspace. Yes! With our Lystloc app, this is possible.
Lystloc is a field force management software that helps companies in location tracking, monitoring, and managing their on-field sales workforce and their daily activities. This software helps companies in making the right field-related business decisions and coming up with better strategies and planning based on real-time location intelligence data rather than doubtful assumptions.
Track And Locate Your Field Employees With Lystloc In No Time
One of the important considerations is keeping track of your field employees' locations. Especially if the organization engages largely in field force operations. Employees frequently waste time elsewhere in the name of fieldwork. You can track your field employees' real-time location by using our Lystloc software.
The app assists you in determining which route your field employees took, how much time it took for them to reach, how much time the employee spent with the client, and what hour your employee is free to take up their next task.
Lystloc includes a geofencing feature for on-the-ground sales teams. Managers can indeed cross-check their staff's location and ensure a proper record of delivered work. One of the most useful features of Lystloc is the ability to track an employee's daily tasks on their geographic location. It results in higher accuracy and transparency in the organization.
The location navigation feature of Lystloc also ensures the safety of the field employees. The manager can track an employee's travel routes through the app in real-time. In the event that something happens to the products or the employees, records are kept on the field employee location tracking software to provide knowledge.
Get Quick Updates On Your Field force's Daily Tasks and Work Hours
Measuring field staff work hours and daily job schedules are becoming increasingly important for any business. It enables businesses to ensure that every field employee commits their office hours to the work for which they are paid.
Lystloc enables businesses to keep track of all field employees' daily working hours, client visit timing, attendance marking time, and everyday task routines and time spent on each of them.
An app platform that allows organizations to easily assign location-based tasks to on-the-ground employees without wasting time by calling them repeatedly. Field employees, on the other hand, can easily share their task updates, and client meeting timings, and review their hours worked, idle time, permission timings, and leaves.
Manually tracking each employee's work hours and productivity, recording, and processing those with manual reports, on the other hand, can be a daunting task. Lystloc allows you to easily analyze employee performance and sales productivity because they have exact data on how many hours each employee spends at work and how many clients visits they make in a day or month.
With Lystloc Monitoring Remote Employees Productivity Became Comfortable
Since the ongoing pandemic around the world seems to be never-ending, organizations must consider the health and safety of hundreds of thousands of employees and their customers. This perplexing, ever-changing situation necessitates scalable and adaptable technology.
Due to increasing challenges and difficulties during this pandemic, all the leading organizations are incorporating new technologies that can enrich their field force to stay ahead of the competition even when they work remotely. Organizations are now opting for more advanced automation in sales processes to increase the speed of business and employee productivity.
In the present scenario, working from home, or to a better word, the remote style of working has already begun to gain hype, during the outbreak of the global pandemic that shook the whole world. The impact of the Covid outbreak now solidified it and made the global workforce get habitual to this new system of remotely working from home from their comfortable space.
If you're hesitant to embrace a remote work culture in your organization, specific features and benefits of Lystloc can help you out to make the remote work easy. Creating a proper workflow without direct oversight can be difficult, but it is not unrealistic.
When managers can easily track the productivity, performance, and attendance of remote employees using the Lystloc app, remote employee monitoring and transparency can be possibly set. When employees can work remotely the same way as they work on the field or in the office, it is a win-win situation for any organization.
Automated Sales Reporting And Business Insight In Your Fingertips
In an organization, every sales manager is looking forward to seeing their sales insights. They want their sales activities dashboard at their fingertips. Many businesses nowadays want the most ideal approaches to liberate time and allocate resources smartly.
Every second, a sale generates huge amounts of information and when we become familiar with the information, we may indeed be able to construct new sales plans or strategies. As a result, the company is busy looking for the best-automated reporting tools that make work easier and quicker.
Lystloc's automated sales reporting here can benefit your sales operations in many ways. Data insights and reporting are essential in increasing the visibility of the business operations, and being able to collect data is especially important for field sales businesses.
Lystloc acquires and provides data on daily sales, meetings attended including data on deliveries and services provided by each field employee in real-time.
Lystdata is a report generation feature provided by Lystloc in-built with strong and technically powerful Data Analytics software. This amazing feature helps for deriving real-time reports for company management purposes such as payroll processing, evaluating employee performance, agility, and many more.
It plays a key role in improving the business as it is used to gather hidden insights, generate reports, perform field sales analyses, and improve business requirements.

Enhances The Productivity Of The Field Workforce In Every Possible Way
Organizations can use Lystloc to provide real, measurable, and accurate performance evaluations to their field employees. Managers can provide appropriate feedback to employees when they have real-time figures about their field employees' attendance, leaves, task completion, and so on. On top of that, when the team receives honest feedback from their managers, they can progress in their career paths.
The most significant advantage of Lystloc is that it increases employee productivity. Field employees should ideally be self-motivated and disciplined in order to focus on what they were employed to do. Whereas a short break here and there isn't harmful, if left unmonitored, it can add up to hours spent on unproductive activities that are harmful to the organization.
There's no denying that when field staffs know their every action is being monitored by their managers, they squander less time and are more focused on their tasks. Furthermore, managers would have a complete understanding of the whereabouts of all their field employees if they use Lystloc, as one person can maintain track of hundreds of employees.
Wrapping Up
Besides, location tracking and monitoring Lystloc come with diverse features such as attendance marking, automated e-reports, customer details management, task generation, in-app communication, information sharing, and more.
Also, Lystloc recently released a new feature called the Reimbursement module through which it will be easy to manage the business travel and fuel expenses reimbursement of the employees. In short, Lystloc directly or indirectly helps you in increasing your workforce productivity and also in employee management.
All business organizations who want to improve their productivity, efficiency, and strength should definitely invest in Lystloc. The software not only aids management in measuring employee performance but also provides numerous benefits to field employees. So, if you want to prosper in your business, start implementing Lystloc in your company right now!
As said by one of our happy customers
"Lystloc is not just a "nice to have" product for organizations anymore. It is a "must to have" product now!"