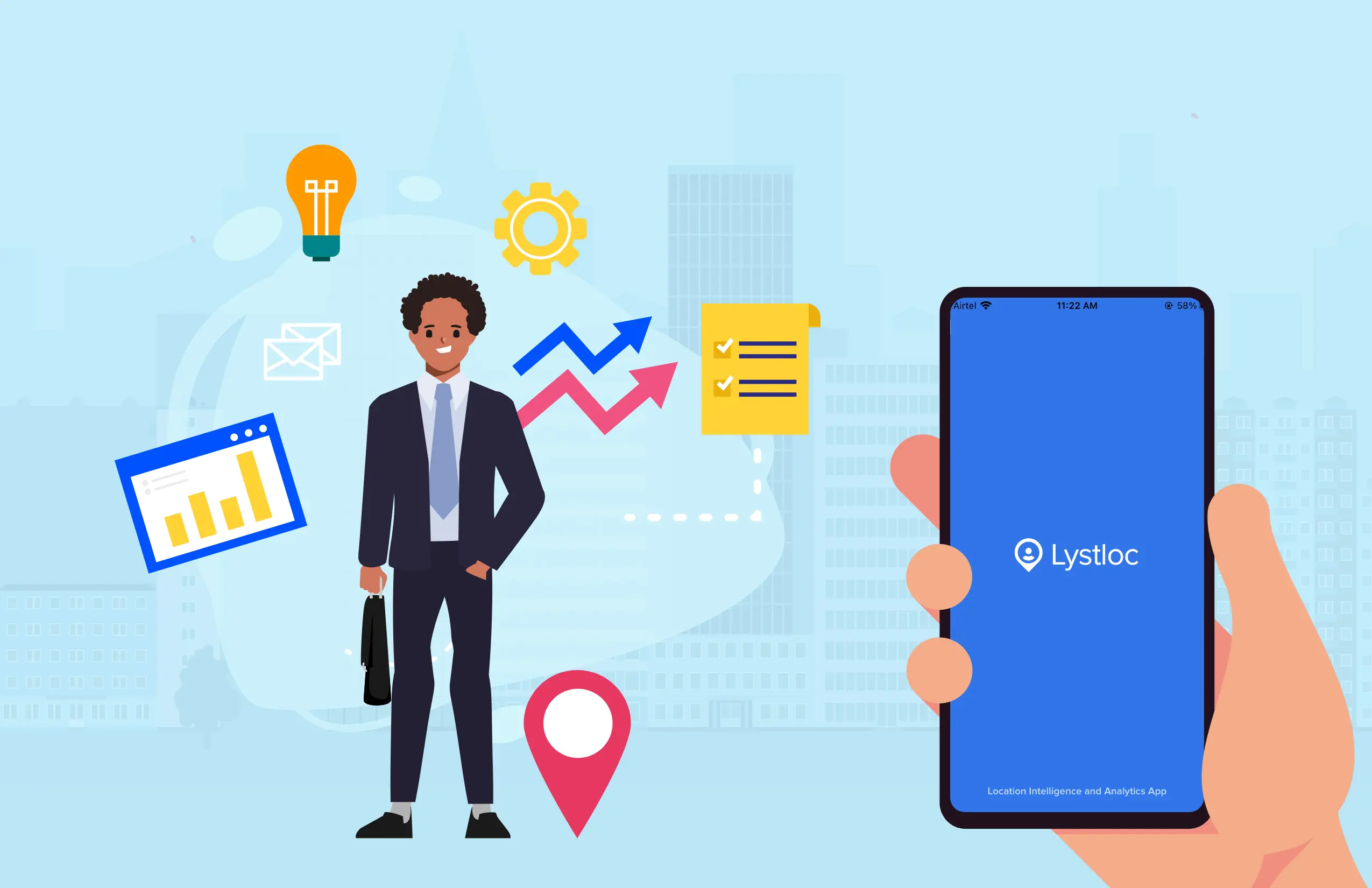 6 Easy Ways To Manage Your Remote Employee's Productivity Using Lystloc
These days, businesses are growing in size, the workforce is more widely scattered around the globe, and more knowledge and processes are being stored and transferred. Therefore, the question of monitoring remote employees has become increasingly vital for businesses across all fields.
Since many firms have adopted the remote model, remote working has become an essential component of modern working life. As a result, more workers are now working full- or part-time remotely. Remote employee monitoring makes remote working more efficient by providing managers with the means to track and manage their remote team's productivity without having an office presence.
All is fine, but how to do all this in a simple and automated way is what we have to think of. Lystloc can help you with this by all means and you can efficiently manage your remote employees from your comfortable space at any time. Lystloc allows you to monitor real-time employee activity, enabling you to check on remote workforce without interrupting them.
How To Manage Your Remote Employees Using Lystloc?
Easy Managing Of Remote Employee Attendance
Remote employee attendance tracking no longer needs to be done manually in the age of modern technology. Monitoring remote or field employee attendance and time tracking were without a moment's delay one of the most challenging tasks that managers faced. The business must maintain correct records of remote employees' working shifts, leave, and attendance in order to execute payroll on time. And it can be done with the aid of a reliable feature for tracking employee attendance.
Lystloc is a field force management app with a real-time location-based remote or field employee attendance monitoring feature. Remote employees can mark their attendance through a single touch authentication during their office hours directly from their remote location comfortably without any delay.
There is also an option for location-restricted attendance in the Lystloc app; remote employees can mark attendance only when they are within the specified virtual perimeters built using the latitude, longitude, and radius of their remote location by their managers. The app gives you the information needed for various attendance-related reports and payroll management, offering insights into hours worked, permission, leaves, and so on with a view to constantly improving workforce productivity.
Automated Task Scheduling And Work Status Updates
Task scheduling involves the practice through which you assign tasks, remote workforce plan, complete, and record them as finished in their system. Manually tracking each remote employee's task hours and productivity, recording, and processing those with manual reports, on the other hand, can be a daunting task.
You must determine which remote employee is better suited for a task and assign tasks according to that. Additionally, employees must schedule their daily work in accordance with all of the tasks they have to complete and also based on priorities. Having proper remote employee task management software is crucial in this situation. Without them, it's simple for workers to go wrong, for there to be misunderstandings, and for you to lose productivity.
Lystloc app bestows the ability to assign daily lists of tasks to remote employees easily. Managers can view the availability and expertise of each remote workforce using the task management feature.
In the application dashboard itself, managers can list out the daily tasks that the remote staff has to do in a day. And also managers can know about the task location and time with the remote employee's check-in/out marking from the current task location if they have to go out to meet a client. And after the task is over, they can update the work status with meeting notes filled with the end results and task status of the particular task/meeting, and other main details.
Managers can get to trace exactly which tasks are started, in progress, and done with by the remote employees. The Lystloc app allows remote employees to prioritize tasks according to their dependability and necessity levels.
Tracking Your Remote Employees Work Hours And Timeline Management
Appropriate work-hours tracking strategies can help remote employees meet deadlines and goals, enhance customer satisfaction, and provide a more comprehensive picture of employee productivity. The company has a moral obligation to regularly review remote staffs' progress on their task even though they are always engaged and committed to it. Knowing whether the assignment is completed correctly, whether deadlines are reached, and other important information is crucial for managers. What can we do to monitor remote staff timeline management is the question at hand. The answer is Lystloc software, without a doubt.
Lystloc software helps to keep track of remote employees' project time and timeline management. It aids in the monitoring of employees' working hours and provides information on how much time was spent on various tasks, projects, and clients. It also provides additional insight into work operations, such as which tasks are consuming the most time and which are less, allowing managers to plan project deadlines and task prioritization.
Lystloc enables businesses to keep track of all remote employees' daily working hours, client meeting timing, attendance marking time, and everyday task routines and time spent on each of them. The software ensures that the organization's time is being used productively by remote workers and that they are being fairly compensated for the work they are performing.
Maintain An Efficient Communication Platform With Remote Workers
Communication is the key element that keeps a team connected, whether it is doing remote work or fieldwork. Timely communication helps keep the whole remote workforce on the same wavelength and makes it simple to downstream work plan. Staying in touch is one of the major obstacles for remote businesses.
Poor communication can make even small jobs take longer, whether it be during a one-on-one review meeting or a fast update on work. We are all aware that in order to resolve any difficulties encountered amid project development or other task progress, you must interact seamlessly with your remote team members.
By setting up perfect and simple communication modes, you'll learn more about the workings and activities of what's going on in the remote workspace and have a better idea of how to iron out the kinks. With the help of Lystloc, companies can look through the status of their assigned remote employees' daily tasks, have customer meetings on time and get important information about the end result of customer meetings in simple meeting notes format.
Lystloc provides real-time notifications that allow teams to relay important information and messages to multiple remote employees in a fraction of time. This is a great way to optimize the time and overall communication for the remote workforce. Can communicate directly with team members or send important messages to the entire team at once through separate form modules for different tasks.
Detailed Insight On Each Remote Staff's Performance and Report Generation
One of the most effective things you can do to improve the performance of your remote team and produce reliable revenue outcomes is to have a monthly performance report of your remote employees. An overall employee performance report enables organizations to ensure whether their remote workers are on track to meet key goals by estimating the total and expected value of your business. Nevertheless, one of the best strategies to quickly boost team performance is to use daily and/or weekly productivity reports with your team.
We at Lystloc provide our clients with remote employee performance reports along with the employee's daily activities, timesheet, attendance, client meeting details, and so on. We generate reports based on the daily activities of the remote sales employees, and their customer meetings to make it easy for the organization to evaluate the performance of their sales teams on a timely basis.
Lystloc's performance report provides insights into the employees' daily attendance, customer meetings, total product sold, and the value of the orders to make sure they complete their monthly targets and analyze productivity. These reports help for deriving real-time reports for company management purposes such as payroll processing, evaluating employee performance for incentives, agility, and many more. It plays a key role in improving the business as it is used to gather hidden insights, perform remote sales analyses, and improve business requirements.
Your Productivity Is Boosted By Monitoring Your Remote Employees
The main factor in an organization's growth is remote employee productivity. No matter what business you are in or what kind of products or services you offer, if your staff is not productive at work, it could have a negative impact on your firm. Therefore, it's crucial to keep an eye on employees' productivity. In the modern workplace, it is more important than ever to track and keep an eye on remote employees.
You can use Lystloc's workforce management software to monitor each remote employee's productivity and time spent on remote work. It comes with various features such as work assignment and tracking progress, attendance tracking, time tracking, app integration, and reporting. In this way, you won't have to deal with manual paper works when monitoring remote employees. Instead, you can track employee productivity in a more automated and comfortable way.
By monitoring how much time remote workers spend on different work, you can identify their idle time and assign new work. Perhaps, the remote employees can complete their work despite taking breaks to relax. In such instances, it's a good indication that you won't have to worry about their productivity. However, Lystloc is developed to maintain a light-footed and productive workforce for optimizing business growth during difficult and pandemic times.
Wrapping Up
With Lystloc's field force management software, you can automatically keep an eye on your remote staff. The software automatically measures everyone's work and keeps track of their activities while the team quietly completes their project and concentrates on their work.
Remote employee monitoring has increased in popularity over the past few years. It is required for the majority of organizations, especially if they utilize a remote workspace. Therefore, when used properly, Lystloc has several advantages for both the employee and the company. However, it's crucial that the employees of a specific organizational structure are aware of their daily tasks and goals. They ought to be informed of their level of output and what to anticipate. It's important to choose the appropriate software so that both the company and the employee can take advantage of it.