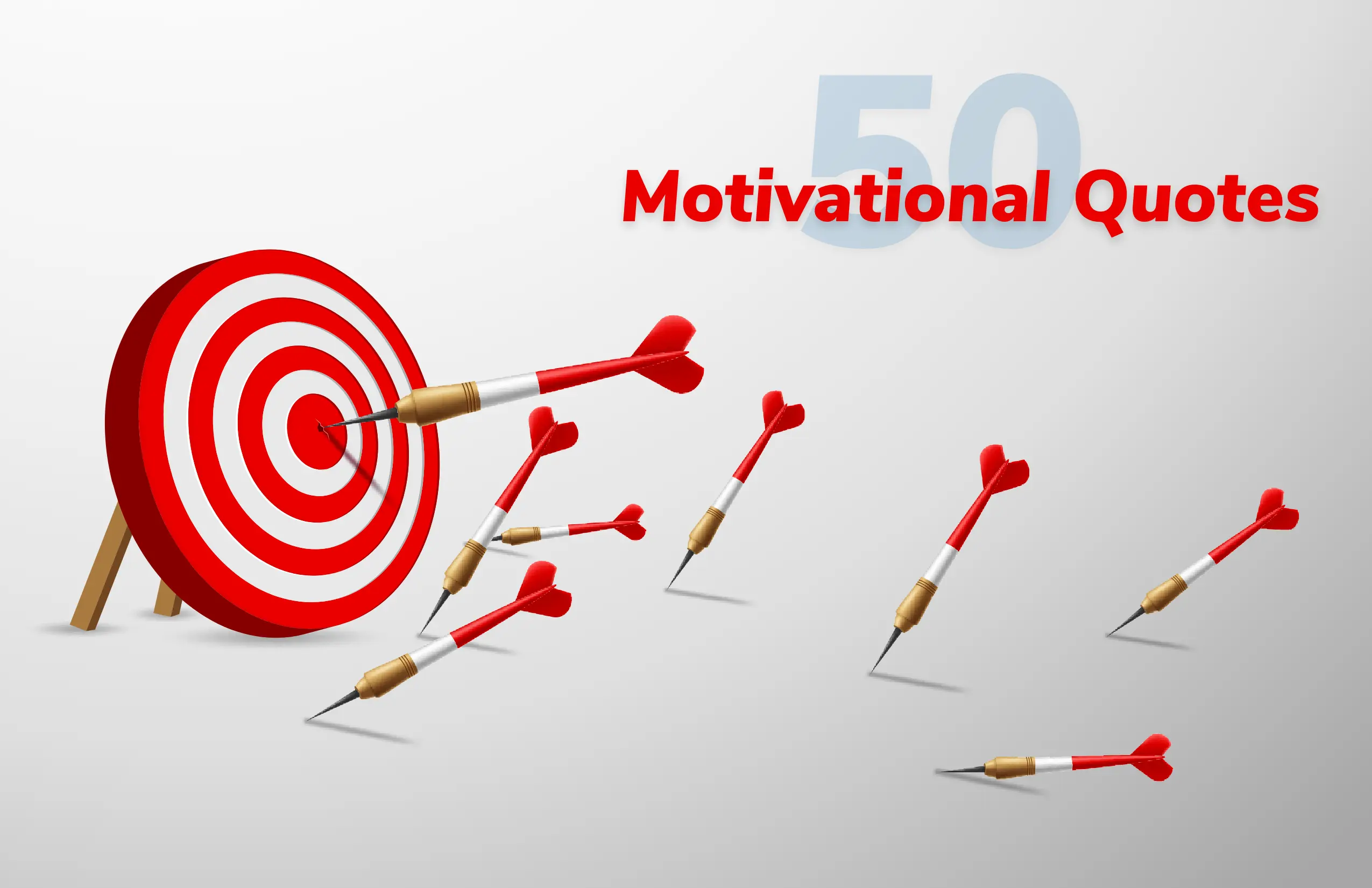 50 Motivational Sales Quotes To Boost Your Sales Team Performance In 2022
Sales are not that easy, many salespeople encounter a lot of adversity on a daily basis. In fact, they may become discouraged if they don't get a response to their calls or emails. Additionally, they have unfriendly prospects, which further affects their enthusiasm. So it makes sense that someone dealing with all of this would feel demotivated. But a little motivation can go a long way.
However, failure and rejection are necessary aspects of the sales process. The world is aware of many great thinkers and achievers who have faced hardship but have managed to cross the stormy seas.
Additionally, they didn't just stick it out during the tough times; failing was what propelled them forward. Reading through this compilation of sales motivational quotes will help the sales team to stay inspired and boost their sales performance to the next level.
Why Motivational Quotes Are Important For Sales Team Performance?
Salespeople need the motivation to thrive in sales, reach their objectives, and provide excellent customer service. Nevertheless, various variables, including stress, can cause them to lose motivation. Since every salesperson needs to be motivated, it is up to you as the management to find a solution. Daily sales motivational quotes are crucial in developing a pleasant culture and welcoming environment. It is the primary motivator of the sales team's overall success and forms part of the sales performance plan.
At all times, it's vital to keep sales reps engaged and motivated. It aids in achieving the sales targets and is crucial in retaining outstanding sales reps. Organizations must continually assess and update sales motivational quotes to match the shifting conditions the sales team must deal with, just as the companies do with their sales strategy. This keeps sales employees' motivation high and makes sure they're always moving in the direction of achieving the company's goals and vision.
50 Top Sales Motivational Quotes For Salespeople To Boost Their Performance
1. "Filter everything you're doing, saying, and pitching through the customer point of view, and you'll improve just about every metric you care about today." – Matt Heinz
2. "Don't celebrate closing a sale, celebrate opening a relationship." – Patricia Fripp

3. "Your Life Can Only Get Better When You Do. Do Something Every Day To Improve Your Key Skill Areas." – Brian Tracy
4. "Everything You've Ever Wanted Is On The Other Side Of Fear." – George Addair
5. "Every sale has five basic obstacles: no need, no money, no hurry, no desire, no trust." – Zig Ziglar
6. "Most people think 'selling' is the same as 'talking.' But the most effective salespeople know that listening is the most important part of their job." – Roy Bartell
7. "Sales success comes after you stretch yourself past your limits on a daily basis." – Omar Periu
8. "The best way to get started is to quit talking and begin doing." – Walt Disney
9. "Sellers who listen to buyers carefully and then give them the missing ingredients – those are the ones who stand out." – Deb Calvert
10. "Never put off till tomorrow what you can do today." – Thomas Jefferson
11. "Success seems to be connected with action. Successful people keep moving. They make mistakes, but they never quit." – Conrad Hilton
12. "There are no limits to what you can accomplish, except the limits you place on your thinking." — Brian Tracy
13. "Opportunities don't happen. You create them." – Chris Grosser
14. "Faith is taking the first step even when you don't see the whole staircase." – Martin Luther King Jr
15. "A successful man is one who can lay a firm foundation with the bricks that others throw at him." – David Brinkley
16. "Don't measure yourself by what you have accomplished, but by what you should have accomplished with your ability." – John Wooden
17. "You only live once, but if you do it right, once is enough." – Mae West
18. "Make A Customer, Not A Sale." – Katherine Barchetti
19. "If You Are Not Moving Closer To What You Want In Sales, You Probably Aren't Doing Enough Asking." – Jack Canfield
20. "Expect The Best, Prepare For The Worst, Capitalize On What Comes." – Zig Ziglar
21. "You can never quit. Winners never quit, and quitters never win." – Ted Turner
22. "Care enough to create value for customers. If you get that part right, selling is easy." – Anthony Iannarino
23. "Hard work may not always result in success but it will never result in regret." – Michael Lewis
24. "Don't sit down and wait for the opportunities to come. Get up and make them." – Madam C.J. Walker
25. "For every sale, you miss because you were too enthusiastic, you'll miss a hundred because you weren't enthusiastic enough." – Zig Ziglar
26. "What differentiates sellers today is their ability to bring fresh ideas." – Jill Konrath
27. "Winning is great, sure, but the secret is learning how to lose. If you can pick up after a crushing defeat and go on to win again, you are going to be a champion someday" – Wilma Rudolph
28. "Great things are done by a series of small things done together." – Vincent van Gogh
29. "Success looks a lot like failure up until the moment you break through the finish line." – Dan Waldschmidt
30. "You have to drop your sales mentality and start working with your prospects as if they've already hired you." – Jill Konrath
31. "Your most unhappy customers are your greatest source of learning." – Bill Gates
32. "Establishing trust is better than any sales technique." – Mike Puglia
33. "Most of the important things in the world have been accomplished by people who have kept trying when there seemed to be no hope at all." – Dale Carnegie
34. "To be seen as a credible and trusted advisor, every touch you have with a customer should provide added value." – Sharon Gillenwater
35. "Great sellers go into a meeting with multiple next-steps; this allows them to proactively respond if a plan does not unfold as planned." – Tibor Shanto
36. "True productivity comes from allowing yourself to make mistakes. Do so, and you'll succeed more often than any ten perfectionists." – Laura Stack
37. "Sales enablement can't be reactive. It has to be a full-blown strategy that's woven into the fabric of the company." – Roderick Jefferson
38. "If you are working on something that you really care about, you don't have to be pushed. The vision pulls you." – Steve Jobs
39. "Courage is not having the strength to go on; it is going on when you don't have the strength." – Teddy Roosevelt
40. "There is no magic to closing. There are no magic phrases. Closing the deal is completely dependent on the situation." – Alice Heiman
41. "Opportunities are usually disguised as hard work, so most people don't recognize them" – Ann Landers
42. "Dream big! There are no limitations to how good you can become or how high you can rise except the limits you put on yourself." – Brian Tracy
43. "Chase the vision, not the money; the money will end up following you." – Tony Hsieh
44. "I like to think of sales as the ability to gracefully persuade, not manipulate, a person or persons into a win-win situation." – Bo Bennett
45. "A pessimist sees the difficulty in every opportunity; an optimist sees the opportunity in every difficulty." – Winston Churchill
46. "In high-productivity sales organizations, salespeople do not cause customer acquisition growth, they fulfill it." – Aaron Ross
47. "Killer salespeople uncover true problems behind desired solutions." – Aaron Ross
48. "If you harness the power of innovation, you'll convert sales complexity into a brutal competitive advantage." – Tim Sanders
49. "Do not focus on numbers. Focus on doing what you do best." – Cassey Ho
50. "Failure will never overtake me if my determination to succeed is strong enough." – Og Mandino
Summing Up
We certainly hope you have found "your" stack of motivational sales quotes to improve the performance of your sales team! The majority of the time, we could all use a little inspiration to keep going, and these sales motivational quotes offer sales teams just that. Basically, when your sales staff is feeling demotivated, these wise sales motivational quotes from well-known people around the world can work like magic.
Use these motivational quotes for salespeople to encourage them to persevere when things are challenging. These words can give your sales team the much-needed drive they need to keep selling.