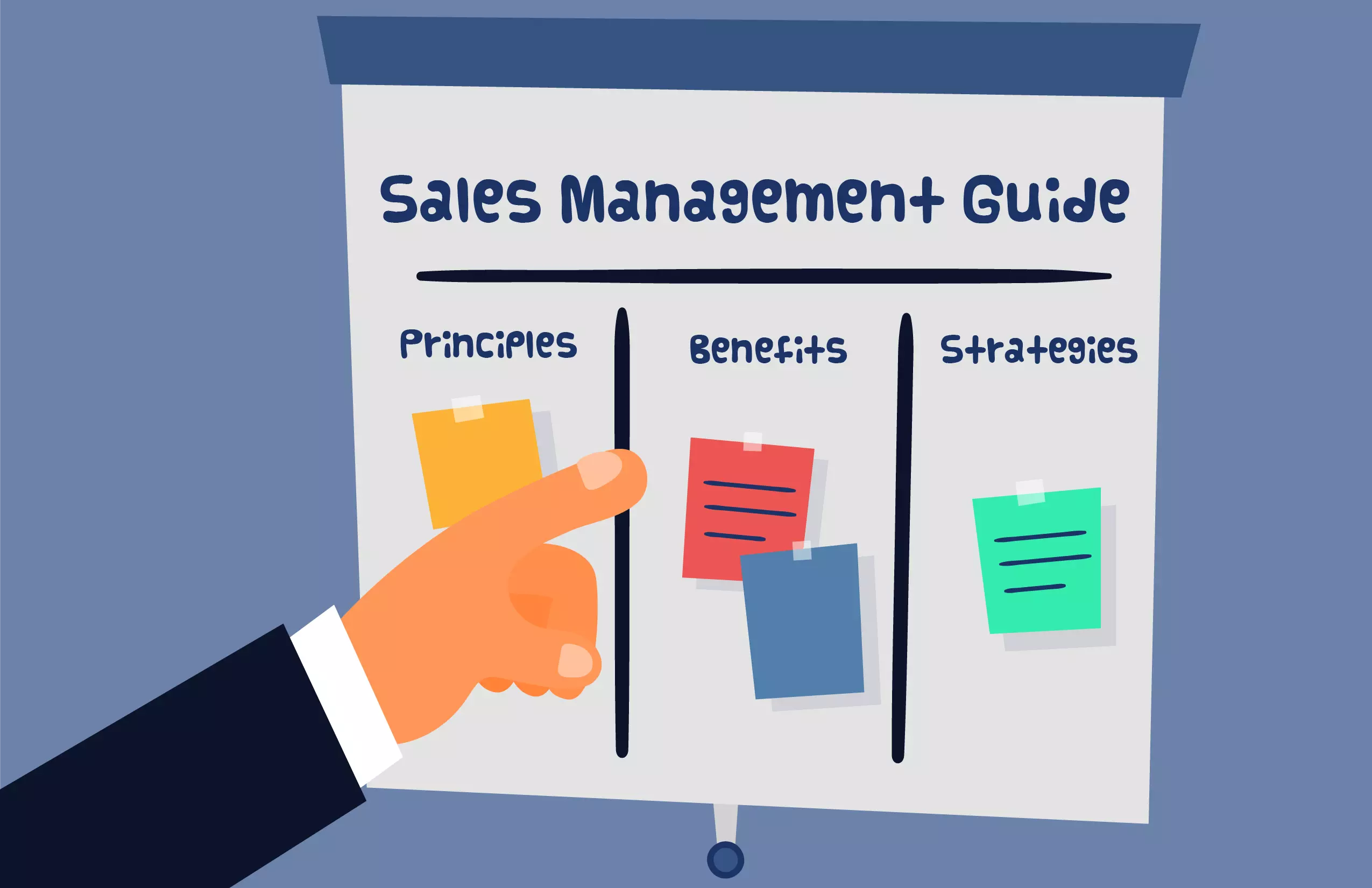 A Brief Guide To Sales Management Process
The performance of your business could be significantly improved by an efficient sales management process. Since there are so many advancing parts in a business, it is essential to comprehend the sales management process to ensure that each part of the entire sales work is functioning properly. Establishing goals and providing your sales staff with the tools and resources they need to reach them are all part of a successful sales management process.
The sales process touches every division in some way. However, the definition of sales management is completely distinct. Businesses hire sales specialists like salespeople and sales managers. These salespeople can utilize a variety of sales techniques to achieve their sales goals due to effective sales management processes.
What Is Sales Management?
The capacity of each employee to either assist with sales or conduct actual customer sales is tracked and evaluated by the sales management process. A hierarchy of salespeople is frequently in charge of controlling the entire procedure of overseeing the sales activities, which includes onboarding the sales force and handling their sales goals through meticulous preparation and synchronization of sales operations.
It is an operational area that manages a company's sales activities and is concentrated on real-world applications of sales methodology. This is a key element of the business because gross sales of products and services are what allow it to make money. The purpose of hiring the sales manager is to supervise and oversee the sales. The sales management process involves organizing all of the company's sales initiatives to ensure that sales goals are met and that marketing activities are carried out, among several other duties.
Importance Of Sales Management For Your Business
The importance of the sales management process has grown over time. It is currently regarded as one of the most crucial roles within an organization. Any business must have a successful sales management process. It enables you to achieve your sales goals, maintain control over the sales procedure, close deals more quickly, improve your sales efficiency, and prosper in a setting of intense competition. The achievement of the business's goals is made possible by effective sales management.
Additionally, it improves the efficiency of the sales team at the company. The business will not reach its maximum potential if the sales operation is poorly handled. To put it simply, this process assists in overseeing the performance of the sales staff. Developing significant sales plans, techniques, advertising campaigns, and marketing efforts, defines the sales pipeline. Additionally, it affects how salespeople are trained, how sales information from various businesses is handled, how products travel through the distribution channel, and how strong relationships are built with current as well as potential clients.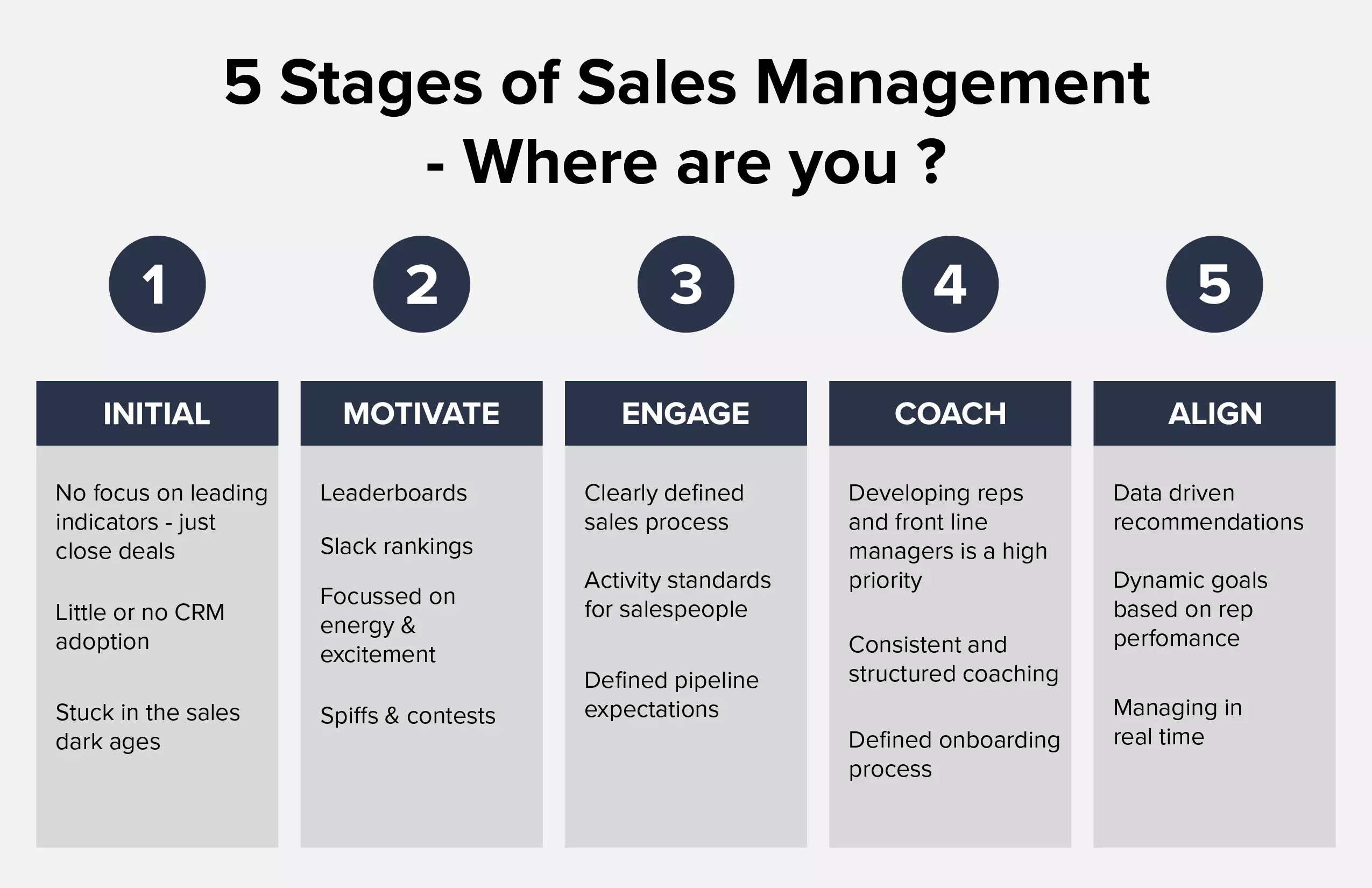 5 Key Principles Of Sales Management Process
Consistency
Consistency is one of several factors that affect how well the sales management process works. You can improve sales, build greater connections with customers, and close deals more quickly by being consistent. Ensure that your salespeople are familiar with each step of the sales process, provide them with customer interaction training, and ask for updates to monitor their progress.
Be Clear And Concise
Being straightforward with your salespeople is the greatest approach to conveying an idea. If you want to avoid the topic, keep in mind that information is simple to understand incorrectly. Being open and truthful is the best approach to letting people know where exactly they are as well as what is demanded from them.
Delegation
You cannot perform all of your duties as a sales manager by yourself. Micromanagement can also make your direct reports, particularly your best achievers, unhappy. Yes, you must manage, but you should also be prepared to offer your staff a degree of autonomy and a measure of freedom. This demonstrates your faith in your salespeople, allowing them the liberty to perform their finest work.
Equality
You should treat each member of your team equally, which is partly connected to consistency. Everyone must be held accountable to the same rules and regulations in an equitable and unbiased way. If not, certain employees might believe that other people are receiving special attention. Sales goals, for instance, might have to be adjusted, but as long as everybody is aware of the planned norms and procedures, they're going to understand that you're behaving with fairness and equality.
Conviction
It's difficult to work as a salesperson. It entails gaining insight into clients through their communication style and developing reasons to persuade them to purchase your products or services. Salespeople frequently deal with criticism, refutations, and some unfavorable comments. Your sales team needs to develop their communication skills, gain more self-assurance, and possess solid product expertise if they wish to manage customers' objections more effectively and increase retention of customers.
Benefits Of Having An Effective Sales Management Process
Future Sales Leaders Are Trained And Well-Prepared
As your business expands, you will need to hire more salespeople, which will necessitate the recruitment of additional sales leaders to fill managerial positions such as sales managers, sales coaches, operational managers, and others. Salespeople are excellent choices for leadership roles in the sales department if they approach their managers with excellent ideas for the system's improvement, educate other people, take guidance and training well, and work effectively.
Increased Revenue
Increased income necessitates a thorough awareness of sales pipeline wellness, the most effective sales tactics, and how your clients are responding to your sales engagement. These elements become an integral component of an efficient system where managers and salespeople regularly monitor, measure, and adapt their activities with the proper sales management process in place. Utilizing a planned, successful sales operation is the key to maximizing revenue, and a productive sales management process aids organizations in doing exactly that.
Improves Product Development
One aspect of sales management involves ensuring that your salespeople stay in constant communication with customers and monitor competitors to see if your line of products is as competitive as it can be. You can increase your sales and earnings by including new products in your line, modifying or removing features, or cutting products from the product range. Ensure that you provide the best product or service to produce substantial revenue and profitable margins by doing periodic evaluations of what you offer.
Strong Customer Relationship
Building solid connections with customers is the primary goal of every sales organization in order to increase conversion. Developing a strong relationship leads to immediate sales and offers the door for additional prospecting. Customers may occasionally choose to use you again for the next product or service due to their degree of trust in you. An effective sales management framework aids in monitoring the concluded transaction and frequently employs various techniques to boost the rate of revenue production.
Strengthens Distribution
It provides access to all available marketing platforms. You will then be aware of the most effective strategy for advertising and promoting your product. It will aid in your analysis of the medium because marketing is a component of the sales management process. Market study and information gathering are crucial components of the sales management process. It aids in product improvement or the introduction of an innovative feature to satisfy customer demand.
5 Effective Strategies To Build A Successful Sales Management Process
Establishing Sales Targets
After carrying out all of its responsibilities, an organization aims to reach its sales targets. Targets for sales can be both short-term and long-term. It predetermines how, when, and where these goals can be accomplished. Goal-setting typically takes into account factors like the attributes of the products, business goals, availability of resources, marketplace dynamics, the needs of the sales force, etc. Additionally, the competence and quality of the sales employees are taken into account when determining the ideal sales targets.
Create A Compelling Compensation Approach
Considering that there are at times numerous sales-performance incentives to take into account, sales is a challenging industry in terms of compensation. It's crucial for the company to try to develop an alluring, equitable compensation plan if you want to recruit the top staff. Your employees should be motivated to work hard by the compensation strategy you design. If you find an appealing spot, you can ensure their buy-in and inspire them to strive for excellence.
Support Each Sales Person's Development
Due to their expertise, character traits, fortune, or any combination of the three at once, the most successful salespersons bring your business the best deals. However, if the team's imbalance quickly increases, many risks are deferred:
Inner tension
Loss of motivation
Irreplaceable employees.
Here, the manager's duty is to calm things down by figuring out why one salesperson does so much more effectively than the rest of the team. Identifying areas of improvement for each team member is the goal here, not comparing everyone.
Sales Performance Reporting
To develop reports that summarise productivity and bring out places for enhancement, sales managers require access to a wide, detailed, and reliable range of data. Managers need to have the ability to evaluate insights swiftly and organize the information that they receive from a number of sources. Data sources can be found everywhere. You can use this to determine which individuals as well as areas need extra training.
Use The Right Technology
Numerous interconnected components are present in the sales management process. Using sales software that facilitates the organization's swift action is the best method to establish an efficient workflow. With the correct software program, managing worksheets, documents, official paperwork, and schedules is now simpler than ever. Your sales force will be better able to carry out the routine regularly and accurately if you eliminate a dozen steps from the process—thereby lowering the possibility of human mistakes.
Wrapping Up
As you can see, a number of different factors must come together for the sales management process to be genuinely productive. Although it's not an easy task, sales management plays an essential part that can affect the bottom line of the business you run. You are able to oversee employees, objectives, and interpersonal interactions efficiently even when there are many moving pieces and complexities. By comprehending the crucial elements and utilizing proven strategies, you can create an efficient sales team. Therefore, start planning the sales management techniques you'll use and the tools you'll include to aid you along the way.