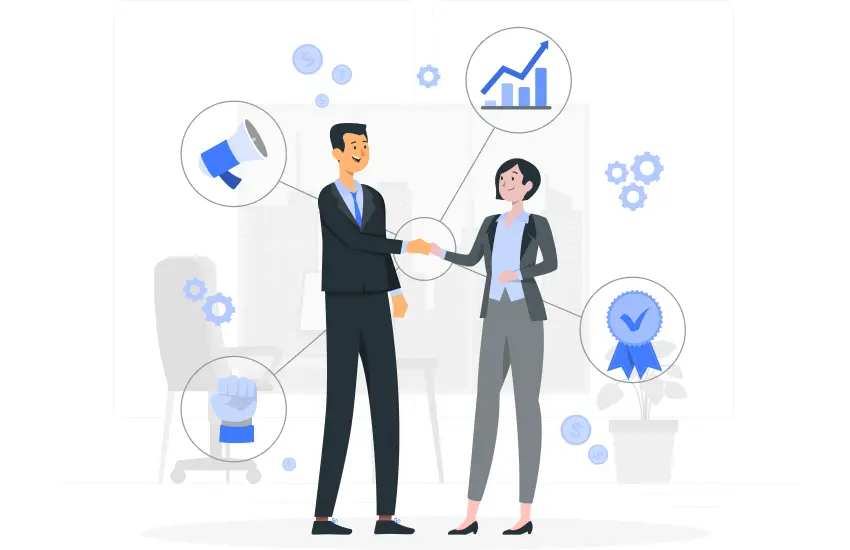 7 Effective Tips to Create Harmony Between Sales reps and Managers
Sales managers play a predominant role in maintaining a healthy sales rep relationship within the sales team. You need to have an intuitive knowledge of your sales team to determine how they want to be handled and what kinds of leadership strategies will work best for them. Encourage sales rep relationships within the sales team and manage them gently. Set up frequent one-on-one meetings with them, particularly in the beginning when you're taking over.
As you try to figure out how they learn, allow them to get to know you. It is not your intention to come across as too formal and unfamiliar. Remember that you are managing them, not giving them orders.
Role of Sales Managers in Sales Team
Leading the sales employees through daily tasks is the responsibility of sales managers. They aid in the consistent advancement of sales representatives and their companies as a whole.
In addition to carrying out their own set of sales duties such as prospecting, qualifying, delivering demos, etc., sales managers usually coach and mentor the other team members on related responsibilities.
Leading a group of salespeople who are in charge of pulling in revenue for the company is the responsibility of a sales manager. As a result, their responsibilities and interactions focus on sales representatives, company executives, and Other departments within the company.
Tips to Create Harmony Between Sales reps and Managers
Some of the crucial tips to create harmony between sales reps and managers to maintain a positive sales rep relationship within the sales team are as follows:
Know Your Team
Allow your employees the privacy and comfort to discuss any areas of their roles that they may be finding difficult. When that occurs, be sure to assist them in understanding those procedures without taking over their responsibilities. You never want to be too close, but you also don't want to hold your reps' hands too much and miss out on opportunities for them to improve.
Be Transparent
Your team members need to know exactly what their roles are when they need to be completed, and what their results will be if they succeed.
Here, communication must be thorough and open. Establish a connection with your representatives and provide them with simple instructions. In this way, you can direct them in the proper direction and provide them with a strong foundation for figuring out the source of any understanding problems that may emerge.
Explain about Sales rep Compensation
The most basic and effective motivation for sales representatives to work hard is compensation. It is, after all, the whole reason they are employed in the first place. Your employees have to understand how they are being paid, including their base pay, commission, and any additional financial incentives you may be pro
viding if you want to get the most out of them.
Make sure you have a well-defined commission structure in place, and tell your employees what to expect when they reach or exceed the target. Developing that understanding can pave the way for good sales rep relationships to deliver the desired outcomes.
Encourage Healthy Competition in the Workplace
The sales industry is competitive by nature. It primarily depends on individual effort, and although teamwork and togetherness are important, the performance of any given sales representative frequently determines the outcome. You can't take that factor away if you want the team to succeed as much as it can.
However, competition might be inconsistent. Crossing the line from healthy competition to a toxic work culture can have a severe negative impact on morale. Your reps should push one another, not be furious about one another.
Give Thorough, Helpful Feedback
When managing a sales team, uncertainty will not help you; thorough feedback is advantageous to both you and your sales representatives. It helps map the right path for your team as a whole and gives them the guidance they need to grow.
Make sure the compliments and criticism you offer are targeted, helpful, and practical. Don't just tell a sales representative who isn't performing well that they need to pick up what's missing. Provide context, be polite yet regulated, and offer a course of action they may follow to enhance their performance.
Define a Sales Methodology 
A sales methodology, which is a collection of guiding principles that leads your sales representatives through the sales process, may be a valuable tool for any sales leader who wants to foster team unity and maximize productivity.
You can have greater direction and perspective when trying to manage your team by establishing things like messaging, outreach speed, discovery questions, and a general attitude to interactions with leads and customers.
Recognize Accomplishments
Your employees are required to know that you respect, value, and appreciate what they have accomplished. That kind of recognition may keep reps motivated and give a significant boost to confidence. Because of this, it's important to recognize both team and individual accomplishments.
A brief acknowledgment in a Chat channel, email thread, or team meeting can be quite helpful in letting your sales representatives know that you value and are aware of their efforts. It feels nice to be recognized professionally, and it might be a motivating factor for a sales representative to work further.
Bottomline
While managing a sales team, not everyone is well-versed in sales leadership, and although managing a sales team might provide enormous challenges, they don't have to be overwhelming.
With the above suggestions, a little perseverance, flexibility, and a devotion to continuous learning, any new manager can learn how to train and maintain a sales rep relationship to have a successful sales team.