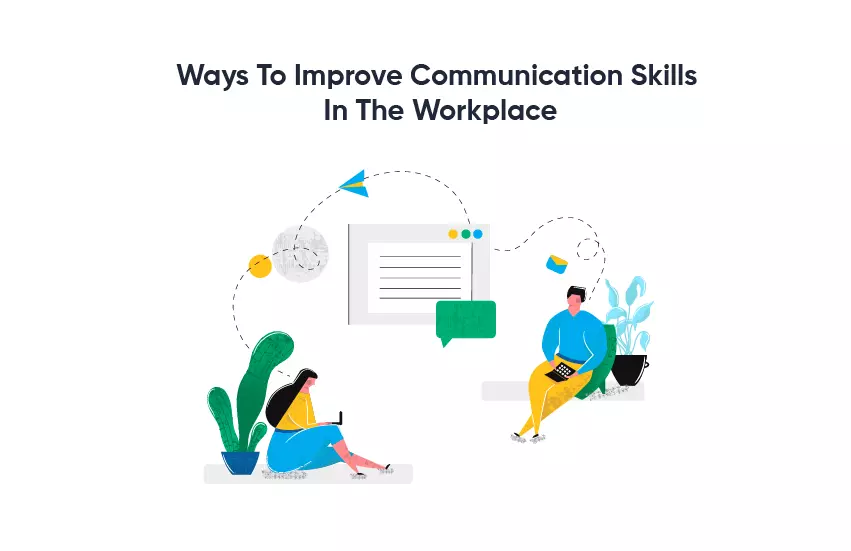 Ways to Improve Communication Skills in the Workplace
The age of communication is as old as human civilization. In the early ages, man used to communicate with his fellow beings through sounds, signals, gestures when there was no language developed.
Without communication, human society could not have been as it is today. It is communication that has transfigured mankind into the most developed and prosperous group on the earth.
Let's get to imagine a small situation, in which you are in your office's cafeteria with colleagues and they are telling you about their first work experience of their career.
What picture comes to mind as you hear their story?
Is your colleague using words you understand to describe the situation?
Are they speaking in lengthy, complicated sentences or small, descriptive sentences?
Are they leaning back in the chair and speaking calmly, or can you tell they are excited?
Did your colleague pause and wait for you to comment throughout their story or just blast right through?
Did you have trouble hearing your colleague at any point in the story because other people were talking or because the milk steamer in the cafeteria was whistling?
All of these question marks relate straight to the considerations we get in a conversation for communication.
Great! Let's get to our topic Workplace Communication.
On hearing this word, What you think it can be? Workplace Communication is nothing but an act of interchanging ideas and information, both in verbal and non-verbal format between persons or groups within an organization.
Communication in the workplace is one of the signs of a high-performance culture and also tremendously important to increase productivity and efficiency.
" Communication- the human connection- is the key to personal and career success."
Some Reasons Why Workplace Communication Matters
Innovation relies heavily on communication and an organization that encourages communication is far more likely to be an innovative one.
Companies that provide communication training help reduce barriers due to language and cultural differences.
Effective workplace communication helps employees form highly efficient teams.
By being joined up internally and having strong lines of communication you are ensuring that the message you are delivering externally is consistent.
The deputation of tasks, conflict management, motivation, and relationship building (all key responsibilities of any manager) are all much easier when you are a strong communicator.
Absenteeism and turnover rates decrease when a strong emphasis on workplace communication is valued within the company.
Employees tend to be more secure when they are on the receiving end of genuine communication and updates from superiors.
What Can Be the Types Of Communication In The Workplace?
Verbal Communication
Conversation with your friends or colleagues at work.
One-on-one meeting with your manager.
Product demo to a customer.
Non-Verbal Communication
Body language when giving feedback.
Reaction when an idea you are opposed to is being adopted.
Behavior in times of tight deadlines & tense projects.
Written Communication
Writing emails to customers.
Internal memos to be given.
Notes taking during any task.
Visual Communication
Presentations & brochures
Charts, graphs, and comparison slides
Listening Communication
Don't interrupt during team meetings while one person is speaking.
Focus on what they are saying.
Keep eye contact with the speaker.
Clarify your doubts at the end of the speech.
Now that we have got to something or a lot more about Workplace Communication from the former information provided. How about, knowing some amazing strategies or ways to improve communication skills in the workplace.
So, that it can help you in enhancing communication among the employees in your organization at any time.
Ways To Improve Communication Skill In The Workplace
1. Set-Up A Foundation First
To build strong communication in the workplace, it is necessary to build a trustworthy relationship among employees. The more an employee trusts you, the more likely they are to come forward and communicate when a problem is occurring. A great way to lay that foundation is to establish a rapport with your employee first.
2. Organize Weekly Or Monthly Meetings
The employees may be finding it difficult to communicate with their superiors at times due to their busy work schedules. By setting up a recurring meeting to touch base, you'll learn more about the inner workings of what's going on in the office and have a better idea of how to iron out the kinks.
3. Listen To Your Employees
Effective communication really is a two-way street. If you're not actively listening to what the other person is saying, it's difficult to end up on the same page. So, it is important that you listen to your employee to know about their way of thinking and ideas.
4. Avoid Making Quick Assumptions
One of the biggest inhibitors to quality communication in the workplace is missed signals and quickly formed assumptions. If your employee is lagging in an area in which you expected them to excel, don't immediately assume that they're a slacker who doesn't care. Try to ask their point of view and queries, and then make a decision.
5. Learn Each Others Strength And Weakness
In a working environment, it is mindful that we try to know about each other's strengths and weaknesses. So, that we can have a clear view of what they can do and also where they need training. By understanding each other's strengths and weaknesses, it's easier to have effective communication in the workplace.
6. Offer Feedbacks/Compliments In A Thoughtful Way
Actively seeking out constructive feedback is one of the best ways to improve communication in the workplace. Always allow the other person to share their thoughts and contribute to building a positive process moving forward.
What Employees Can Do?
The more you listen, the better you are at communication. Before responding to someone, make sure you've heard and understood what someone is saying. Don't just wait for their mouth to stop moving to make your point.
Know The People You're Talking To
It is important to know and understand to whom you are communicating. You can't talk with everyone in the same tone or style. Match your tone and timing to the person you're communicating with.
Body language also plays a vital role in communication. Because sometimes body language also indirectly communicates what we are saying and even what we are not. It helps others to identify our emotions.
Some people are reluctant to speak in meetings or before a team. But, the tip is don't be hesitant to talk. You should feel free to communicate your ideas and opinion within your team or in the workplace. The only thing, be clear in what you are talking about.
Concentrate In Writing Style
We know that most of the workplace information gets communicated through text and email. This is another instance where it's best to know your audience and choose the most appropriate medium. don't be too complicated in writing to avoid misunderstandings and misinformation. And also don't send a big long email to arrange a short meeting either.
Team Building Activities to Improve Communication
As we all know, the workplace can be a tiring and stressful environment, so employees may often need some time away from work. Travelling into a different atmosphere, free from tasks and assigned roles, will help the team relax and open up in a more comfortable setting.
Games And Competitive Activities
The most fun and easy way to engage in communication in the workplace is with some exciting games and activities. There are plenty of team-building games and activities for employees. Some suggestions for you:
Back To Back Drawing
Direction Direction
The Escape Room
Mimes
Nowadays, The word "Theme" is trending all over the globe. In most workplaces, employees are creating themed days on certain days of the week. Creating themed days can turn dull weeks exciting for workers. However, all it takes is a normal break from a busy routine to connect not only as workers but as human beings.
Build your company culture with videos
When it comes to communicating information to employees, video is a great tool. That is we can ensure that if we can make a video or screen-recording to share an idea, rather than a long document or process, then we will. It is proved that employees are more engaged with media files rather than manual documents.
In certain organizations especially, where we only bring a part of ourselves to the workplace. If we want to communicate empathetically and build relationships with colleagues, personal storytelling is one way we can build our teams while developing communication skills. Ask each team in the office to prepare a reading that they will share during a casual meeting.
Lastly, communication is nothing but a means by which we can convey our thoughts and opinions to fellow human beings. So, it is necessary that whatever we communicate in any place be it the workplace, home, or outside, try to do it in a better way that others can understand our thinking as simply as possible.
"To effectively communicate, we must realize that we are all different in the way we perceive the world and use this understanding as a guide to our communication with others."