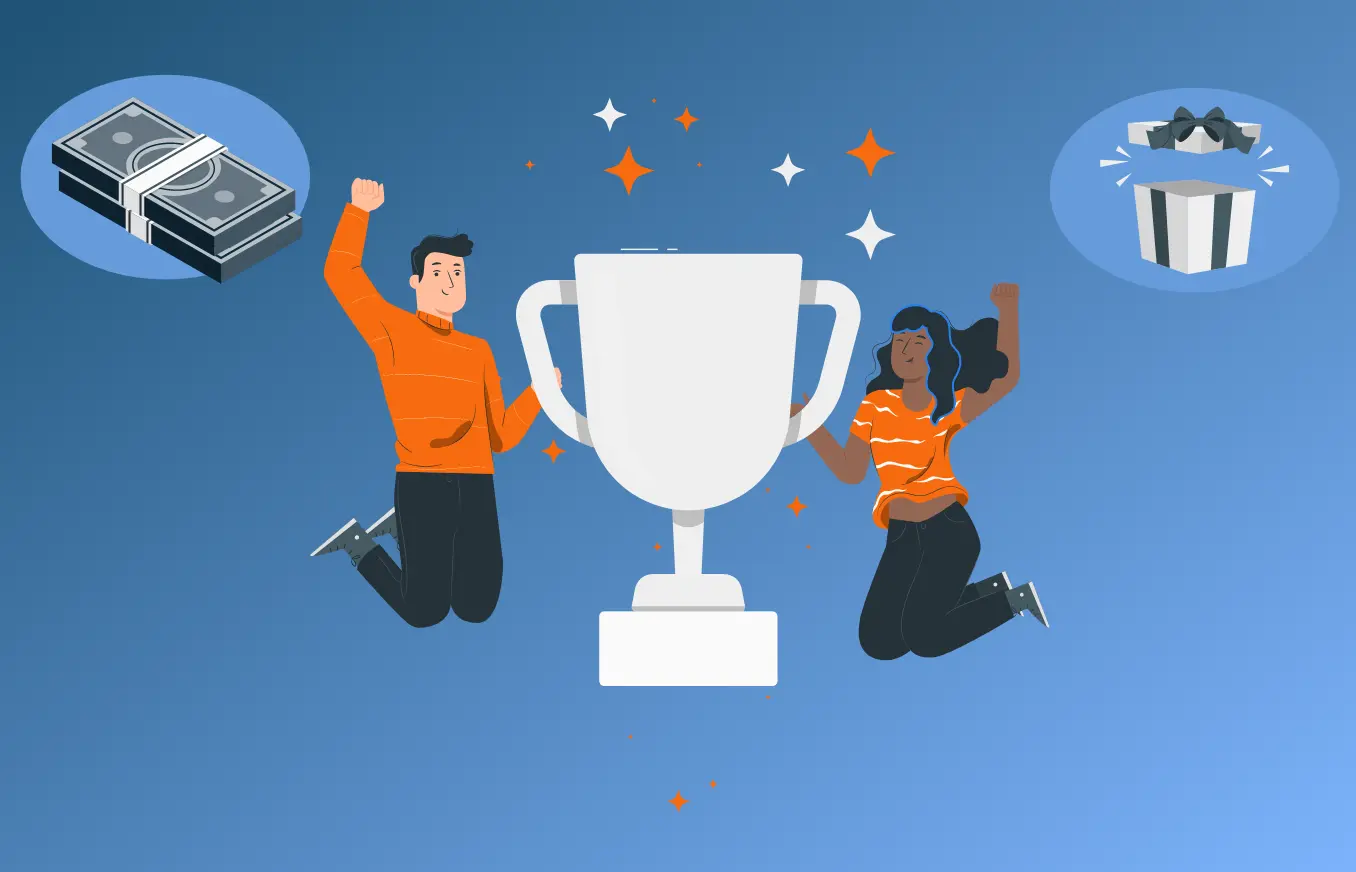 5 Best Sales Incentives Ideas To Motivate Salespeople
As a sales manager, you face the difficult task of motivating your sales team on a monthly basis. A pat on the back may be effective at times, but it is not always sufficient. Sales incentives help to keep your salespeople engaged and motivated to achieve their objectives.
A good sales incentive program brings the sales team together to work together to accomplish a common goal while nurturing a friendly environment and healthy competition. A good sales incentive program brings the sales team together to work together to accomplish a common goal while nurturing a friendly environment and healthy competition.

What Are Sales Incentives?
A sales incentive is a reward given to salespeople by their managers for successfully completing a certain number of sales deals or lead conversions. Sales incentives can be monetary, physical, experience-based, or any other type of incentive tailored to employees' interests and motivations. sales incentives are rewards intended to provide recognition for raising the bar of expectation, meeting objectives, and contributing to an organization's overall success.
5 Sales Incentives Ideas To Motivate Salespeople
Career Development Incentives
Most salespeople are extremely interested in growing their careers, especially high performers. For example, you can give your sales team a professional opportunity to advance themselves with sales training from a professional coach, advanced technology development in sales training courses, or tickets to an upcoming conference.
They can also be used to train top performers who want to grow within the company. The knowledge they gain in the training courses they earned can help ensure their success, and that of the rest of the team, in the future. Empower your employees to get where they want with knowledge-based incentives.
Cash Incentives/Monetary Rewards
When it comes to motivating and rewarding salespeople, monetary incentives are worth the try. Cash rewards inspire employees to do their best work and achieve their individual and company-wide goals.
Cash bonuses are the traditional way to reward salespeople and are typically paid monthly, quarterly, or annually. Cash rewards are paid in addition to their salary. Salary is recognition of all the work a sales employee has to do, including sales and other field tasks. These rewards are given to them for achieving predetermined sales targets. Cash incentives can be offered as:
Bonuses
Commissions
Salary Raises
Share of profits from deals
Extra Paid Time Off
Time is money. If that's true, then your salespeople will also see paid time off as an incentive! After all, they work very hard every day to achieve their goals and achieve the necessary metrics for hard-earned incentives. So why not reward them with some free time? Rewarding your reps with more free time will encourage a better work-life balance and hopefully a happier sales team.
So it's important to remind your sales team that while they are doing the essential sales work, there are more important things in life other than work and tasks. One of the most effective non-monetary benefits you can offer is to give them paid time off. These can be vacation days for them and their families. Well-rested salespeople are automatically more productive, happier, and able to achieve better long-term results. Furthermore, these are short-term benefits that are immediately noticeable.
Gift Cards
Gift cards are perhaps the most common non-cash incentives. Gift cards give your salespeople more flexibility in how they spend their well-deserved reward. They can also be personalized—once you've determined who the top performers are, you can give them a gift card that you know they'll appreciate and utilize. Giving a gift card is similar to gifting an experience.
Employees might get a gift they've always desired or go on a shopping trip with their family. The vast array of options available for purchase adds to the allure. Your salespeople will be able to choose their own incentive, which will enhance engagement as you assist them in creating memories in addition to feeling rewarded. These memories will be a constant reminder of how much you value them.
Awards And Recognitions
Awards can be a very cost-effective way to motivate your salespeople, but the trick is to legitimize your awards system. It is critical that your salespeople genuinely want to win.
Everyone aspires to be ahead of their peers and at the top of the charts. An award appears to be inexpensive, but it can often be more effective than a cash bonus in motivating your employees to work harder. It also allows for genuine acknowledgment of those who have gone above and beyond.
Recognition incentives include behavior such as thanking and praising salespeople, awarding certificates of achievement to salespeople, and announcing a salesperson's accomplishment at a company meeting. Managers can provide recognition incentives as part of a larger employee recognition program at their company. They can also provide employee recognition in managers' day-to-day interactions with employees. An employee's favorite incentive is a personal note of praise from the manager.
Summing Up
According to a Deloitte study, "44 percent of employees will remain at their job if they're rewarded with bonuses or financial incentives. Meanwhile, 41 percent said additional incentives would help motivate them". Consider sales incentives as a direct investment in your bottom line.
They can give rise to more successful sales productivity, increased employee engagement, and, ultimately drive higher levels of retention. The trick is to use the right sales incentives—rather than taking a one-size-fits-all approach, you'll need to focus on your salespeople's unique preferences.