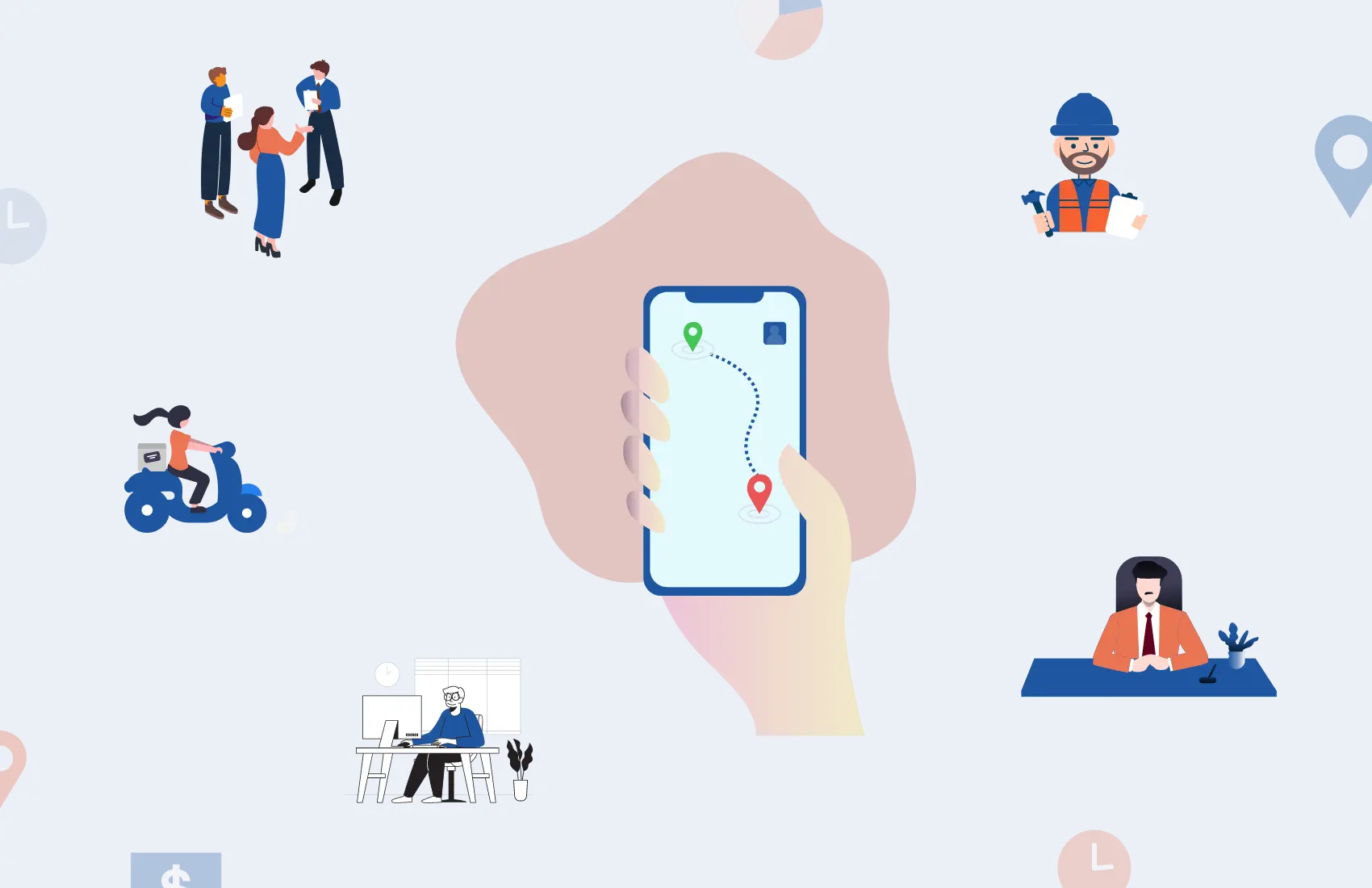 How To Keep Track Of Sales Employees During Their Work Hours
Sales employees play a very vital role in achieving sales goals and lead generation. Their performance is highly regarded as a major part of the sales process. So, it is important we keep track of whatever they do with regards to outside sales. This is the reason why there are many organizations that are opting to install sales employee tracking apps or GPS technology in order to track their field sales employees.

The sales employee tracking app allows a business to track sales employee location, activities and monitor worker engagement with respect to outside sales works. The business using the employee tracking app can monitor, regulate, access productivity and record attendance of their employees from on the field and ensure that employees are working as per the given schedules around the clock.

If you're not sure where to start, realize that the sales employee tracking app can be valuable in increasing overall employee productivity, tracking their whereabouts, minimizing time theft, and improving their performance in real-time.
Why Is It Crucial To Keep Track Of Sales Employees During Their Work Hours?

At many times, you must have faced difficulties in knowing where your sales employee must have disappeared during the work hours and also might not be in contact in any manner. Due to this, you won't be able to track their location and assign them new tasks and meetings. It is important that we keep track of our sales employees at regular intervals for their safety too. The tracking system will be futile unless there are real-time updates available. If there is tracking the movement of the employees, one will be able to figure out their work progress. Through location intelligence, one can find the exact whereabouts of the employees and evaluate the employee's productivity.
Sales employee location tracking isn't complete without location intelligence or GPS technology. This is the real-time location tracking system that enables sales managers to check the current location of their each sales employee. With this tracking, employees can be tracked by managers anytime and details of their travel history can be retrieved. This data helps management in several ways such as – the fuel expenses of the sales employee can be monitored and controlled through real-time information of distance travelled. Efficiency in the fieldwork can be brought by keeping an eye on the employee's locations. Correct routes can be sent to the field sales employees, in case of an emergency.
5 Sales Employee Tracking Apps You Can Make Use Of

When it comes to employee location tracking, there are a good deal of apps with location intelligence and GPS to help you to find where your sales employees are during their workdays. You just need to be mindful and choose the apps that are best for your needs and expectations.

So which app to choose to make sure it satisfies your needs and reduces your location tracking difficulties? To make it simple and easy for you, here are some of the well-known and pocket-friendly apps for sales employee location tracking that can help you in handy.

Google Maps
Google map is an internet-based location mapping app that provides complete information about all geographical regions and sites across the globe. It also assists in finding the best route to reach a particular location on time. By sharing locations you get to know the exact location of your employees.
Lystloc
Lystloc is a real-time location intelligence app that provides you with the ability to track your on-field sales employees' location comfortably from anywhere at any time. It supports you to collect full-on information about the sales employee's current precise location and allows them to assign meetings according to the availability of nearest clients. On-field sales employees' check-in/check-out time from the client meeting location can be tracked easily.

dayTrack
dayTrack is a mobile-based sales employee tracking software that helps you in getting accurate information about sales employees' exact live location, attendance, sales visits and follow-ups, day-to-day travel expenses, etc. The software also supports in planning and managing the employees' daily activities and meetings by on the spot updated and authenticated data.
Hellotracks
Hellotracks is a mobile-based all-in-one tracking application; that tracks real-time location, route optimization, job scheduling, dispatch, and completion progress. This easy-to-use field staff tracker is a perfect solution for sales employees to share their work progress and live location with their team managers. Employees can schedule, record, and optimize their daily travel routes.

Monger Track
Monger Track app provides a solution for sales employees' location tracking and daily reporting. Location tracking is based on real-time and GPS technology. Monger Track helps sales managers in assigning location-based works on each date for salespeople or lets the employees schedule their next task on their own.
Must-Have Features Of A Perfect Sales Employee Tracker
Flexibility: Bringing flexibility into the sales employee location tracking is surely worth the time and cost. Sales employee tracker app should have sophisticated technology that allows for integration with advanced computer systems. Right from employee location tracking to the work progress reporting, every stage is documented and tracked for proper management as well as better communication.
Pricing: The first thing that comes into our mind while purchasing a sales employee tracking app is its pricing. Give a detailed look through into the pricing and plans, it should be genuine and customer affordable. If there is a free trial, first go for it.
Location Precision: The app should provide an accurate and to-the-point precise location of the sales employee during live tracking. There should not be any issues with errors intervening during the tracking time.
Offline Mapping: At times sales employees spend some of their time off the grid and in locations with no proper internet signals. So it is necessary to need to access maps even when offline. This way, you will be able to find your employees during the day in areas with no access to the internet with an offline tracking option. Hence, a good sales employee tracker app should be able to track your location and mark points when offline.
Summing Up
It is not easy to run an organization with hundreds of sales employees. You will obviously know that they are responsible for several complex sales tasks. They often send proposals, attend sales meetings, and have to meet customers at various places for their service, collect payments, and much more. To keep track of all this manually can be overwhelming, time-consuming, and prone to errors. An automated sales employee tracking system can cut out all this extra work and leave you with more time on your hands.
Sales employee tracking software Sales employee tracking software is a ready-to-use solution that can solve numerous problems of the business organization with regards to their sales employee monitoring and management – if this technology is implemented perfectly. It is important for you to select the right software for the sales employee tracking system so that the best results can be drawn from it.