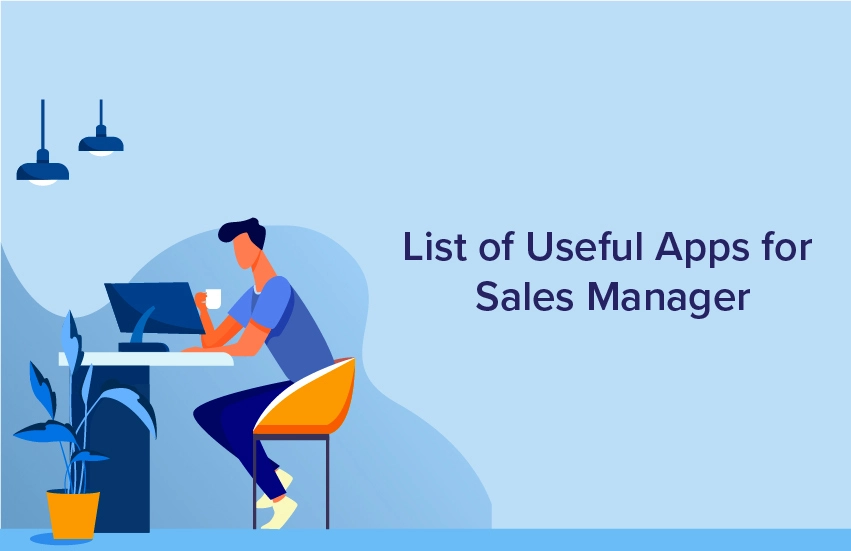 List of Useful Apps for Sales Manager
As a sales manager of a firm, you might be facing a lot of obstacles in managing the sales executives/reps working under your supervision. You have to spend almost half of your day, tracking and handling your on-field sales reps. To make your daily activities and work easy, here is the list of some useful apps that can come for their help in handy.
Team Communication Apps
1. Slack
Slack is a chat application and a channel-based messaging platform. This app helps in having effective team communication and collaboration in one place so that work can be done in a more sophisticated way. Slack also supports you in conduction meetings via calls with sales employees from anywhere.
Features:
Option to create channels for each project, team to bring order and clarity to work.
Provides you and your team with a shared view of the work being done.
Message or call any person or group within your team.
Share and edit documents and collaborate with the right teams.
Available in: iOS| Android| Windows
Pricing: Workspace: Free; Standard: $6.67/month/user; Plus: $12.50/month/user (Right now, Offers are going on for teams in India)
2. Whatsapp
Whatsapp is a simple and free messaging platform that lets you send messages, make video and voice calls to an individual or a group using an internet connection.
Features:
Uses your phone's internet connection to send messages, so free of SMS costs.
With group chats, we can share messages, media files with up to 256 people at once.
Can sync all chats to the computer so that you can chat on whatever device is convenient for you.
Other than messaging, you can make voice calls and video calls.
Available in: iOS| Android| Microsoft
Pricing: Free
3. Microsoft Teams
Team Messenger is a flexible communication and association tool that helps in keeping the entire workforce from management to employees aligned and engaged. You can communicate and stay in contact with your team from anywhere.
Features:
Add unlimited members in a single chat group and also create multiple channels/groups.
Handy and seamless communication across teams.
Share any media content like images, video, PDF, word, excel, GIF, etc.
Access to chats, documents & media anytime, anywhere.
Available in: iOS| Android| Windows
Pricing: Free
4. Groupe.io
Groupe.io is a powerful employee communication tool to connect your entire workforce, including non-desk employees, over an effective network app that enables real-time communication and collaboration via alerts, broadcasts, chats, file exchanges, and more.
Features:
Supports instant messaging without the need for a corporate email address.
Multiple communication formats including chats and feeds.
Centralized admin controls to customize group communication channels, team communication permissions, access permissions, etc.
Available in: iOS| Android
Pricing: Basic: Free (up to 100 users); Standard: $1/month/user; Pro: $3/month/user; Enterprise: To know visit website
Location/Route Planning Apps
1. Lystloc
Lystloc is a real-time location intelligence application that provides the organization with the ability to track their on-field employees and their vehicles comfortably from anywhere at any time. This product supports the sales managers to collect full-on information about the sales executive's current precise location and client details with meeting updates via forms.
Features:
Information about the employee's current meeting location with customers.
Travelling routes in addition to the distance covered.
On-field employee's check-in/check-out time from the business owner's meeting location can be tracked.
Available in: iOS| Android
Pricing: Basic: Free (1K hours Live Tracking); Standard: ₹249/month/user ( Monthly Plan); ₹199/month/user ( Yearly Plan)
2. Google Maps
Google map is an internet-based location mapping application that provides complete information about all geographical regions and sites across the globe. It also assists in finding the best route to reach a particular location on time.
Features:
Ability to locate the exact customer location and shortest distance to reach that location.
Can share the live location of clients with sales teams.
Download maps for offline use.
Keep the list of regular customer locations.
Available in: iOS| Android
Pricing: Free
3. Hellotracks
Hellotracks is a mobile-based all-in-one tracking application; tracks real-time location, route optimization, job scheduling, dispatch, and completion progress. This easy-to-use field staff tracker is a perfect solution for mobility services, maintenance & repair staff management, logistics management, and distribution staff management, and much more.
Features:
Can schedule, record, and optimize daily routes.
Share your progress and your live location with your team managers.
Higher productivity and reduced travel costs with automated job assignment.
Employees can easily access job data, input relevant customer information and optimize routes.
Available in: iOS| Android
Pricing: Basic Free; In-app Product: $1.99-$14.99/item
4. Triplt
Triplt is a travel planning app that organizes and schedules trips into a diary format and puts all the travel details in one place for easy use. It also navigates driving directions from one place to another.
Features:
Sync travel plans to your calendar or shares them with anyone you choose.
Even offline, you can know about important travel information.
Navigator quickly pulls up driving directions between two points.
Provide interactive airport and terminal maps. 
Available in: iOS| Android
Pricing: Basic: Free; Pro: $49/year
Notes Taking Apps
1. Microsoft OneNote
Microsoft OneNote is a note-taking application that lets you take notes on your phone and sync them across all your devices. It syncs your notes across all devices and lets multiple people work on the content together, at the same time. You can search for notes quickly and effortlessly without any disturbance.
Features:
Can write notes, draw and snapshot things from the web, and save it in the notebook.
Scan documents and business cards straight into OneNote.
Save pictures and images to your notes.
Classify notes using to-do lists, follow- up items, important marking, and custom labels.
Available in: iOS| Android| Windows| macOS
Pricing: Free
2. Evernote
Evernote is a digital note-taking space available as a mobile application. It supports different types of notes such as text, images, audio memos, sketches, scanned documents, etc. With a Business account, you can even use Evernote for real-time chat and collaboration with colleagues.
Features:
Evernote's powerful search can even find text in images and handwritten notes.
Personal to-do lists to keep your thoughts organized.
Set reminders to keep on top of activities and write to-do lists.
Can access the notes and notebooks even offline.
Available in: iOS| Android| Windows| macOS
Pricing: Basic: Free; Premium: ₹190/user/month; Business: ₹500/user/month
3. WeNote
WeNote is simple and easy to use note-taking app. You can create to-do lists, reminders, and calendars quickly. It is completely a privacy-focused notepad. WeNote can work offline perfectly, even without an Internet connection and no need to log in.
Features:
Organizing using label and color.
Can add unlimited pictures into a note.
The facility of audio recording allows hands- free note-taking.
Customize via various fonts, viewing modes, and sorting modes.
Available in: Android| Windows
Pricing: Free
4. Simplenote
Simplenote is a mobile-based note-taking application with the creation of to-do lists, capture ideas, and more. As your collection grows, stay organized with tags and pins, and find what you need with an instant search. Since Simplenote will sync across your devices for free, your notes are with you at all times.
Features:
Back up and sync everything as you take notes.
Quickly and easily share with third-party apps.
Pin the notes that you use the most.
Protect your content with a password lock.
Available in: iOS| Android| Windows| macOS
Pricing: Free; For other plans pricing, check out their official website
Meeting Schedule Apps
1. Google Calendar
Google Calendar is a time management and scheduling app using which you can easily plan meetings and events, and also get notifications about upcoming activities. This app is designed especially for teams, so you can share calendars with teams to know about meetings.
Features:
Schedule events with teams.
Respond to and manage events.
Create reminders for meetings on the calendar.
Customize and share calendar meetings.
Attach notes and tasks to meetings.
Available in: iOS| Android| Windows| Microsoft
Pricing: Free; Google App: $5/month/user; Unlimited: $10/month/user
2. Calendly
Calendly is a simple and user-friendly powerful scheduling software, which aims to save time, accelerates sales, and improves service quality. It allows you to schedule one on one appointments, group events, and team meetings.
Features:
Create scheduling links and paste them into an email, text message.
Ability to view upcoming meeting details, so that you can prepare beforehand.
Flexibility to reschedule or cancel upcoming meetings.
Offer a single view of varying event types, allowing invitees to schedule with the relevant person, topic, or event.
Available in: iOS| Android| Microsoft
Pricing: Basic: Free; Premium: $8/month/user; Pro: $12/month/user
3. Doodle
Doodle is a time scheduling app that helps you find the best time for any meetings and events. It suggests with the number of time preferences and invites team members to select their preferred time for team meetings.
Features:
Can sync your Google Calendar, Office 365, or iCal to avoid double booking.
Quickly discover who's available and when.
With Doodle, you invite people to choose one of your proposed times.
Doodle automatically identifies guest time zones.
Available in: iOS| Android
Pricing: Free
4. Scedule
Scedule is a meeting scheduling tool that finds the best time for planning business meetings. The availability of team members is automatically taken into account. A meeting invitation is generated based on the availability of the team.
Features:
Scheduling meetings within the team.
Based on the availability of the team, automatically collects their preferred times for meetings.
Synchronizes time-zones and works across organizations.
Arranging appointments with business partners.
Available in: iOS| Android| Microsoft
Pricing: Team: Free; Business: 25€/year/5 user
Expense Management Apps
1. Expense Manager
Expense Manager is a mobile-based expense marking and management application software that tracks the daily expenses of a person. This finance app is simple to operate, convenient and this best function application is designed only for the distribution of income and expenses records.
Features:
Record all items in a single transaction with different categories and amounts.
Tracking vehicle mileage and petrol expenses.
Daily, weekly, monthly, and yearly summary.
Automatic backup on Dropbox, Google Drive, and SD Card.
Available in: iOS| Android
Pricing: Free
2. Expense Daily
Expense Daily is a category based app for tracking all your daily expenses. It helps you to create and manage customized expense categories, add daily expenses, manage expenses, search and export expenses. Provides a convenient way to view expense details in the dashboard on a monthly and yearly basis.
Features:
You can set up daily reminders to add expenses without missing out.
Add new categories according to your expenses; edit them if you want to change their name.
Search your expenses by using various input criteria. Additionally, you can search for date-wise expenses by opting add date range option.
Available in: Android
Pricing: Free
3. Daily Expenses
Daily Expenses is a mobile-oriented expense management application platform. It enables you to easily manage your daily expenses with customized expense categories. You can also create multiple accounts to manage your expenses neatly. For example, you can store your personal expenses & the company's expenses separately.
Features:
Auto backup functionality with local & network backups.
Create notes & manage to-do list with extensive search functionality.
Attach a photo of bills or receipts etc.
Available in: iOS| Android
Pricing: Free
4. Day-To-Day Expenses
Day-To-Day Expenses is a free, simple, and secure expense tracker application available for Android devices. With this app installed on your phone, you can quickly make a note of your spending on the go. It is as convenient and as easy as it is to write it down on your pocket handbook.
Features:
Can mark your income/expenses with different categories.
Gives an instant report of your earnings and expenditure in one go.
Your data is saved in Google Drive and is secure.
Available in different language formats.
Available in: Android
Pricing: Free
Attendance Marking App
1. Lystloc
Lystloc also provides you with GPS based attendance features. The employees can mark their attendance through a single touch authentication from anywhere. Using this, sales managers can keep a check on employee's leaves, permissions in a more sophisticated way.
Features:
GPS based Attendance: Geofence Attendance: Employee can mark attendance only when they are within the specified area perimeter, only when this option is opted for by the sales managers.
Comprehensive timesheet: Can know employee's attendance marking time, the location from where they marked the attendance, late time, login/out time, etc.
Available with strong and technically powerful data analytics for deriving reports for payroll processing.
Available in: iOS| Android
Pricing: Basic: Free (1K hours Live Tracking); Standard: ₹249/month/user ( Monthly Plan); ₹199/month/user ( Yearly Plan)
2. UbiAttendance
UbiAttendance is an attendance management app that allows managers to record the attendance of the complete workforce seamlessly. It is also possible to set the working hours for all the branches in the mobile app and categorize the employees as per their working location for quick attendance management.
Features:
Biometric facial attendance.
Check attendance from anywhere in the globe.
Get insight on employees outside the desired location.
Available in: iOS| Android
Pricing: Basic: Free; Lite: ₹30/month/user; Premium: ₹60/month/user
3. AttendNow
AttendNow is a mobile app that allows tracking the attendance of the employees from mobile and taking timely action. It helps in managing the yearly holiday calendar digitally and keeps the employees in sync with the respective dates.
Features:
Employees can only punch-in only when they are near office premises.
Capture the attendance of the employees from anywhere at any time.
Get notified when your employee is not coming to the office.
Create and assign shifts to employees for attendance.
Available in: Android
Pricing: Basic: ₹1.5/day/user; Premium: ₹2.5/day/user; Premium Pro: ₹3.5/day/user
4. Salary Box
Salary Box is an attendance and payment managing app that enables employers to track attendance, working hours, overtime, salary advance payment, loans, bonus, deductions, etc. It can work even in offline mode and poor internet connectivity.
Features:
GPS enabled employee attendance marking.
Calculate employee salary, share salary slips, and process salary disbursement.
Easy to maintain daily attendance records.
Available in: Android
Pricing: Free
Lead Generation Apps
1. HelloLeads
HelloLeads is a sales-based lead capture, lead tracking, and lead management application that helps sales force to convert leads and prospects into customers quickly and easily.
Features:
Provides deeper knowledge on prospects and leads.
Lead nurturing, lead conversion, lead management, sale lead tracking.
Helps in sales management, sales tracking, and sales conversion.
Follow up reminder, recurring follow-ups, repeat follow-ups, follow up alarms.
Available in: iOS| Android| Windows
Pricing: Free (10 user); Other Plans: Ranges from INR 700- 11700/month
2. Lucep
Lucep is a mobile lead distribution application that offers instant sales lead response and customer engagement services to its users. It quickly connects sales teams directly to the website visitors to generate sales.
Features:
Can send you the lead data even for partial form fills.
Sales forecasting and reporting.
Real-time lead capturing and reacts to leads on time.
Instant lead notifications and alerts to sales teams.
Available in: iOS| Android
Pricing: Basic: Free; Professional: ₹25/month/user; Premium: ₹49/month/user
3. LEADer
LEADer is a CRM app that helps professionals, freelancers, small businesses, retailers, and salesmen to track, acquire, retain and delight more customers /clients by smart features like e-business cards, price quotes, etc.
Features:
Helps in managing customer database and lead records.
Update offline records, tasks, notes, customer information, reminders, contacts, business appointments vastly and easily in real-time.
Supports in increasing customer satisfaction and management.
Visualize leads, customers, and close deals anytime.
Available in: Android
Pricing: Free
4. SalesGO Leads
SalesGO Leads is a mobile-based lead management app that increases lead conversion ratio by assigning, tracking, and updating lead information immediately as and when it happens.
Features:
A simplified view of new and existing lead details.
Can contact or message sales lead in just one click.
Notifications and alerts on lead follow-ups.
It allows sales managers to track all stages of the store audit, field merchandising and field sales processes, etc.
Available in: iOS| Android
Pricing: Free
Task/Work Management Apps
1. Lystloc
Lystloc is a mobile-based application platform that bestows the ability to assign location-based tasks to on-field sales employees easily. In the application dashboard itself, sales managers can list out the daily tasks that the sales employees as to do in a day. And also using Lystloc, managers can know about the task location and time with the employee's check-in/out marking from the current task location.
Features:
Option to trace exactly which tasks are started, in progress, and done with by the employees.
Prioritizing tasks based on the level of urgency and dependability.
Employees can also immediately update the final result of a task as soon as it is completed in an easy way i.e. they can type in the text box during the log-out time.
Available in: iOS| Android
Pricing: Basic: Free (1K hours Live Tracking); Standard: ₹249/month/user ( Monthly Plan); ₹199/month/user ( Yearly Plan)
2. Nirvana
Nirvana is a cloud-based task management application with an unlimited number of tasks, email task capture, rapid entry, focus list, and easy data export.
Features:
Can create unlimited to-dos list along with task assignment.
Multi-platform sync across the web, Android, and iOS devices.
Organizing tasks using labels for easy search.
Using calendars can schedule tasks.
Available in: iOS| Android| Windows
Pricing: Basic: Free; Pro: $5/month, $29/year; Lifetime Access: $49/year(limited time)
3. Google Tasks
Google Tasks is a task management application with which one can add and remove tasks, give information about tasks, set due dates and times, sync tasks to calendars, etc.
Features:
Create task lists with to-dos.
Add details and create subtasks.
Stay on track with due dates and notifications.
Available in: iOS| Android| Microsoft
Pricing: Free
4. Smartsheet
Smartsheet is a work management software used to assign tasks, track task progress, share documents, manage teamwork using a tabular based user interface.
Features:
Collaborate With Your Team.
Organize Projects and Tasks.
Collecting Information with Forms.
View Work Status in Real-Time.
Work In One Place and Take Action.
Available in: iOS| Android
Pricing: Individual: $14/month; Business: $25/month/user
To know more about the above apps, you can refer to their official websites. However, apart from the above apps, there are millions of other apps that can help the sales managers in minimizing the difficulties faced by them in their routine work schedules.