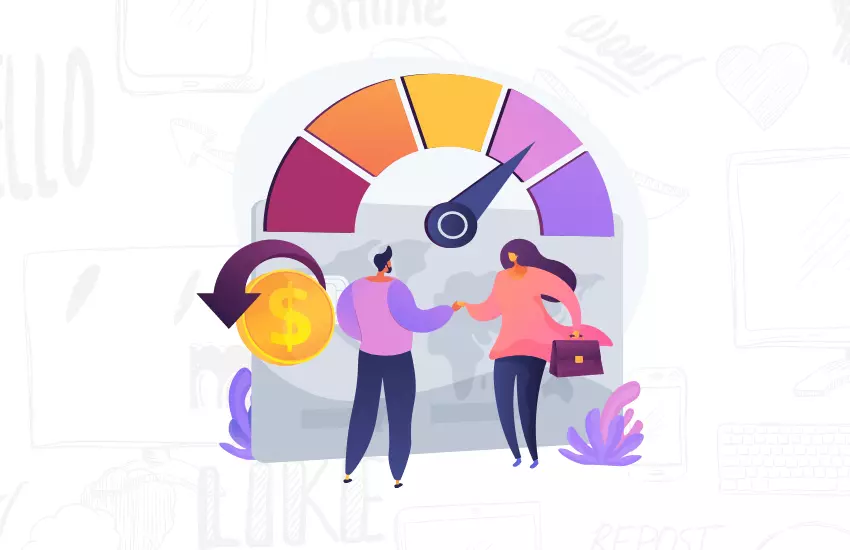 Automate Your Salespeople Fuel Reimbursement with Lystdata
Making a milestone out of a business is one of the important intentions of any organization. At times of high volatility in market trends, it is important to streamline the organizations' working pipeline.
Data Insights has evolved into the stage where its need is highly important. It also plays a vital role for every business and organization.
It helps in picking the right spot that organizations should look forward to working on. By doing so, employees' productivity can be tuned to the organizations' growth.
The popularity of data insights has increased tremendously. Now, they can be rolled down to any business verticals with greater ease.
How data insights can play a huge role in reimbursement?
The reimbursement factor in any organization plays an important role among employees. They create a huge impact in managing the finance and employees mutually. It is a win-win scenario if the organization executes it properly.
As discussed above, Data Insights have a massive potential to exploit and can be obtained at every end. Recently, Data Insights are being extensively used for automating the reimbursement process. They also come with a well-structured report of costs and expenses.
Being provided with accurate figures of data insights, it leverages the time spent on manual methods. By doing so, it also accelerates the entire process via automation. So, we can drop the necessity of spending more time processing raw data into insights.
These days, a wide range of applications in the market helps in automating data insights. One such application is Lystloc.
Lystloc and Lystdata
Lystloc has always been an application that simplifies the location and sales-oriented challenges.
As a location intelligence application, the location-tracking feature is used to process various sales operations. Especially when it comes to reimbursement, Lystloc simplifies the entire process with its user-friendly interface.
Lystdata is the data architecture that generates analytical reports with actionable insights.
Reimbursement made easy with Lystdata
Talking about reimbursement, there are two major allowances that organizations provide. They are,
Fuel Allowance
Travel Allowance
According to the first-ever employee benefits study in India, 72% of employees prefer fuel allowances. This iterates the relevance of offering it to them as they have some sort of tax benefits attached to it.
And Lystdata comes into the picture with its one-of-a-kind data insights for rescue. Lystdata holds a number of analytical reports that are important for organizations' needs. The admin can handpick the reports accordingly.
Based on the demand for the fuel allowance as stated above, Lystdata introduces the Fuel Reimbursement Report in its reports set.
How does the fuel reimbursement report work?
Lystdata is a data-oriented architecture that has a pre-built data framework. This framework accumulates data from feature operation-ends from Lystloc's interface.
With Lystloc's live tracking feature, the executives' distance traveled can be easily obtained from tracking data. This data further helps in fuel reimbursement. Employees will be reimbursed based on the per KM cost that the organization framed.
The cost per km value can be set based on vehicle type for organizations individually via Admin Panel. This helps in reimbursing the employees based on clear reports and calculations.
What's in it for Organizations?
Fuel reimbursement report gives an in-depth understanding of the money spent on the organization's field workers. Depending on the reports, it is easy to automate the reimbursement process without the fear of guess games.
The report is extremely user-friendly. Organizations can get subscribed to the reports in their desired period. The reports will be mailed automatically in the provided time frame.
These reports let you be more authoritative in coming up with operational and tactical decisions. . The decision-making process will get simplified with such insightful reports and analytics.
Organizations can revise their tariffs in the middle of the subscription. They can contact our support team to update their tariff so that we will optimize it as needed.
Track record
Even though our feature might sound cool on paper, you might wonder how it will perform in the real-case scenario. To overcome this, we have articulated a few stats based on the track record we have from our customers.
Based on a study that we did, our customers found that Lystloc has performed so well in such a way that they got their returns on which they've spent for Lystloc in a short period.
Lystloc drastically builds transparency between the admin and the employee. So, the admin/manager can depend on the silver sheet facts for their reimbursement processes. We have attached a graphical representation of Lystloc's impact on our customer's annual expenses.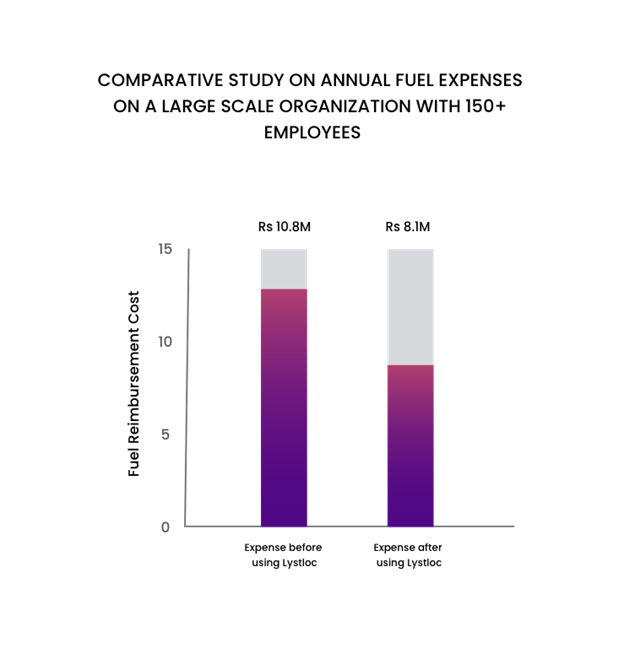 In this case, the Organization saved Rs. 2.7M annually after putting Lystloc into practice. And, we would also like to let you know that Lystloc's annual subscription for 150 employees costs only Rs. 3,58,200.
So, the amount that the organization spends for Lystloc's annual license is just 13.2% of the organization's savings from their monthly fuel expenses.
On a bottom note,
Automating the reimbursement process saves a ton of time. It also results in staying managed with the organization's resources. What can be the best solution other than Lystdata's Fuel Reimbursement Report?
Signup and check how you can streamline your organization's fuel reimbursement process.