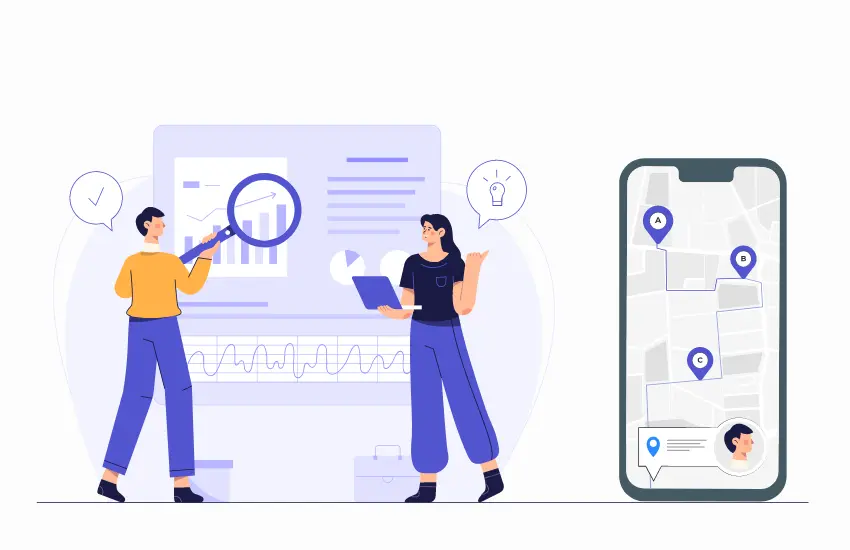 Field Employee Tracking App & its Importance
We all know that to manage an organization's field operations, it is important to have a track record of everything that the employees do on the field. We can conveniently get data about works done by employees within the company.
But, one thing that becomes great trouble for each and every manager of an organization is getting correct information about the on-field employee workforce. However, let's get to know about Field Employee Tracking App – a technology that can help you to lessen this great burden.
As said, with today's software technologies we can get solutions for every problem at ease.
"If you define the problem correctly, you almost have the solution"- Steve Jobs
What is meant by a Field Employee Tracking App?
Field employee tracking app is an inquisitive app for collecting appropriate information by tracking and monitoring on-field working employees with the help of technology-driven app software.
With the help of the field employees tracking app, the managers can have control over the status of the field employee's day-to-day tasks assigned to them, meeting their clients on time, and also get important information about client meetings' end outcomes.
Also, a Field employee tracking app assists the manager in finding the current location of the employee, their routes travelled, etc on a time to time basis.
On the whole, the field sales employee tracking system provides a convenient way for managers to track the real-time work and progress of their on-field employee workforce.
While talking about field employee tracking apps, we need to focus on a specific keyword which is location. Location-based tracking is one of the great problems when coming to the on-field workforce.
From the very beginning, one technology that is used as a quick fix for location-related queries is GPS. This can be a really good fix for all location-related problems.
How does the Field Employee Tracking App Work?
Before knowing about the working of the field employee tracking app, let's have a look into the question that might have popped in most of our minds. Is it a spy tool? But, instead of thinking of it as a spy tool, it would be more appropriate to think of this app as a supporting medium for managers and their field employees to stay connected even from long distances.
Now, let's get back to the topic we were talking about. Field employee tracking app is customized software that smoothens employee productivity and provides perfect decision-making capabilities in order to improve the overall client/customer satisfaction.
This app acts as a two-way service provider. It helps the manager in finding the location of their field employees at present and assigning tasks to them accordingly. And also, it allows the field employee to know their time to time tasks assigned to them and after completing the assigned task, they can update the final status.
Assorted Key Attributes of Field Employee Tracking App
Time-Saving– If a field employee is finding difficulty in finding a location and wasting the time. The manager can immediately guide the employee with the correct location using the app.
Performance Insight – Once you are keeping an eye fixed on your employees you'll know who the low performers are and who the best performers are which helps you to take necessary actions to improve their capability. This is often one of the simplest features of a field employee tracking app.
Security Provider– You get the precise location of your field employees and this will improve the safety of your on-field workforce.
Attendance management – In some apps, there are options for marking attendance, so that the field employee need not attend the office for marking up the attendance. Can mark attendance from their work location.
Report Management– Now with an easy click, you get the detailed information of your field employees, their current location, their working duration, tasks done by them, and much more.
Life without Field Employee Tracking App
If the daily work of the field employees is not known, then analyzing their performance and agility becomes difficult.
It becomes difficult for the organization in identifying poor performers and to take corrective actions for improvement.
Not knowing about the distance travelled by the field employees, the organization has to spend three times more fuel allowances.
The customer might not be getting proper service, which may lead to loss of the organization's reputation and credibility.
Other constraints like time wastage fall in the overall productivity and performance of the organization.
How far Field Employee Tracking App is Useful for a Manager?
The manager can be in touch with their field employees and can communicate easily if there is any problem or work updates.
By tracking location, managers can know how much time has been spent by an employee in a client visit.
Managers can guide their employees with the correct location to reduce time waste. Can assign tasks based on their current work locations.
By knowing the traveling distances, fuel expenses can be calculated accurately.
On-field employees' work efficiency can be monitored and analyzed easily.
How far Field Employee Tracking App is Useful for a Field Employee?
Quick updates about client visits and work updates can be given to the managers on time.
Ease on daily attendance marking from the work location or client meetings.
Real-time information of work and orders can be updated through the mobile app.
Availability of customer details, contacts, and their order information comfortably.
Instead of carrying manual product receipts and other bills, simply just capture and upload their pictures for proof in the app.
Employees are paid on a fairly basis once the work is done and reported on time.
Advantages of Field Employee Tracking App
Real-time tracking of the current and live fieldwork locations of field employees.
Based on the field employees' work locations, new tasks can be assigned simultaneously which can be viewed in the dashboard.
Attendance management of employees becomes sophisticated and convenient for managers from anywhere at any time.
Customer-related information and their contact details, locations can be communicated easily.
Travel allowances can be calculated correctly, by knowing the distance travelled by the employees.
Daily and monthly performance reports can be managed properly without any confusion and less time consumption.
Field Employees can plan their travelling routes according to the task assigned to them.
Information about the end results status of customer visits can be shared immediately with the managers on time.
Few Tips to Choose a Perfect Field Employee Tracking App
Communication Module
There are lots of field employees tracking devices with varying communication techniques including GPS, GSM, GPRS, SMS, etc. These are the different cellular and radio frequencies by which the tracking devices connect and communicate their position.
But it's important to make sure that the above software used is compatible with the communication method built-in the device utilized.
Battery Life
While using a field employee tracking app, the energy of the battery should last for a long time, rather than draining within a few hours.
Data Privacy
Data privacy is one of the key attributes to be taken into account while choosing a field employee tracking app. The data reports that are being interpreted should be maintained confidentially.
Location Accuracy
The app should provide an accurate and to-the-point location of the field employee during live tracking. There should not be any issues with errors intervening during the tracking time.
Pricing
The first thing that comes into our mind while purchasing a field employee tracking app is its pricing. Give a detailed look into the pricing, it should be genuine and customer affordable. If there is a free trial, go for it.
Summing Up
Organizations with a field employees workforce use the information provided by field employee tracking apps to scale back operational costs and enforce better productivity.
This app provides the power to trace the situation of a field employee in real-time and receive instant notifications of important works, making employee tracking devices one of the simplest safety systems in the market.