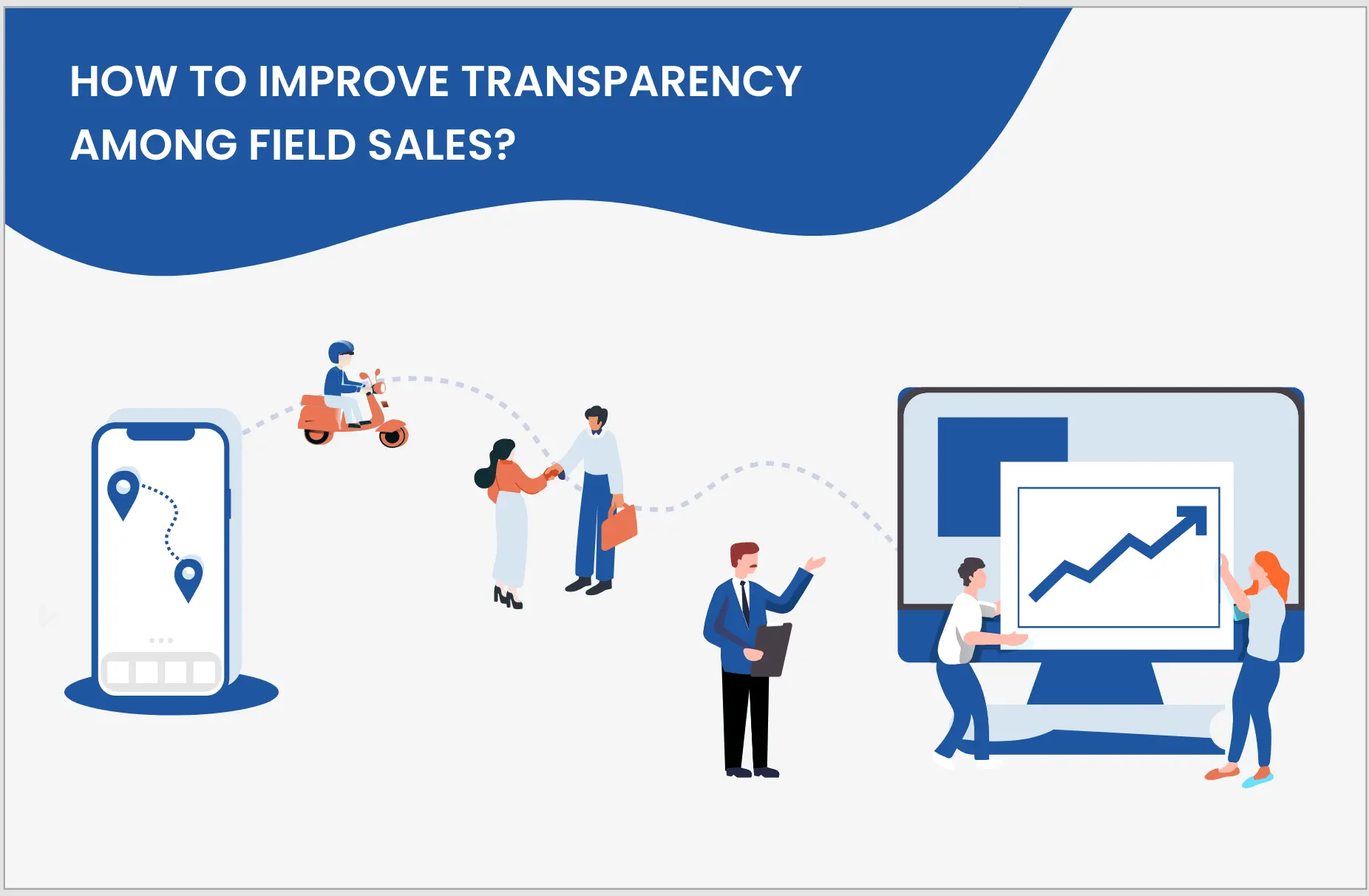 How To Improve Transparency Among Field Sales Team
A well-assembled and coherent field sales team is the foundation of every successful sales process and lead generation. As an organization, we take team building critical and do everything we can to make sure that all our sales employees feel motivated to work hard towards common sales goals and targets.

Also, we've been working on this team structuring process for a very long time, and we noticed that there are many vast factors that contribute to building productive field sales teams. Mutual trust, honesty, and communication fit are just some aspects of perfect teamwork. But, above everything there is one such factor that can take teamwork to the next level is the transparency and visibility in the work and activities the sales team does outside the organization.

But, what exactly is Transparency in the Workplace? Let's try to get the answer and also know about its benefits and ways to improve transparency in your sales team too.

What is Transparency in Field Sales Team?

Transparency in the Workplace or Field Sales Team is important to build a sense of ownership and enthusiasm among team members. It is about giving each team member full access to abrupt knowledge about the organization and its clients, sales plans, sales strategies, and more. Also, the sales managers should have abrupt visibility of the sales works and meetings done by their sales employees on the field. This type of information sharing provides sales managers with the context required for decision-making. Also, helps the salespeople to understand their role in the organization's overall sales objectives and growth in a better manner. This is what a transparent sales team is all about – empowering each other with critical information sharing about the events happening.
Why Transparency is Important among Field Sales Team?

Transparency is important in every workplace, but it is very crucial for the field sales team. Why? The reply is that transparency makes trust possible. Trust is important for salespeople, both internally and externally. Lack of transparency may easily affect sales team motivation, lower decision-making ability. Teams that aren't visible enough usually face certain difficulties that when combined may severely compromise team performance and affect overall sales productivity.

Transparency
and visibility mean the sales managers need to make sure the field salespeople know what they need to target and achieve in sales. Being able to track their field progress gives them a clear view of what's going on and helps in bringing up their sales performance. When everyone has a chance to see what's going on, they feel more invested in the process and see the value in it.
"Trust, honesty, humility, transparency, and accountability are the building blocks of a positive reputation. Trust is the foundation of any relationship."

Mike Paul

Benefits of following Transparency Culture

Encourages better communication and sharing: Helps in sharing innovative sales ideas, new processes to improve workflows or feedback during performance reviews. Companies thrive when their sales workforce trusts that they can safely share the meeting outputs, customer details without any conceal.
Improves team's productivity: Having access to major information allows the sales teams to keep working, instead of waiting for their sales manager to assign tasks at certain intervals. Also, having access to all the necessary information makes sales process collaboration with other members much simple and easier.
Transparency helps you delegate: Transparency makes it easy to identify who is responsible for what and get to see if they have done the work properly and what is the outcome, etc. So, sales team transparency makes it easier to delegate tasks and ask the right person in your team about it without any misinterpretation.
Builds trust and teamwork: Transparency is all about building visibility, trust, and honesty. It can make teamwork better as a coordinated unit. This also creates a more compatible nature which in long run helps a team succeed at their individual tasks as well as complete the overall sales targets on time.
Finer customer relationship: All the above-mentioned benefits directly or indirectly converts into better customer relations, because your sales employee will care about the organization's performance and sales growth. Employees who feel trusted and respected will want their organization to thrive in business.
Ways to Improve Transparency within your Workplace

Discuss Accountability and Transparency

Generally, for some sales employees, the concept of accountability and transparency may sound stressful and concerning– so, it's up to the sales managers of the sales team to explain the benefits of them and how it helps in increasing productivity and coherence within the team.
The right thing to follow before any sales process and strategy implementation are to make sure the sales team discusses how they will hold each other accountable. So that, everyone in the team can put forward their ideas, and devise a perfect plan for the day or month. This way, the team will feel at ease with being accountable and transparent, because they'll be the ones setting and tweaking the goals and working towards them.
Using a Perfect Mobile CRM to Fill Gaps

Mobile CRM or Field Sales Tracking App creates greater intra-communication and integration, where those in the field can more easily communicate with those at the office making way for transparency and visibility. Similarly, no matter how scattered and remote the salespeople of the organization are, they can comfortably be brought face to face on a single platform to collaborate with their team using Mobile CRM.
A sales manager would also like to know how each member of his team is performing. The best CRM software can assist the sales managers in evaluating and understanding their daily field performance, and benchmarking toward improvement. Also, Mobile CRM software allows the sales manager to see how sales resources are allocated among their field sales team.

Maintain An Effective Communication Loop
To build transparency with your field sales team, it is necessary to have strong communication among employees. The more an employee trusts you, the more likely they are to come forward and communicate when a problem is occurring. A great way to lay a transparency foundation is to establish a rapport with your employee first.
The employees may be finding it difficult to communicate with their superiors at times due to their busy work schedules. By setting up a recurring meeting to touch base, you'll learn more about the workings and activities of what's going on in the field and have a better idea of how to iron out the kinks. Also, it is important that you listen to your employee to know about their way of thinking and ideas.
Share your Results and Feedbacks
One of the perfect ways to build transparency and create momentum in the team is to share all your sales wins, losses and challenges. However, sharing wins is the easy one but what's difficult is admitting that things didn't go as planned. But on a positive note, it increases trust and compatibility within the team
Another important part is to provide feedback for their sales performance, be specific – instead of telling employees that they need to improve their performance, be specific on what they need to improve or change patterns. This way you can avoid a lot of confusion and time spent on understanding what you meant by your "you need to improve" remark.
Also, at times you can also ask for sales reports showing how each field sales employee spent their time at work, or have the sales team report via chat in a communication tool, which can be an easier option for overall team discussion.

Wrapping Up
Can transparency have an impact on sales bottom line? Of course Yes. However, it is much more than that. Transparency allows each individual in the field sales team to feel like they are part of something bigger. It's about building trust. Also, it's about helping your sales team to create work that is meaningful and makes a tangible difference in information sharing.
Transparency in the organization is the basis for trust between a manager and their sales teams. Being transparent is directly proportional to being honest and open when communicating within them related to the sales or other works. Above all, sales teams aren't the only ones who benefit from transparency. We can incorporate the same openness across all other teams and departments in the organization. Let employees know the targets you expect of them and hold them to the same standards.