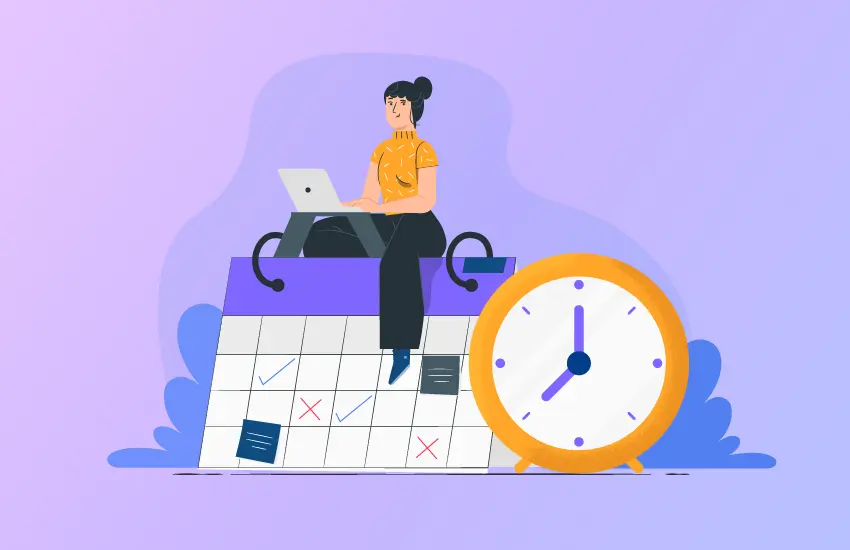 How To Track Your Remote Or Field Employees Daily Attendance
In today's modern technology world, keeping track of employee attendance no longer has to be performed manually. Monitoring remote or field employee attendance and time tracking were without a moment's delay one of the most challenging tasks that managers faced. To process payroll on time, the company must keep accurate records of employees' working shifts, leave, and attendance. A good employee attendance monitoring system can help you with this.
Employee attendance tracking apps are becoming an important part of every organization. Managers must be aware of when their employees enter and exit the work even if their working remotely or on-field. The traditional practice of keeping a logbook to sign and record in-coming and out-going time was altered with punch cards and biometrics to keep track of employees. However, as technology has evolved, these techniques have been replaced recently by employee attendance tracking apps, which have entered the field and are progressing quickly in the market.
What Is An Employee Attendance Tracking App?
An employee attendance tracking app is a useful tool for keeping track of when your remote/field employees clock in and out of work and recording the data for the company management team. A perfect employee attendance monitoring app can organize your employees' attendance records, enables task scheduling, leaves, and permissions, and track over time than simple manual methods.
The finest attendance tracking software is self-contained and requires little attention from managers or other company executives. Its goal is to empower your employees while retaining transparency throughout your workforce. Managers will know who is working when and will be able to view how much time each employee has worked and how much break time they've taken.
Benefits Of Remote/Field Employee Attendance Tracking Apps
Avoid Manual Tracking
Manual attendance tracking takes a long time, therefore businesses must hire a committed professional to manually manage and assess the leaves of the employees at the end of each month. Human errors are a distinct possibility, and a report containing inaccuracies may be produced. The trouble of keeping manual records will be reduced with an employee attendance monitoring app, and employees will become more disciplined with regular attendance.
Better Accuracy And Error Free

An organization's most important asset is accuracy in its work. Errors can be caused by a lack of accuracy, and correcting them can be time-consuming and costly. Manual attendance management may be subject to human mistakes, but there is no room for deception or error in the remote or field employee attendance tracking app. As a result, having automated attendance management software gives precise time records and accurate data for the payroll system's actual performance.
Cost-Effective
It appears impossible that an employee attendance tracking app can reduce costs. When it comes to manual processes, it's important to remember that a company is always at risk of incurring costs. A successful business is built on maximum productivity with minimal error. By incorporating an automated attendance management system, many companies have saved a substantial amount of money. A mobile-based employee attendance monitoring app will also assist you in lowering overall resource costs.
Time- Saving
Using contemporary technologies such as employee attendance tracking apps has been shown to assist manage time and improving the workplace environment. It has the advantage of eliminating paperwork, which saves time when it comes to gathering accurate employee attendance records. Time-consuming procedures such as manual task allocation, shift tracking, and so on can be tracked and allocated with only a few clicks.
Enhanced Productivity
Working remotely makes it more difficult for managers to keep track of their employee's progress. Nobody knows if the employee is working or taking a nap instead. The employee attendance tracking app assists you in tracking productivity and, as a result, allows you to relate output to attendance. Furthermore, each organization has its own attendance policy, which must change over time to accommodate employees. With the correct attendance monitoring app in place, you'll be able to make improvements that will help your employees become more productive without limiting their freedom.
5 Best Remote/Field Employee Attendance Tracking Apps For Your Assist
Lystloc
Lystloc is a field force management app with a real-time location-based remote or field employee attendance monitoring feature. Field employees can mark their attendance through a single touch authentication from anywhere during their office hours directly from their fieldwork location rather than traveling to the office location.
There is also an option for Geofence attendance in the Lystloc app; employees can mark attendance only when they are within the specified virtual perimeters built using the latitude, longitude, and radius of a vast location by their managers. The app gives you the information needed for various attendance-related reports, offering insights into hours worked, shift timings, and so on with a view to constantly improving workforce productivity.
UbiAttendance
UbiAttendance is an attendance tracking app that allows managers to record the attendance of the complete remote or field workforce seamlessly. It is also possible to set the working hours for all the branches in the mobile app and categorize the employees as per their working location for quick attendance management. UbiAttendance app also provides different modes of attendance marking options for the employees like biometric attendance, face recognition, and QR code attendance marking. Employees can use the app to request time off. Admin can approve or deny the leave over the mobile or using the web-based dashboard.
factoTime
factoTime is a mobile-based time clock and employee attendance tracking app. It is compatible with both Android and iOS devices. The software includes features for monitoring employee working hours, shifts, and daily attendance. The app functions as a punch clock, collecting data on employees' attendance, work location, and time spent at the job. Every travel outside of the organization is virtually verified using GPS technology. Based on attendance recorded in factoTime, you can define employee pay; calculate salary, and process payroll. This excellent attendance tracking mobile app enables managers to address changing attendance tracking requirements through cloud automation.
Hubstaff
Hubstaff is a field and remote employee attendance tracking app. Its features are designed for employees who work away from the office in remote locations. This attendance tracking app also aids in the automation of field/remote team management. You can easily view which employee is absent, report permissions and sick leave, and keep track of employee shifts with Hubstaff's employee attendance tracker. This software takes pride in its ability to provide time tracking with screen capture, data reporting, and automated payments. You can also track work hours with a real-time GPS location, as well as payroll, invoicing, and other features. Using geo-fencing, any field employee can clock in and out of any workplace.
Salary Box
Salary Box is an employee attendance monitoring app and payment managing software that enables employers to track attendance, working hours, overtime, salary advance payment, loans, bonuses, deductions, etc. It can work even in offline mode and with poor internet connectivity. Managers can accurately track and report remote or field employees' punch-in and punch-out times. The SalaryBox staff attendance and employee payroll app is an ideal employee management tool that can replace the official attendance register as well as traditional paper reports or salary bill book. You can also easily generate online staff reports with the app, tracking each staff member's salary account.
Wrapping Up
Say goodbye to clumsy timesheets, manual attendance work, and mistakes when managing employee time and attendance. You can simply use mobile employee attendance monitoring apps to track employee attendance and make your remote/field teams more disciplined and efficient. Keep in mind that these are modern times, and traditional methods of employee engagement will no longer suffice. With the help of employee attendance management systems, you can tackle the difficulties of time theft, absenteeism, and imprecise clock-outs and concentrate on making your company's vision and mission a reality.