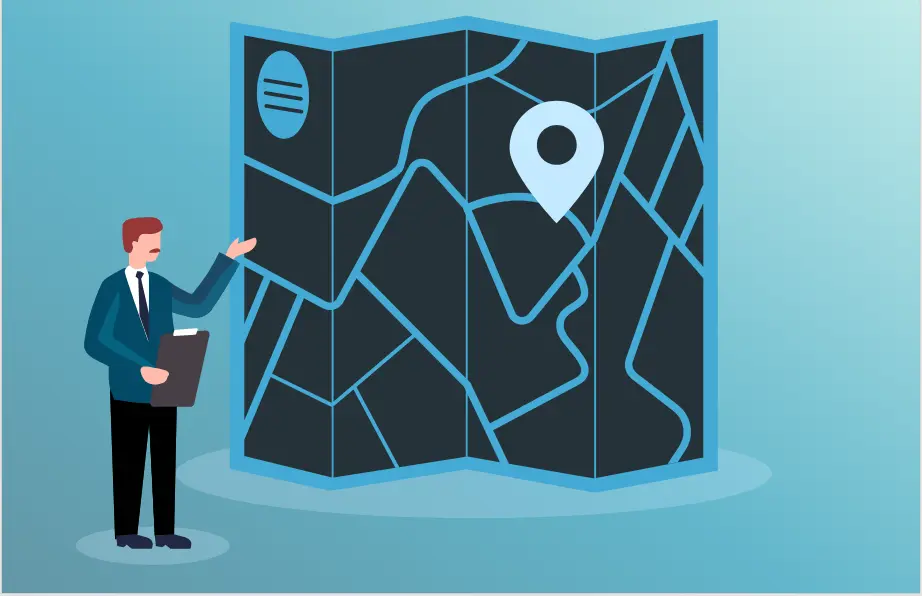 How Lystloc Helps In Sales Territory Management To Increase Productivity
Effective sales territory management is a critical pillar of any successful business. Optimized territory management provides the necessary foresight for business growth. Poorly oriented territories result in poor and marginalized prospects and customers, low employee morale, and misallocation of sales resources. Also, unbalanced territories can be a major hassle for sales teams.
For instance, a sales rep with a small sales territory may not have enough tasks to do. A sales rep with a large sales territory, on the other hand, may not be able to consistently satisfy every customer and prospect. Sales territories should always be adjusted in order to improve the effectiveness of each sales team.

What Is Sales Territory Management?
Sales territory management involves the practice of establishing sales territories, allocating those areas to your field sales reps, tracking their performance, and making necessary changes to ensure they are as successful and efficient as possible. Salesforce Territory management will help to synchronize all salespeople to achieve the maximum productivity possible with a customer base.
Customers can be divided into groups depending on their geographical region, long-term relationships with the organization, and expertise. One of the responsibilities of a sales territory manager is to ensure that your salespeople get the most out of a range of territories on a constant basis. Territories are structured so that sales reps have adequate opportunities to meet sales targets while also managing profitable customer relationships inside that region.
Why Sales Territory Management Is Important For Business?
Sales territory management is more critical than many organizations know. It can boost the morale of your sales team, generate sales, provide a huge customer base, and encourage effective teamwork. Salesforce territory management is a low-cost method for sales territory managers to divide their salespeople tactically by allocating specific customer groups to individual sales reps based on customer demographic profile and geographic location.
Sales territory managers can increase productivity and promote efficiencies in field sales by allocating various sales territories to individual sales reps. Although sales territories are critical to achieving high point efficiency in a business, determining the proper aspect for each sales territory can be tricky. To ensure effective use of resources and time, sales territory managers must create maintainable and stabilized territories.
Sales time and territory management may assist your sales team balance out their workload, allowing them to finish tasks more quickly, create stronger customer relationships, and generate more high-quality leads. It also provides motivation to your sales team if they feel like they are being productive and achieving the sales targets that they have set out to attain. Time and territory management in sales, when done correctly, may help you reach the ideal customers, meet revenue targets, and drive sales growth.
How Does Lystloc Helps In Sales Territory Management To Improve Productivity?

Nowadays smarter territory sales management technology makes it simple to divide territories by customer location or their needs, allowing salespeople to work in the same region yet focus on various customers depending on their needs. This technology has the potential to assist businesses in optimizing their sales team in order to achieve their objectives.
That's why; we in Lystloc thought of including this much-needed and useful feature in our field force management software. Yes! Recently we have included the sales territory mapping option in our task module to make it more simple and easy for our customers to give location-based tasks and meeting schedules to their field sales employees.
A comprehensive task assigning feature with location restriction proficiency makes it easy for the field employees in managing their daily location-specific tasks. With sales territory mapping, sales employees can view their tasks only when they are within the specified task area perimeter assigned by their sales territory managers. Sales forces can classify and manage their field tasks and activities based on the sales territories assigned to them.
Get the hold of activities over all your sales teams' sales territories and stir out impressive sales figures with an innovative and effective field force enablement platform. Measure your sales insights, improve your sales figures, and reduce the travel and operation costs with it. The insights into time and territory management in sales will aid managers to pinpoint the best way to divide and develop lasting territories.
With the latest location hierarchy notification feature, you tend to get instant updates on your field employees' movements to their assigned sales territories. This feature alerts you with quick notifications to know when your employees are leaving and returning back to their assigned work locations. You can easily track and manage them, know if they have finished their work before leaving, reach the assigned work locations on time, etc.
A great way to empower a fair and equal opportunity workplace is to assign sales territories to sales reps.
Benefits Of Using Sales Territory Management Feature In Lystloc
Sales Performance Can Be Measured Using Reporting And Analytics
When you use Lystloc's Sales territory feature, you will be able to get your hands on rich reports and data insights. You can use these reports to obtain a greater understanding of sales performance. You will then receive the best results possible at all times. Having territories mapped out allows you to easily view and compare sales of your sales workforce. You can easily compare who has closed the most sales, where the most valuable clients are located, and much more. This can help you analyze each sales rep's performance separately while also maintaining openness and transparency with your sales team.
Enhanced Customer Relationship
When the salespeople have well-defined sales territories, it is assumed that they will work in that specific territory and interact with customers on a regular basis in order to generate business. This is not really a one-time meeting that will convert into a long-term business relationship; rather, the sales rep must maintain contact with the customer and meet with him on a regular basis in order to develop a strong relationship by providing them with timely aid and delivery which can only happen if the sales rep has a clearly established sales territory. It is critical that the salesperson meets with their customers on a frequent basis in order to build trust, which can then be converted into a relationship that can be leveraged into the business.
Increased Sales Volume And Reduced Expenses
You can increase sales volumes while decreasing expenses by using Lystloc's Sales territory mapping option. This is possible because you are increasing overall sales coverage. Increasing sales volume is one of your top priorities as a company. You will be able to expose yourself to numerous great opportunities if you can increase your sales volume.
Also, salespeople are forced to spend more time on the road and less time meeting with leads if their territories are not properly marked. You can reduce mileage costs and travel expenses and ensure your sales team is working efficiently by adjusting for driving distance. Mapping your customers and territories furthermore helps in optimizing your workforce, ensuring that you have the right number of field sales reps to cover all your customers.
Optimizes The Daily Tasks And Delegate Workloads Easily
Lystloc's sales territory feature also assists organizations in distributing workload and potential equity among all sales employees and then evaluating their success. The organization's goal is to split the volume of work potentially equally among all employees and then analyze the salesperson's talents and abilities.
Workload management also assists salespeople in performing with healthy competition against one another and in meeting sales targets. Sales territory management will also enable sales territory managers to effectively delegate the work among their sales teams. This is due to the fact that they can learn how to make the maximum out of the sales hierarchy.
Boosts Sales Rep's Selling Time
According to the sales stats by Pipedrive, "Following the sale, more than half 51% of the sales reps spend the majority of their time prospecting and qualifying leads." When they do this for a variety of territories, particularly different time zones, their objectives and focus suffer. You can avoid having sales reps jump between vastly different locations b and sales challenges by using sales territory management.
Also, you can save the time they spend on their travel from one location to another in case of long-distance. Your sales reps will indeed be able to double down on the prospects they know far better, aiding them in meeting their targets and elevating team morale. Furthermore, concentrating on a specific territory enables your new sales reps to understand the customer core and recognize particular customer needs, making it much easier to meet sales targets in very little time.
Summing Up
Having a balanced territory sales management ensures that your sales team can connect with every potential customer in a specific area without missing a beat. Lystloc's location hierarchy and sales territory mapping feature put everything in front of you in a precise and clear manner, from assigning location-based tasks to geographically limited attendance marking and location hierarchy notifications. The idiosyncrasy of Lystloc is set apart with its special features and specifications, which makes it distinct from others out on the field. For our customer's convenience and user-friendly experience, we in Lystloc furnish them with these unique and go-to app features and options.
To know more about our Lystloc app and its functional and handy features, check the Lystloc page(link to page) now.