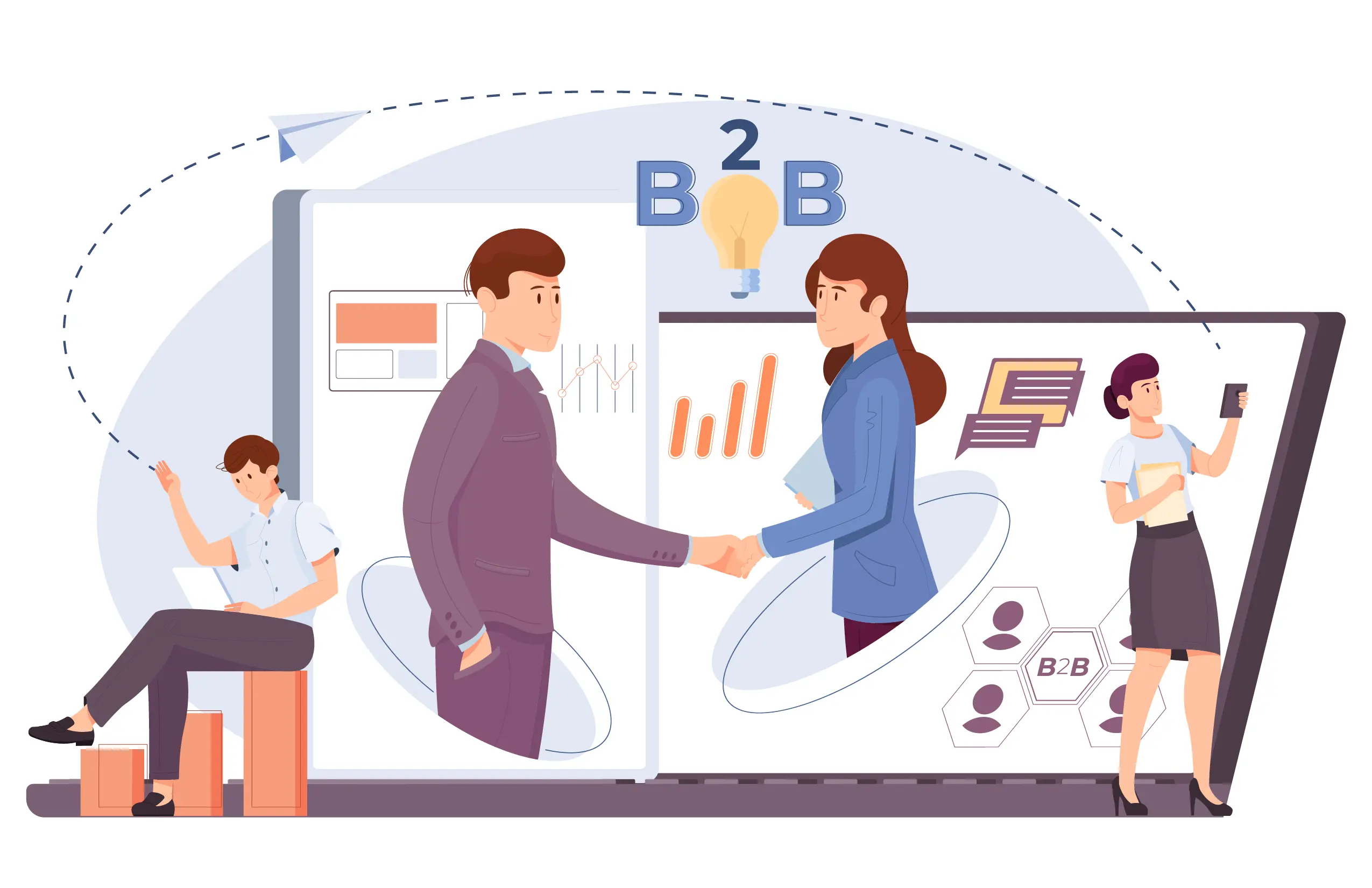 A Brief Guide About  Consultative Sales Approach And Its Techniques
Since 1970, consultative selling has altered sales of critical businesses. In order to increase profit, it replaces the conventional strategy of selling the product and upholding the buyer-seller connection with a win-win collaboration. A salesperson who engages in consultative selling attempts to meet the needs of the customer with a tailored solution after developing a comprehensive and deep grasp of those demands.
What makes consultative selling preferable to product-based selling? The sales environment is changing, and building and maintaining interpersonal ties are crucial for success. One of the finest ways to stay on top of the latest trend is through consultative selling. Since relationships are the foundation of effective sales. The best approach for your business to thrive in the cutthroat sales market is to develop long-lasting, valuable connections with customers.
What Is A Consultative Sales Approach?
A key component of consultative selling is the emphasis on the need to comprehend a customer's needs prior to attempting to close a deal. This strategy does not involve learned sales pitches from the salespeople. Every sales call or other point of contact is customized to meet the requirements of the individual lead. Building trust is the key to influencing your clients' final purchasing decisions. The foundation of the consultative sales technique is a set of tactical questions. The renowned philosopher Socrates guided his students toward their own conclusions by strategically probing them about issues and challenging them to think through difficult concepts.
Socratic questioning techniques can be used in conjunction with consultative selling techniques to great effect. Customers frequently aren't aware of their issues. By posing thoughtful questions, you assist potential customers in expressing their issues in their own words. The potential customers identify their actual wants and issues as they respond to the questions.
Furthermore, you are establishing trust by paying close attention and care through hearing the prospect's business concerns. Because you took the time to listen to the prospects before making your pitch, they are going to be more engaged in considering it.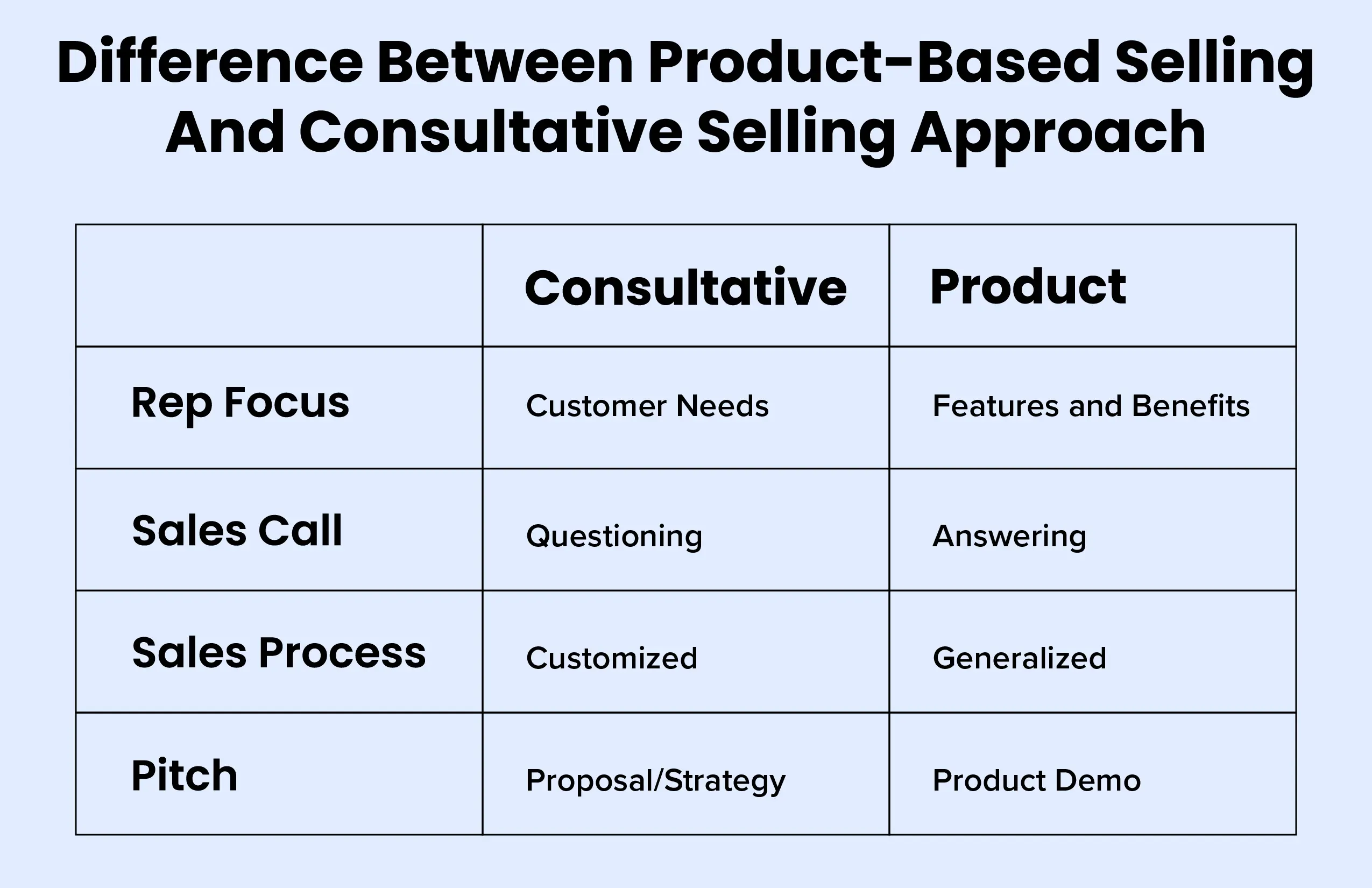 How Does Consultative Sales Approach Benefits The Business In The Long Run?
Establishing Customer Trust
Businesses and customers are increasingly looking for products that they can trust. Customers need to be certain they can rely on the product or service to suit their demands since when costs grow, there is less margin for mistakes when making purchases. With consultative selling, you may educate customers on how your products or services will assist them to reach their goals while simultaneously conveying and exhibiting your company's values, defining objectives, and fostering trust.
Distinctive From Other Sales Approach
A consultative approach is a great way to differentiate yourself from other businesses in your sector. People prefer to buy these days, but they don't like being sold to. Unfortunately, a significant portion of salespeople who continue to apply the product-and-feature sales method, particularly in business-to-business sales, have not received this notification. Although consultative selling is only one type of selling technique, it is a very effective one. Additionally, if you notice a decline in sales, this strategy can assist you in adopting a more proactive stance to acquire new clients and eventually make more sales.
Selection Of Leads Based On The Value
Being capable of rapidly determining when a potential customer is not an appropriate match for the product or service is one of the main advantages of a consultative selling process. In order to save everybody time and money, it's best to be upfront and stop the consultation process if you see you won't be able to provide substantial value and ROI.
This is another sort of empathy that will raise the possibility that a lost contract may later turn into a referral business. Aligning sales and marketing support is one strategy to generate leads who have at least shown interest in prerequisite stuff. This is one technique to generate value-qualified prospects. 
Provides Perspective To Buyers
Solution selling has transformed into a consultative selling strategy that offers perspective to customers. This means that salespeople give customers novel viewpoints that enable them to look at their issues differently in order to accomplish their business objectives.
By setting oneself apart from solutions, providing viewpoints builds the trustworthiness of salespeople. Initially, in the selling cycle, extra conversations are made possible by a consultative sales technique. The majority of consumers believe that it is beneficial to talk about their requirements with representatives, and they are eager to do so earlier in the process of buying.
Establishes Long-Lasting Relationships
Companies can give the integration of sales and client satisfaction a higher priority by using consultative selling. Service providers engage more with clients in this way than just salespeople. Companies must therefore place an immense value on genuine sales and service collaboration using a customer-centric consultative sales approach.
Customer satisfaction levels rise when both sales and service personnel place the customer at the center of what they do. As a result, confidence in the brand grows stronger, customer retention is more likely, and the number of businesses closing increases.
Tips & Techniques On Consultative Sales Approach
Do A Full-On Research
More thorough research is required for consultative selling than for the typical sales strategy. You are interested in getting to know your lead as well as you can before your first encounter because you eventually want to find the greatest answer for them. You may also use the information to help you create an excellent first impression. Learn as much as you can about your target customers, including who makes the decisions and any potential pain areas. Google the lead's social media pages, and their website can all be useful resources.
Listen To Your Prospects
Effective consultative selling requires communication. Without attentive listening, the conversation cannot take place. Although you have a fantastic collection of questions, they must flow effortlessly into a conversation at the appropriate point. Focus on the responses of the potential customers instead of planning your next line of inquiry, and then phrase your next question accordingly. Don't disregard these responses because they contain an extensive amount of information.
Additionally, by capturing the sales call, you are able to maintain a record of the interaction with them. Therefore, you shouldn't rely solely on your mental capacity because there is the possibility that you might lose some information. You can listen to the record whenever you want to comprehend the problems of potential customers.
Avoid Selling-Centered Behaviours
In general, a consultative sale entails listening to the customer's concerns and then offering customized solutions. A transactional sale, on the other hand, is solely concerned with the sale of particular products that might not exactly fit the wants of the customer.
The main goal of consultative sales is connection building, which makes them considerably distinct from other types of sales. After that is finalized, you can move on to the sale itself. As you can probably tell, consultative selling requires more time, energy, and care. Even though it could appear like a difficult undertaking, it ends up being worthwhile.
Asking Your Prospects Insightful Questions
Good question-making is essential to the consultative sales process. Understanding and open-ended inquiries make excellent questions. And the responses to these questions assist you in comprehending the specific factors, difficulties, immediate aims, and long-term objectives of a prospect.
Furthermore, effective consultative selling questions enable your potential client to find crucial insights on their own. It involves the specifics of their problems, the repercussions of not solving them, the advantages of finding the best solution, and more.
Here are a few consultative sales questions a salesperson can bring up during a sales conversation with a potential client or buyer :
What are your current most pressing requirements and difficulties?
What advantages would addressing these demands and difficulties bring?
Have you looked into potential solutions to your issues yet?
What standards do you use to assess whether or not a solution is the best fit for you?
Customize Your Communication Style
Finally, personalizing your approach to each prospect is a crucial component of consultative selling. Everybody enjoys being sold to in various ways. Throughout a meeting or phone conversation, pay attention to the nonverbal and verbal signals that your prospect uses so you can make any changes that are required. The facial expressions and tone of voice of a potential customer might provide you clues about what stage they are in their decision-making process as well as how to proceed with the conversation.
The most effective consultative salespeople customize their conversation with each prospect. Establish trust by demonstrating sincere concern, understanding, and dedication. Always follow through on the commitments you have made, no matter how small the matter is.
Summing Up
Today's sales are about creating enduring, robust relationships. The most effective way to develop these connections is through consultative selling. It enables companies to retain an approach that works for the target market and increases sales. For any salesperson who understands that providing value to the customer is the best method of closing the deal, consultative selling is an excellent strategy. In contrast to product selling, it centers the process around the prospect and prioritizes meeting their needs first.