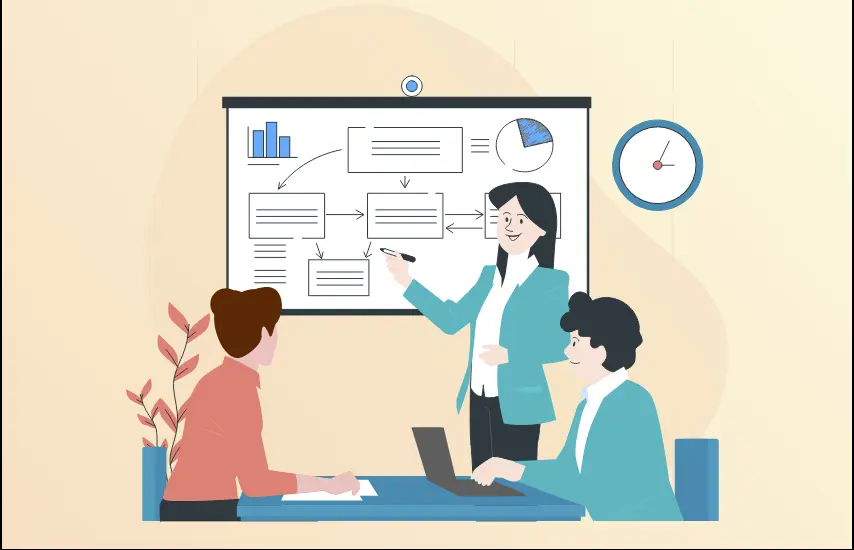 5 Best Ways To Start A Good Sales Conversation With Any Prospect
You must have mastered the art of conversation as a salesperson. The sales conversation is the best technique to draw someone over to your side when it comes to sales. How do you generally start a conversation with a prospective customer? You might also be wondering how to begin a sales call. If you've never paid it any attention, it's time to develop a consistent approach for how to begin a sales conversation.
Your first interaction with a prospect should be both unforgettable and engaging, so make those words mean a thing. Most salespeople don't focus much on the first initial times of a sales conversation, but prospects will make the choice whether or not to proceed with a conversation with you in the first few seconds. As a result, your beginning or the start of that sales conversation is just as important as any other aspect of the sale process. If you and your sales team are finding it hard to warm up and trickle down the sales pipeline, and you're not clear on how to start a sales conversation, you've come to the right place.
Why A Good Sales Conversation Is Vital In Any Business?
A good sales conversation is an interaction that takes place between a prospective buyer and a salesperson, anywhere between two or more people, with the goal of selling their product or service. With prospective buyers making choices in minutes, it is important to have incredible conversational selling skills to keep their focus and persuade them to buy your product.
Giving and taking are required in sales conversations. You must communicate to the prospect in order to thoroughly comprehend their predicament. You must also consider what the prospect says and provide advice based on your knowledge to help them see how you might assist them with the product.
Throughout every sales conversation, you must strike a balance between speaking and listening to your prospects. Salespeople must establish a genuine relationship with their customers; they must convey that their product will actually address their problem rather than just be concerned about making a sale.
5 Go-To Tips To Start A Sales Conversation With Your Prospect
Engage Them With Open-Ended Questions
Inquisitive questions are an important part of the sales conversation. You know where you would like to take your prospect, but how you get there depends on their level of acknowledgment of the problem and solution. Open-ended conversations not only keep the conversation interesting but also give you some idea of the customer's needs.
Questions such as "What are your goals?" and "How do you intend to use our product?" can also yield valuable information about the customer's problem and give you a glimpse into their organization.
The initial conversation should always be aimed at learning more about your lead. You should never just throw information at them and expect them to decide whether your product or service is perfect for them. Questions aid in trying to engage prospects by allowing them to communicate and keep the discussion going. Here are some of the relevant questions you can ask your prospect
The recent pandemic had a significant impact on business. Is it affecting you too much?
What is the biggest challenge this year with the changing market scenario?
How are you coming up with the evolving industry trends?
What problems are you trying to solve?
What are you looking for in a solution?
Building A Rapport Is Much Needed
It is difficult to engage a prospect without first establishing a rapport. Personalize your sales conversations to make them more interactive and persuasive. You must conduct extensive research for this. Collect basic information about the prospect and discover their areas of interest. Speaking about topics that the prospect is interested in aids in the development of a positive rapport.
Using your customer's name and, perhaps more importantly, knowing how to pronounce it is amongst the most effective ways to build rapport. It allows you to connect with them because they will feel heard, and people enjoy the sound of their names.
Make sure to use their name naturally in the conversation, or you'll come across as aboriginal. Only when a prospect is at ease will they discuss their concerns and problems. So, concentrate on developing personalized interactions with prospects. Finding things in general to bond over help, but isn't utterly necessary as long as comfort and trust are available.
Show A Greater Expertise And Insight
Start the conversation by demonstrating your industry knowledge. You want to immediately wow the prospect and persuade them to know more about what you have to offer. You can do this by starting the conversation with some relevant insight about the prospect. Highlight what's going on in their field or provide some other relevant details that tickle their attention right away.
Prospects will pay attention if they believe a salesperson will provide them with useful information. Make sure it's actually relevant to them, and begin using it as an icebreaker in your sales conversations. This will elevate you from a faceless person looking to pitch an offer to a trusted professional willing to assist them in fixing their problems. The trust that a potential buyer places in the company that is offering him a solution is the basis of every sales transaction.
List Out Some Common Challenges And Issues
The next step is to identify common issues that the prospect may be encountering. Bring up prevalent marketplace difficulties now since you know how to initiate a sales conversation with a prospect and get their interest. Your product is not a commodity; it is a solution for their problems.
You can forecast that your prospect is in the market to solve an issue or meet demand, regardless of how you were introduced to them. Prepare to address frequent issues that your prospect may be facing. Show that you are aware of what is going on in your prospect's world.
Make certain that the challenges are appropriate to the prospect's firm and that your product or service can solve them. Make a list of issues, write them down, and start integrating them into those early conversations. By communicating some of the challenges you're seeing in the market and then engaging the prospect, you actually draw the prospect into the discussion while exhibiting that you know what you're talking about and are committed to providing benefit.
Talk Less And Listen More
When engaging with prospects, most salespeople believe they must do all of the talking. What happens is that they take over the conversation, leaving less time for the prospect to express themselves or what they're searching for. A basic mistake is talking too much and not allowing the customer to speak. It is easier to discover the customer's intention and specific requirements if you speak less and listen closely to the customer. It's crucial for successful selling.
Active listening can assist in comprehending not just what the prospect says, but also what they are attempting to communicate. Many things can happen when you're not actively listening. You can overlook an opportunity to cross-sell or up-sell your customer. Alternatively, you could be perceived as a person with their own motive, irrespective of the client's interests.
When a customer says they're looking for solutions that will result in a high revenue in sales, he or she is most likely hinting that they're evaluating the solutions provided by you and whether they assist them in achieving their goal. An inexperienced salesperson will simply disregard the tricky question and proceed to ramble about the price. Just a professional salesperson will convey how the solution they offer will be a valuable asset in terms of sales turnover.
Summing Up
If you thought having a good sales conversation with a prospect was challenging, pause for a moment because closing a sales conversation can be just as difficult. In sales, closing is a make-or-break situation. It's critical to choose the perfect words to close a sale. And this will most likely be the deciding factor as to whether or not your attempts will be worthwhile. As a result, along with sales conversation tips for initiating, you must also know how to end a sales conversation.
Emphasizing the major points of your offering is one of the best ways to end a sales conversation. At the end of the sales conversation, focus on the value proposition so the prospect understands what they're obtaining out of the deal and is convinced to move forward in the sales pipeline. A brief recap will suffice to remind your prospect of the benefits they will receive from your products. Sales conversations don't have to be difficult; simply being truthful with your prospects will ensure that you form long-lasting bonds with them.