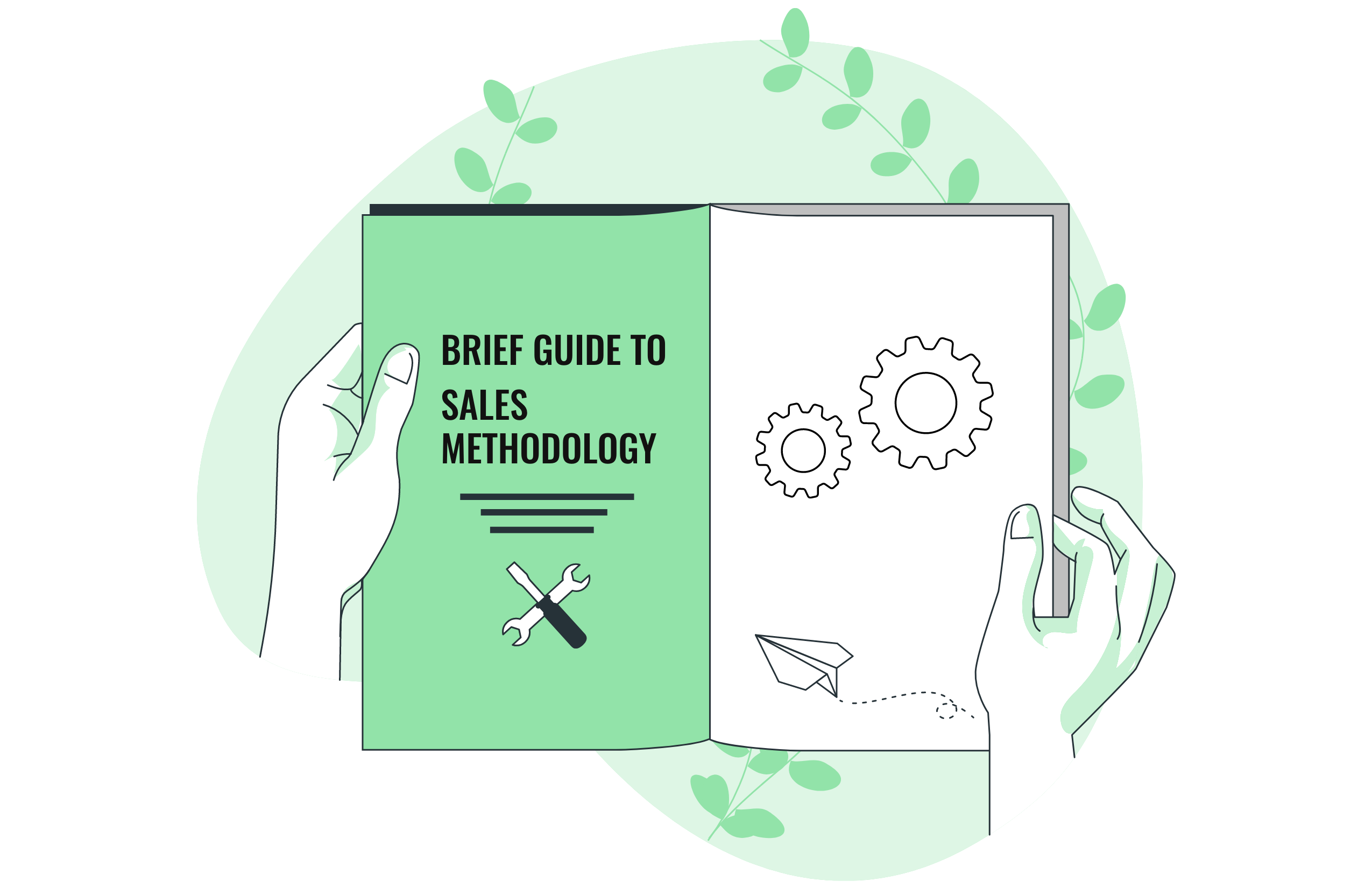 A Brief Guide To Sales Methodology: Best Sales Methodologies For Your Team
Developing and adhering to thorough standards is one of the measures towards sales success. Employees must comprehend and comply with a set of rules that specify how to perform their duties in every business. To gain clients, close sales, and perform well in any of the numerous scenarios and circumstances they can encounter, the team must learn how to coordinate their efforts.
Fortunately, there are sales methodologies that really can serve as the basis for these ideas. Strong, sincere connections between clients and new salespeople are key to developing a sales force. It's important to assess the methodologies and procedures for enhancing the already-existing relationship as you grow up. Every company requires a sales methodology that best reflects its products, principles, target audience, and objectives.
What Is A Sales Methodology?
A template known as a sales methodology instructs sales staff on how to approach prospects during each stage of the sales process. A sales process, as stated previously, diagrams the steps necessary to close a deal. In contrast, a methodology lays out the strategy using organized concepts and the best techniques that assist sales reps in performing. A sales methodology, then, describes the "how" of the process.
Sales and marketing teams can create sales processes that are in line with the company's principles and client needs due to sales methodology. Your sales methodology essentially serves as a road map for how to find and acquire fresh opportunities for business. Every phase of the buyer's journey offers a set of feasible actions that may be taken to guide them toward a sale.
Why There Is A Need For Sales Methodology?
An effective sales process is built on a sales methodology. You can indeed make a sale without even a sales methodology, but your team won't be as consistent or effective, which will lead to less success overall. A methodology directs the creation of a system with tested tactics and resources that consistently produce success. With the aid of standard methodologies, companies can establish their own processes by understanding that these are not replaceable.
While methodologies are generally applicable, it is crucial to pair them with a selling process to ensure that the company can differentiate itself from competitors who might employ a similar methodology. There are many benefits to sales methodology, such as:
Increased effectiveness and efficiency of salesforce.
Strategies to assess and steer sales prospects and overcome challenges
To increase sales performance, tools, and best-selling strategies are available.
Increase in quantity and quality of qualified leads, and prospects.
The ability to constantly iterate and improve on the method as the business evolves.
How To Choose The Right Sales Methodology For Your Team?
Determine The Demands And Purchasing Patterns Of Your Customers
Learn your customers' requirements more thoroughly to choose the ideal selling methodology for you. This enables you to market the product in a manner that solves customers' problems and improves their quality of life. By contacting current and previous customers, you might uncover trends in the requirements and practices of your clientele.
Ask these clients about their business demands and also how your product resolves their problems by calling them or sending them surveys. This might provide you with a better comprehension of the prevalent technical, financial, or personal needs of your audience. Find sales methodologies that speak to all these demands and the interests or wants of your customers.
Outline The Structure Of Your Sales Process
Develop a thorough outline of the selling process in order to meet your sales quotas. A precise strategy is necessary for approaching leads and closing deals. The concrete measures you'll take to convert an unqualified lead into a customer make up the sales process.
Your sales methods are indeed the principles and tactics you'll use throughout the sales process to connect with your intended audience. Evaluate each step of the sales process in detail. You can achieve this by outlining the stages of your sales process. These phases typically depend on the specific business one works for and its clients.
Implement Or Develop Sales Methodologies For Each Stage
You can select the methodologies for every stage to assist them after planning out each phase of the selling process. Each methodology should instruct salespeople on what to do at each phase, even going to the extent of instructing them on what to say to advance the sale.
You can select a well-liked sales methodology from the ones already available that have been described below or develop your own methodologies based on the nature of your company and the comprehension of your target market. Methodologies for selling are adaptable. For various situations, you can pick different ones as you see fit. In order to best serve your buyer's particular demands, you can indeed merge the sales methods.
Take A Look At The Overall Budget
The foundation of a business is its budget. Going on and adopting anything new before evaluating the budget is risky. The same is true when picking a sales methodology. You should think about the amount of money you are ready to spend on putting the new method into practice and implementing it.
Even if you discover the ideal sales methodology for the company, if it doesn't fit inside the budget, there's no point in putting it into practice. It will ultimately cause more issues than it will resolve. So be sure to consider your budget before choosing a particular sales methodology.
Take Advise From An Expert
It's constantly a good idea to speak with an expert if you're still having problems selecting which sales methodology is indeed the greatest fit for your company. Sales educators, trainers, and advisors are just a few examples of the many various sorts of professionals who may assist you in selecting the best sales methodology.
These experts can assist you in locating the ideal sales methodology for your particular business needs because they have extensive expertise in the sales field. In order to boost your sales productivity, they can also give you coaching regarding how to employ this sales methodology efficiently.
Best Sales Methodology Techniques For Your Team
SPIN Selling
A more conventional method of selling called SPIN selling concentrates on pinpointing the issue clients are trying to address. This methodology was created by Neil Rackham in 1988, so it might be outdated in some markets. The four questions that salespeople need to ask potential clients are referred to as SPIN:
Situation.
Problem.
Implication.
Need-Payoff.
The fundamental concept is that vendors should understand the prospect's issue and provide their solution in the form of a product. SPIN selling primarily addresses the first stage of the sales process. As a result, you might require a different methodology for the remaining stages of the sales process.
Consultative Selling
Modern sales methodologies like consultative selling put the customer's needs first, as compared to just pushing products or services on them. Salespeople are better able to deliver a pleasant customer experience by taking the time to comprehend the problem from their viewpoint and providing customized solutions according to their preferences and challenges.
Also, they can employ consultative selling to create enduring connections with prospects and earn their trust, which will enhance conversions. Additionally, in order to provide the finest recommendations and solutions, consultative selling calls on salespeople to stay current on market trends and client requirements.
MEDDIC
Both a qualification process and a sales methodology, it concentrates on the factors that influence the client's demands and the manner in which they make purchasing decisions. The six components of the acronym should guide the questions that sales staff should question themselves and their prospects:
Metrics
Economic buyer
Decision criteria
Decision process
Identify pain
Champion
By answering these questions, one can be sure that both the customer and the salesperson are aware of the customer lifecycle and how the product can meet their wants and ease their problems.
SNAP Selling
"SNAP Selling" is a book by Jill Konrath and it helps salespeople connect with their prospects. SNAP stands for four tips:
Keep it simple
Be invaluable
Always align
Raise Priorities
By following these guidelines, you can easily achieve busy prospects, impart useful information, discuss the topics that matter most to the customer, and facilitate the buying process. According to Jill Konrath, the inventor of this sales methodology, most customers make three important choices while making a purchase. After making the decision to evaluate their choices and speak with a salesman, they come to the conclusion that they desire a change and implement it. Making more successful sales will be easier if you are aware of how customers think.
Sandler Selling System
The Sandler sales methodology adopts a contradictory strategy by mandating that the initial approach be focused more on lead qualification than a sale. According to its originator, David Sandler, rushing to seal a deal early typically makes both the buyer as well as the seller feel frustrated.
The Sandler methodology mandates that salespeople ascertain quickly whether the product or service they are offering genuinely meets the customer's demands in order to avoid disappointment. The Sandler sales methodology mandates that salespeople follow a predetermined plan. They cannot turn around without facing the risk of "sinking" the sale.
Wrapping Up
The success of your sales process depends on the sales methodology you use. Your sales process seems to be the one you create and follow through with step-by-step in order to engage leads and turn them into clients. In addition, your sales methodology refers to the strategies and actions you use throughout each step of the selling process.
Your product's intricacy and cost must be taken into account while selecting a sales methodology. You should also think about how your customer desires to purchase your products. In other words, your sales strategy must generate a win-win situation. It should benefit your salespeople and clients.