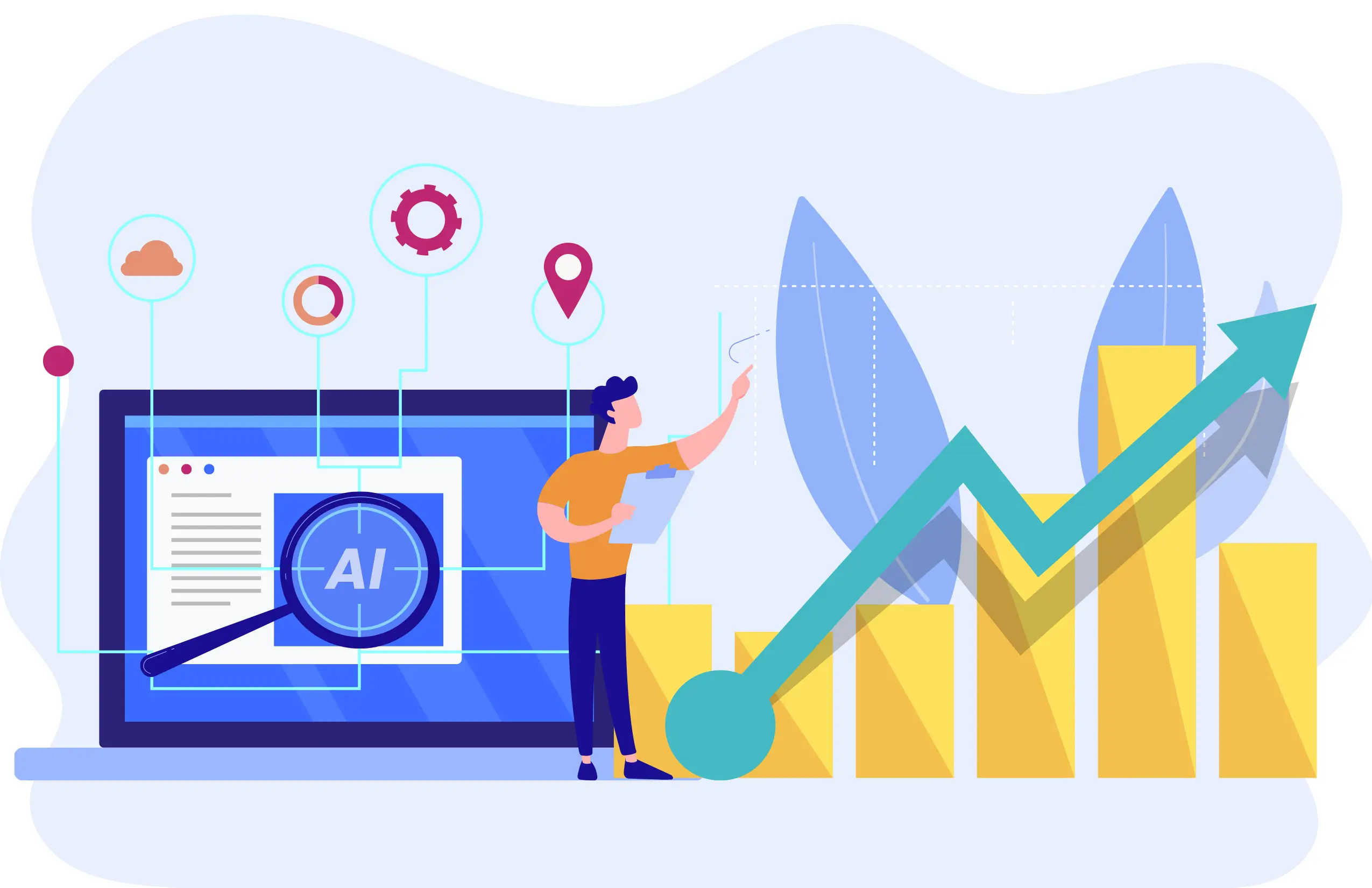 12 Best AI Tools to Increase the Sales of Your Business
What is an AI Marketing Tool?
The most trending technology seen in every business is the usage of AI tools. It is software with artificial technology to devise automated decisions. The conclusions are made after a complete analysis of collected information with the existing market trends. AI marketing tools aim to construct current marketing methods that propel customers to take the next step in buying.
This software is developed with real-time analytics without interrupting any human actions. With the help of AI marketing tools, businesses are gaining greater benefits by automating decisions within a fraction of a second.
How to choose the best AI tools for your business?
There are several AI marketing tools with variant purposes. Choose which tools suit your business.
If you are looking for a sales AI tool, then it must satisfy the below points.
For Sales, the AI tool should aid you in finding and authorizing potential leads. It must have the qualifying factor for lead generation that prioritizes the lead and scrutinizes its progress.
For effective sales, the tool must benefit you in closing more deals. It should also streamline the sales process and provide you with resource information for closing the sales deal.
The main aspect of sales is offering good customer service. The AI tool should help you in improving customer service by furnishing customer information. Also, it should track customer communication to identify their requirements and satisfy their needs.
Now let's look into the 12 Best AI Tools to Increase the Sales of Your Business
Chatfuel
It is a simple drag-and-drop no-code chatbot builder that helps businesses in automating marketing decisions, lead generation, and support. It is a great tool for solving customer inquiries of up to 80%. Chatfuel with the Meta (Facebook) partnership has easier automation support on Facebook. Businesses can choose chat fuel for engaging with potential buyers and also to connect leads to salespeople in a live chat without losing any customers.
Warmer.ai
Warmer.ai is one of the excellent tools to create a custom introduction for cold mail. This is a problem-solving issue, where businesses fail to find an introduction that irritates the customer. It not only saves time and energy but automatically raises the number of responses to your cold email.
Rev
Rev is a great tool to discover new prospects who are similar to old buyers and it also confronts the customers to start the buyer journey with the affiliated information. Sales and marketing professionals find this tool to locate and engage with customer lookalikes. Rev can transform leads from 3 to 10 times better than cold outreach.
Squigl
Squigl is an AI marketing tool to create animated videos. Using Artificial intelligence in this software, anyone can create animated videos in a minute. The user can copy and paste the text into the Squigl platform, AI tool will suggest specific words and phrases using its extended algorithm to animate in the video. The users can record their original voice or can select a system-generated voice. The animated video can be exported and shared for training purposes in all fields.
Grammarly
Grammarly is one of the rapidly- emerging AI assistant tools. This tool has an inbuilt algorithm to help the users in creating error-free and top-standard content. It engages the readers by allowing the possibility to select what type of writing the user wants: a business email, casual article, creative writing, etc. It performs thorough analysis by giving overall performance score, readability, word count, etc. This tool makes grammar-free content and checks for repetitive words to deliver an efficient reading.
Let's Enhance
Let's Enhance is an AI-powered tool for image enrichment and zooming purposes without lacking image quality. The primary aim is to give high-resolution image quality for low-quality images with machine technology. It has an anti-JPEG filter for extracting JPEG antiques and converting them to PNG files. Let's Enhance is a well-versed image resolution tool for enhancing the image four times better by retaining all the details. It helps sales and marketing professionals to improve their communication and email graphics with customers.
Copy AI
This AI marketing tool creates marketing copy in seconds. The user can select what type of copy they want, describe their product, and wait for the results. This tool can supply ten copies at a time, and the professionals can further modify the copies according to their needs. Companies like Zoho, Nestle, Ogilvy, and eBay use Copy AI tools for their business.
Conversica
It is an AI tool that handles the lead generation and assists salespeople to focus on sales and closing deals. Conversica enables two-way human interactions for effective engagement with the ideal customers. It ensures efficient sales and marketing strategy by reaching a lead several times.
Semrush
Semrush is an effective AI marketing tool for all purposes such as SEO, marketing, and advertising. It satisfies businesses in many possible ways to conduct a site audit, run social media and content marketing campaigns, examine the website content, find the best keyword ideas, etc. It determines how your website keywords are performing on search engines with its rank-tracking tool against your competitors. It also gives detailed analytics reports for your website.
PaveAI
PaveAi helps businesses to focus on their content marketing efforts. It inspects over 16 million unions to find correlations in Google Analytics data. It enables the customers to have accurate reports for delivering overall marketing channels. Sales and marketing professionals can heighten their ROI through the suggested data-driven insights.
Surfer SEO
Surfer SEO is a content strategy tool to optimize your content. It helps the user by creating a copy that will rank on search engines. This tool can be simply utilized by choosing the domain, niche, and target audience. Then it automatically reports with top-ranking keywords and suggests a content outline structure. It also examines image density for your article. It performs a content analysis score to inform the user about keyword density, length, and readability and ranks the content. This tool has other web integrations like Jasper, Google Docs, etc.
Writer
A writer is an AI tool for marketing writing assistants. It has features such as autocorrect, autocomplete, grammar, and clarity checks which are similar to a word text editor. It can maintain a house style, including a database of approved terminology that is essential for legal and financial firms. It makes recommendations for writing rather than rewriting a block of copy. It benefits remote teams to create accurate and professional writing. Deloitte, Accenture, Twitter, and Vistaprint are some of their clients.
Bottomline
The bottom line indicates that AI marketing tools have the efficiency to elevate your business to a more significant extent. They help users with scalability, reach, efficiency, decision-making, improving customer experience, ranking on search engines, etc. Marketers need to choose the appropriate AI marketing tools for their business.
Even a small start-up can turn into a global revolution with the help of AI marketing tools. It is error-free and hassle-free technology for every business owner and a future friend for every marketer.