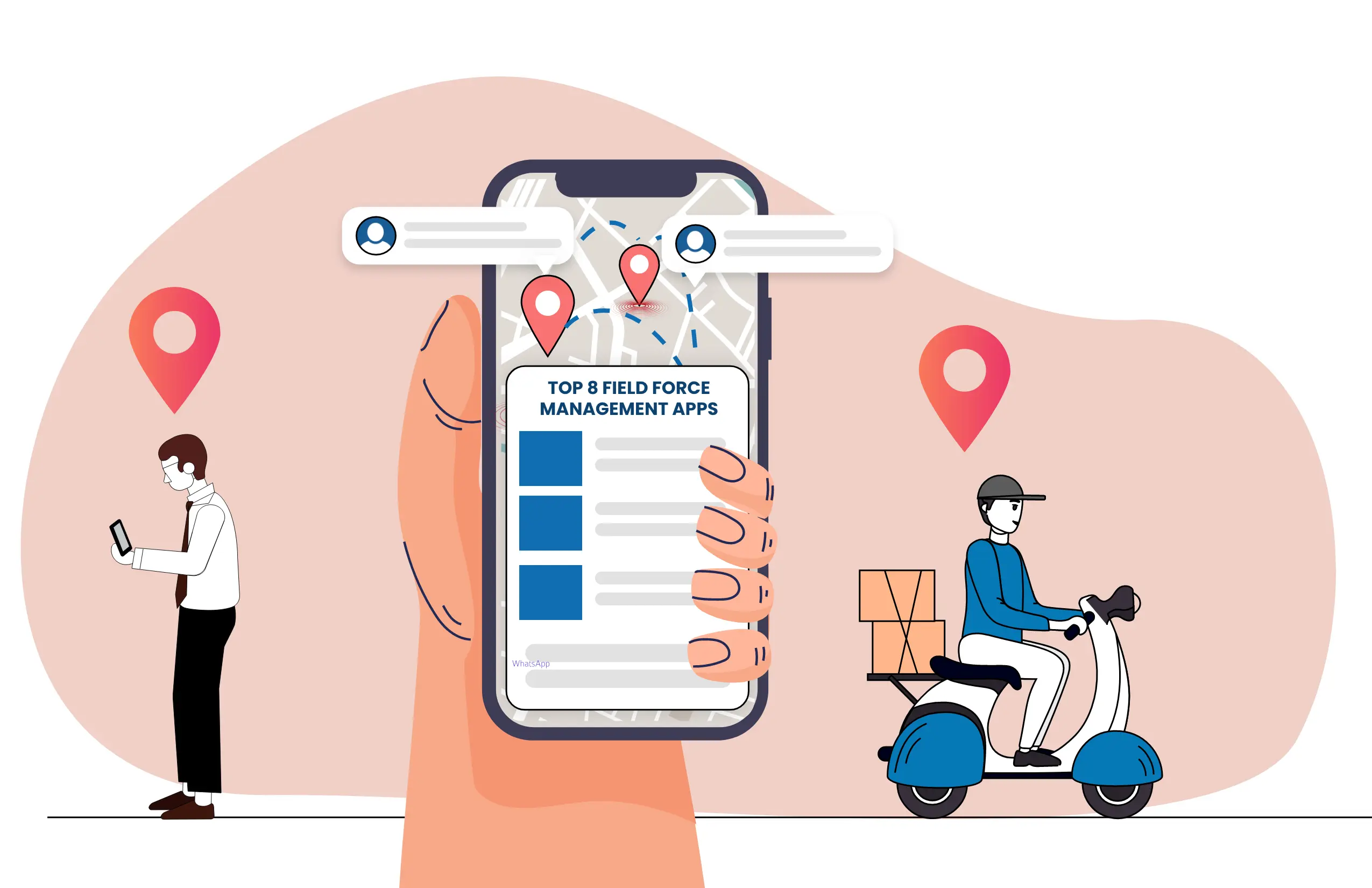 Top 8 Field Force Management App That Works Best For On-Field Teams
Some companies require a field team in order to function effectively on the field. They must knock on every door to spread the word. Field sales have their advantages, but they also present some difficulties. To start, it is very challenging to keep an eye on the team's actions.
When the field force leaves for the day's work, you really have no idea what is happening outside of the office. How can you monitor field sales action without physically being there? How do you guarantee that the client meetings start on time? How do you ultimately evaluate field performance?
Field force management apps are the straightforward solution to all of these questions. Keeping track of the field force tasks, travel, meetings, and other details, the app assists you in managing the complete field sales team. It makes the field sales team an effective entity and keeps you up to date on all that you would like to know about them.
What Is Field Force Management App?
A tool for managing field staff and their job responsibilities is referred to as a field force management app. This involves managing work orders, setting up appointments, and monitoring the whereabouts of field employees. The goal of the field force management platform is to help companies optimize their field operations while lowering expenses and raising productivity.
Using the field force management app, you can keep tabs on the field workers' daily progress on the tasks assigned to them, make sure they meet their clients on time and get important information about the outcomes of client meetings. A field force management tool also assists the company in routinely learning the employee's current position and travel routines.
Best 8 Field Force Management App For Your Business
With the help of the field force management app Lystloc, you are able to track the whereabouts of your field force from the comfort of your workspace. It allows you to allocate meetings based on the availability of close-by clients and allows you to gather full information about field employees' attendance and current exact location. It is simple to monitor the time of arrival and departure of field salespeople from the client's meeting location.
Lystloc also offers automatic data insights of all the information in tailored e-reports to make it simpler. This app is an all-encompassing solution for all problems relating to managing and monitoring field employees. Lystloc assists you, directly or indirectly, in managing field employees and improving workforce efficiency.
Unolo
It is an extensive field force management tool that offers task management, location tracking, attendance and leave recording, among other features. Managers can easily monitor the movements and performance of their field staff with the aid of this field force monitoring app.
This field-tracking application guarantees the highest efficiency even when the device is offline owing to its technologically sophisticated planning of routes, API interface operation, and crucial communication mechanisms. gives access to a reliable reporting dashboard system where users can access data on staff members' revenue outcomes, client interactions, processed transactions, and much more. Real-time and GPS systems are used to monitor the travel routes of field staff.
BeatRoute
BeatRoute is the ideal combination of a CRM-based field force management app for managing leads, attendance & leave management, field operations reporting, and location tracking of field employees. BeatRoute is driven by a field force mobile program that supports multiple users, multiple hierarchies, and multiple services. This software aids in supply & inventory management, reimbursement claims, and remote communication for the field force personnel.
Companies use BeatRoute to increase client visits per field executive, increase sales per store, improve the quality of visual merchandising at each point of sale, manage efficient retail promotions, and increase field rates with distributor automated processes.
dayTrack
dayTrack is a mobile-based field force management app that helps you in getting accurate information about field employees' exact GPS location, attendance, sales visits and follow-ups, day-to-day expenses, remission collections, etc. This employee tracking app covers almost all the tasks which a sales executive does daily like following the beat plan, meeting customers, giving samples, taking orders, collecting payments, taking feedback, putting advertisement material at customers' place, and much more.
dayTrack app also gives options to field employees to take pictures with GPS details, feed in their daily expenses and upload pictures of any outdoor marketing activity done that too with GPS details where the activity was done.
FieldSense
With the assistance of the FieldSense mobile field force management app, the field sales team can complete a number of basic tasks, such as signing in and out of the attendance tracking system, submitting client visits info, showing up at meeting locations with real-time planning and routing assistance, capturing visit results, requesting expenditure reimbursements, receiving notifications on important updates, etc.
To confirm these expenditure claims, the manager looks at the field employees' travel logs. Additionally, the app allows field managers to always be aware of the whereabouts of their field staff. The managers can identify which field duties are taking the longest to complete using FieldSense's time monitoring feature and then plan to speed up and streamline them.
Delta Sales
With capabilities like tracking orders, customer relationship management, workforce monitoring, regular attendance, organizing routes, and much more, it helps field force management increase engagement with customers, improve field force productivity, and reduce administrative work, which in turn raises revenue.
The Delta Sales App, which caters to a variety of sectors with a large number of field sales staff, is one of the best apps for field force management and salesperson location tracking. Due to its ability to pre-define sales routes, offer tasks, and track field employee spots using GPS, this software is perfect for any business with a large number of field operations. Businesses with a sizable field staff may benefit from using this app to increase the efficiency of their sales force.
Dista
Dista is a location intelligence-based field force management platform with AI capabilities that provides a broad range of options for companies to manage their field operations and movement. Modern cloud solutions enable you to launch mobile operations quickly, maximize each field contact, and amaze your clients.
Effective solutions like field force management, centralized mobility, field sales administration, last mile transportation oversight, supply chain and distribution administration, geolocation analytics, and more are all included in the Dista platform. The sales staff can work on leads using the app's lead overview feature, which is based on lead status categories. Additionally, it records the data needed at different lead stages in the form of images, text, etc.
Twib
The field force management app is integrated with something like a web-based admin dashboard to monitor the geolocation of field staff activity and travel routes. Using this software, you can stay updated on the day-to-day operations of your sales force by obtaining accurate analytics.
Twib makes it easier for businesses and field employees to keep track of daily sales visits and submit relevant data with uploaded documents and receipts. Twib is a fully featured field force tracking app that also enables field staff the opportunity to snap images with location data, input their everyday field expenses, and upload images of whatever external field operations they have carried out.
Conclusion
A field force management app is a crucial tool for companies seeking to improve field force productivity and streamline field operations. The application helps managers allocate tasks more efficiently by lowering administrative costs, boosting output, and organizing the integration of data via cloud-based servers.
Through automated data gathering, the app gives users the ability to regulate production and sales, resulting in a simpler and more intelligent business. If are you looking for such a solution to solve your on-ground team issues, you can make use of the above-mentioned best field force management app for your business.