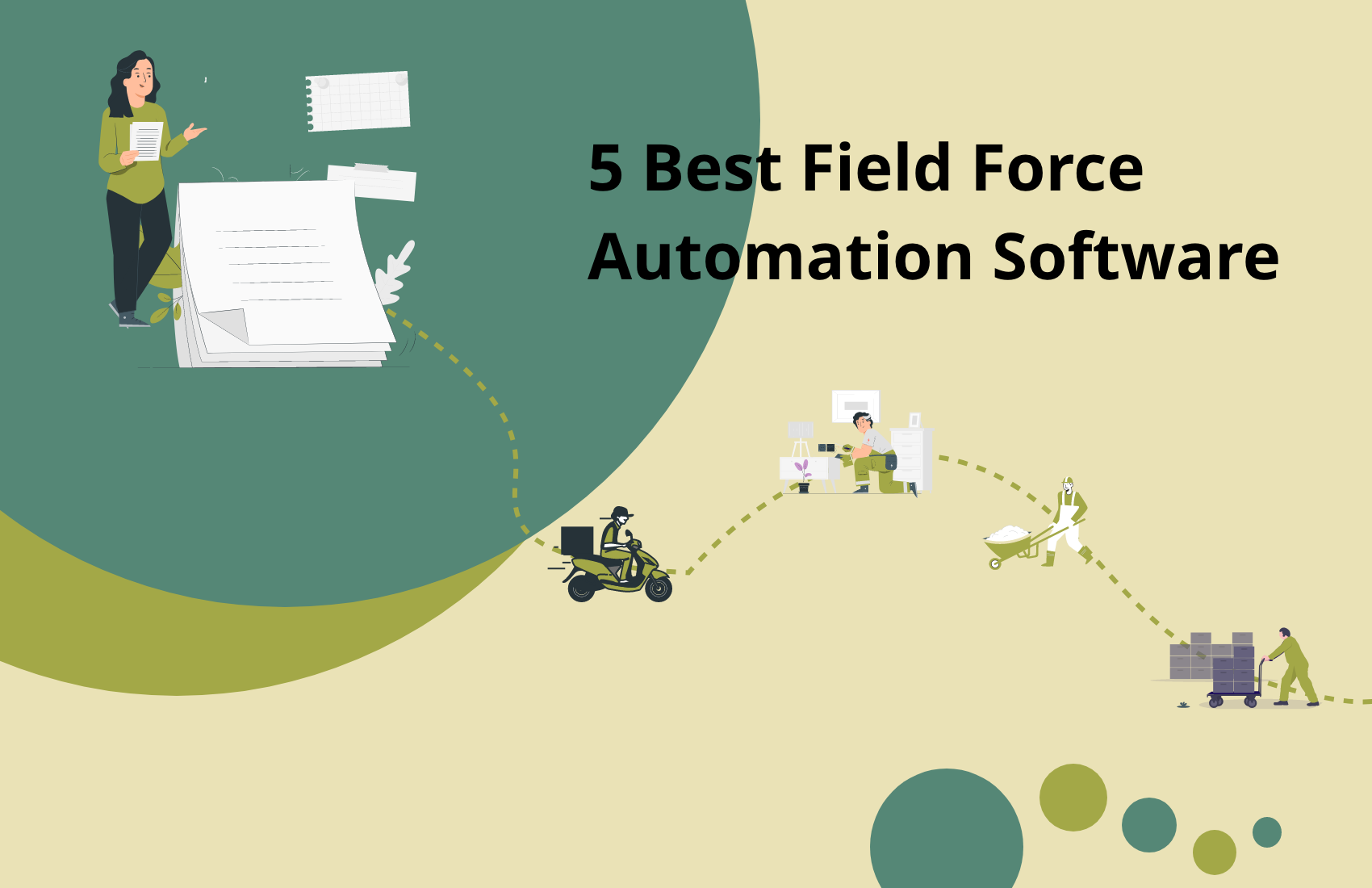 5 Best Field Force Automation Software
In today's fast-paced world, technology plays an important role in our day-to-day work and activities. Without technology, it is impossible for any business to perform their regular daily tasks.
One such vital technology is Field force automation. Field force automation is transfiguring the way people work in the 21st century.
What is Field Force Automation?
Field force automation is an emerging technological advancement that allows you to see in real-time what is going on in the field with respect to field force comfortably from your workplace.
A proficient field force automation is an excellent way to overcome the challenge of the communication gap between the manager and the field employees.
A recent survey by Data Bridge Market Research states that the "Field Force Automation Market is expected to gain market growth in the forecast period of 2020 to 2027. Data bridge market research analyzes the market account to USD 4.45 Billion by 2027 growing at a CAGR of 16.15% in the above-mentioned forecast period".
Field Force Automation is one of the finest growing sectors in the market since many industries like retails, transport & logistics, pharma, medical device, banking, and insurance, etc started using field force automation in their daily works.
As an upcoming sector, Field Force Automation has over a hundred plus successful startups in India that comprise organizations that provide software to their customers, using which they can monitor and manage their on-field workforce, customer service tracking, order management, routing optimization, and work activity monitoring.
Here, we have a look at the ' 5 Best Field Force Automation Software'- an assorted list of the most optimistic and successful softwares doing great work in the Field Force Automation industry. We have listed out these 5 softwares based on their reviews and ratings and also their app installation counts.
Let's get started!
Beatroute
Beatroute is a Haryana-based leading field force automation and supply chain management solution that helps increase field force productivity and grow sales for the distributors.
It was launched in 2017 by a round of funding from Quarizon Consultancy Services LLP during its initial stage. With 50+ paying customers in India and several more from overseas, the company claims to have been operationally profitable since April 2016.
Recently, Software Suggest rewarded Beatroute with Fastest Implementation and Best Software 2021 badge and they have also given media coverages for The Economic Times, Inc 42, Zee Business, etc.
Founded Year: 2014
Founders: Vinay Singh, Priyanka
Location: Haryana
Customers: Cremica, Nivea, Valvoline, Mega Global, JSW Paints, Davies, etc
Capterra Ratings: 4
G2 Ratings: –
SoftwareSuggest Ratings: –
Downloads: 1,00,000+
FieldAssist
FieldAssist is a comprehensive software that provides field force automation solutions to make the on-field sales force of an organization more efficient and productive.
Initially, FieldAssist was structured as a result of a client requirement. After following months of discussions with mentors, industry experts, and researchers, FieldAssist came into the market.
After successful implementations with various brands in India, Flick2Know took FieldAssist to Latin America as a part of Startup Chile and gained worldwide feedback for further growth and emergence.
Founded Year: 2013
Founders: Apurv Gupta, Divir Tiwari, Paramdeep Singh
Location: Gurgaon, Haryana
Customers: Haldirams', Everest, Bisleri, Danone, Wipro, Polycab, etc
Capterra Ratings: 5
G2 Ratings: –
SoftwareSuggest Ratings: 4.8
Downloads: 50,000+
Lystloc
Lystloc is a real-time location intelligence-based field force automation solution for tracking and monitoring the on-field workforce. Born out of the parent organization's own need to measure the productivity of their workforce who are on-field.
They wanted to make decisions based on real-time location data rather than on assumptions. Lystloc aimed to create an application that can solve location-based challenges and provide data insights for strategic and tactical planning.
The app enables companies to collect complete information about field employees' daily attendance and live tracking of the employee work location and allows the managers to assign meetings to the field employees based on their current locations at times of priority and customer urgency.
In addition, Lystdata is used to generate daily and monthly reports for managers to use in making strategic and tactical demand decisions with regard to field works.
At present, the company has crossed 1000+ businesses, catering customers of 500+ licenses, 50% MOM revenue growth. In 2021, Software Suggest rewarded Lystloc with Expert's Choice and Best Support badge.
Founded Year: 2017
Founder: Bharathkumar Annamalai,
Location: Chennai
Customers: Athenese-Dx, BPL, Blackbuck, Elixir Medisystems, Midthrans Pharma, Active Total Security Systems, etc
Capterra Ratings: 3.5
G2 Ratings: –
SoftwareSuggest Ratings: 4.7 stars
Downloads: 10,000+
LeadSquared

LeadSquared's is one of the best apps for field sales. It helps field agents manage their tasks, conduct meetings, upload documents, access lead records, and more. Similarly, sales managers can track every move of their teams, geofence territories, assign tasks, and check locations and meeting histories of individuals.

The app is lightweight and is available on Android and iOS. The best part is the app works offline aswell, allowing agents to conduct their work smoothly from remote/low-connectivity locations.
Founded Year:
2013
Founders:
Nilesh Patel, Prashant Singh, Sudhakar Gorti
Location:
Bangalore
Customers:
BYJU'S, Amazon Pay, Practo, Kotak Securities, Angel One, etc.
Capterra Ratings:
4.5
G2 Ratings:
– 4.2
Software Suggest Ratings:
4.3
Downloads:
150k+
SalesDiary
SalesDiary is an AI-driven mobile-based sales force automation software to manage the field operations of an organization. This too is a Bangalore-based startup with an annual turnover of $1M in the past years.
SalesDiary was built with a mission to improve secondary sales effectiveness purely integrated into the process defined in the Sales Diary system.
The best about SalesDiary is the founder and the team understands the pain points of the FMCG industry and therefore, can be claimed to know the best solutions.
Founded Year: 2014
Founders: Santhosh Hegde
Location: Bangalore
Customers: Cycle Agarbatti, Gardenia Cosmo Care, Naturo, Gatsby, HPL, Lia, etc
Capterra Ratings: 4
G2 Ratings: 3.5
SoftwareSuggest Ratings: 4.9 stars
Downloads: 50,000+
Toolyt
Toolyt is an intelligent SaaS field force automation assistant for the field sales team to increase their productivity and competency. It helps your team to close more deals when they are in the office, road, or home.
The app is loved for its usability and mobile-first design with 80% of users logging in daily. Toolyt is also eyeing close to $500,000 revenue in just three years.
Today, Toolyt has 50+ customers, which comprises clients from various industries -from banking and telecom to pharmaceuticals and FMCG.
Founded Year: 2016
Founders: Nizamudheen Valliyattu
Location: Bangalore
Customers: Kagome, Vivo, ION Exchange, GE Healthcare, Tata, Sk Finance, etc
Capterra Ratings: 5
G2 Ratings: 4.8
SoftwareSuggest Ratings: 5 stars
Downloads: 5,000+
Wrapping Up
The triumph and development of every business depend on a well-trained and effectually connected field force.
Field Force Automation software provides organizations with a full-packed solution to effectively manage their field force by removing the manual paperwork and automating field tasks across all platforms.
The hunt for a solution to minimize administrative and operational works has increased the demand for Field Force Automation software.
To make your hunt more simple and easy, we have given the above list of the top 5 field force automation startups in India, where you can get the best solution for your field force tracking and management problems.