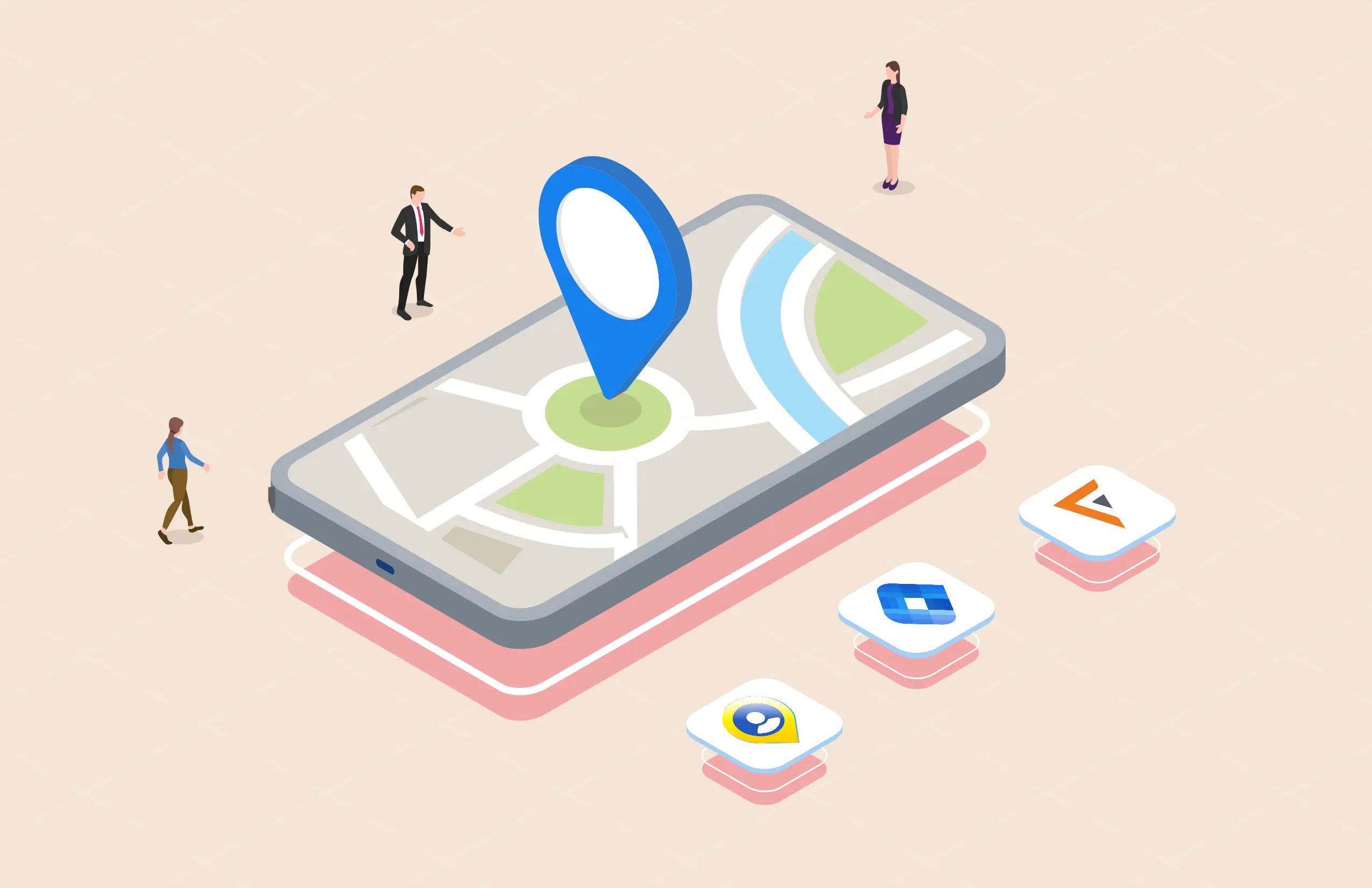 12 Best Software for Managing Your Field Employees
Managing field employees can be a challenging and backbreaking task for each and every manager of an organization.
However, to increase workforce productivity and grow in business, organizations need to regularly review their field employees' daily workflows and adapt their focus on the employee's work performance and target achievements.
And talking about the difficulties in managing the field employees, you don't have to take the stress anymore. As moving towards the mobile era, you can see that digital and mobile evolution is bringing many comforts to businesses in terms of providing you with field employee tracking and management software.
These softwares are taking over and organizations are slowly but surely making the switch.
And to make the search simple and easy for you, here are the 12 best software for managing the field employees that can help you in handy.
1. Lystloc
Lystloc is a real-time location intelligence and data insights mobile app for managing the field workforce effectively. Lystloc provides the organization's Managers the ability to track their on-field employee's daily works and client visits comfortably from anywhere at any time.
Also, provides the managers with reports on a daily and monthly basis using Lystdata for their strategic and tactical decisions on demand. This app is the one-stop perfect solution for all the difficulties related to managing field employees.
Pro Features
Helps the field employees in updating location-based single touch attendance marking in real-time.


Create, Assign & Schedule the location-based task for the field employees with accurate task location.


Track the field workforce location in real-time and their distance & route travelled with Lystloc's live tracking feature.


Card Reader; Click and Upload the picture of the customer visiting card and the info gets automatically uploaded in the forms.


Authenticate the customer visits of the field employees with OTP in your customized forms.


Notified with Meeting Updates via customized forms in Real-Time.


Process the payroll, travel reimbursement and prepare plans to scale your productivity for your field workforce with the data insights from Lystdata.
Pricing
Basic: Free (1K hours Live Tracking/unlimited user)
Monthly: ₹249/user/month
Yearly: ₹199/user/month
2. Twib
Twib is a sales reporting and employee tracking software used by business owners and sales managers in managing field employees. The app is incorporated with a web-based admin panel to track the GPS location of field sales employee activity, where you can monitor the day-to-day activities of your sales team by capturing the real data.
Twib helps the company and the sales personnel on the field to track sales visits and reporting more efficiently with images.
Pro Features
Live location tracking along with the traveling record of km covered.


Keep a record of each sales visit, final result, and follow-up.


Daily/Monthly Sales reporting facility.


Captures the location from where the employees log in/out of attendance.


Expense manager; keep track of business and field sales team expenses.
Pricing
Free: ₹0/month (10 users)
Basic: ₹99/user/month
Enterprise: ₹299/user/month
Check out this Twib Alternative!
3. Chase App
Chase is a simple and user-friendly mobile software tool that enables managers to track and monitor the field employee location and activities. Allows the managers to allot targets to the employees and also can view their daily targets allotted and achieved targets.
This software can be used for any business type who is facing difficulties in employee tracking.
Pro Features
Get the daily status updates on employee visits along with the location.


Enquiry Forms; entering the needs and requirements of clients after visits.


Live tracking of field employees in a highlighted way from start to end.


Attendance and Leave management.


View list of assigned tasks that are completed and can also monitor and verify daily task performance of field sales employees.
Pricing
Free trial available. Pricing not specified.
4. FieldSense
FieldSense mobile software allows the field sales force to perform a range of routine activities like punching in and out of the attendance system, adding customer visits, reaching meeting destinations with real-time navigation assistance, reporting visit outcomes, claiming expense reimbursements, messaging important updates, etc.
It gives a complete picture of the on-field activities on the application dashboard with detailed informatics.
Pro Features
Offline Mode; field employee tracking without internet connectivity.


Customized forms for real-time information collection.


Customer Address Management; can mark and save the customer locations employee visits.


Expense reimbursement with great transparency and efficiency.


Field employee attendance management and reporting.
Pricing
Free: ₹0/user/month (25 users)
Premium: ₹208/user/month
Check out this FieldSense Alternative!
5. Flocksales
Flocksales is a cross-platform software tool for efficient management of field service operation and field workforce. It helps the business owners to track field employee location more accurately and errorlessly.
This software with its technically powerful route optimization, API integration capability, and vital communication techniques portages the best performance even when the device is offline.
Pro Features
Attendance punch in/out; Will record the time, geolocation, and also captures selfies.


Comprehensive reports related to staff, customers, sales visits, orders are available for track records.


Customer Info Management; details of customers along with the location are captured exhaustively.


Instant task notifications and reminders are displayed to employees on mobile.


Customized form fields to get relevant details of the sales and business.
Pricing
Test Flight: Free (unlimited users/14 days free trial);
Fleet: ₹120/user/month
Colony: ₹270/user/month
Check out this Flocksales Alternative!
6. Unolo
Unolo is a complete field force management software that allows location tracking, attendance and leave marking, task management, and more. With its field sales force automation model, you can get into CRM that makes the work simple to plan an entire day's task and input validated data that helps your organization increase its top line.
You can track the real-time location and work progress of your field employees at your convenience.
Pro Features
Real-time location tracking, Automatic distance calculator.


Geofenced alerting; getting alert notifications whenever an employee enters/exits the defined area.


Uploading of instant geotagged photos for work done proof by field employees from task location.


Tracking real-time task status and checking for delays in daily assigned tasks.


Field employees can book orders directly, upload product photos and details, and share invoices from the app.
Pricing
Lite: ₹200/user/month
Elite: ₹270/user/month
Enterprise: Customized pricing/unlimited users
Check out this Unolo Alternative!
7. dayTrack
dayTrack is a mobile-based field employee tracking software that helps you in getting accurate information about field employee's exact GPS location, attendance, sales visits and follow-ups, day-to-day expenses, remission collections, etc. The software also supports in planning and managing the employees' daily activities and meetings by on the spot updated and authenticated data.
Pro Features
Can set monthly targets for field employees to achieve and monitor their performance.


Email confirmation is sent instantly once the employee marks the attendance on the app.


Field employees can upload the daily expense details in the app directly.


Ability for the managers/admin to route/journey plan and assign them to their employees.


Selfie-based employee attendance marking with capturing of current location and time.
Pricing
3 months: ₹349(6.9 USD)/user/month
6 months: ₹299(5.9 USD)/user/month
Yearly: ₹249(4.9 USD)/user/month
Check out this dayTrack Alternative!
8. FieldEZ
FieldEZ software helps in reducing all the arduousness of sales managers by tracking sales employees based upon their daily tasks and increases transparency between employees and managers. This mobile-based software helps you in finding the complete information about field employees' travel location, the current status of the task assigned, daily expense claims, etc.
Companies can use FieldEZ to improve their workforce productivity output and effective work reporting.
Pro Features
Real-time route mapping and location tracking.


Chatting options for field employees with managers and collaboration with clients.


Attendance and leave management with selfie uploading.


Can upload and share client invoices, payment details, and quotes.


Location-based automatic job scheduling to employees with prompt notifications.
Pricing
Up to 50 users- INR 500/user (within India)
Check out this FieldEZ Alternative!
9. allGeo
allGeo is a web-based mobile software that helps sales managers to track and monitor field employees more accurately with GPS-based live location tracking. Along with the location feature, you can get details about daily tasks, attendance and get auto-generated reports.
And also, get detailed information on logistics and supply chain management and store that data for future references. allGeo increases the credibility of employees and brings the best performance.
Pro Features
Daily attendance marking with time and location records.


Automatic calculation of business expenses and travel mileage.


Can collect any data; notes, customer signatures, pictures on mobile.


Calendar-based task and assignment scheduling system and have a collective view in dashboard and mobile.


Set up automatic alerts and notifications based on their activities and tasks.
Pricing
Minimum Starting Price: $5/user/month
Additional one-time setup fee: $10/per device
10. BeatRoute
BeatRoute is a perfect amalgamation of a CRM-based sales force automation software for sales employee location tracking, attendance & leave management, field job reporting, and lead management system packaged into a single easy-to-use solution. BeatRoute is powered by a multi-user, multi-hierarchy, multi-utility field force mobile software that helps in stock & inventory management, expense claims, and field communication for your field force employees.
Pro Features
Geo-mapping attendance marking with exact time and location.


Route optimization in maps and distance travelled calculator.


Supervise, track and monitor product transport location.


Order placement and payment due collection using custom forms.


Visual merchandising and distributor management.
Pricing
Hygiene Pack: ₹349/user/month
Business Pack: ₹599/user/month
Custom Enterprise Pack: customized pricing
Check out this BeatRoute Alternative!
11. Skynamo
Skynamo is a mobile-based software platform that provides extremely secure and powerful real-time monitoring of field employees' daily sales and sales activities. Skynamo helps you in assigning sales targets on each date for sales employees.
Gives you a remarking dashboard system where you get all data about employees' sales performances, customer visits, orders taken by them, and much more.
Pro Features
Automated recording of customer visits, time spent for each visit.


Can assign tasks in the calendar and add notes to their timeline.


Auto-generated monthly reports on orders taken and pay invoices.


Recorded history of previous customer visits and their details are available.


Mobile-oriented colorful digital product catalogs are available with product information.
Pricing
Pricing is not mentioned. Customized pricing option.
12. TrackerPal
TrackerPal is a customized on-field employee tracking and sales force automation software that is suitable for all business sectors and use cases. Can easily manage both remote and on-field workforce attendance, timely recording of working hours, locations travelled.
Sales employee's travel route tracking is based on real-time and GPS technology. With TrackPal, you can balance your productivity and security skillfully in your business.
Pro Features
Geo-fenced field attendance marking with location, time, and selfie recording.


Comprehensive task reporting with task time and duration.


Mobile interface to submit travel plan, advance amount request, ticket booking request and receive trip approvals.


Route curation for best travel plan and mileage calculation.


In mobile, you can take retailer sales orders, do order processing, invoicing and dispatch, payment collections.
Pricing
Starter: USD 4.99/INR 119/user/month
Pro: USD 9.99/INR 199/user/month
Check out this Trackerpal Alternative!
Summing It Up
There you go, Managers! If you are in search of an efficient and user-friendly field employee tracking software that also comes within your budget, then above listed software are the ones you can opt for. Make use of these 12 amazing software to make field workforce monitoring more easier and effective.
Have Great Productivity Ahead!