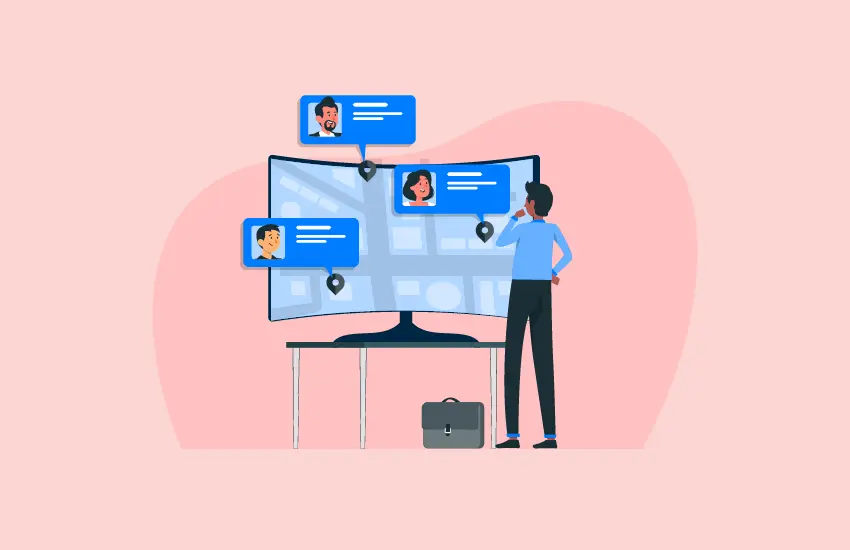 What Is Field Force Management Software And Its Benefits For Your Business
Several companies require a field force to function in today's sales world. They must knock on every door to spread their business. Field sales have advantages, but they also present certain difficulties.

To start, it is very challenging to keep an eye on the field team's activities. When your field force leaves for the day's work, you truly have no idea what is happening outside your workplace. How can you monitor field employees' activity without personally being there? How do you guarantee that the client meetings are done on time? How do you eventually evaluate performance?
Field force management software is the obvious answer to these questions. Any industry that relies on a field force will value digital technology since it keeps the sales and service teams connected and under observation, which increases productivity and improves efficiency. Your concerns about managing your sales and service teams' field activities and enhancing performance are eliminated by the field force management tool.

Your complete field sales team can be managed with a field force management app, which keeps track of their activities, travel, meetings, and more. It makes your field force team an effective one and keeps you up to date on anything you want to know. Features including the ability to manage their daily schedule, update meeting status, submit quotes and invoices, check on visit status, and many more can be carried automatically through the field force management app, improving sales and service outcomes.
What Is Field Force Management Software?
Field force management software is an extended version of field service management that companies use to assign fieldwork to their workforce and track how well they perform. Real-time communication is made available, and field forces are kept connected to essential resources and assistance while they are on the field, thanks to the field force management app.
The purpose of this software, which is designed exclusively for outdoor workforces, is to automate, make transparent, and facilitate easy tracking and monitoring of the work of field employees.
The managers can monitor the progress of the field employees' daily tasks allocated to them, ensure that they meet their clients on time, and obtain crucial information about the outcomes of client meetings with the use of the field force management app. Additionally, a field force management tool helps the organization periodically discover the employee's present location and travel patterns.
Overall, this software offers managers a practical approach to monitoring the activity and development of their field workforce in real-time.
How The Field Force Management Software Benefits Your Business
Real-Time Live Tracking Of Field Force Movement
Real-time live tracking of field staff is one of the most notable advantages of the field force management tool. With the app, you can watch your team's activities without having to worry about anything. Businesses can monitor the performance of their field personnel using remote tracking.
The field force management app frequently uses live tracking to keep a record of the routes taken by employees as well as the clients they are visiting. Real-time tracking offered by the app enables a bird's-eye picture of the employee's performance. You can receive regular insight into the performance of your employee and inevitably make strategic changes in response.
Increased Productivity Of The Field Force
A field force management app accurately tracks an employee's working time and work progress to help make them responsible. This will increase field employee productivity and foster a trustworthy workforce. The biggest benefit of field force management is how much it boosts efficiency. Field workers should ideally be self-motivated and disciplined to concentrate on the tasks they are assigned.
The field force management app has a number of features, including data reporting, app integrations, time and attendance monitoring, work assignment and progress tracking, and timesheet management. You won't have to deal with manual documentation while managing field staff in this way. Instead, you can track employee productivity in a more automated and comfortable way.
Enhanced Efficiency And Flexibility
The field force management app allows you, as a manager, to see where your field employees are or what they are doing in real-time. This signifies that if the employees are facing any issues, troubles can indeed be managed and addressed quickly. As a result, your field employees become much more efficient since the app lets them react promptly to their customer needs rather than taking too long to complete field service tasks.
Adding flexibility to the field force work is unquestionably worthwhile in terms of both time and money. The field force management tool is designed with advanced technology that would allow for connectivity with sophisticated computer frameworks. Every stage, from the customer meeting to after-sales service, would be recorded and constantly monitored for precise management and improved customer relationship management.
Effective Tracking Of Field Force Work Hours
A field force management app is a tool used to keep track of field employees' work hours. It aids in the monitoring of employees' working hours and provides information on how much time was spent on various tasks, projects, and clients. In a broad sense, the field force management app records field force-time spent on tasks assigned and is used to automate payroll processes or client invoicing.
It also provides additional insight into field operations, such as which tasks are consuming the most time and which are less, allowing managers to plan sales plans and task prioritization. With an employee time tracking app, you can get an exact total of the time spent working on each particular task or client meeting including any break times. The field force management tool ensures that the organization's time is being used productively by field employees and that they are being fairly compensated for the work they are performing.
More Instantaneous Data And Automation
Field force management software applications are now becoming intelligent as well. They can just use field force automation, or FFA, to automate many of the more difficult tasks that are encountered by the field force managers. These intelligent systems are made feasible by the real-time data they collect; however, what tends to make them sophisticated is what they're doing with that data.
The most recent breakthrough in field force management is possibly information-based assigning of work. This entails inevitably assigning the field workforce with each new fieldwork. It does not, however, do so at random; instead, it allocates work according to where your employees are, their idle time, the status of their present job, and other aspects. Field force management tool can not only acclimate in real-time, but it could also assist your business plan through to the future.
Best Field Force Management Software For Your Business
Lystloc is a real-time location-based field force management app that helps organizations in managing their on-field sales workforce effectively. The software helps in tracking location-based details of on-field employees, monitoring and managing their daily tasks and work status easily.

Lystloc provides the ability to separately track the field works of each and every employee working in the team outside office premises.
Through that, the managers can easily assign them new tasks once they complete the previous ones. Not only this, the software has other diverse features like field attendance, location mapping, meeting check-in/out, customer details management, travel reimbursement, and much more that are necessary for a field employee. To make it easier, Lystloc also provides automated data insights of all the information in customized e-reports. Lystloc directly or indirectly helps you in increasing your workforce productivity and also in employee management.
Summing Up
Handling a huge field force is not simple. Observing what they do closely is one thing, and teaching them how to succeed is another. A field team-based company's ability to survive depends on a variety of elements. Customers are mostly concerned with the timely delivery of quality services.
When we give those precise solutions, clients feel properly taken care of and remain with us for a long period of time. Automation of field works with field force management tool organizes sales operations. As a result, you could save time and reduce the needless expenses of the company.
Managers and field employees can interact in real-time through data accessibility, quick messaging, and frequent knowledge updates. You are progressing to a better field force environment in your business systems once you can put in place really well-upgraded field force management software that seamlessly integrates into your CRM. Additionally, it improves the coordination of company field activities, which will lead to better business operations.
Your business will only be able to make the most of its field operations with the best field force management app. Consequently, you should pick your application wisely!