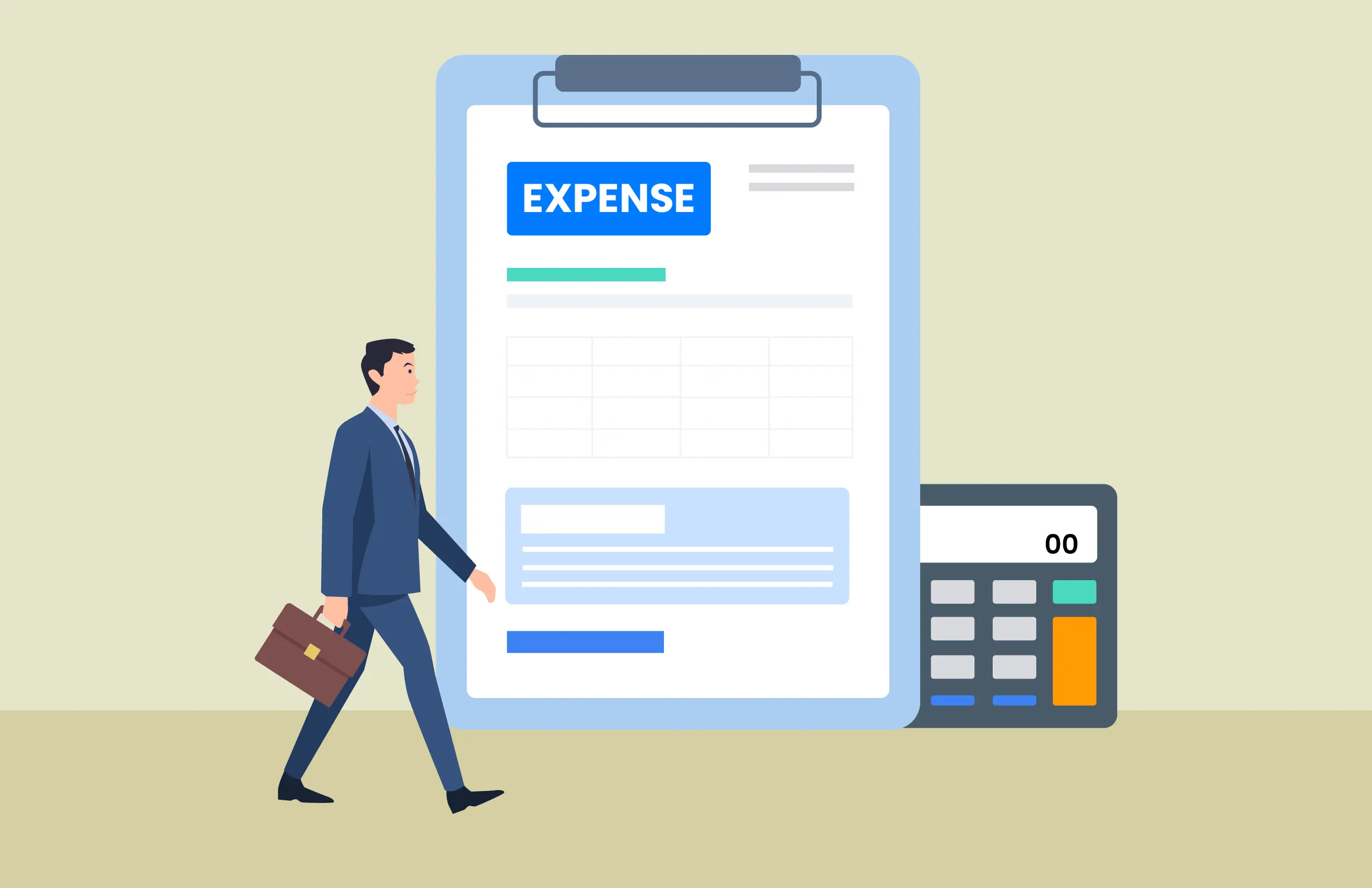 How To Manage Field Employee Expenses
Businesses are placing more and more emphasis on managing field employee expenses, particularly during difficult economic times. Companies can regulate field employee expenses, manage them effectively, and make sure that employees aren't way too excited when using company money in a wide range of ways. Additionally, it is crucial to make certain that precise and complete records of field employee expenses are retained in case of subsequent reviews.
The reporting of expenses is among the most typical problems that field employees encounter in any organization. This is due to how tiresome and time-consuming it could be to manually enter and submit expense claims for each cost incurred. Hence, developing a field employee expense management system is crucial for the efficient monitoring and reimbursement of expenses. Let's deeply explore what an employee expense management system is and how to manage it effectively.
What Is Field Employee Expense Management System?
In order to carry out business operations, an organization must cover a variety of expenses. Field employee expenses are one such item. Employee expenses are the costs incurred by employees to do work-related activities. For instance, employees may spend money while travelling for work-related reasons, such as client meetings or conferences. The companies must reimburse field employees for these costs.
To reimburse for the money they spent, nonetheless, field employees should initially submit their invoices as expense reports. Then, these reports are verified, approved, and reimbursed. Keeping track of all expenses that include submission, approval or denial, and reimbursement is done using a field employee expense management system.
6 Tips To Manage Field Employee Expenses
Keep The Field Employee Expense Management Simple
Complex expense reporting procedures can eat up important daytime hours for the accounts team. They may also result in human mistakes, endangering their ability to manage their finances. This is especially suitable for organizations that still rely on manual processes and demand security authorization and triple-copy forms for expense and claim approval.
A swift and simple set of steps encourages prompt reporting and approval methods while also saving business time. It might also be difficult to keep track of the bills, receipts, card statements, ticket slips, and transportation records. Making claims using a unified system for greater management.
Whether the papers are in physical or digital form, the method of submitting them and confirming their identity should be straightforward. Companies must have a reliable process in place to record all pertinent information, including receipts, bills, and signatures, in order to verify and approve field employee expense claims. 
For Every Field Employee Expense Category Define A Limit
Establishing a comprehensive expense budget is an excellent method to keep field employee expenses under control. This entails planning ahead and establishing a maximum limit for each expense type, such as business travel, accommodation, food, equipment and resource purchases, etc. Companies should specify the maximum amount that each field employee can spend on all costs and let them be aware that any amounts above this will not be reimbursed.
Any expense that is not covered by pre-approved amounts or categories needs managers' specific authorization. But try to keep these guidelines as basic as possible. Companies can go on and on about the cost ranges that are acceptable and the requirements that must be satisfied. However, concise, straightforward rules that are easy for employees to understand are the most effective.
Automate Invoice Retrieval Processes
Determine which operations are least efficient and time-consuming, then go virtual by implementing a cloud-based field employee expense management solution. Put the attention on viable methods for managing purchase requests, retrieving invoices, and calculating expenses in real-time. By automating operations, companies will be able to see better outcomes, give their field team more flexibility, and have more time for other important tasks.
Regardless of how meticulous they are, field employees will occasionally forget or lose receipts. It suggests that there was a significant amount of back and forth among the accounting department as they defend themselves and looked through the expense records.
Organizations must automate receipt gathering to prevent time wastage, retrieve invoices, and make certain that managers collect all of them. An application for scanning invoices is the simplest technique. The field employees pay for things, then as soon as they receive the receipt, they take a quick photo of it. The finance team no longer needs to enter data, therefore the number of missing receipts goes way down.
Using Right Automated Field Employee Expense Management Software
It is essential to have effective automated field employee expense management software since it can prevent employees from submitting fictitious or otherwise incorrect expenses. Expense reimbursement reporting is much quicker and simpler when automated.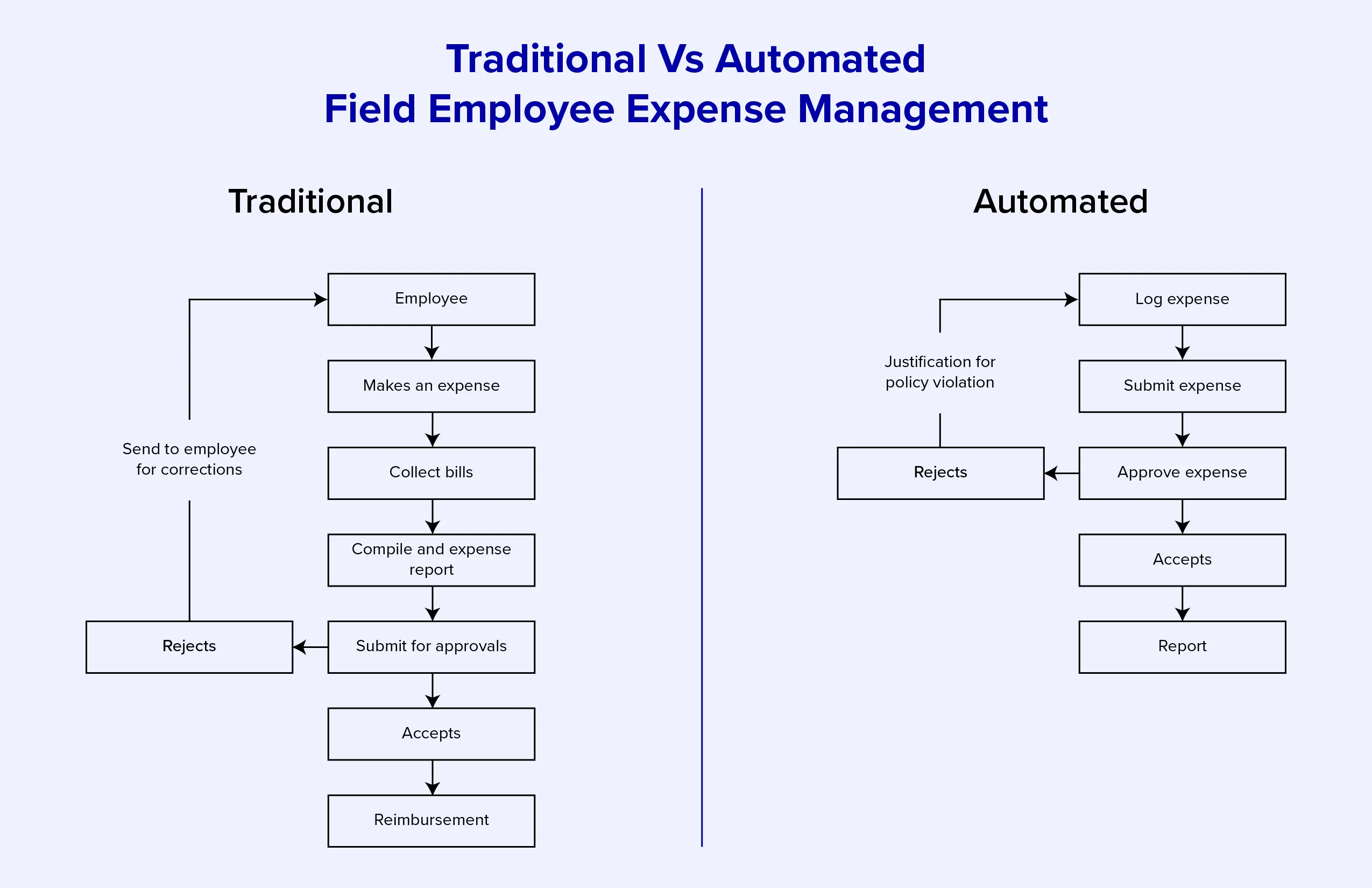 This is certainly salient when managers put off making decisions and disagreements over whether to approve or deny expense reimbursement, especially from critical or experienced field employees. Direct input of employee expenses into the employee expense management software eliminates the possibility of unpleasant encounters or irate employees because false expense claims won't be initiated in the first place.
Field employee expense management software is a cutting-edge and effective approach. Through digitized receipt management, expense monitoring, custom dashboards, and other features, the software manages field employee expense and boosts financial productivity. Companies can see and manage all of their spendings in real-time with the aid of employee expense management software. Field employees can upload receipts or other supporting documentation instantly with the help of this software. These expense claims are simple for the management to evaluate and authorize.
Create Field Employee Expense Management Policy
A field employee expenditure policy is a collection of guidelines that spells out exactly what expenses are allowed, how they'll be reimbursed, as well as when. A clear corporate policy not only promotes trust and ensures transparency by preventing possible conflicts.
Employees won't feel constrained or directly controlled if companies show them the advantages of smart expense management and show that they trust them. Rather, they will have a feeling of responsibility and engagement, which significantly promotes wise expenditure.
Vague or inadequate field employee expense management procedures, sadly, can result in deception. Standard operating procedures and limits should be established by a well-drafted policy that will make things simpler for companies, their staff, and the finance team.
Good employee expense standards will help to streamline company expenses while building trust and openness. Describe the process for submitting expenditure or reimbursement requests and list the details that must be included, such as the receipt, the overall sum of expenses, the date of expense, etc.
Provide Appropriate Payment Options
The easiest method to regulate field employee expenses is to offer them access to a payment system that is designed primarily for them. The use of business expenditure cards is a great option. With the expenditure cards, companies can pre-load them with a certain amount to be used for a variety of out-of-pocket expenses, including fuel, dining out, accommodation, and much more.
Field employees are allowed to spend as if they were using a company-issued credit card. However, managers and the accounting division can establish expenditure limits for each card and regularly monitor employee usage at any moment.
Another greatest option for managing expenses while making online reservations for things like accommodations, transportation, and travel is a virtual credit card. These are also perfect for online advertisements and subscriptions to services. These cards can be utilized as needed by company employees and are real-time controllable through a secure internet interface. It allows employees to effortlessly make purchases online while providing a transparent and thorough oversight.
Conclusion
Field employee expense management involves more than merely monitoring the field employees' expense and reimbursement requests. With the appropriate management practices, field employee expense management does not need to be difficult but is essential to the company's operations.
< align="justify"p>Businesses can save time, and money, and receive useful information about the monetary well-being of their company by automating the employee expense management system. One can utilize the time saved by getting away with manual expense recording to evaluate the financial data as opposed to gathering it. Companies' own automated expense reporting gives them the knowledge they need to make more intelligent decisions that will help their business flourish.