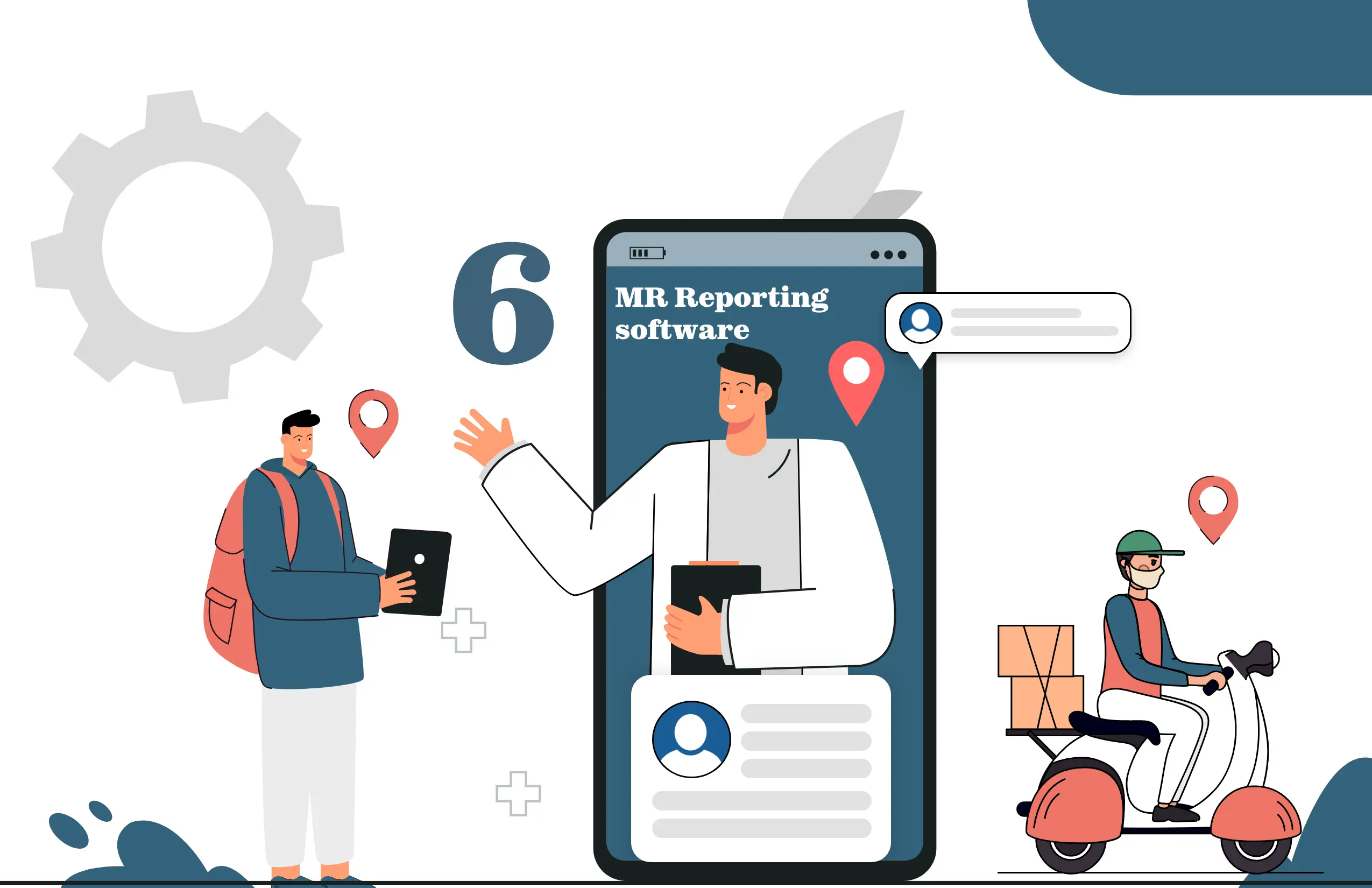 6 Best MR (Medical Representative) Reporting Software
Medical Representatives, or MRs, are an essential component of any pharmaceutical industry. Any organization's entire sales are typically based on its MRs. The success of medicine sales is a key factor in how the pharmaceutical industry performs. Pharma businesses must continuously improve their sales workforce system using any field employee management solution. Implementing the finest MR reporting software further into a firm's business model is one of the effective techniques to foster a productive setting.
Technically defined, MR reporting software is a field sales rep management software created exclusively for sales and service employees in the pharma industry. The software is a powerful field monitoring and automation system that allows managers to easily monitor their medical representatives (MRs), and their activities on the run, manage their appointments, assess overall effectiveness, and scrutinize particular reps' sales pushes. The application enables the organization to benefit from increased productivity and revenue if the firm continuously manages the sales team. Here is the list of the top 5 MR reporting software for your pharma company.
What Is MR Reporting Software?
MR reporting software is a cloud-based software designed specifically for the pharma industry and for the pharma industry field workforce. At each level of the pharma sales cycle, this software will seamlessly capture all the necessary information and other details and reports it directly to the sales managers. This is a sophisticated field force management and automation software that allows field managers to efficiently track the tasks of medical reps while they are working in the field, manage their work timelines, check on how each representative is managing their orders, and keep tabs on their whereabouts.
Target-setting, instruction-giving, and information-delivery become easy and quickly reach the sales persons without any interruption. On the other side, it promotes efficiency and intelligence work, which ultimately results in good sales gain. The software enables the business to gain from increased output and profit margins by proactively streamlining the resources utilized by the sales force.
List Of 5 Best MR Reporting Software For Medical Reps
Lystloc
Lystloc is one of the top pharma MR reporting software businesses were searching for. From the comfort of your workspace, instinctively know where your MRs seem to be. Provides real-time tracking of sales reps' present working locations, commutes, and route planning is made simple and quick. MRs can record their check-in and check-out times directly at the client visit/doctor appointments. With the use of the Lystloc software, tracking sales professionals' work schedules and deliveries has become simple. Now, there is no need to update their top managers over the phone 'n' number of times.
A single-tap authentication allows MRs to record their daily attendance during working hours from any place, eliminating the need to drive to the office. Using the daily data gathered, generates contemporaneous, customizable reports and analyses. The MR reporting software provides you with the data you need for a variety of attendance-related statistics, including visibility into worked hours, shift timings, and other factors to continuously raise pharma productivity standards. It is not necessary to invest a lot of time and effort in producing manual data reports.
Key Features
Live Tracking
Task Allocation
Expense Reimbursement
Distance & Fuel Expense Calculator
Customizable MR Daily E- Reports
Route Planning & Optimization
Territory Mapping
Essential SFA
An easy-to-use mobile and computer platform called Essential SFA MR reporting software assists businesses in keeping track of, evaluating, and reporting on their field sales force. The MR reporting software automates the sales activities, allowing for greater and more accurate insight as well as market coverage all the way down to the final yard. Essential SFA software, with its numerous functions, satisfies all of the pharma company's needs. Salespeople can view their productivity and effectiveness through this software.
Essential SFA helps a pharma firm save time, energy, and money. This software entirely automates the medical rep's daily work plans, and sales call reports and provide a complete trip plan. Doing away with pen and paper, the software enables businesses to quickly and effectively analyze and estimate the sales funnel. The commercial field workforce uses this software to aid in developing and carrying out its sales strategies.
Key Features
Offline Capability
Monthly Activity Plan
Geo-tagging & Geo-fencing
Multi-Language Availability
Leave & Attendance Register
Salestrip
An all-in-one inclusive tool for pharma sales reps, Salestrip sales workforce automation is also known as MR reporting software. It allows managers to keep real-time track of sales operations and processes, customer relations management, web polls for specialists, sample maintenance, product detailing, sales productivity dashboards, and other relevant data. Users can personalize it and link it with other applications and modules to get the most out of this software.
The Salestrip MR reporting software which is built with cutting-edge technology has a variety of configurable capabilities that allow sales managers to quickly and efficiently meet business requirements. With the help of Salestrip, managers and the sales force are given the freedom to make well-informed choices that are consistent with the firm's sales model, thereby increasing sales and profitability to the maximum capacity feasible. Benefiting functional modules that support the core and important sales activities are included in Salestrip, making it possible to chase more sales in a shorter time frame.
Key Features
Leave Management
Expense Management
Doctor Appointment Management
Order Management
Daily Call Report
SANeForce
Pharma companies can remain at the forefront of the evolving industry trends due to SANeForce. This MR reporting software is a solid strategy for successfully following and accomplishing business goals. For improved performance, the field force's main competencies can be evaluated. With the aid of this software, salespeople are able to recognize, evaluate, and build solutions for medical demands. The field force becomes a client-focused field structure as a result of daily sales reporting. Simple, digital reporting allows the sales force to focus more of their time on selling the product.
Field medical reps can get their real-time daily activity updates through the dashboard and mobile platforms. The MR reporting software has the capacity to change the way that reports are organized depending on the operational structure of the workforce as well as the employee hierarchies. The software can be used to submit the field sales employee's monthly travel plan. With the press of a button, they can be linked with the platform to map various sales territories. For this subsystem, new territory categories that serve as the basis for managing field force expenses will be developed. It is simple to assign, relocate, remove, or restrict a sales territory.
Key Features
Standard Tour Plan
Monthly Work Plan
Chat Collaboration
Activity Tracking
Customer & Business Monitoring
SalesBabu
SalesBabu is a digital MR reporting software that helps businesses manage their field MR's daily call reports, everyday work reports, electronic detailing, sales, inventory tracking, and real-time GPS monitoring of employees. With the help of MR Reporting software for medical reps and CRM platform for pharma marketing organizations, scheduling all doctor's visits is now a simple job. The software repository module allows the medical rep to keep a list of doctors that covers their names, specializations, contact information, times of visits, and other related information.
Using a comprehensive interface with graphs and maps, the CRM software assists in monitoring the MR at any time and from any location. A sales manager can also keep an eye on the MR's field activity on an everyday basis using this MR reporting software. They can provide the sales reps objectives for their sales as well as directions from HO to the MRs. These goals and directives are promptly sent to the MR's tablet, phone, or laptop. Through SalesBabu's MR reporting software, MR's daily tasks are made simpler and more comfortable. It includes all pharmaceutical SFA functionalities needed to track, manage, and enhance commercial operations.
Key Features
Sending Bulk SMS to Field Reps
Monthly Expense Report
Daily Call Report
GPS Tracking
E-Detailing App
Ammras
Field MRs are able to organize a better route plan with the aid of Ammras MR reporting software by taking into account all the relevant aspects, including client visit dates, sales call module without a lost call, promotions, sales conversions, and more. How does a person retain these kinds of things? Ammras software assists them by keeping on top of such issues and automating scheduling to the greatest extent possible. With the help of this MR reporting software, sales reps may swiftly review prior to joining a client contact, making them far more organized and sale-ready.
Significant information is captured in by the Ammras sales rep software and is immediately included in the daily job report. Take no more time than necessary to generate the daily call reports of the field medical representatives. The software aid companies in viewing real-time reports that include teammates' GPS location tracking. With the MR reporting software, managers have access to all of the daily live monitoring details, such as the work area and physicians planned, the declared territory, the client visited, the product sold, and the response, etc.
Key Features
Lead Management
Inventory Management
Billing & Invoicing
Online Reporting
Sample & Gift Inventory
Conclusion
In order to increase field sales and overall profitability, any pharmaceutical company needs to have powerful field MR reporting software to increase the effectiveness of the sales and marketing teams. Field salespeople and their teams are more engaged when mobile sales force automation is deployed appropriately, which enables even more interpersonal interaction, more confidence, and increased sales profit. In the coming future, pharmaceutical corporations will surely integrate virtual reality into their automated sales force, which will increase the effectiveness and productivity of pharma sales MRs.