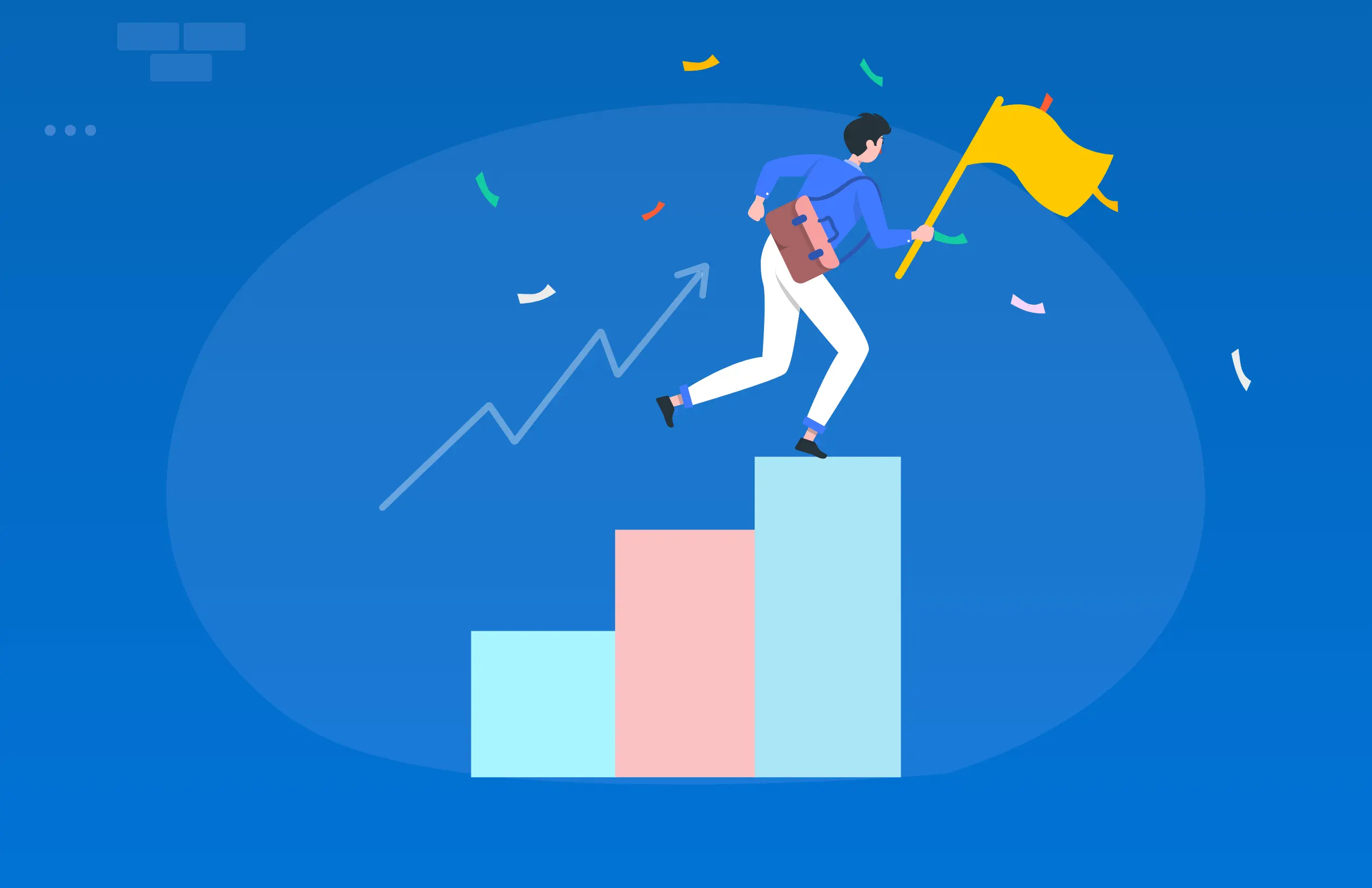 What makes Lystloc one of the leading Field Force Management Software in India!
Field force management software

A business that has a field workforce needs to monitor and record the activities of the employees. A field force management software, also known as field service management (FSM) software is used to digitally connect with your workforce from wherever you are. This software effectively coordinates all the activities of the field employees and generates reports based on that. Be it a FMCG marketing team or a sales employee or a construction site engineer, FSM apps can be customized based on the needs of the particular industry. Lystloc is one of the leading FSM software that helps to effectively manage your field employees and is successfully used by more than 3500 clients across industries all over the world.
About lystloc
Lystloc is a SaaS-based platform that provides location-based intelligence and analytics. Lystloc was built as an in-house application to manage our distributed team across countries. Once experiencing how the fully functional app solved all the location-based challenges and increased business productivity, we decided to help other organizations with our product.

The outcome? Since 2017, we are helping more than 3500 clients across various industries and countries to manage their field workforce in a time-efficient manner. Our clients are renowned companies based out of India, the USA, Qatar, Malaysia, Bangladesh, etc and we are expanding our territory to many other countries as of 2022. Lystloc's features are user-friendly as well as powerful, check the picture below.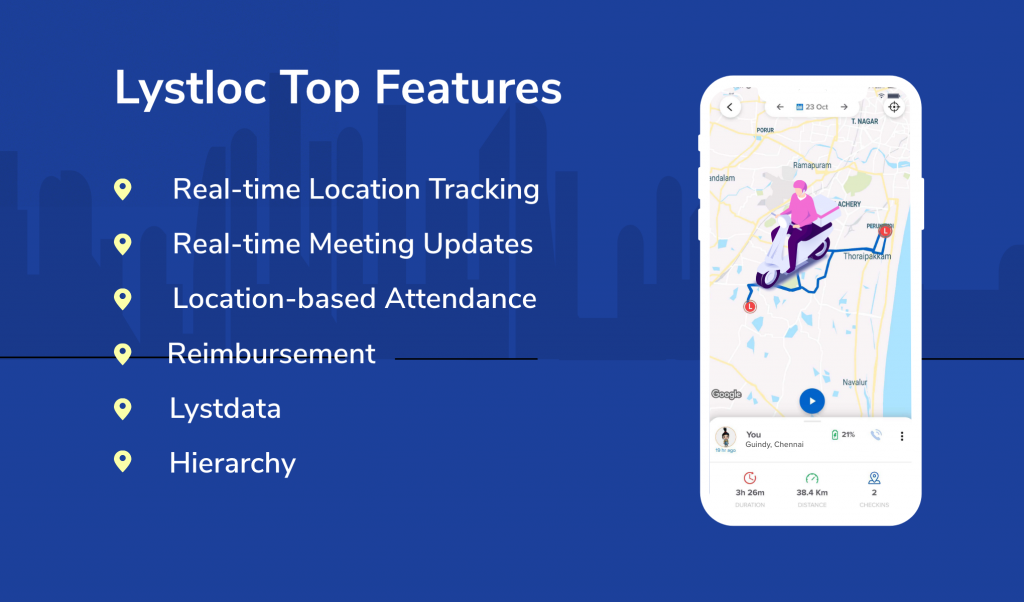 What makes Lystloc one of the leading field force management app in India?
Being the best in the industry means maintaining high standards of service and support.

We can reach and maintain this height by ticking all the checkboxes mentioned below one by one:
1. Client satisfaction
The ultimate aim of Lystloc is customer satisfaction. We treat our customers with utmost priority and solve all their problems and queries related to the business promptly. We also take note of their needs and pain points and customize the features accordingly. Some of our renowned clients are BPL medical technologies, Otto, Blackbuck, JCF, Athenese, Alfapeb, etc. Our sincere effort to provide world-class end-to-end solutions to our clients over time makes Lystloc stand out from the rest. The proof is the clients' feedback as below: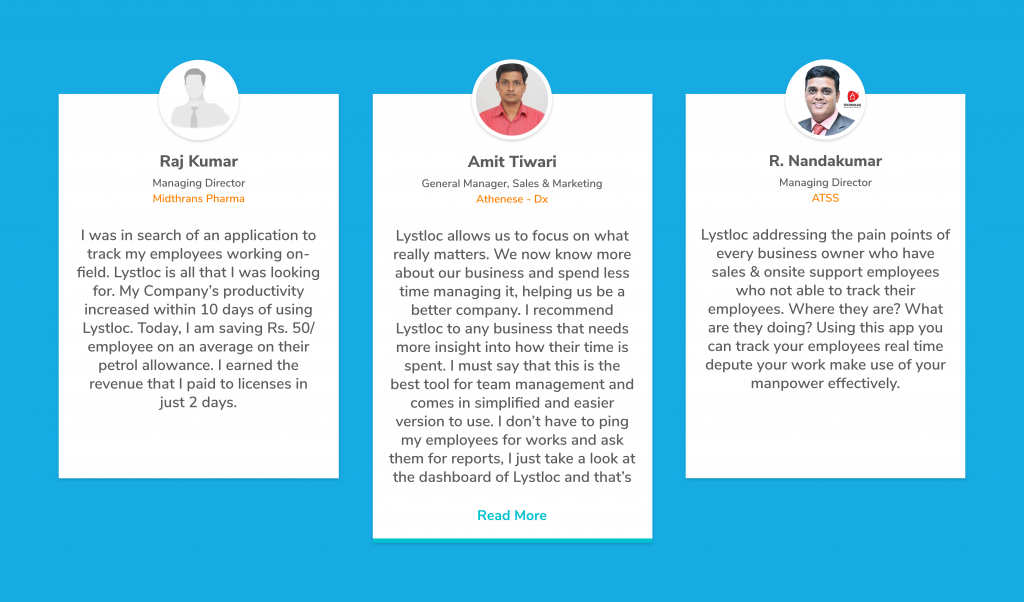 2. Pricing / Affordability
To start with, Lystloc provides a 14-days free trial for the customers to experience all its features. You can also take a free demo to know about Lystloc features first. After the trial period, there are 3 types of paid plans available with monthly or annual subscription options.

| | | | |
| --- | --- | --- | --- |
| Monthly / Annually | Basic | Standard | Enterprise |
| 3 months free for annual subscription. | ₹99/user/month | ₹199/user/month | ₹249/user/month |
This is very affordable pricing compared with other competitors in the market today.

3. Versatility
Designing an app that serves across various industries/domains, and also fits the requirements perfectly is a winning quality. Lystloc wins this perspective of the business.
Lystloc is serving the following industries successfully for years:

Healthcare – Medical equipment manufacturers, pharmaceuticals, diagnostics, and related life sciences. From medical representatives to service engineers, Lystloc helps to monitor their on-field attendance, task status, etc.
IT – The biometric attendance system can be replaced by Lystloc's location-based attendance and the remote workforce can be managed with task management features.
Service providers / Delivery – Almost every B2C business depends on home delivery services today. Lystloc helps them to locate the clients accurately, saving fuel costs.
Construction industry – Be it site engineers or the construction material sales or marketing people, they need to be on-field most of the time. Lystloc's location-based attendance, task management, and sales reports help them save a lot of time needed to record their activities.
Lystloc's features can be customized and used in the following industries too:
Logistics and Transportation
Financial sector
Hospitality and marketing agencies
Automobile and manufacturing industries
4. Customer Support
At Lystloc, we strongly believe the quote,

"There's a place in the world for any business that takes care of its customers after the sale " – Harvey Mackay.

Customer support is one of the crucial deciding factors for the success of an application. If you are interested in Lystloc, you would be able to take a free demo and get in touch with us through the help center or WhatsApp support options mentioned on our official website. Existing customers are provided 24*7 customer support to clear their doubts and make them comfortable using our software. Our customer support system is aligned with increasing our clients' workforce productivity.

5. Awards and recognitions
A positive client feedback is our first award. We are receiving it from all our clients and we feel happy to be a part of their business success. Apart from it, we also feel proud to be recognized by Software Suggest, a leading B2B product, and customer review directory. Lystloc has been awarded "Highest Quality", Expert's choice 2021" and "Best support 2021". These hree prestigious awards are the recognition of Lystloc's teamwork. We strive to achieve many more awards and wide global recognition in the future.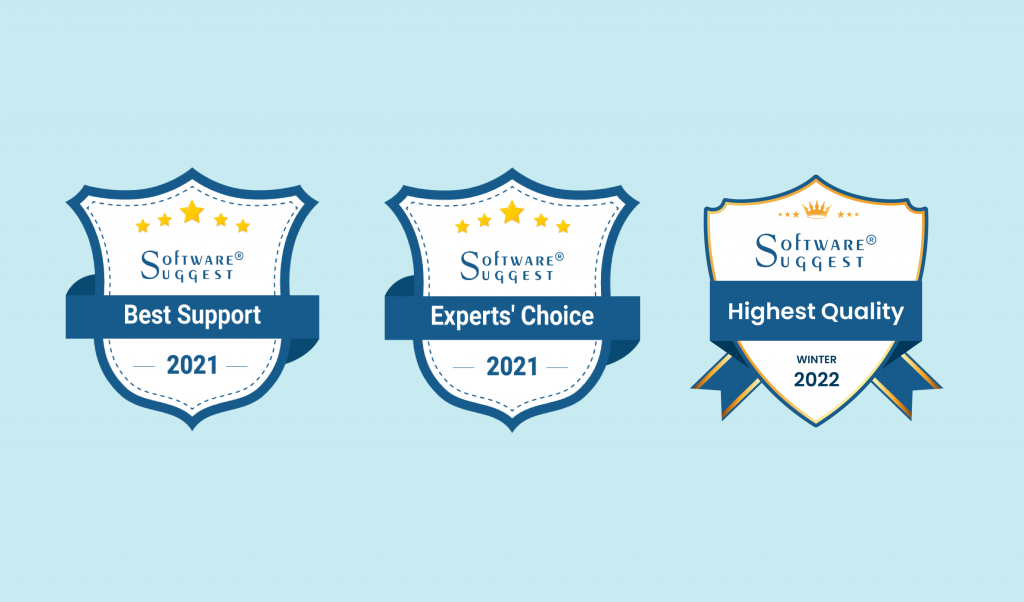 Future enhancements
At Lystloc, we constantly give our best in enhancing the user experience with app updates and bug fixes every now and then. Our features can be customized according to the business requirements easily. Along with the existing features we are getting inputs from our clients and working on adding new features as well as implementing certain changes in the existing features for ease. For example, we are planning to provide our enterprise plan users with an editing option for meeting notes and enhancing the route plan module as well shortly
Final thoughts
A field force management software is of great use today as most of the businesses involve remote work and need to be managed online to save time and effort. We are helping both the business owners and all kinds of field employees from salespeople to delivery partners, medical representatives to service providers, saving their time and effort, and increasing their productivity.
From location-based attendance to task management, with Lystloc every report is accessible in just a few clicks. Hence, Lystloc is undeniably the best in serving the business, solving all their location-related problems faced in managing their remote / on-field workforce.
So if you are a business owner and looking for an effective workforce management app for your field employees, Sign up for a free trial with us now at https://app.lystloc.com/register