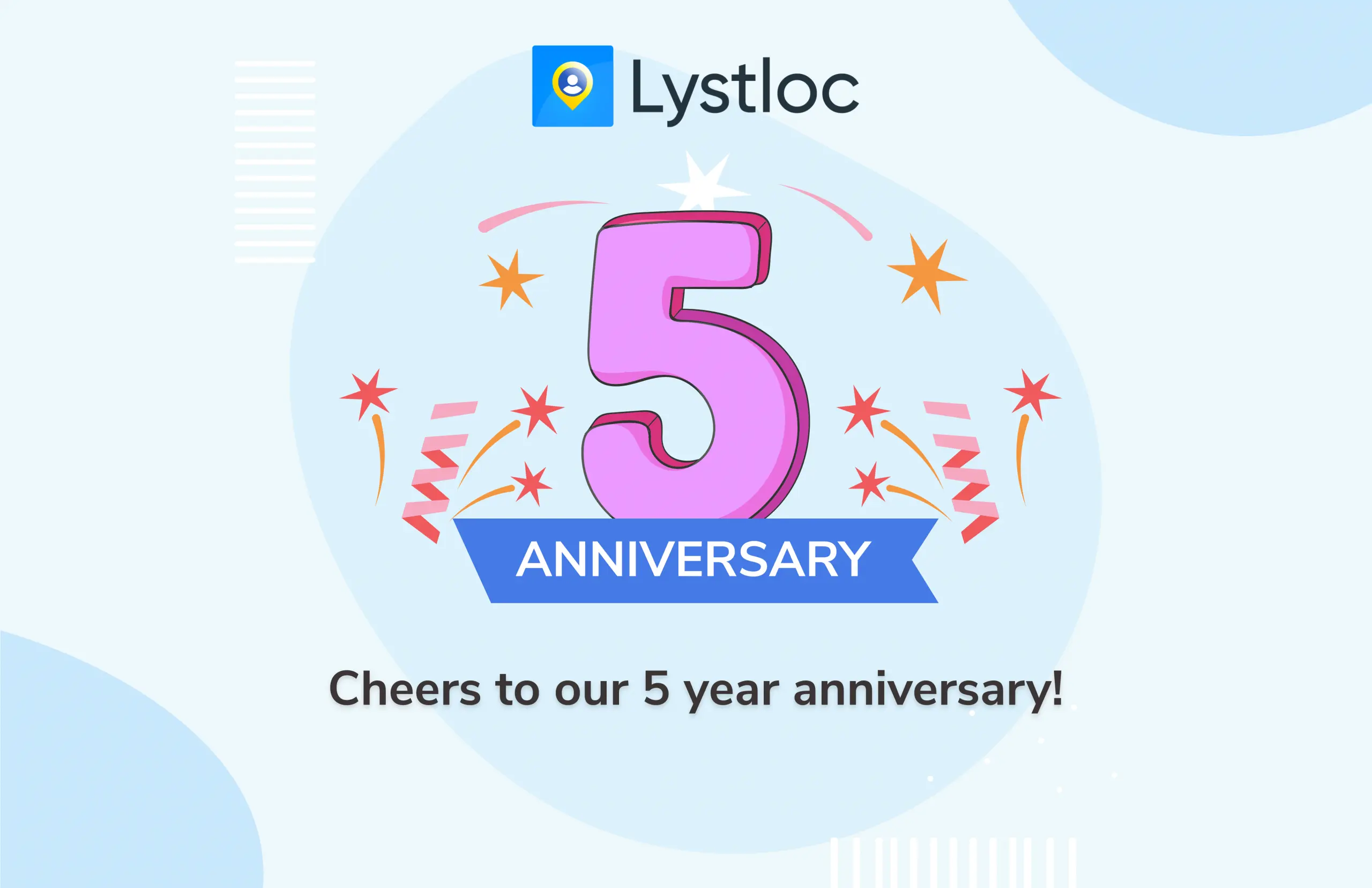 An Incredible 5 Years Journey Of Lystloc
Three Cheers! Happy 5th Year Anniversary To Lystloc!
Yes, Lystloc has successfully completed its incredible and glorious five years journey in this competitive business world. On this happy occasion, we just wanted to look back these five years in five minutes – a short recap of events.
A company's history is the founding bedrock upon which it stands and continues to grow. And while it's natural to want to highlight only the good times, an effective and authentic history embraces every aspect of a company's legacy – both the high and the low points.
While every company's history is unique in its own way, here is our one and only unique story for you.

A Small Startup to a Successful Business Firm: How The Journey Started?
Some people are destined to be entrepreneurs. From the time they get through school, or maybe even before that, their hunger to start and lead a successful business will motivate them to stop at nothing to make that dream a reality. Instead of waiting for someone to give you a solution for your problems, it's better late than never to create your own solution which can help you as well as make you profitable. And that's how Lystloc got its vision and structure.
The journey of Lystloc started on 7th February 2017, born out of its own need to measure the productivity of its workforce who are on-field. We wanted to make decisions based on real-time location data rather than on assumptions. And we aimed to develop an application that can solve location-based challenges and provide data insights for strategic and tactical planning. Lystloc was initially developed as a simple mobile-friendly application for tracking employee attendance and meeting location that can be used to solve location-based communication queries and productivity challenges. After seeing the miraculous result given by the product we thought of improving it in a more advanced manner to help other organizations facing similar problems.
Also, another interesting fact about Lystloc is it was started with only 3 employees during its initial days. And now nearly 40+ employees are there in the Lystloc family. Lystloc has grown massively in these five years with regards to size also.

What is the Motive of Developing Lystloc?
Why did we name it "Lystloc"? The reason is our app is all about addressing and providing solutions for any type of location-based challenges faced by our customers. It deals with solutions based on locations which as a whole is a list of locations and thus the name, Lystloc (List of Locations)!
In a world full of competitors, having a clear motive is absolutely critical to start a business and run it successfully. It is an extremely powerful tool to achieve the best results you want. Having a motive means we have a clear sense of purpose. It means we have a much bigger vision of our business than simply setting and targeting short-term goals and tackling problems as they come along. Visions are driven by passion and dreams, and they are reflected through real efforts to provide real results.
The motto of developing and launching Lystloc is to democratize the location intelligence solutions to our customers in a high quality, affordable and scalable manner. We decided to provide Lystloc to our customers at a low cost and simple interface yet with great user-friendly advanced technology to make their works easy and comfortable from anywhere. The recent pandemic outbreak has helped us to understand the need for applications like Lystloc as many of the organizations have moved their office space to remote working. In addition, the high adoption rate of the digital medium and rapid pace of production in the post-lockdown era would encourage organizations to use field force management apps like Lystloc in the coming months.
Challenges Faced by the Founders in Initial Days
Businesses at the initial stage face a wide range of challenges and difficulties. Gradually, as the business grows, different challenges and problems demand different solutions. What worked a year ago might not be the best approach now. Finding and overcoming the common pitfalls associated with growth is essential if your business should continue to grow and thrive. Also, you need to ensure that the steps you take today put you in a better spot in the future.
"Success is not a big step in the future, Success is a small step taken right now ." In the initial days, Lystloc also faced wide challenges and difficulties similar to many other startups. Like technically the biggest challenge we faced is getting accurate locations from mobile phones. We had to write our AI algorithm to provide the most accurate location of the workforce to our customers. Though the client companies were ready to use our app, employees were a bit worried about their privacy crashing. But, we made sure to them that Lystloc is fully secured and follows a great privacy policy. The data shared in the app are secured with end-to-end encryption from the start built with highly secure systems and architecture modules. Specifically, fingerprint authentication is highly reliable and secure. Lystloc is of particular utility to organizations where security is a primary concern. With all these and also our app's growing features we easily retained our customers. Above all, our reliable customer engagement and customer support made customer retention possible in the initial stage itself.
Memorable Milestones Achieved by Lystloc in these 5 Years
Just like a milestone on the roadside marks how far you've gone, a milestone in business tracks your progress as you grow and implement your strategies & plans. They're what you use to manage responsibilities, track results, and convert your idea into a functioning business.
We are delighted to share that Lystloc is able to cross over a lot of memorable milestones in its journey. We were able to achieve some great sales targets and are proud that we became capable enough to attain them.
We crossed 1000+ businesses, catering customers of 500+ licenses, 20% MOM revenue growth, and Lystdata as a separate product to cater to our customer's Data Insights needs.
When we first onboarded BPL with 250+ licenses, the moment reflected the customer's belief in our product. A confidence-boosting moment that paved the way for many other customers in the future.
In 2021, we onboarded a unicorn company in India with 1000 licenses using Lystloc for their daily operations is one of the biggest milestones for us.
This doesn't end here, where we have more to add in the upcoming years.

Future Goals We Are Working On To
Goals give the path and a glimpse over our business to make our future visions and purpose become a reality. In order to recognize where we want ourselves to be in the next few years, we must have clear goals for our business. So, once you understand that setting goals clarifies purpose, life will become simpler and more meaningful. Goals are compasses, too; as your business grows, you can loop back to your idea and determine if you are still aspiring for the realization of your goals from your business's early days.
What are Lystloc's future goals? What is it aspiring to be in the next few years? We are working very hard on the goal of self-sustainability in terms of our operations and infrastructure cost by the next couple of months. The moment we achieve this target, the SaaS world will take a moment to look at us as one of the very few bootstrapped SaaS products that achieved that status. We are looking forward to growing in other continents by adding 50,000 users by Dec 2022. Aspiring to work consistently to make the product grow massively.