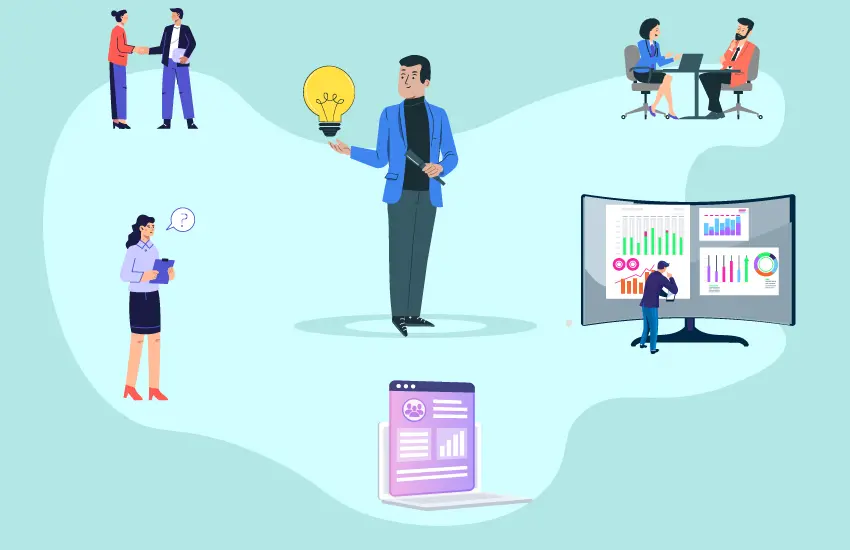 5 Quick Tips To Understand Your Customer's Mindset Like A Pro
Companies refer to the current era of business as the "period of experience." The development of digital technology has altered how companies continue to do business, driving them to offer the best possible customer experience in order to maintain their competitiveness.
The race for customer attention is getting more and fiercer as digital technology develops and grows. Companies that are unable to understand the thoughts and mindset of their customers lack the tenacity of more customer mindset-focused businesses.
"Think like a customer"- Paul Gillin
You must enter the minds of your potential customers if you really want to pitch your products and services and roll out advertising campaigns that connect with them. You must comprehend the precise reason for your target customer's requirement for your product in order to reach their thoughts.
Customers buy on emotion. What issue are you resolving, what need are you meeting, and what area of their business are you attempting to enhance? These things are very important to know from your customers in order to understand their mindset. It comes off as a bit dramatic. However, the more you are aware of your customers, the simpler it will be to draw them in, hold their interest, and win their trust.
"The customer's perception is your reality." – Kate Zabriskie
Here are 5 quick tips to understand your customer's mindset like a pro. These strategies can help you to know better about your customer's needs and expectations.
Real-time Engagement With Customers
Real-time customer engagement is advantageous to your business both now and in the future. You can improve marketing effectiveness, read customer mindset, win over clients, establish credibility, and become competitive.
Revenue and client retention increase out of an improved customer engagement. It can become a source of customer insight if done correctly. Thanks to social media, interacting with customers in real-time has gotten simpler.

Consider your developing relationship with your clients as a two-way track as you attempt to maintain their interest during the early phases of the customer journey. Try to attach a customer satisfaction survey to your email campaigns to invite customers to submit their views and ideas.
Live Video Streaming
Have a Social Media Presence
Conduct Live Chat
Create A Online Community In Social Media Platforms
Host Events/ Webinars For Customers
Ask More Questions To Understand Customers Well
The very first step towards becoming a trusted partner is getting to know your customer. What you need to learn is what they don't tell you. You will discover more the more questions you ask them.

You will have more opportunities to read your client's mindset as you learn more. Asking the correct questions and getting the appropriate answers will not only assist you to give your customers better results but will also strengthen your connections.
You can come up with innovative ways to add value for the customers and collaborate with the wider team if you have a greater grasp of the client's thoughts, goals, and difficulties as well as their requirements and values. Here are some of the questions you can ask your customers to read their mindset:
What Do You Need And Don't Need?
What Issues Are You Dealing With?
What Do You Hope To Achieve?
When Do You Want To Start, And What Is Your Budget?
What Do You Consider A Success?
What Will Happen Next, And By When?
Obtain Information From Customer Analytics
Each customer behavior, from clicking on a link to viewing a website, provides useful insight into the customer mindset. You can use a user behavior tracking tool to learn how clients engage with your website. Tools such As Google Analytics are excellent for obtaining data on things like bounce rate and time on page.
You should be able to draw conclusions from the behavioral data you gather about your customers' needs on what they don't understand, what they like and dislike, and how to improve their digital experiences. Examine the content of the page that customers are spending the most time on to see what is capturing their interest. More crucially, if a webpage has a high bounce rate, look into why customers are exiting.
Establish A Customer's Persona
You must first comprehend who your customers are in order to truly understand their thoughts. You can begin by creating a customer persona, which is a fictitious representation of your target customer, depending on research and information from your existing customer base.
By creating personas out of facts you collect, you may strengthen your relationship with your clients by going beyond using empathy to comprehend their mindsets. You can consider the requirements of that customer if you have a solid buyer persona.
Women in their 50s, for instance, may have different demands than men in their 20s. When you are later analyzing and outlining the needs of your ideal customer, a buyer persona aids in keeping them in mind.
Don't Make Assumptions About Them
Assumptions about the interests and views of the customer must be avoided since they're not seen as sensible marketing tactics. Any strategy that may have been effective for a year may not be quite as effective as the subsequent.
Clients' interactions with companies change with time, thus businesses must use current information about customers to develop strategies that will benefit the customers rather than relying on their decisions on past activities. As a result of the inflow of the most recent information, companies would get to know their client's mindsets better and just let go of preconceptions in order to succeed in their business results and offer better customer service.
Bottom Line
It takes time and effort to understand the customer mindset, but it's crucial for any company's sales process and business planning. You may more effectively personalize almost every part of your business, notably your marketing tactic, by understanding what your client's thoughts are. Moreover, once businesses are knowledgeable of the above-mentioned strategies, they will be best prepared to promote their products and services.
To better understand their clients, businesses can also use the assistance of professional customer support. Business organizations must use the data at hand to obtain priceless insights into their client's mindsets in today's complicated and constantly changing digital environment. These insights will enable them to increase their outreach to potential customers in the long run.