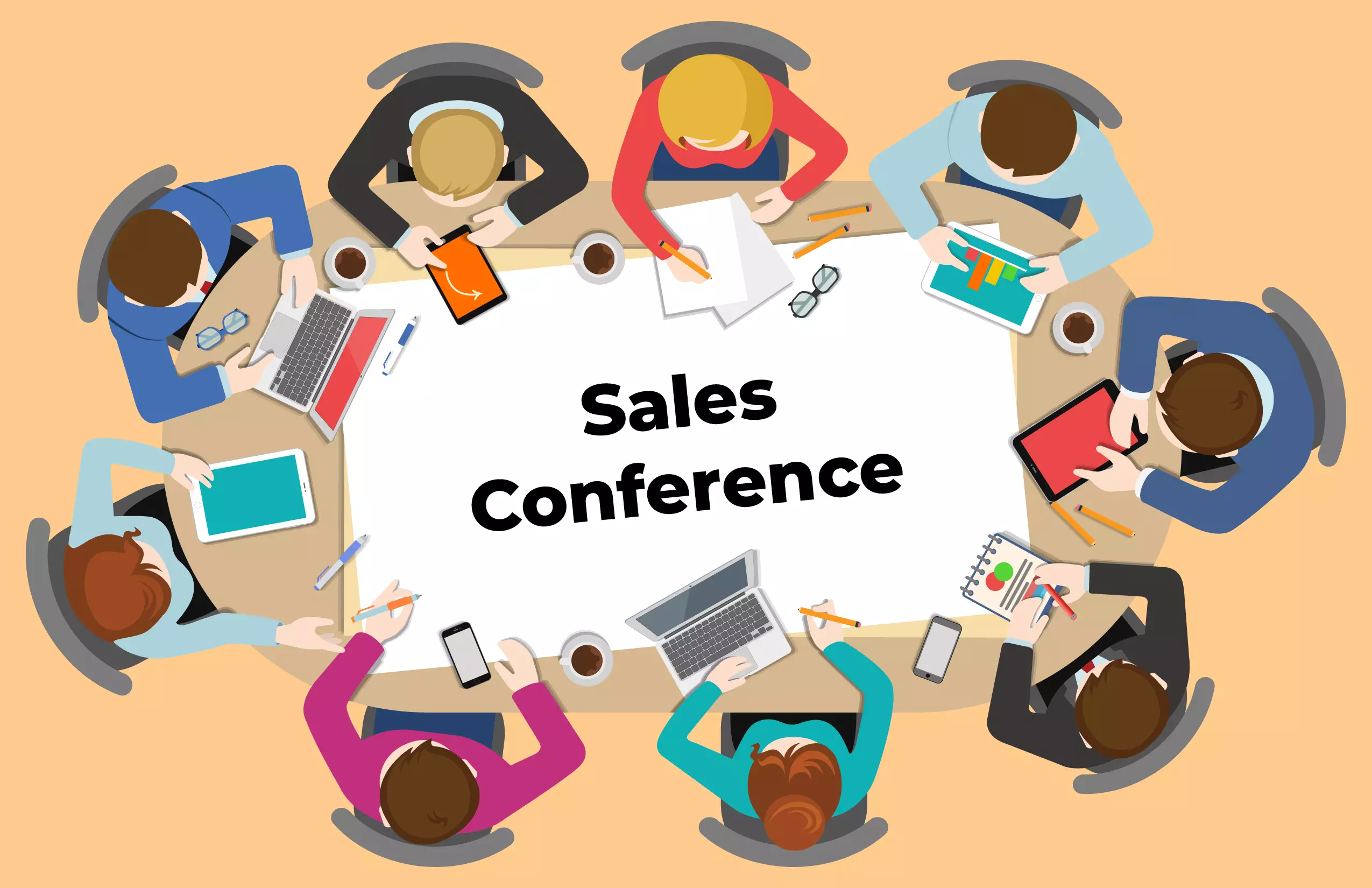 10 Sales Conferences Every Salesperson Should Attend In 2023
Sales conferences are an excellent idea to get your sales team away from the toil of the workspace and into the real world. Salespersons should regularly attend sales conferences to stay up-to-date on new business trends and modernization. When picking a sales conference, it's important to determine if the subject is a good fit for the sales field.
Many sales conferences are held every year, where thousands of sales professionals and business people share different ideas and visions. These events are held at physical locations and often have the potential for a virtual presence. The hybrid form allows sales reps to participate from home, saving time and money.
What Is A Sales Conference?
A sales conference is an event where sales reps learn the latest approach and game plan to increase sales. Additionally, sales conferences are a broad place to meet and connect with sales professionals from other companies and businesses. A sales conference is an extensive sales meeting, similar to a marketing or leadership conference. Sales conferences provide encouragement and acumen for sales reps to guide the future of sales. Many consider that being inquisitive and gaining knowledge about how new trends are impacting their business will lead to success. Events like this are crucial for professional advancement.
List Of 10 Sales Conferences In 2023 That Every Sales Person Should Attend
Alexander Group Operations Forum
Date: June 10 – July 15, 2023
Place: Virtual Conference
Part of The Alexander Group's Leadership Series, this year's Annual Operations Forum is now taking place virtually, offering five weeks of free registration. The theme is "24/7 customer experience"—how to respond to fast-changing market circumstances and customer demands. The Operations Forum focuses on revenue progress, bridging the gap between marketing, sales, and service to fulfill customer expectations before, during, and after the sale. Topics consist of CRM, CPQ, and other promotional tools, as well as sales organization approaches, illustrations, and tactics. This conference offers participants the opportunity to learn from and interact with Fortune 1000 leaders.
Date: October 26 
Place: Virtual
Sales Development Excellence is a virtual sales conference for all sales professionals, leaders, and enthusiasts to explore the latest key aspects of sales development mastery. This event is perfect for those wanting to attend expert panel discussions, masterclasses, and hands-on workshops on crucial sales topics, all from the comfort of their home or office. The SDE speaker lineup features a diverse group of renowned industry leaders, while the agenda is packed with insightful themes, from precise targeting to AI-powered engagement and more.
Forrester's B2B Summit
Date: June 5 – 7, 2023
Place: Virtual, Hybrid, In-Person In Austin, TX
Research and consulting firm Forrester envisions that 2023 will be an "exciting while challenging, journey for B2B sales professionals." The three-day conference in Austin, Texas, will center on the importance of calibrating sales, marketing, and buying The program includes a content strategy, data insights, measurements, a leadership strategy, and pipeline management, such as interest formation.
SaaStr Europa 2023
Date: June 6 – 7, 2023
Place: London, England
SaaStr, the deep-rooted technology and sales event for global SaaS companies, has declared that it will return to London for the fourth time. They plan to draw an audience of over 4,000 SaaS founders, investment capitalists, and salespersons. Conducts over 100 workshops and conferences and offers over 1,000 brain dates and mentoring sessions.
Inbound
Date: September 5 – 8, 2023
Place: Boston, Massachusetts
Inbound is the once-a-year sales conference conducted by Hubspot, one of the largest companies in enterprise software. Each year, the conference draws an extraordinary line-up of speakers, allowing salespeople to connect and learn from some of the brilliant minds in sales, marketing, and revenue. Forbes called this inbound conference a forum not to be missed. Inbound keeps you up to date on the current sales trends and advancement strategies and inspires affinity and entrepreneurial spirit in the salespeople.
Dreamforce 2023
Date: September 12 – 14, 2023
Place: San Francisco, CA
Hosted by tech jumbo Salesforce, Dreamforce is one of the world's most exciting business conferences, attracting over 100,000 participants every year. The event combines inspiring personal narratives with fascinating and contemporary digital experiences. Expect Salesforce training and certification opportunities, as well as top-notch speakers (Jennifer Hudson and Matthew McConaughey in 2022) at Dreamforce. This is a must-attend conference for any evolving salesperson.
Sales Success Summit 2023
Date: October 16 – 17, 2023
Place: Austin, TX
The conference, which is a follow-up to the well-liked "Sales Success Stories Podcast," aims to elevate salespeople from "great to outstanding" by drawing from the top 1% of salespeople at several of the biggest sales groups. Despite the fact that the speakers are experts in their respective companies, everyone is invited to participate, ranging from small-team members to senior sales executives. Keynote speeches and small-group discussions are on the itinerary.
Seismic Shift
Date: October 23 – 26, 2023
Place: Hybrid, In-Person In San Diego, California
Salespeople and marketing personnel eagerly await the Seismic Shift sales conference. This three-day course is presented by the sales enablement platform Seismic. There are more than 45 seminars and several speakers during the event. Focusing on subjects like employing storytelling to increase client engagement and retention, the presenters talk about sales ingenuity.
Salespersons can acquire fresh perspectives through Seismic Shift's creative talks in order to drive the company's future. Seismic Shift approaches sales innovation with an interactive strategy in a friendly and cooperative atmosphere.
Sales Innovation Expo 2023
Date: November 29 – 30, 2023
Place: London, England
This sales conference is focused on innovation and motivation, as the title suggests. Throughout these fascinating 2-day conferences, topics such as sales commitment, empowerment, intelligence, management, resources, and tactics will be covered. Everyone who attends at the least will be reenergized and encouraged to carry on their sales career due to real-world scenarios and live demonstrations. However, they might even leave the conference with piping novel business ideas.
Sales Enablement Summit
Date: March – November
Place: Virtual, In- Person In Several Locations
The event features engaging workshops, keynotes, and panel discussions on designing winning sales techniques, attracting customers, and training salespeople. Sessions are organized by the Sales Enablement Collective, the world's largest network of sales leaders, and may be among the largest sales conferences of the entire year with more than ten locations including London, New York, and Sydney. There will undoubtedly be something for everybody in the presence of over 200 professional speakers and many more lectures, seminars, workshops, roundtables, and other events.
Date: Coming Soon
Place: Virtual
Attend Skaled's online Forefront conference to give your sales strategies a fresh start. Here, you may abandon ideas about sales success that date back to 1992 or even 2023. This will serve as a forum for putting together the sales community for engaging in talks about the state of the sales industry presently and where they believe it is moving.
Summing Up
The significance of professional sales training may be learned at sales conferences, which also offer chances for ongoing development and the ability to network with other business experts. Salespeople may stay current on their skill sets and interact with people from various enterprises at these kinds of events. Marketing and sales conferences continue to be an effective way to bring together professionals in a certain field, even in the modern era.