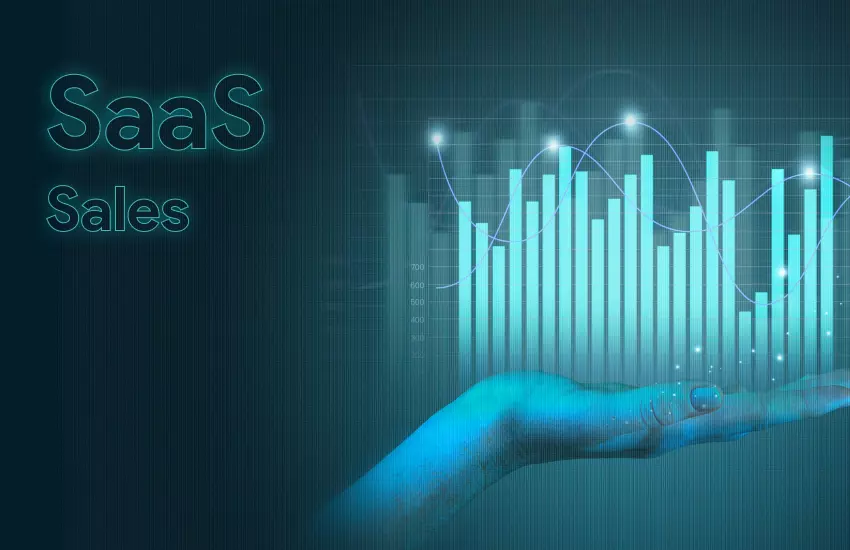 A Definitive Guide To SaaS Sales In 2023
Are you a working professional? Then, you must be using at least 2-3 SaaS applications at work. For example, Zoom for meetings, Slack for internal messaging, Calendly for scheduling appointments, and so on. McKinsey reports say that the Indian SaaS market will hit $50 – $70 billion by 2030! With so many unicorns emerging, it is no wonder that India will be an integral part of the global SaaS market.
Having said that, SaaS sales is tricky as you need to position your product in the market appropriately. Positioning is what makes your product stand out from the crowd. For that, you need highly skilled sales professionals who can convince people that your product has a distinctive advantage over others. Here is a comprehensive SaaS sales guide to help salespeople achieve their sales target in 2023 and beyond.
What Is SaaS Sales? Why Is It Different?
One major difference between the traditional software and a SaaS-based application is the flexibility which means you pay for what you use. SaaS companies have their own Engineering, Product, and Customer Success teams to maintain, fix bugs, and provide support to the users. The process of selling these cloud-based / web-based software to other organizations is called SaaS sales. In general, SaaS applications work on a subscription basis with customized plans for different users. Also, most of them provide free trials which enables the users to explore all the features of the app before paying for it.
As a SaaS salesperson, you must know the product down to the last detail. For example, let's consider you have built an automated reporting app. You need to hire highly skilled sales representatives who empathize with the employees by understanding the pain of preparing manual reports. Because, in the competitive market, you can't just explain the product features and make them buy. You need to make people visualize and feel the benefits your product brings to their business.
SaaS Sales Process
A typical SaaS sales process involves the following steps:
Prospecting – The process of finding and identifying the ideal customers for a product.
Qualifying leads – Through initial conversations with customers, you will understand their requirements. If you think your product will meet their business needs, the next step is to schedule a product demo.
Demo presentation – A visual demonstration of the product highlighting its benefits. Pro Tip: Keep it precise and address the customers' pain points.
Follow-ups & closing deals – A riveting demo will make the customer purchase right away. But if they delay due to any reasons, as a salesperson it is your responsibility to follow up and persuade them to close the sale.
Objection handling – Studies say that 60% of buyers say No four times before saying Yes. So, if you get a No, don't take it personally and try to find the reason behind it and try again later.
Nurturing customer relationships – Client retention is the best and most beneficial strategy in SaaS sales. Nurturing relationships with existing customers will bring you opportunities to upsell and referrals.
Types Of SaaS Sales Models
The 3 most commonly used sales models in SaaS are as follows:
Self-Service Model
The customer self-serve model is the most basic SaaS sales model which works well for small organizations with limited budgets. These customers will be drawn towards your product through the awareness you create with the marketing activities. They do their research beforehand and will be ready to purchase with minimal guidance. For example, Spotify and YouTube premium plans provide ad-free access to their content. These companies have created awareness about it through the ads. Hence, the users will follow a simple payment process to subscribe to them.
Transactional Model
I'm a business owner and I should know whether it is worth spending on this SaaS application. I should research about it and have a conversation with the vendors. If it's convincing, then I will purchase it. If this is your ideal mindset, you follow a transactional model. Most SMEs come under this category. This could be challenging for your sales team as they have to convince and guide the customers throughout the selling process without being pushy. Customized features, dedicated support, and attractive offers are some of the strategies that work in a transactional model.
Enterprise Model
Large organizations and multiple decision-makers make enterprise sales models a bit complicated compared to others. A highly efficient sales team who knows all the technical details will be required to answer all the queries of the stakeholders. They will have the budget ready but the process will be long as they have multiple options available in the market. They will explore all their features thoroughly before deciding. A dedicated sales team who supports and follows up with them consistently will strike the deal for you.
Successful SaaS Sales Strategies To Follow In 2023
Quality Hiring: Hire highly-skilled sales professionals who strive to bring the best for your business. Today, sales is all about being unique and ready to go that extra mile.
Free Trials & Competitive Pricing: These are the two underrated strategies in SaaS sales. Free trials enable users to explore your product features and a competitive pricing strategy will increase the sales while safeguarding your profit margins.
Content Marketing: Nurturing the leads and existing customers by providing value through content over a longer period will be helpful in both client acquisition and retention. It can be an informative blog, a creative social media post, or a brilliant newsletter that catches the attention of people.
Make Use Of Automation: When your business grows, so is your client list. Work smart by using tools to send automated replies, timely follow-up emails, schedule meetings and social media posts. This will save you time and improve productivity.
Leveraging data analytics to get strategic data insights, getting feedback and testimonials regularly, working on regular updates and bug fixes, and addressing customer queries with a dedicated customer success team are the other strategies that will collectively assist you in hitting your sales targets in 2023 and the upcoming years.
Summing Up
Fewer costs, no installation or maintenance involved, easy integrations, and upgrades are the major reasons that attract businesses towards SaaS applications. This complete SaaS sales guide is for those who are aspiring to be successful in SaaS sales. With the right skills and strategies, you can achieve your targets consistently. In case you need a tool that helps you manage your tasks and leads effectively and send updates from anywhere, visit https://www.lystloc.com/ to get started.