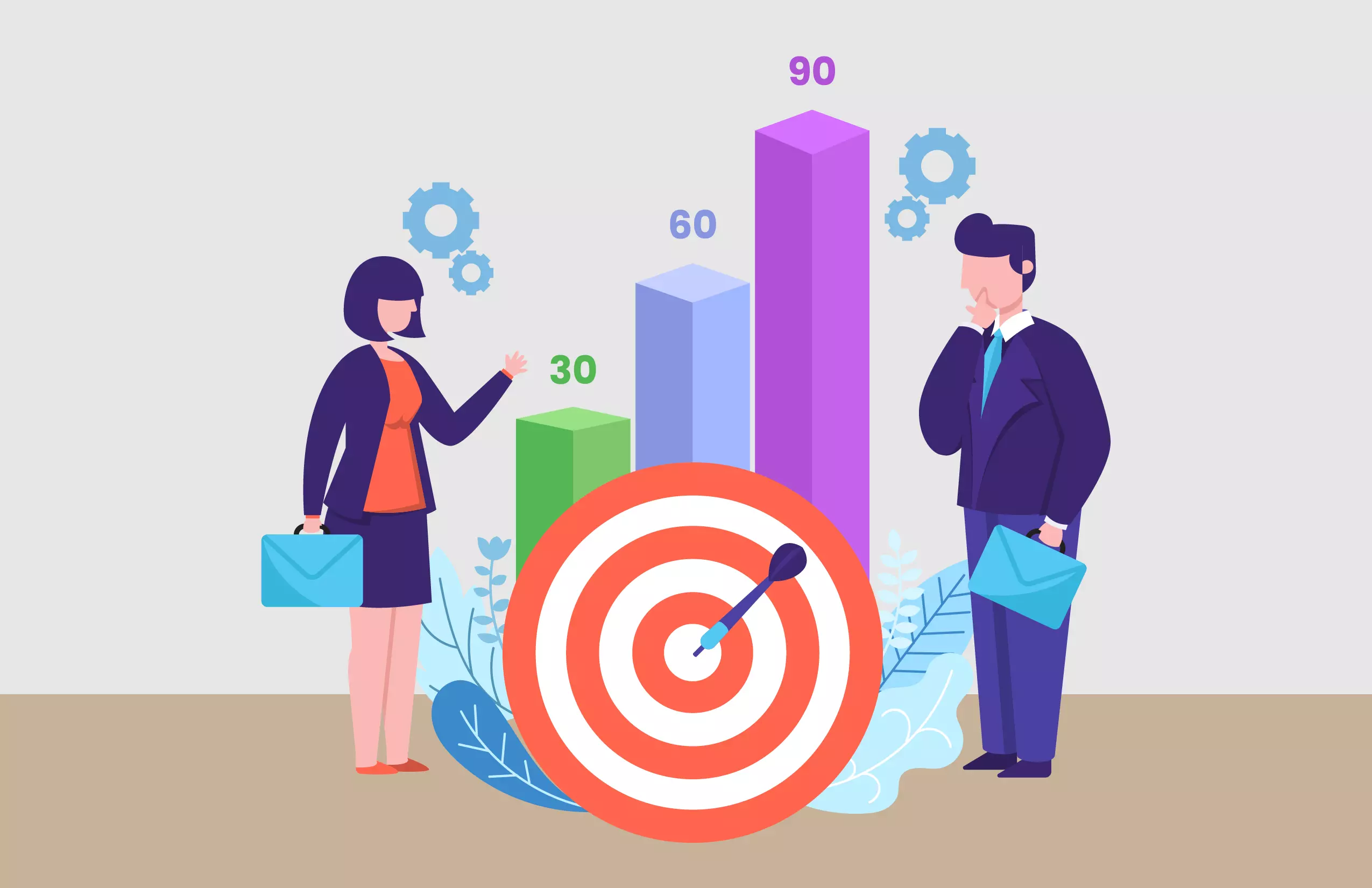 How to plan a 30 60 90 sales plan with an example
What Is a 30-60-90 Sales plan?
A 30-60-90 sales plan is a detailed outline of what a new salesperson or sales manager expects to learn and perform in their first three months on the job. You can facilitate your transition into the start-up entity as a sales representative by organizing and setting goals.
Try to design success plans.
Eager to discover more about the business and integrate with the existing team.
Possess precise ideas to enhance the organization.
You'll begin off on the right platform if you put this strategy into effect. A well-considered 30-60-90 sales plan supports your launch and first impression. Furthermore, your sales manager will be able to evaluate your desire to progress inside the company and adapt to the new assignment. It furnishes your management with a glimpse of how your first 30, 60, or 90 days in the business went.
You have a tremendous chance of taking over your sales managers at this juncture. Your enthusiasm for your new position and willingness to learn new skills can assist in gaining your manager's trust and respect.
Why do you need a 30-60-90 sales plan?
A 30-60-90 sales process enables sales managers and new sales representatives that track achievements, challenges, and triumphs.
This approach may be employed by sales leadership to monitor how well sales team members are completing their duties and to determine whether any of them need more coaching or training. Documenting goals and accomplishments are valuable for managers and employees alike since it permits both sides to see material that they would have otherwise forgotten over time.
Key steps for writing an effective 30-60-90 sales plan
Figure out a plan = Sorting your ideas primarily by each 30-day increment.
Orientation and training (0-30).
Putting your plan into action (31-60).
Crafting your plan (61-90).
Outline your objective.
This is about your expectations as well as your company during your first 90 days on the job, be ambitious but realistic.
Set your metrics
Your "metrics" for the first 30 days may be as straightforward as "Review employee onboarding videos" or "Complete CRM platform training." Once you become accustomed to your new role, metrics will typically start becoming further specific.
Relying on your role, your plan's parameters will differ. A 30-60-90-day business plan for sales managers, in particular, is likely to be more goal-oriented and focused on how to uncover the daily schedules of your direct reports. Your 30-day, 60-day, and 90-day plans should put more of an emphasis on how you will develop your talents when you're a new territory sales rep joining a company.
30-60-90-day Sales plan for a new sales rep
Let's examine a model 30-60-90-day sales plan, which is appropriate for a salesperson starting in their role as a sales rep.
Phase 1(0-30 days)
The very first step is to undertake any onboarding, training, or coaching provided by the company. The company's mission, values, and culture must then be evaluated. Discover everything there is to understand the good or service. Learn how to communicate with and reach out again to your specific prospective customers by carrying out market research. Find out all the names and positions of every team member. Plan routine checks with a manager or mentor to discuss your progress. Look into the competitors of your business.
Phase 2(31-60 days)
Pick a good top performer who is willing to let you observe them, and make a few meetings to do so. Practice interacting with prospective buyers. With your mentor or other top performers, perform multiple sales scenarios. Use the effective goal framework to set marketing goals. Preserve the entirety of all of your sales activities and comprehensive notes so that you can enhance the procedure in the future. Plan a schedule and follow-up strategy.
Phase 3(61-90 days)
Scrutinize your notes to determine your qualities and shortcomings. Adjust your sales procedure, whereupon test it. Adopt a daily schedule that fits your productivity goals and adhere to it. Request input and consider it while making important decisions.
Bottomline
To coordinate your sales activities and exceed your revenue target, what you require are an organized plan and the proper tools. Hence, dedicate time to research, stay focused, and establish an appropriate 30-60-90-day sales plan. You need to have a strategy in place for the subsequent three months.