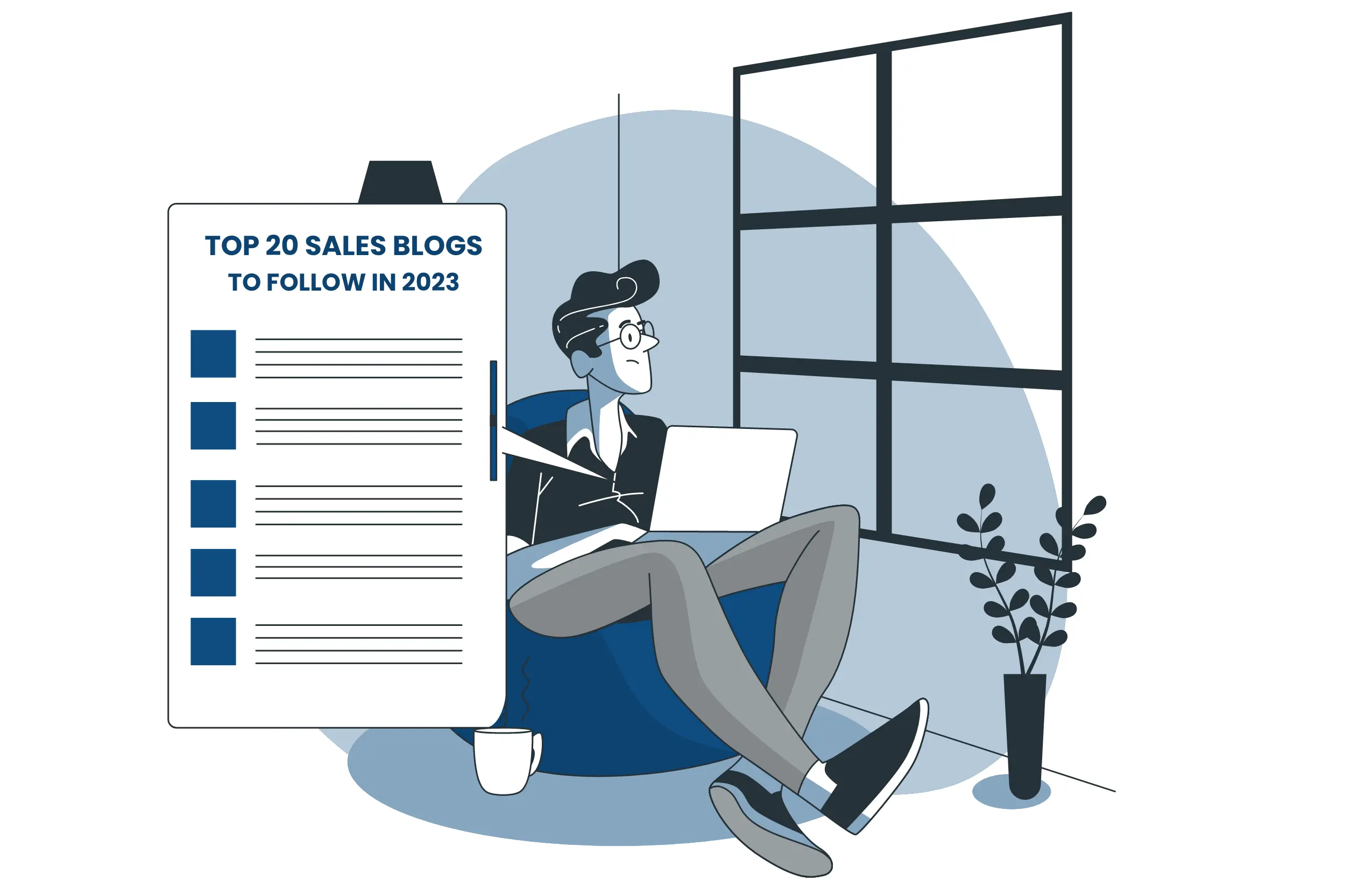 Top 20 sales blogs to follow in 2023
Why is the sales blog essential?
Without the appropriate direction, selling can be very challenging. Building trust, eliciting a reaction from prospects, and closing a contract are all challenging problems in sales. The most recent market trends, practice guidelines, and market insights may all be discovered in sales blogs. They provide guidance and recommendations on how to boost sales, establish client bonds, and improve the entire customer experience.
Be not deterred by the density of text! Reading a blog post typically takes much less time than listening to a podcast. They let you peruse quite selectively and frequently provide supplementary information in the form of infographics, photos, and videos that rapidly immerse you in the subject. This means that you can learn a great deal from your daily work from good blogs if you spend just a few minutes a day.
Top 20 sales blogs to follow in 2023
Delivering high-quality content to your audience is the secret to a profitable business blog. Your readers will revert to your website as paying customers the next time if you steadily provide them with meaningful content.
1. Hubspot Blog
Hubspot is an acknowledged leader in marketing and sales! They reap the benefits of the chance to highlight recent news on their blog because of this. Users of HubSpot can locate what they're looking for close to heart thanks to the industry's three areas of sales, marketing, and service. These include even from salespeople as well as definitions and strategies. For some articles, you can download copies as well.
2. LinkedIn Sales Solutions Blog
Another resource a salesperson should not neglect is LinkedIn. Your use of Linkedin as a sales platform will be enhanced thanks to the sales blog. Sales teams should emphasize social sales on platforms like LinkedIn. Get up-to-date knowledge on global best sales techniques as well as the most recent social marketing news and strategies by following LinkedIn's sales blog.
LinkedIn Sales Solutions, which focuses heavily on social sales, assists salespeople in staying current on the most important advancements and tactics in the always-evolving society selling environment.
3. Gong Labs Blog
You can find more information, opinions, and facts on the Gong Labs Blog owing to the evaluation of the largest AI sales conversation database in the world.
This blog provides statistics after reviewing tens of thousands of AI sales conversations that have been recorded and transcribed so that you can be certain of what qualities great salespeople have. They typically post one blog per week, prioritizing quality over quantity. Each is loaded with sales tactics to assist you in attaining your aim.
4. The Make It Happen Sales Blog
In reaction to the measly amount of professional, approved sales training available to salesmen, John Barrows founded JB Sales. With decades of experience, he established on-demand and sales training services that would provide interactive sales education to companies and people online, on-site, and remotely.
His sales blog, which would be packed with stories from his own considerable sales experience, is a terrific resource for both rookie reps and veteran salespeople. His blog is a delight to read and an effective sales tool due to his narrative writing style and practical, entertaining tales.
One of the b2b SaaS businesses that provide answers to all sales-related questions is Lystloc. They have a product of their own that is suitable for everyone and is built on a real-time location intelligence and analytics platform. Every week, they post new blogs with highly curated content about sales as well as employee attendance monitoring and productivity. If you're interested in learning more about field sales productivity, just follow Lystloc for thorough knowledge and professional growth. They have fresh ideas and succinct solutions to all sales issues.
6. Sales Hacker Blog
A prominent B2B sales network is Sales Hacker. Everything on Sales Hacker, along with the podcast and forum, was made by marketers for other salespeople to share what works. They cover every topic, particularly effective coaching methods and strategies for prospecting.
Furthermore, Sales Hacker explores the frequently underrecognized sales support and sales operations support positions. This website is highly recommended for real-world solutions.
7. Ambitions Sales Performance Blog
Do you have a sales team? Then you will find this blog to be of tremendous value. Ambition creates gamification software and is competent at motivating your staff. The professionals in the blog cover subjects including coaching, motivation, as well as productivity, and performance assessment. You can always discover fresh approaches, information, and resources here to help your sales staff operate to its highest extent.
8. Closer IQ Blog
Managers are cognizant of how challenging it is to locate qualified sales personnel. Maybe this blog will be a useful resource for you. Closer IQ is an expert in sales recruiting and has a network of over 60,000 sales team leaders. It frequently writes about sales recruiting on its blog. The articles are fascinating for new hires as well as managers, who will find them beneficial.
9. Heinz Marketing Blog
The Heinz marketing firm blends sales and marketing in its blog, resulting in a crucial understanding of both areas and how they best support one another.
You may learn more about content strategy, how to fill your sales pipeline, and which tools are important in sales and marketing by reading the nearly daily posts.
10. Outreach Blog
The Outreach Blog's categories are its best attribute; there is a lot to pick from because they all appear so fascinating! And they fulfill the promises made by categories like "Sales Best Practices," "Outbound Sales Tips & Tricks," or "Beyond the Number." Each once in a while, Outreach publishes intriguing tales from the lives of salespeople that are not only interesting to read but also provide you with good information for your work.
11. Salesforce Blog
You can filter down the items you see on the Salesforce Blog according to your location, industry, and personal interests. You can decide between customer engagement or digital transformation, for example. The fact that the blog has numerous writers and a diverse range of content already represents the blog's variety. Everyone can discover something here.
12. Sales Gravy Blog
Since Sales Gravy is concentrated on sales training, it can provide lots of valuable suggestions. Those who enjoy multimedia stuff will be pleased. This blog interacts with additional professionals and sales trainers and produces content for articles, videos, and podcasts. You could get free training materials from this website.
13. The Close Sales Blog
The intended audience for Close's business blog is smaller enterprises. Here, you'll find B2B sales advice that's been particularly crafted for your needs. Steli Efti, the CEO, publishes on the blog from personal experience and as a startup leader. Also, you may always obtain valuable products from the team. The reading time for some of the articles, which are written in great depth, varies from three to fifteen minutes.
14. Xant Blog
Even though the subjects primarily relate to sales, they also extend beyond that. Whatever the article is exciting to you is immediately obvious due to the categorization. You can read up on the subject of artificial intelligence on this website in addition to several guiding principles.
15. Sales Folk Blog
You've certainly noticed a difference between generic emails that only focus on you and your company and customer-focused, personalized messages when it comes to your open and reply rates. However, generating an attention-grabbing message can be difficult for top salespeople. The blog of Heather Morgan offers good examples both good and poor, clear recommendations, and innovative suggestions.
16. Sales for Life Blog
The Sales for Life blog covers all the important facets of social selling, especially social listening, and offers you useful advice on how to approach your online prospects most successfully. If you follow these guidelines, you'll be well-equipped to meet the wants and demands of your prospective customers.
17. OpenView Sales Blog
You may get guidance on funding and creating sales teams for beginning software companies on the OpenView Sales Blog. The blog discusses subjects like product-focused growth, BDE training, and leveraging metrics to strengthen your sales team. We won't skip over subjects like Usage-Based Pricing, Value-Based Selling, or Tech Stacking in Sales either!
18. StoryXpress Blog
The StoryXpress not only affords you a useful tool for making videos but also maintains a blog with lots of advice on selling and remote communication. Its visual quality of human resources and customer service is always accompanied by video interaction.
19. Unbound B2B Sales Blog
It includes not just sales-related topics but also a wide range of interesting marketing-related topics, such as account-based marketing or content marketing.
You can find many analyses sought thanks to the two areas' subject overlap and the articles' significance. Many e-books can also be acquired in addition.
20. LeadIQ Sales Blog
LeadIQ delivers fantastic B2B sales information and also a very handy Chrome extension! Want to develop your sales pipeline or get guidance on cold calling? You get scooped up by LeadIQ just where you are. You can quickly determine which content appeals to you thanks to the structure.
Bottomline
To grow both personally and professionally, one must pursue lifelong learning. Try scheduling regular periods on your calendar to study new methods, industry trends, and best practices. You might learn a great new way to make cold calls or a pearl of wisdom that gets you on your way.
Blogging increases both your website's organic traffic and revenue. It also raises consumer awareness of the brand. Also, through sales blogs, you may learn about anything and broaden your perspective through case research and studies.