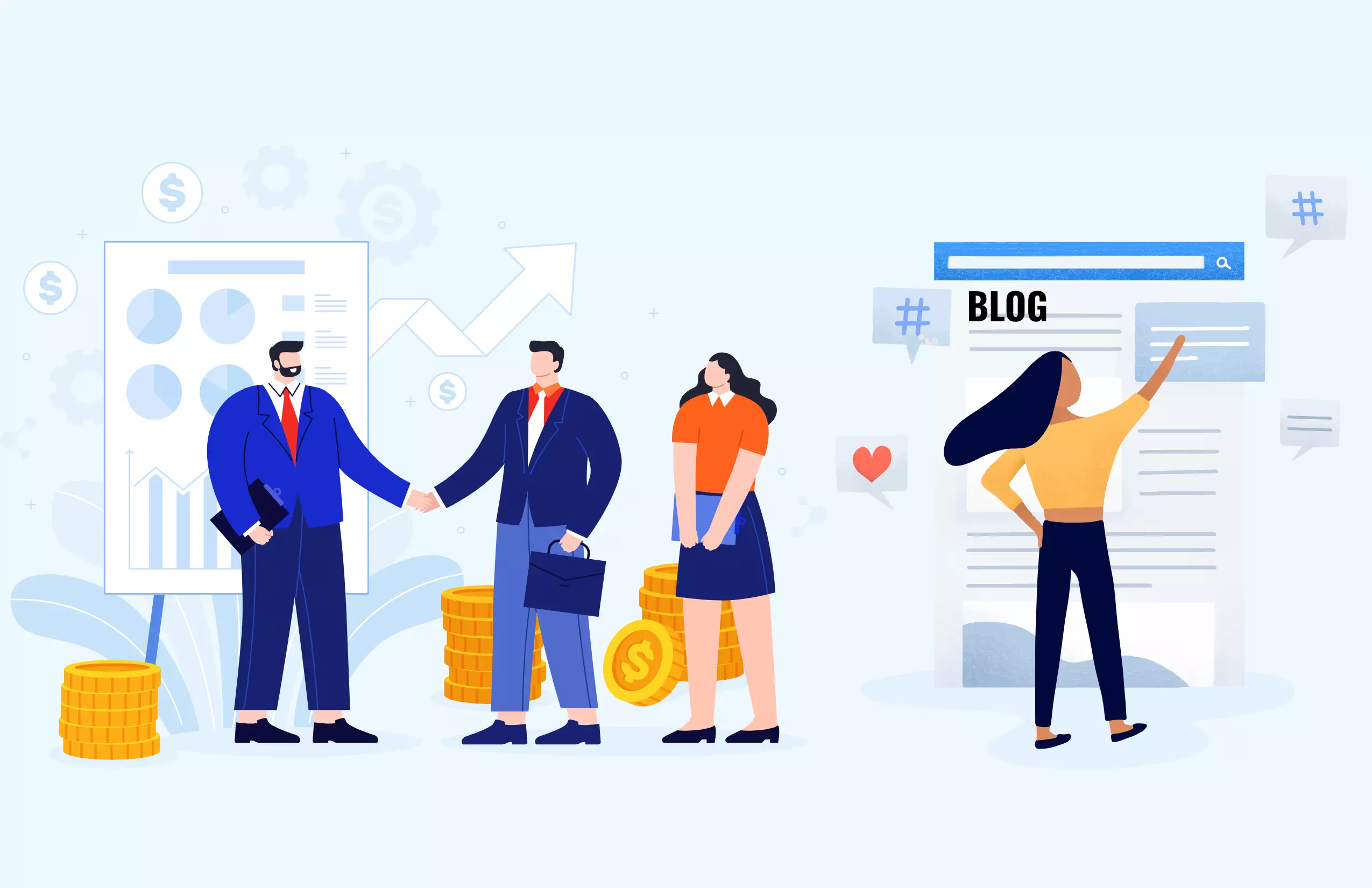 How Does A Blog Directly Impact The Business Of A Company
Without a question, you desire your company to succeed, connect with, and win over your target market while also leading the industry. Writing a blog for your company constitutes one of the greatest affordable methods you can do for accomplishing this. In actuality, blogging can increase market coverage and aid in establishing your brand's reputation in the sector.
Regardless of the nature or size of the business, utilizing blogs as a component of the promotional plan is one of the ways companies reach present or new customers. Although using blogs to market your brand may be a long-term plan, the benefits are enormous and steady.
The Purpose Of Blog: What It Does For Your Budding Business
The objective of a blog is to publish content to the online presence that assists potential customers in learning further about the product or service and provides them with answers to their queries. By providing the search engines Google and others with content to analyze and display in search engine results, it increases the visibility of the brand. Because it aids in drawing in prospective clients via search engine listings, a blog serves as a marketing medium and is crucial to a company's content marketing approach.
Blogs assist in building your name and brand and help your business stand out from the competition. They inform the visitors of the current state of the company and are also able to be utilized to provide more details about your products and services. If your visitors find the content interesting, you or your brand will begin to be recognized as an authority in the market, which will help your business.
8 Benefits Of Blog Posting In Business Visibility And Expansion
Blogging Promotes Customer's Buying Decision
Before buying from someone, we all perform due diligence. A blog is an effective way to establish yourself, give someone an appealing look at you, and allow them to decide whether or not they believe you're the one who can help them. You may enter the fray by blogging. Potential clients can learn how you can help them from your blog.
Increases Product Visibility
Blog marketing is a fantastic tool for getting your products noticed by the general public. Your business blogs can be centered on your product line; they can serve as a platform for introducing new products to your line or educating current and potential customers on its features and uses. Of course, company blogs are not the only places to advertise products. The internet contains blogs on every conceivable topic. This may be a simple and efficient technique to raise customer awareness of your brand.
Deliver Value For Your Customers
align="justify"The ability to add value for your customers is blogging's main advantage. Blogging without considering how it might improve the user experience is like hiking without shoes. You will suffer harm, thus there is no purpose. By blogging, you can entice clients to buy from you by offering them something complimentary. In the hopes that the free information may influence them to decide to buy on their own. The more freebies you can provide potential customers, the more committed they will be after they become clients. Prioritizing knowledge over sales is always a wise strategy.
Able To Adapt Blog Posts For Social Media
Additionally, blogging for the company might help you become more visible on social media platforms. Every time you write a new piece, you're producing content that visitors may share on social media platforms like Twitter, LinkedIn, Facebook, and Instagram. This increases the visibility of your company to potential new customers. Furthermore, blog content keeps your social media presence active. Your blog can act as a content library for social media, saving you from having to request constantly new content creation from your social media manager.
Blog Posting Boosts Inbound Traffic
According to research, companies who blog more than 10 times each month receive 5 times as much inbound traffic compared to those who don't. Your blog will attract links from other websites in your business if you consistently provide high-quality information that is extremely pertinent to it. It is far more probable that people who click the links to your website will be interested in your product or service because the majority of visitors to these related sites will be engaged in the industry.
Establishes Trust With The Audience
Businesses can share their knowledge and value through blog content. Blogs demonstrate to present and potential clients the worth of a business expert. Blogs can enhance a company's professional image by exhibiting competence within a sector. A typical consumer inquiry, for instance, how to utilize a product or fix a problem with a product, can also be addressed in blogs. Gaining the audience's trust helps a firm come across as more trustworthy.
Blogs Can Improve The ROI
As we've already established, content marketing uses blogging. And the effectiveness of content marketing has been demonstrated by data. Because they require so little money, blog posts provide a high return on investment. You can promote your good or service without spending money on advertising or holding or sponsoring events. Blogging is an excellent approach to efficiently generate profits for businesses, which is what they're all about.
Improves Website Traffic
The internet is fully occupied when selling almost anything, there is no denying that. By enhancing rankings in search engines, retaining visitors for longer, and raising the possibility of conversion, blogging aids in boosting website traffic. By adding extra pages to your company website, business blogging expands your organization's online visibility and gives potential clients more ways to reach you. The more people who visit your website, the more probable it is that they will make an appointment, purchase, or fill out an inquiry form in order to get in contact.
5 Tips On Having Engaging Blog Posts For Your Business
Discover Who Your Audience Are
Identifying your target audience is important well before you start writing your blog. What topics would they enjoy reading about? How will that affect them? What degree of proficiency do they have with the language you're considering using? When you're thinking of a topic for your blog article, consider your customer base and their interests. Be sure you have the necessary technical knowledge if you intend to write something technical. Have a thorough knowledge of your target audience overall.
Write About What You Know
Knowing the topic well makes writing much smoother. Knowing what you're talking about makes it simpler for you to get started, and it also makes your articles far more interesting and enjoyable. Your blog posts don't have to be just about your business or the products or services it provides. You can discuss anything that is pertinent to your field and that the visitors will find interesting or informative. Be genuine, and refrain from employing jargon or complicated words. Every time, being brief and clear triumphs.
Carry Out A Keyword Research
You probably know that your business and products should be highlighted in the content you create. Nevertheless, you must additionally focus on what customers are looking for. Finding popular terms that people are entering into search engines is a process known as keyword research. Include keywords in the title of your blog and throughout the body of your blog articles. Your posts will likely rank higher on search engines and be easier for people to locate if you do this.
Share The Blog Post In Social Media Platforms
Posting blogs for your website is a wonderful way to market and expand your business while also increasing website traffic. If they are simply left in their current state after publishing, there won't be many visitors.
As a result, sharing the blog is necessary to increase engagement and website clicks. Post the blog link on your company's social media pages, post it on content discovery platforms, and distribute it via email campaigns. After the blog, provide a comments section to keep the page lively and dynamic and to encourage audience engagement. Promptly and with respect and compassion respond to comments posted.
End With A Proper CTA
Last but not least, be sure to include a call to action in each blog post so that viewers understand what to do after reading it. After viewing your content, what would you like the audience to do? Your call to action (CTA) is that. You might recommend that visitors get in touch with your company, follow your blog, download unique information, or perform any other action that will assist with generating leads. If you give your viewers a compelling reason to remain on your website, they will.
Wrapping Up
Never forget that the main goal of your blog is to promote your business and encourage people to make purchases from you. Although you definitely want to educate and, in some situations, entertain your audience, that is secondary to the idea of raising your brand's visibility and revenue. You can consistently generate something which works for you and your customers by addressing both primary as well as secondary aims. A great business blog can indeed improve customer satisfaction and even serve as a resource for customers to find out more about your products.