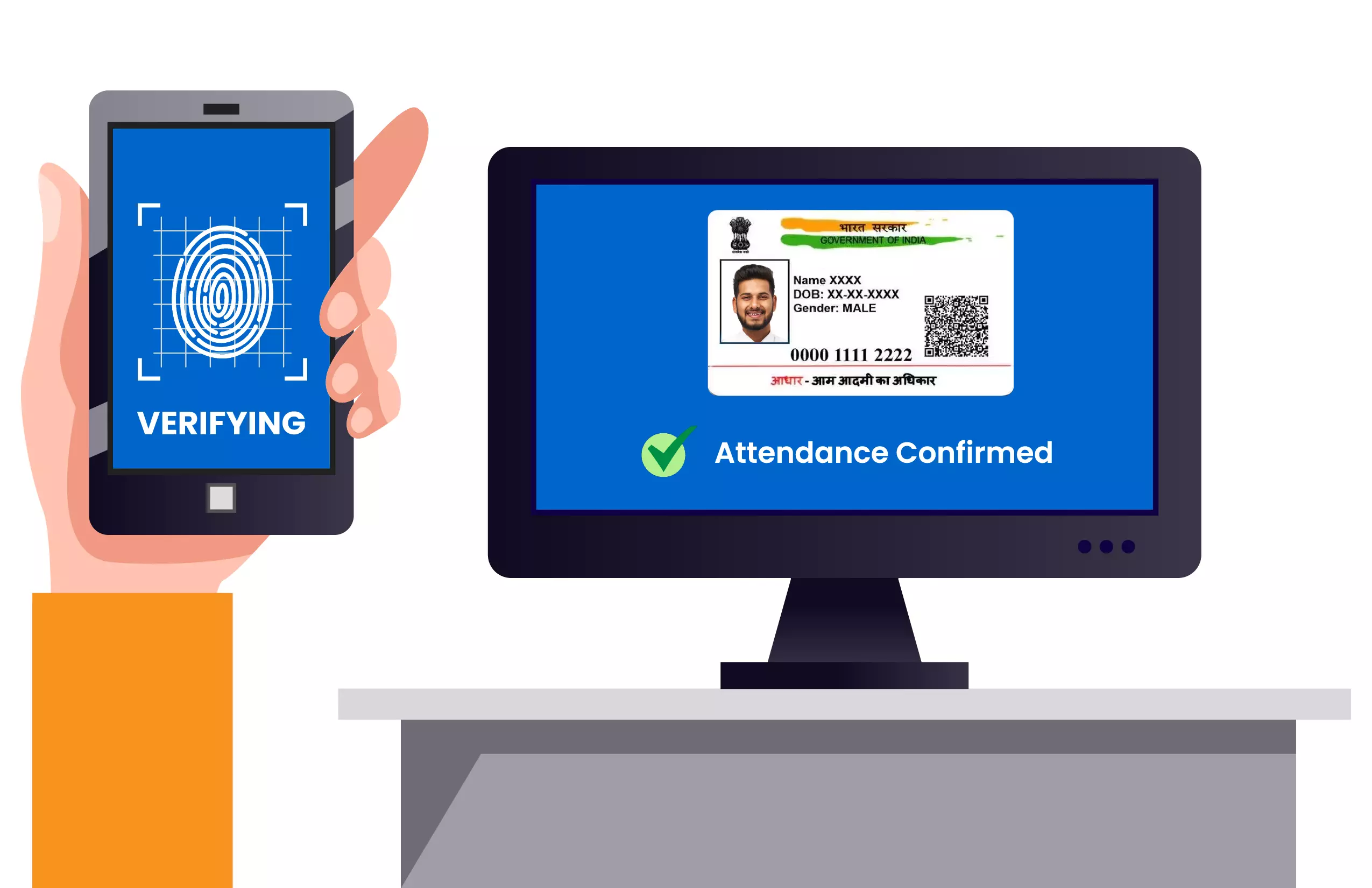 A Detailed Brief About AEBAS (Aadhaar Enabled Biometric Attendance System)
Considering how biometric devices are currently being used, it appears that the use of biometrics will only expand in the years to come. Many biometric devices are constantly being launched on the marketplace. Currently, Aadhaar-based biometric devices have been widely deployed. Almost everyone has an Aadhaar card as of this date. The UIDAI issues this card to give each person in India a unique identifying number.
The Aadhar Enabled Biometric Attendance System, also referred to as AEBAS is a time and attendance management system used to track employee presence at government entities. The Indian government has set up AEBAS to increase the productivity of public servants through the use of biometric authentication tools. The Aadhaar Enabled Biometric Attendance System has indeed been popular in recent years due to its quick and efficient functioning.
What Is AEBAS?
The Government of India created the AEBAS attendance management system for government entities to increase employee productivity. It is a cloud-based biometric attendance system that continuously tracks the attendance of government employees in real time. The Aadhaar Enabled Biometric Attendance System (AEBAS) uses the Aadhaar number issued by the Unique Identification Authority of India to verify the employee's identity. The biometric time and attendance tracking system known as AEBAS is connected to the Aadhaar verification process. Specifically, the system is designed to track staff attendance at various government departments and agencies.
What Is The Need For AEBAS?
The Indian government employs millions of employees in an array of divisions. It is challenging to remain apprised of these employees' attendance. Nonetheless, the success of the government's different initiatives depends on the timely arrival of staff. In the past, this workforce's attendance was manually tracked. Yet, managing the full record was becoming to be troublesome. There was the additional issue of reliability because records might be modified or have incorrect data entered.
To address the aforementioned problems, a biometric-enabled attendance system was introduced. The great real-time approach for marking trustworthy and correct information has been demonstrated to be this one.
Although automated attendance recording using smartcards or biometric devices has mostly substituted manual inputs in government offices, there was a need for centralized attendance monitoring. Because it was difficult to share attendance information across levels, the government came up with the notion to leverage the Aadhaar system already in place, which allows for cost savings while enhancing overall performance.
How Does The Aadhaar-Enabled Biometric Attendance System Works?
Employees can mark their attendance using the scheduled system by showing their fingerprint or iris biometric identification. Following a match with the biometric characteristics that are recorded in the UIDAI database and correspond to the employee's Aadhaar number, this is going to be authenticated.
The attendance request is transmitted to the centralized server together with the Aadhar number on the smart card, the fingerprint or iris image, and the date and time stamp following the smart card ID or a biometric input.
The centralized server sends the Aadhaar number that has been associated with the smart card or biometric image to the Aadhaar server for verification.
A verification signal is sent to the centralized server by the Aadhaar server. An attendance verification report is produced after successful authentication, and the attendance data is kept on the AEBAS server.
The system will get the employee's Success/Fail response from the attendance host (AEBAS server).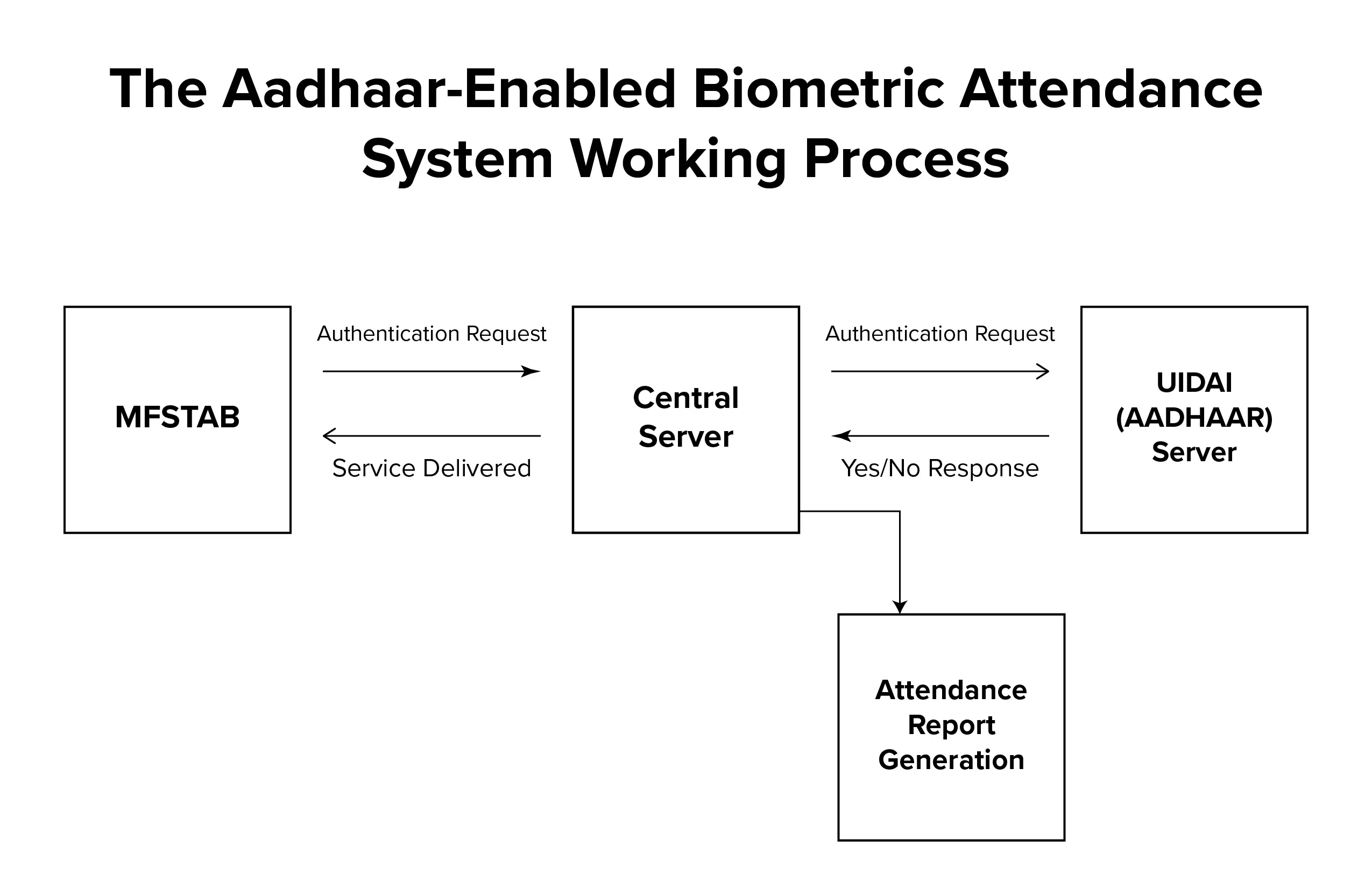 Key Features Of AEBAS ( Aadhaar Enabled Biometric Attendance System)
The time required to register attendance with AEBAS is far less than the conventional methods and just takes a few seconds.
For delivering real-time alerts of staff login and logout times, the system is simple to link with the mobile communications platform.
Online self-registration simply requires an active mobile number, a scanned copy of your ID, and an Aadhaar.
Employees receive SMS notifications if they are absent, arrive late, leave early, or don't submit their attendance.
This is a simple biometric attendance system that doesn't need any highly specialized software or hardware.
The operation of the system is mostly automated. Examples include centrally scheduling the shutdown of devices during off-peak hours, pushing software updates to computers and devices over the air, automatically switching to SIM-based connectivity when Wi-Fi connectivity fails, and centrally monitoring devices using a dashboard. To improve the system more intelligently in the future, work is currently being done.
Software and hardware for the cloud are installed and run from the NIC National Data Center.
Advantages Of Using AEBAS
It gives managers access to real-time employee attendance data, improving communication between staff members and company administrators. Employees' work is easier to monitor, and the number of hours they perform is used to compute their pay
Because it is more difficult to trick or replicate these devices due to the use of biometrics, this machine operates more reliably and effectively.
This technology totally automates the process of recording attendance, making it considerably more reliable for employees. For long-term performance, managing attendance is handled on the Linux operating system.
This biometric system's operation like recognition and identification stages takes no more than 1.5 seconds. This system helps companies to save a lot of time.
One can only mark their individual attendance because the Aadhaar biometric attendance system is used to record attendance. Because a fingerprint or other feature from an Aadhaar card must be provided for recording attendance. And everyone is aware that it is impossible to imitate someone else's distinguishing qualities.
When the innovation first came on the market, these biometric devices also were expensive. But today these devices come up with economical pricing.
The best part is that your data is safe, so you don't have to stress. Your information is entirely secure here since it is kept in a database that only authorized users can access. This information is only available to authorized users.
Conclusion
The majority of places of business employ biometric attendance systems. Using biometric tools can help employees work more efficiently and with more reliability. Yet, as biometric technology has advanced, fraud has also been committed in a number of instances. An aadhaar-based biometric attendance system is thus utilized to stop this attendance fraud and accurately record attendance.
This system records each person's attendance using their own Aadhaar number. This eliminates buddy punching and time theft from occurring. As a result of the central government's decision to implement the Aadhar Enabled Biometric Attendance System (AEBAS) in several government organizations nationwide, it is now necessary for the staff members of these organizations to rise to the occasion.