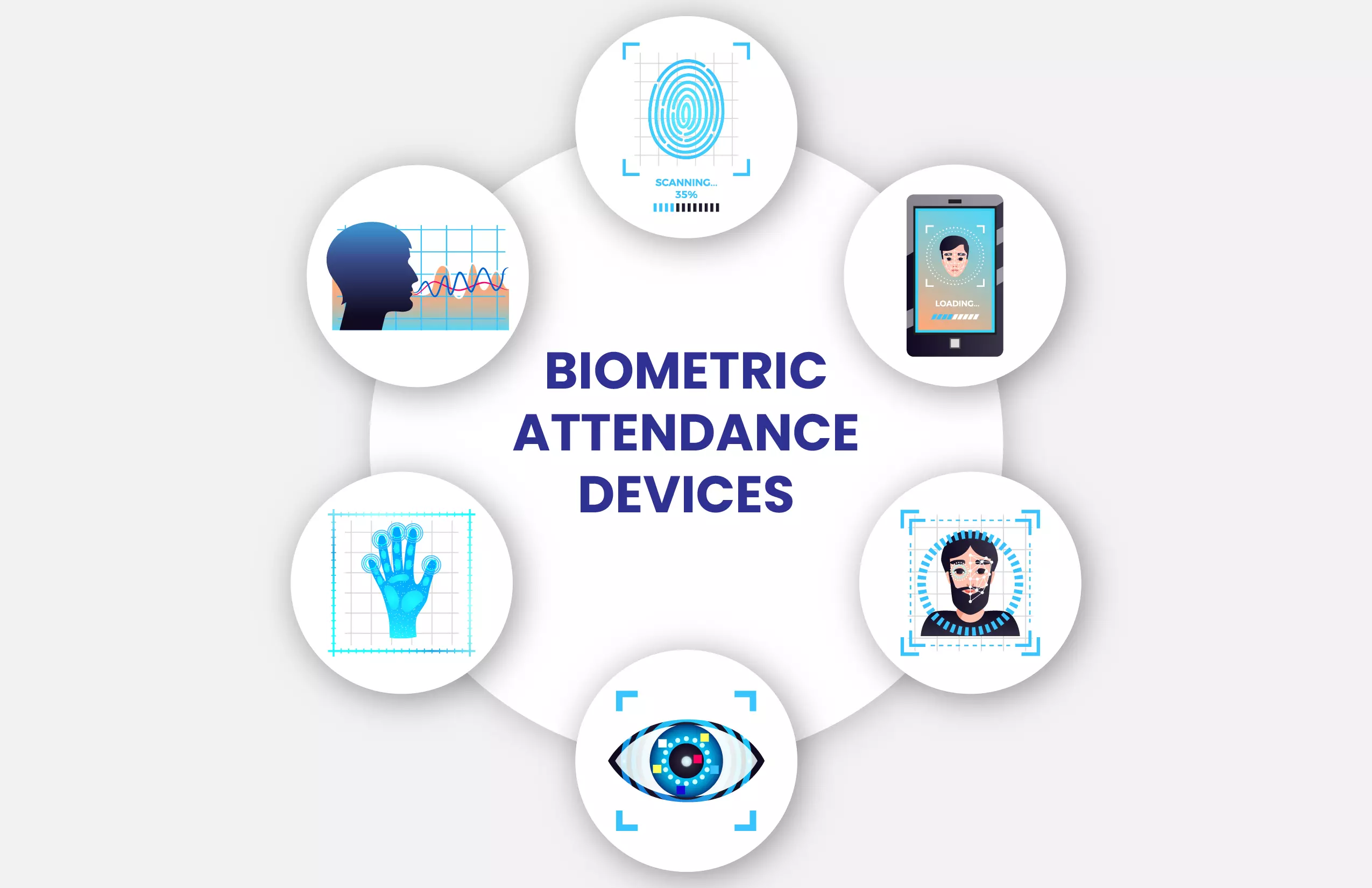 Top 10 Biometric Attendance Devices In India
A biometric attendance device is an instrument that's employed to authenticate a person's identity. Fingerprints, vocal patterns, iris, facial detection, and hand metrics are all used to identify people. These biometrics are distinctive to each person, and the data stored in biometric systems can't be shared or breached. It substitutes the conventional process of entering passcodes or patterns for security. Making use of biometric systems virtually eliminates the possibility of any sort of malpractice, such as proxy registration. This is due to the fact that no two people's biometric specifics or physical features are the same.
Why Should Businesses Invest In A Biometric Attendance Device?
A biometric attendance device offers precise data while taking less time to complete the task. It simplifies the process of attendance marking and makes it possible to capture the actual arrival and departure times. Thus, a business owner can improve productivity and monitor employee activity by implementing a biometric attendance device.
The biometric attendance device is extremely beneficial to offices and organizations. It aids in keeping track of the attendance data of the employees for each shift. Not only can recorded attendance be used to generate month-to-month attendance, but it can also be used to provide overtime time frames.
List Of Best 10 Biometric Attendance Devices In India
Bio-Max
The Bio-Max biometric face detection and recognition device has a 4.3-inch touchscreen interface for improved usability. It has an easy-to-use interface built with N-Uface602. This device is made of the highest quality materials.

It supports a variety of authentication methods, including thumbprint, face, passcodes, and card. Users can use this biometric device to combine biometrics for increased security. The camera snaps an image of the user in half a second. In terms of speed and efficiency, this makes the N-Uface602 an intriguing model. It has the ability to use both LAN and Wi-Fi at an industrial scale.

MX Biometric
Employees can use the MX Biometric device for time attendance in addition to authorization control in the workplace. This is MX Biometrics' most essential characteristic. It doesn't intend to give all of its employees access to all facilities at all times. It offers excellent documentation on the arrival and departure of employees. In a robust security solution recommendation, these biometric systems are an extremely good addition to restricting home invaders, surveillance cameras, HRMS, and fire systems.

TimeDynamo
TimeDynamo is regarded as India's best biometric attendance device. With biometric automated processes, the portable expert real-time attendance management and leave management system provides companies with reliable monitoring and tracking of employee attendance. This attendance monitoring device scans each staff's iris, face, or thumbprint for time attendance. With the emergence of the distinctiveness of these biometric configurations, eliminating proxy attendance has now become simple.


Time Office
Time Office is a well-known manufacturer of biometric devices which provides greater and more reliable face recognition. With this fingerprint-scanning biometric and contactless face attendance device, you can effectively monitor employee attendance.

This device comes in numerous models and can store 5000 thumbprints, 1000 faces, cards, and passwords of users, with a transaction bandwidth of 3,000,000. This device recognizes any face, fingerprint, or card in less than a second and is compatible with both desktop and cloud-based attendance software. This device can also be linked to a mobile app.

Matrix
Matrix is a leader in the market in security and telecom solutions for today's companies and organizations. The company is passionate about keeping up with the uprisings in the Security and Telecom industries as a creative, technology-driven, and customer-focused organization.

A highly qualified and committed team of engineers runs the Matrix manufacturing unit. Matrix COSEC (Attendance Software) is a modern enterprise-grade people mobility management system that offers Time-Attendance, Access Control, and added industry-based security products. Hardware components, software solutions, and a package of software application configurations are all part of their seamless integration solutions.
ACTAtek
Virtual user registration and verification are possible with this biometric attendance operating system. Solutions include security and workforce management. These biometric attendance systems support five different forms of verification: thumbprint, card reader, ID, barcode, and PIN. It has a multi-language user interface. The scanning time is under a second.
Over a decade of expertise in fingerprint and card-based physical security solutions has ultimately resulted in the ACTAtek system. This latest ACTAtek unit, now in its 3rd generation, tries to build on the field-tested platforms of previous generations while incorporating the most latest advances in biometric scanners, card access, and connectivity device systems.
ZK Teco
The ZK Teco device stores staff biometric information in an excel document. The ZK Teco features a 2.8-inch TFT screen and a vibrant UI for biometric-quality images. TFT screen distinguishes it because it improves picture quality and display effect. This device endorses 500 users, so it can handle a huge quantity of attendance confirmation entries.

You can download or upload data from your fingerprint to your computer using a USB cable, saving you a lot of time in some repetitive registrations. This device will undoubtedly save you time and effort, increasing your working efficiency.

E-SSL
The E-SSL biometric device enables businesses to track the attendance of their employees in real time. This biometric system can store and operate up to 10,000 fingerprint images. This biometric device can be used in conjunction with doorbells, attendance management systems, door sensors, and fire detection systems.

With each device, they include 500-user attendance software for free. Etimetracklite software offers an array of attendance reports, including every day, month-by-month, and extra hours reports, among many more.

mDESK7
This time attendance technology is employed to register and authenticate employees using a biometric implication. This Wi-Fi-enabled finger attendance device is cost-effective. It can be used for government initiatives such as visitor management, canteen management, and citizen identification. This time attendance device can store the data in real-time. A completely separate port for connecting a pen drive, an FBI PIV fingerprint scanner, and 1:1 and 1: N matching.
CP-Plus
CP PLUS biometric devices provide a comprehensive range of biometric systems suitable for companies, businesses, and government agencies. It can assist in minimizing errors in data entry and save time by providing an easy-to-use functionality and direct data transmission. It has a fingerprint capacity of at least 500 and is consistent with the UBS attendance tracking system.

The top model of CP Plus biometric devices has a 2.8′′ HVGA display and upholds 1000, and 10000 fingerprints, as well as USB 2.0. It has an optical fingerprint sensor that captures biometric data, and its recognition modes are password, EM card, and fingerprint.
Summing Up
The implementation of biometric time and attendance devices is increasing because they provide numerous benefits to companies. Aside from access control, it aids in employee attendance and work time tracking.
In the end, whether you look into it from a performance, investment, or cultural standpoint, the benefits of biometric attendance platforms far exceed the initial expense of installing and configuring them. Keep in mind that your competitors are not likely to abandon those profits on the desk, so the quicker you put the money, the greater your ability to compete.